Compact tool carriers are named for the variety of attachments these stand-on or walk-behind machines use in applications ranging from fence construction to utility trenching. More streamlined than a full-size skid loader, this "mini skid steer" (like a chameleon, it takes on many names) has evolved to become a valuable asset, thanks to its small footprint and arsenal of attachments. Whether on wheels or tracks, ride-on or walk-behind, powered by gas, diesel or electric, a zero-turn compact tool carrier or CTC can be a do-it-all workhorse in tight spaces or big open jobsites.
Legacy Brands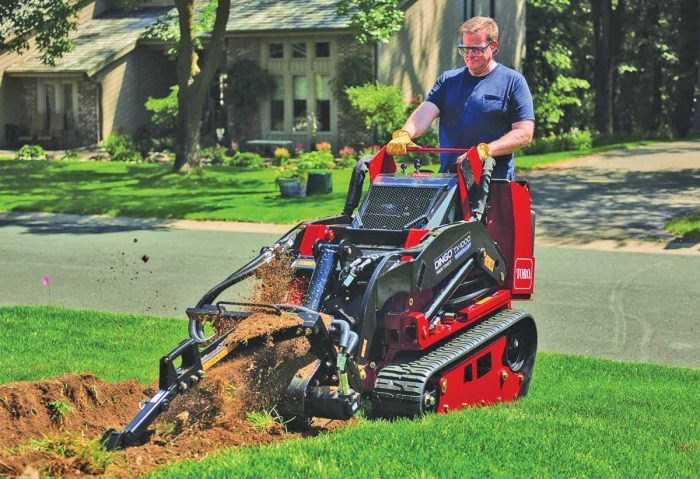 The compact tool carrier made its first big splash in the American marketplace in 1998 with the Toro Dingo, after the company acquired the product line from an Australian manufacturer. Toro saw market potential early on. "When it comes to compact utility loaders [another brand name for this category] in North America, Toro is the legacy brand," states Kyle Cartwright, product marketing manager. "Toro not only invented the compact utility loader equipment class in North America but also offers the broadest range on the market."
The technology, features and brands of the CTC equipment class have expanded greatly since Toro introduced the entry-level wheeled 323 Dingo. For instance, most units now are sold with tracks, not wheels. While innovation has led to newer models like the giant, telescoping Dingo TXL 2000 and the battery-powered eDingo 500, Cartwright says Toro has remained focused on the category's key aspects: versatility, ease of use and reliable power.
"The Dingo line provides 360-degree visibility," he details. This allows operators to be aware of their surroundings and easily perform any function. The equipment also offers ease of access. "By removing the need to enter and exit a cab, operators have more control of their immediate environment and can quickly step on and off the machine." In addition, the controls on Dingo machines are simple to use, which helps reduce the learning curve, ultimately contributing to productivity. "These are all features we've honed over the years."
The second CTC brand to launch in the United States was Ditch Witch, says Brant Kukuk, compact equipment product manager. Approximately 20 years ago, the manufacturer known for its underground construction equipment introduced a stand-on skid steer in a broad range of operating capacities, from 800 to 3,100 lbs.
We'd love to keep in touch! Check us out on Facebook, Twitter and LinkedIn!
"It was a step up in the ability to carry equipment, with a smaller footprint than the standard-cab skid steer," Kukuk explains. With a width less than 36 in., it was adept at getting into tight urban lots.
Today Ditch Witch offers seven models of "mini skid steers" (its brand name for the category), and its monstrous SK3000, the industry's only "full-size, stand-on skid steer." The latter has a lift capacity of 3,100 lbs, 59-hp engine and can direct up to 51 hp to attachments. Fun fact: Toro bought Ditch Witch in 2019.
Another underground expert, Vermeer, introduced its first compact tool carrier in 2003 to help contractors in the landscape, rental, tree care and utility markets complete jobs more efficiently. Vermeer currently offers seven compact tool carriers ranging from 24.8 to 40 hp. The CTX160 mini skid steer is the latest addition to the Vermeer compact tool carrier portfolio. With a rated SAE rate operating capacity of 1,600 lbs, 16.7 gpm of auxiliary hydraulic flow and a width of 42 in., the CTX160 provides high lifting capabilities while remaining compact and nimble to operate.
Now, there were other compact tool carrier brands in those early days. For instance: Canada's Ramrod Equipment has been manufacturing and distributing its compact tool carriers for over 40 years, introducing its first models in the late 1970s. But in America, Toro, Ditch Witch and Vermeer seemed like the big three for many a year, until recently…
The New Contenders
Since the launch of CTCs in North America, more manufacturers have joined this rapidly growing market. Bobcat introduced its MT85 mini track loader in 2015, and it still offers one model today (its MT100). Kubota entered the market in 2022 with its SCL1000 stand-on compact loader. Recently, more brands have emerged.
One of the most recent is from the Gravely Commercial. lineup with the addition of the Axis compact Utility loader. The Axis product is a new category for the manufacturer better known for zero-turn commercial lawn mowers and tractor and power worksite tools, says Angie Ansorge, product manager. AriensCo, which owns the Gravely brand, purchased this CTC product via its Thomas Equipment acquisition with an aim to add this growing category to its customer offerings.
The Axis CTC is "compact in size, but not in power," Ansorge indicates. She believes the combination of rugged specifications and ergonomic amenities will attract landscaping and hardscape professionals. These Axis units will come standard with self-leveling booms, and the diesel models will feature a Combiner Flow Hydraulic System, where the operator can customize the hydraulic flow for each of the different attachments allowing the user to put the power where they need it.
Another newcomer to the CTC market is Altoz Inc. Ten years ago, Altoz broke into the zero-turn mower market. In 2016, the company introduced the industry's first tracked zero-turn mower. Six years later, Altoz introduced the Altoz Switch, a tracked CTC as capable on snow as it is on grass.
Karl Bjorkman, director of sales and marketing at Altoz, recalls: "We started with innovative and well-built zero-turn mowers, but it became apparent very quickly that we'd need to find ways to differentiate our machines from established OEMs."
Enter Altoz's patented track technology. "Tracks changed the game, and we've continued to build on the idea ever since. Our tracked mowers and CTCs can get to places traditional wheeled and tracked equipment can't reach, in some cases, at all." Bjorkman explains that Altoz's patented track system is a perfect enhancement for municipalities, commercial users and professionals looking to tame ditches, inclines, wet areas — even around and under solar panels or between the rows.
Altoz designed the Switch to be a four-season workhorse. With two different cutting decks, a 61-in. rough-cut deck with swing blades for brush and a 66-in. finish-cut deck for a more manicured look, the Switch is a turf specialist. And when the weather turns cold and the snow flies, Switch responds with a full arsenal, including snowblower, a broom, V-shaped and straight blades and a brine tank.
New Models, Attachments and Options
The entire Axis line is new to the Gravely brand. "We offer the 200 Series, which are diesel-powered in wheeled standard and narrow track," Ansorge lists. Later in 2023, the company intends to launch the 100 Series, which will be gas-powered wheel and track machines. Currently, Gravely offers standard attachment such as buckets and pallet forks and will also offer programs with Erskine for more attachment options for the Axis machines.
Thirteen Dingo models are available from Toro in an assortment of configurations, including narrow track, wide track and wheeled models. There are also gas, diesel and electric options, as well as a selection of 35 attachments — the most popular of which, according to Cartwright, are augers, buckets, forks, trenchers and grapples.
The choice of Dingo models includes Toro's eDingo, which will see a second generation launch in 2023. Designed to allow contractors and construction professionals to reap the benefits and power of a standard CTC with zero emissions and a significantly lower cost of operation, Cartwright considers the eDingo an ideal choice for indoor construction jobs that require heavy or continuous operation, fast completion times and reduced overall costs.
"Every improvement made to the next-generation eDingo was driven by customer feedback," Cartwright notes. For example, the HyperCell Power System is more powerful and reliable, and allows for longer run times. A 1,200-lumen work light improves visibility, and a comfort mat fights operator fatigue.
Its width of 30 in. and a hinge pin height of 81 in. allow it to clear most standard dumpsters. "The new design is now capable of fitting through even the tightest of doorways, yet still boasts a rated operating capacity of 515 lbs and 6.5 gpm of hydraulic flow."
Electric drive motors ensure the eDingo is quiet, even when running at speeds up to 2.75 mph. An onboard charger and cord storage and patent-pending traction controls round out the machine's features.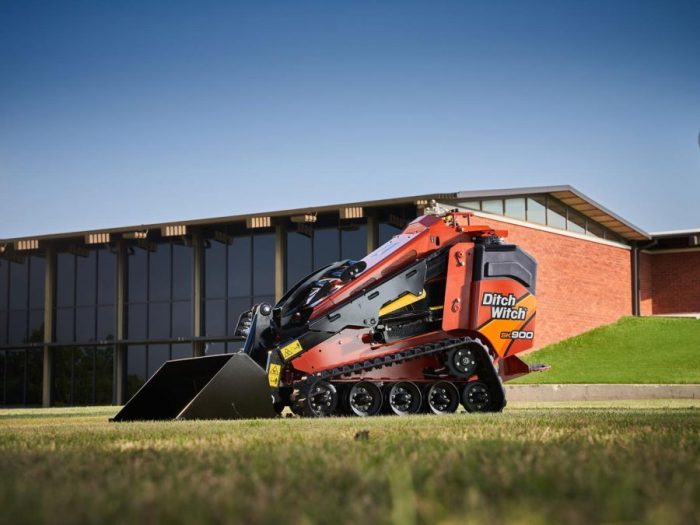 The SK900 is a new entry-level model from Ditch Witch that features a 25-hp Yanmar diesel engine. Kukuk considers it good for both the DIY and rental markets, as it's a revamp from older, smaller machines. "Customers who bought something 10 years ago want to upgrade."
Attachments for Ditch Witch CTCs include buckets to carry soil, pallet forks, grapples for brush and trees and trenchers for water and sewer — "our specialty," Kukuk emphasizes. "We're the best in the market because we started with underground equipment used by electricians and municipalities." Mulchers are getting more popular on bigger machines for land clearing too.
Although Kukuk believes most operators prefer a cab when working in dusty environments or on long jobs, CTCs offer advantages on other jobs, such as 360-degree visibility. "If you're doing most of the work in reverse, you don't need a rear camera system." He goes on to point out that the ability to get in and out easily frees up the operator to help instead of needing an additional person. "With the labor shortage, that's important."
Another aspect of Ditch Witch's compact tool carriers that saves labor is that they all weigh under 10,000 lbs, so they don't require a driver with a CDL to pull them. "They're easy to tow," Kukuk continues. Because they're smaller and lighter weight, more can fit on a trailer, such as attachments or sod, he postulates.
The Latest Trends in Compact Tool Carriers
According to Toro's product marketing manager, Kyle Cartwright, three things are driving CTC trends: durability, versatility and ease of use — and he says Toro is "constantly working to design new equipment that meets those expectations."
Ease of operation is important because equipment is operated by multiple people who have different skill levels. From novice operators to the most experienced, they must be able to understand how the machine functions. Easy-to-understand controls make every operator more productive.
Some market trends reflect struggles with the workforce. Angie Ansorge, product manager for Gravely Commercial, says their Axis product "will help support our customers [by] allowing [them] to do the work faster and more [efficiently]." To that end, they offer models that feature a narrow footprint for use on properties with restrictions, as well as large track diesel models for increased lift capabilities. Increasing lift capacity allows operators to do more with a CTC than ever before, at significantly less cost.
A wide range of attachments also enhances a CTC's productivity. Some of the most popular attachments include high-torque augers, trenchers, soil cultivators and hydraulic breakers. These enable a CTC to perform some of the same applications bigger machines typically do, such as grading soil, demo work and carrying large amounts of material.
A major trend is battery power. Battery-powered equipment provides more flexibility and can increase both productivity and efficiency. Cartwright mentions Toro's new lithium-ion battery-powered eDingo 500. It "allows end-users to realize all the benefits and power of a standard compact utility loader for tasks that require heavy or continuous operation for indoor applications," he explains, adding that this advancement benefits the environment as well as customers by reducing emissions while improving productivity on indoor tasks that are typically completed manually.
A Growing Market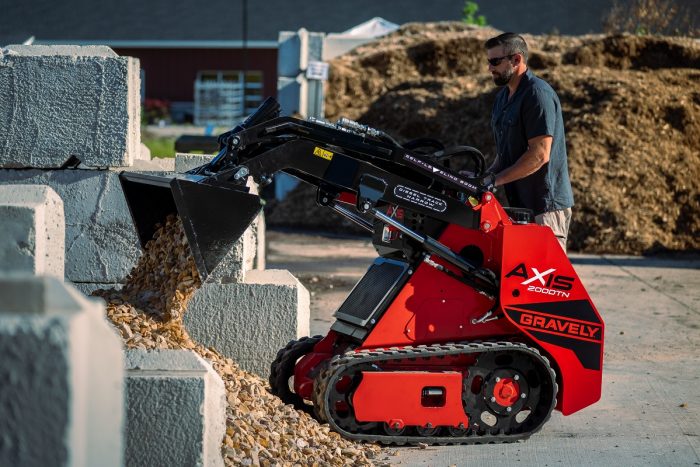 The compact tool carrier market is growing due to the functionality of the product. Ansorge credits the CTC's ability to "complete more in less time" for increasing market share because it allows crews to work efficiently and attain better return on investment in a shorter amount of time.
"The market is growing, especially for larger machines," Kukuk observes. "People are replacing standard skid steers." However, he adds, smaller units like the Ditch Witch SK800 and SK900 are popular with rental in part because of their simple controls. "Anyone can operate them with a few minutes of instruction."
In fact, until recently, CTCs were considered little more than a rental option for DIYers working in their backyards or for use in niche applications like tree care or fence work. This was because they couldn't deliver the power that skid steers or track loaders could. "Now," Cartwright points out, "a higher overall rated operating capacity, technological enhancements and overall performance of the compact utility loader equipment class has caught up with larger machines like skid steers and compact track loaders."
With the growing popularity of the CTC category, many contractors are incorporating compact tool carriers into their fleets. The rated operating capacities of larger CTCs on the market rivals and, in some cases, surpasses the rated operating capacities of skid steer loaders and compact track loaders, enabling contractors to achieve the power they would get from a skid steer, but coupled with a compact footprint, maximum visibility, simple accessibility and — often — lower overall costs associated with compact tool carriers.
Lori Lovely is a freelance writer for Compact Equipment.
Breakdown…by Size
While Brant Kukuk, compact equipment product manager for Ditch Witch, says,
"The machines are getting bigger and more powerful," compact tool carriers still come in a wide range of sizes.
Models available from Ditch Witch include:
SK600, powered by a 24.8-hp Kubota diesel engine, this mini skid steer has a narrow frame for maneuvering in tight spaces but delivers a 600-lb rated operating capacity and a 76-in. hinge pin height.
SK800, also powered by a 24.8-hp Kubota diesel engine, offers a 911-lb rated capacity and a 83-in. hinge pin height for productive loading.
SK900, featuring a 24-hp Yanmar turbo diesel engine that runs at 2,600 rpm, provides a quieter, more comfortable operator experience. Its 932-lb-rated capacity makes it a good choice for transporting heavy loads.
SK1050, with its 37-hp Yanmar diesel engine that directs 30 hp to the attachment, is efficient. In addition to its 1,052-lb-rated capacity and 83-in. hinge pin height, it offers quicker cycle times.
SK1550, powered by a 43.5-hp Yanmar diesel engine that can direct 34.5 hp to the attachment, has a capacity of 1,558 lbs and a 94.5-in. hinge pin height.
SK3000, with its 59-hp engine that can direct up to 51 hp to attachments, is the most powerful full-size stand-on skid steer in its class, with a 3,100-lb max lifting capacity and 5,500 lbs of breakout force for lifting and moving heavy loads with a bucket. It's useful for landscaping applications because "it can carry pallets of sod weighing 3,000 lbs, large logs and heavy stones," according to Kukuk.
Toro's lineup of compact utility loaders includes:
Dingo 323, a wheeled unit equipped with a Kohler Command Series CH23.
Dingo 320-D, a wheeled unit equipped with a Kubota D722.
Dingo TX 427, a tracked unit equipped with a Kohler engine.
Dingo TX 427 Wide Track, a tracked unit equipped with a Kohler engine.
Dingo TX 525, a tracked unit equipped with a Kubota engine.
Dingo TX 525 Wide Track, a tracked unit equipped with a Kubota engine.
Dingo TX 700, a tracked unit with a rated operating capacity of 700 lbs.
Dingo TX 1000, a tracked unit equipped with a Kubota D1305 diesel engine and rated operating capacity of 1,000 lbs.
Dingo TX 1000 Wide Track, a tracked unit equipped with a Kubota diesel engine and rated operating capacity of 1,075 lbs.
Dingo TX 1300, a tracked unit equipped with a Yanmar 37-hp Tier 4 diesel engine and extending loader arms, with a rated operating capacity of 1,300 lbs.
Dingo TXL 2000 Non-Telescoping, a tracked unit equipped with a Kubota D1803 diesel engine and a rated operating capacity of around 2,000 lbs.
Dingo TXL 2000 Telescoping, a tracked unit featuring a rated operating capacity of around 2,000 lbs with the loader arms retracted. With loader arms extended, the hinge pin height is over 10 ft.
eDingo 500, a wheeled unit powered by lithium-ion batteries.
Gravely's Axis models include:
200DW, with a 25-hp Kubota diesel engine, is ideal in locations with concerns on turf tear or compaction.
200DTN, with a 25-hp Kubota diesel engine, has 7-in. imbedded steel rubber tracks and works well in locations with spacing restrictions.
200DT, with a 25-hp Kubota diesel engine, has 9-in. imbedded steel rubber tracks and the largest lift capacity for the diesel models.