Fellow Machine Heads, welcome back the second episode of our new video series. This is Keith Gribbins, publisher and resident guinea pig at Benjamin Media Inc., and this is my new video series, curiously called Machine Heads, which I'm self producing in my home office. What could possible go wrong with this premise?
Um, watch the vid.
Well… in this ongoing internet webcast I'll detail the coolest new off-highway construction equipment coming into the marketplace and delve into the machine culture surrounding the construction, landscape and ag trades. In this second episode, I invite you into my home office in Strongsville, Ohio, to talk about Kubota's new SCL1000 stand-on track loader.
This is just the second of many episodes. Expect upcoming videos on John Deere's obsession with grade control, Cat's new economy-focused smartphone and then, of course, the bloopers episode. Make sure you subscribe to our YouTube page right here.
But enough about the setup. Let's talk about this new equipment. Machine Heads, here we go…
Here Comes Kubota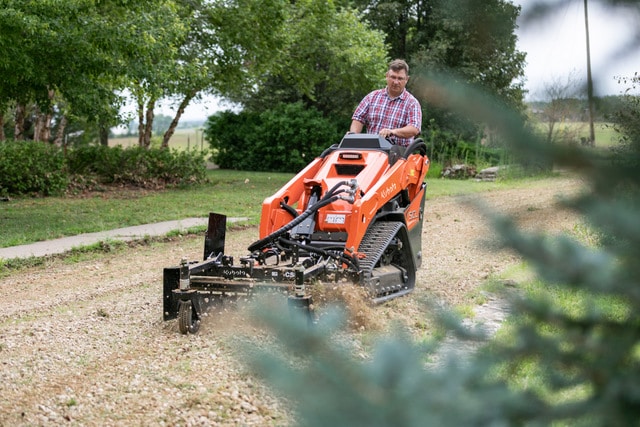 Kubota is entering the compact tool carrier market in the fourth quarter, which is a big deal, because Kubota is always methodical when it decides to enter a new category of equipment, so I expect this machine to be top tier. Kubota is calling its new SCL1000 unit a "stand-on track loader." Now, everyone has different names for these machines. Ditch Witch calls its lineup stand-on skid steers, Toro goes with compact utility loaders, Vermeer likes mini skid steers and Bobcat has its mini track loaders. In my opinion, if it's on tracks and you stand on it, I prefer the term stand-on track loader, so good job there Kubota.
Kubota revealed the SCL1000 stand-on track loader at CONEXPO-CON/AGG this past march, but it'll finally be hitting dealer lots Q4. Size and power are two key sales points for Kubota on this unit. It has wide tracks, a narrow body and a rated operating capacity of 1,000 lbs. Kubota sees landscape contractors and rental yards gravitating towards the SCL1000.
The SCL1000 features a wide 9.8-in. track that comes standard on the overall narrow, 36-in. machine. The wide track design, with a pressure rating of 4 psi, is definitely low impact, which is ideal for minimizing damage to grass and landscaping. Kubota, always big on durability, notes that track design is integrated into the frame. The undercarriage is welded to the mainframe of the body and includes sealed oil bath rollers that help maintain track tension, which means less maintenance for you and a longer life for the machine.
As you might expect, Kubota's SCL1000 boasts a 24.8-hp, turbocharged Kubota diesel engine, and keeping it under 25 hp avoids adding expensive aftertreatment to that diesel. The loader arms reach high and far with a hinge pin height of 84.7 in. and a reach of 25.9 in. at a 45-degree dump angle.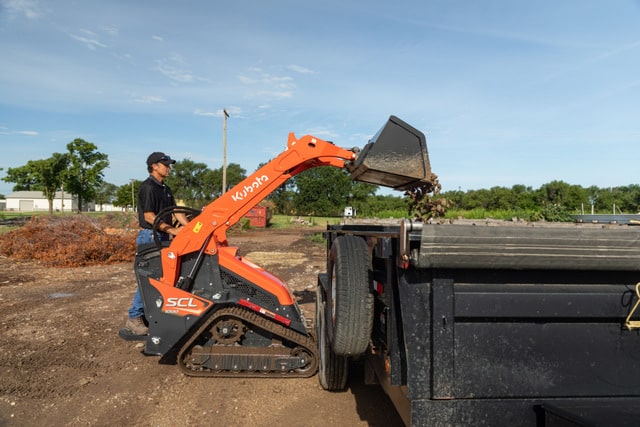 The loader comes standard with a keyless start with passcode protection, 12-volt charging port and a 4.3-in. LCD color dash monitor that provides easy-to-read machine monitoring. The SCL1000 also has a best-in-class travel speed of 5.1 miles per hour, according to Kubota.
Always a Kubota fan, so I'm excited to operate this unit when it comes out in the next few months. Learn more in the video above.
Tags:
home
,
Kubota
,
Machine Heads
,
Videos