Hello there, Compact Equipment readers. This is Keith Gribbins, publisher and resident guinea pig at Benjamin Media Inc. Welcome to my new video series curiously called Machine Heads. Just the name makes you want to click on that YouTube imbed above, right? What's it all about?
Well… in this ongoing internet webcast I'll detail the coolest new off-highway construction equipment coming into the marketplace and delve into the machine culture surrounding the construction, landscape and ag trades. In this first episode, I invite you into my home office in Strongsville, Ohio, to talk about two new excellent-looking mini excavators from Takeuchi (the TB370 and TB257FR). Don't judge my clutter.
This is just the first of many episodes. Expect upcoming videos on John Deere's obsession with grade control, Cat's new economy-focused smartphone and Kubota's big entrance into the compact tool carrier/mini track loader market. Make sure you subscribe to our YouTube page right here.
But enough about the premise. Let's talk about this new equipment. Machine Heads, here we go…
New Digs on the Block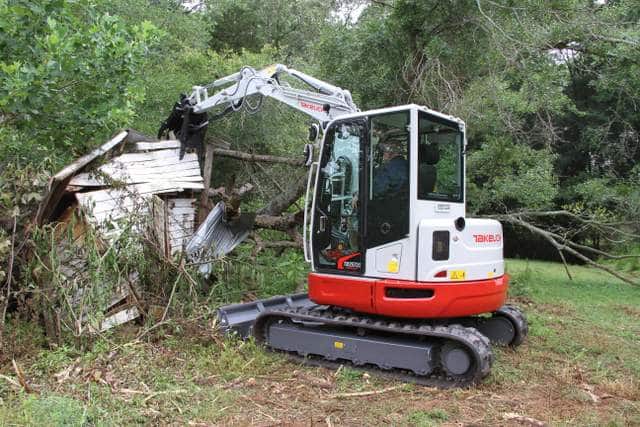 Takeuchi has been revamping and growing its excavator lineup in 2020. The company now has 14 excavators you can choose from, ranging from its smallest digger, the TB210, up to the TB2150, which is the brand's largest, most powerful excavator.
This fall, the company added the TB257FR and TB370 to its mini ex crew. Let's start with the TB257FR, which features a patented side-to-side offset boom, which is pretty cool. The side-to-side boom enables the unit to dig offset to the right or left side without needing to reposition the machine. Another advantage of this system is the boom's ability to be stowed over center. This allows the TB257FR to perform a full rotation just outside the width of the track. This makes it ideal for working in a variety of confined jobsites including road and bridge work, city streets and in between buildings.
The TB257FR's operating weight is 12,765 lbs. Its dig depth is 12 ft, 9.3 in. It has a maximum reach of 20 ft, 4.7 in., and it sports a bucket breakout force of 10,431 lbs. That's all powered by a Kubota turbocharged diesel engine that delivers 52.3 hp and 141.5 ft-lbs of torque.
The TB370 unit is actually a bigger deal. It's the first in Takeuchi's 300 Series compact excavator line. The TB370 is a bigger machine in the 6- to 7-ton class. Customers for this unit might include general contractors, landscapers, utility contractors and the rental industry.
The TB370 has an operating weight of 14,793 lbs. It has a dig depth of 13 ft, 4.8 in. It's maximum reach is 21 ft, 11.3 in., and it has an impressive bucket breakout force of 14,613 lbs. This machine can dig. Powering the TB370 is another Kubota turbocharged diesel engine that is Tier 4 Final and delivers 56.8 hp and 157 ft-lbs of torque. For added versatility, power and efficiency, the TB370 has a load sensing hydraulic system that provides over 31 gpm of auxiliary hydraulic flow to the attachment. That means this unit can power some serious implements like brush cutters and breakers.
As the first model in the 300 Series lineup, the TB370 cab has a wide range of state-of-the-art features, including an 8-in. touchscreen color monitor, integrated air conditioning and a Bluetooth radio.
Both of these new excavators are standout additions to the busy mini excavator market in America.
Tags:
home
,
Machine Heads
,
Takeuchi
,
Takeuchi-US