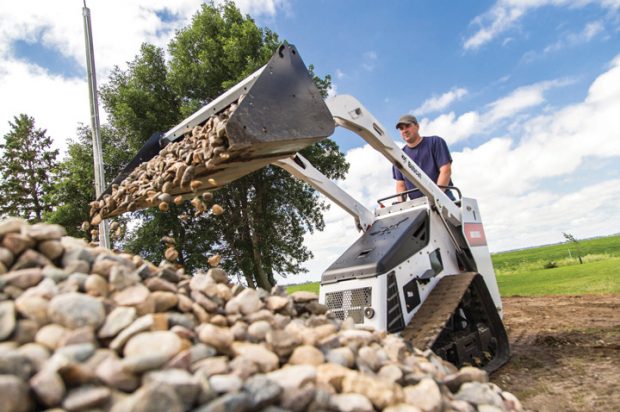 New MT85 Mini Track Loader Provides Increased Capacity and Lift Height
In 2002, Bobcat Co. entered the compact tool carrier industry with its mini track loader line and the MT50. Additional models, including the MT52 (2003) and MT55 (2004), were eventually added to the line. When the MT52 was introduced, it featured the first ride-on platform that could easily be detached for walk-behind operation.
Bobcat mini track loader popularity grew, in part, because the loaders could operate select attachments approved for larger skid steer loaders, using the popular Bob-Tach attachment mounting system, to increase their versatility and improve operator productivity. Today, the product line includes the MT55 and the new MT85, introduced in late 2015 through an accelerated launch process at the Bobcat Acceleration Center in Bismarck, N.D.
The Bobcat MT85 mini track loader provides a 54 percent increase in rated operating capacity and a 14 percent increase in lift height to help customers accomplish more work and replace tasks previously done by hand with wheelbarrows and shovels. With the new MT85 come two ISO joystick controls for enhanced operator comfort and convenience. The ergonomic controls help change travel speed and direction with the flick of a wrist.
Don't let the MT55 or MT85 mini track loader's size fool you. Bobcat mini track loaders have powerful Tier 4-compliant diesel engines and efficient hydraulic systems to deliver fast cycle times, strong breakout force and excellent pushing ability, says Bobcat. The machine's rugged frame, lift arms and hydrostatic drive system are designed for a long, dependable service life.
More than 25 approved attachments are available for Bobcat mini track loaders, making them a versatile machine for landscaping, rental, construction and agriculture applications. With the new common industry interface (CII) for the MT85, owners can utilize attachments they may already own. Popular attachments for mini track loaders include buckets, pallet forks, augers, trenchers, stump grinders and hydraulic breakers.
One of the most obvious benefits of mini track loaders is their ability to travel through tight spaces, such as doorways and fence gates, and work in confined spaces in landscaping and construction applications. Bobcat mini track loaders are just 36 in. wide when paired with a bucket, and their compact size makes them easy to load and transport on a trailer from jobsite to jobsite.
A rubber-track undercarriage distributes the loader's weight, reducing ground pressure and minimizing damage to lawns and other established surfaces. Less ground disturbance means fewer repairs, happier customers and improved profitability. With solid traction in wet, muddy and sandy conditions, the machines can keep crews working when they might otherwise be waiting.
Advice to buyers
"If ground disturbance where you are working is a concern, consider purchasing wide tracks for your mini track loader to lower ground pressure," says Chris Austinson, mini track loader product specialist with Bobcat. "Just remember that wide tracks will increase the overall width of the machine and may reduce access in some areas."