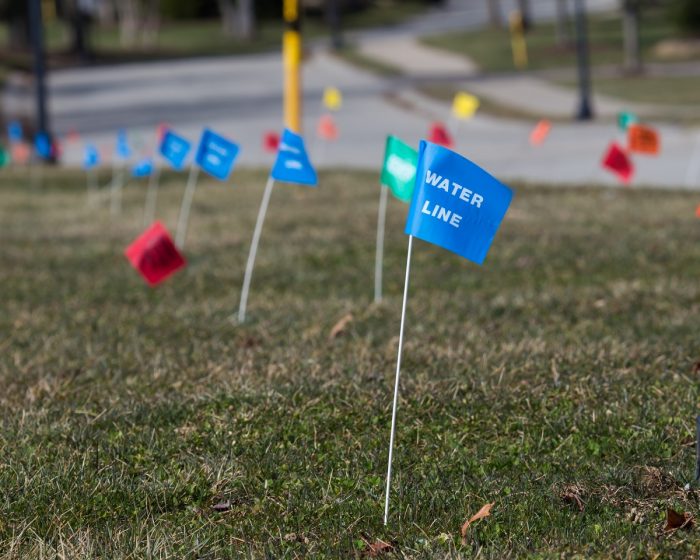 In observance of April as National Safe Digging Month, Common Ground Alliance (CGA) — the national association dedicated to protecting underground utility lines, people who dig near them and their communities — today reminds professional excavators, landscapers, contractors and anyone else who breaks ground to contact 811 before they dig. Digging without knowing the approximate location of underground utilities can result in serious injury, inconvenient service disruptions, costly fines and repairs and even death when gas, electric, communications, water and sewer lines are damaged.
According to CGA's annual Damage Information Reporting Tool (DIRT) Report, more than half of annual reported damages (55.3%) were caused by professional contractors. The most common root cause of these damages was "no notification made to the 811 center," meaning the damages could have been avoided if excavators contacted 811 to have utility lines marked prior to breaking ground.
This trend has been consistent year-over-year and reflects deeper challenges in the efficiency of the 811 system. CGA's Next Practices Initiative has highlighted the need for the 811 system to be more reliable for all stakeholders, as well as the importance of excavators continuing to use 811 consistently and effectively. To help drive this change, CGA recently announced a new tagline for 811: "SAFETY IS IN YOUR HANDS. EVERY DIG. EVERY TIME," which serves to emphasize the importance of consistent use of 811 before every digging project.
"CGA's contractor member representation has grown significantly, and we're thankful for the contributions of these key stakeholders who provide invaluable input into the realities of excavation and their challenges within the 811 system," said Sarah K. Magruder Lyle, president and CEO of CGA. "Our research consistently shows that we should take advantage of opportunities to provide more excavator training — both within excavation companies and from other damage prevention stakeholders — to drive home the severe consequences of not contacting 811 and demonstrate practices that help make the system more efficient for all involved." 
Contacting 811 and following safe digging practices holds value for excavators beyond avoiding serious injury and fines — it can be a way for excavators to stand out among their competitors. A recent national survey of homeowners conducted by CGA revealed that, among respondents planning to hire a contractor for a digging project in the next year, 82% said a contractors' usage of the 811 system is important. By contacting 811 before every dig and prioritizing damage prevention, contractors can demonstrate to potential customers that safety is their priority. 
Professional excavators and others who break ground — including work like resurfacing, installing, staking, ripping, grinding and tiling — are obligated to contact 811 to have utility lines marked before excavating. After 811 is contacted, professionals must follow all necessary safe digging procedures to ensure that a line is not struck during excavation. This includes waiting the appropriate time for lines to be marked, potholing to confirm the location of buried utilities and hand digging within the tolerance zone. If a jobsite is not located in the required time, excavators should contact their local 811 center or the utility company to confirm that the jobsite is clear to dig. 
Excavators should also review and implement CGA Best Practices to ensure that excavation is done both safely and in the most efficient way possible for the damage prevention system to work properly. Some Best Practices for excavators while on the jobsite include white-lining the planned excavation area, requesting pre-excavation meetings with facility owner/operators for large projects and documentation of locate marks. 
"We know from CGA research that awareness of 811 is very high among professionals, but year after year we continue to see damages caused by contractors who did not contact 811 before digging," said John Fluharty, Project Executive at Quanta and Secretary of the CGA board of directors. "It's critical that as professionals we understand the importance of contacting 811 before digging to protect ourselves, our crews and our livelihoods, and that other stakeholder groups work to make the 811 process more efficient to restore excavators' confidence in the system."
Earlier this year, CGA issued its "50 in 5" challenge, calling for the damage prevention industry to reduce damages by 50% by the year 2028. In honor of National Safe Digging Month this April, CGA urges excavators to do their part in this challenge by contacting 811 before every dig.