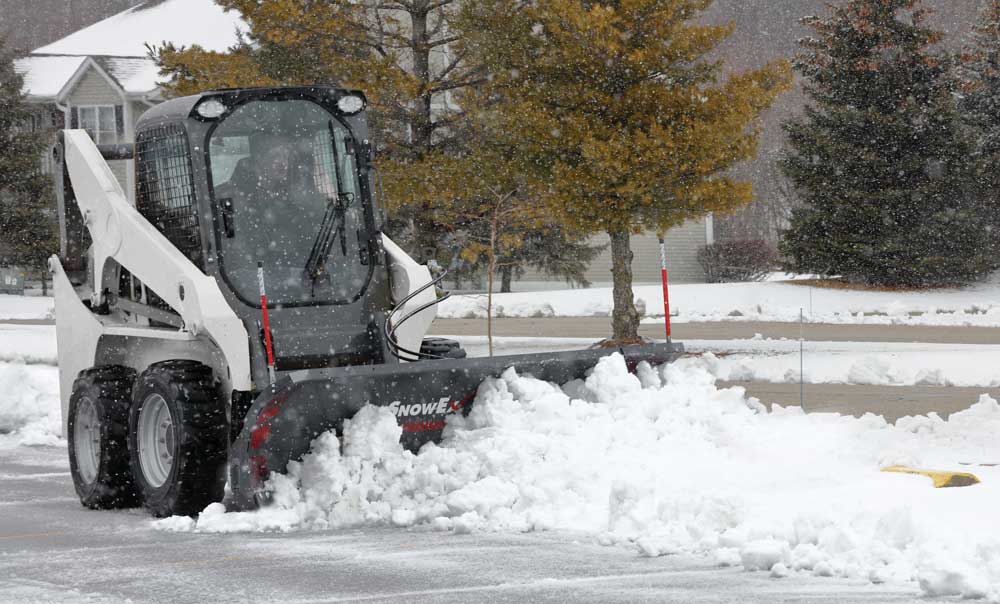 For snow and ice management professionals, fall brings anticipation mixed with some trepidation for what's to come. Whether you see winter's imminent arrival like a kid in a candy store or like a pest you can't shake, embracing the predictably unpredictable nature of the season can make it an easier transition. As if snow operations aren't hard enough given the working conditions and liability, expect these five trends to directly influence companies who provide snow services in 2019-'20.
Salt Supply
Private snow and ice management companies have long been at a disadvantage when it comes to getting a bigger slice of the salt supply pie, with first dibs going to governmental entities. But in the last several years, their footing has become more unstable as supply has constricted, prices have increased, early and/or frequent storms have depleted inventories and customer expectations have escalated. Heavy rains this summer dealt a blow to the already tenuous Midwest transportation network when flooding forced the closure of the Mississippi River to barge traffic for stretches at a time.
With so much uncertainty, the private snow industry must take a more proactive approach to contain the impact of the shifting supply chain on operations:
• Salt procurement must start earlier with snow professionals knowing realistically what they need to buy and establishing a network of suppliers that they can count on. This may require a larger upfront investment and the need to store material.
• Pricing has fluctuated with supply challenges. Contractors should plan for the worst and communicate with their clients proactively.
• Contractors need a smarter approach to salt use that includes 1) focusing on proper equipment calibration and application rates to minimize salt waste, and 2) adopting anti-icing strategies to help reduce the amount of salt being used while increasing performance and efficiencies.
Embracing Liquids and Anti-Icing
The salt supply challenges have seen contractors begin to embrace the use of liquids as part of their ice management toolbox. The "liquids don't work" fallacy is being muted as contractors educate themselves on the science of how liquids work and understanding the best methods and uses to ensure greater success. Proactive snow pros should focus on prevention of the bond between snow/ice and pavement as a core policy. Staying ahead of the storm will allow contractors to deliver better service while conserving their precious salt supply:
• Anti-icing with a solid or treated solid. Spreading treated rock salt is a common deicing strategy; but it can also be used prior to the storm to mitigate bond formation at lower surface temperatures than can be achieved with straight rock salt.
• Pre-wetting a solid material. Coating solid materials with liquid to increase effectiveness directly before application is also an effective strategy that can yield better results with less overall product used.
• Direct Liquid Application (DLA). Applying a liquid deicer directly to a surface (it is commonly referred to as a pre-treatment) has the potential to be the most efficient method of bond prevention but requires a great deal of training and proper equipment to do well.
A full list of best practices is available in the free SIMA Best Practices for Sustainable Salt Use at www.sima.org/bestpractices. Getting started with these core policies, and getting buy-in from all decision-makers and stakeholders will be key.
Labor Remains a Concern
The lack of availability of reliable labor willing to work in the worst conditions has been the No. 1 business concern in the industry for several years. An improving economy, tight job market and frankly unwillingness of some to do the work are compounding the issue. How are snow pros combatting the labor shortage?
• Working with complementary industries, such as construction companies, roofers, etc., who may lay off workers in the winter as a source of temporary labor.
• Turning to technology. With no end in sight to the people problem, companies are turning to equipment and technology to reduce their reliance on laborers. This is especially true for equipment being used to remove snow and ice from sidewalks. Machines are being designed with efficiencies that allow one operator to do the work of a 5-6 shovel crew more quickly and more completely. ATVs and sidewalk machines can be outfitted with plows, brooms, spreaders and sprayers to turn them into multifunctional efficiency powerhouses. In addition, self-driving robotic machines that can be programmed to mechanically remove snow and spread ice melt chemicals have come into the market in the past few years.
• Building a culture. Just like any major business segment, the companies that focus on their internal cultures, training and support of their employees outperform those who don't in managing a quality workforce. More commercial snow companies are seeking to improve their focus on safety, benefits and policies so that they can provide more and better opportunities for their people long term. The industry also has multiple high-quality credentials focused on enhancing knowledge and skill, and multiple awards and events focused on recognizing best companies and employees in snow and ice.
• Utilizing social media to build a solid web presence that highlights the great things about working in a professional industry like snow and ice management. This can serve a dual purpose of marketing and recruiting new employees.
"Climate has always and will always be changing, and these changes will affect how we push snow, the length of our seasons and the type of materials and equipment we use."

— Frank Lombardo, Meteorologist
Weather Instability
One thing snow professionals can always count on is the fickleness of Mother Nature. Ebbs and flows should be expected with some winters lighter than others. However, companies are seeing more instability and changing weather patterns than they've seen historically. In a recent Snow Business survey, 66 percent of respondents indicated changes in winter weather patterns or trends that are different for what is considered "normal" in their market; 30 percent reported more variability in the number of events and snowfall extremes; and 39 percent reported an increase in ice or mixed precipitation events.
There is overwhelming scientific evidence that the average temperatures across the Northern Hemisphere have been warming over the past 100 years and that the rate of warming is escalating. According to NASA, 10 of the hottest years on record have occurred since 1997. That doesn't mean that snow is disappearing — in fact, when the atmosphere is cold enough to snow, warmer air is likely to hold more moisture and produce bigger snowstorms. Enter the instability.
"Climate has always and will always be changing, and these changes will affect how we push snow, the length of our seasons and the type of materials and equipment we use," says meteorologist and WeatherWorks president Frank Lombardo. Looking ahead, he says snow pros should be prepared for the following:
• Expect more variability, especially in marginal snow areas. This will become increasingly challenging to snow and ice managers across the lower Midwest, southern Appalachia and parts of the southeastern United States.
• Watch out for January and February. It was just a few years ago when the Jan. 22-24, 2016, blizzard blasted its way from Arkansas to Massachusetts with record snowfalls.
• Shorter overall seasons may result in an increased use of deicing materials at the onset and end of each season. This could continue to affect the inventory of deicing materials, creating supply shortages.
"The industry needs to adapt by continuing to learn and understand how weather patterns are changing and maximizing how they integrate changing climate data in their billing models," he says.
These challenges, while daunting, are by no means insurmountable, and the state of the snow industry overall is strong. The business of snow and ice is maturing rapidly, and there is a tremendous amount of opportunity for those contractors who are able to anticipate and adapt to these changes.
Cheryl Higley is director of education and content for the Snow and Ice Management Association. Learn more about SIMA resources and benefits available to snow professionals at www.sima.org.
Tags:
October 2019 Print Issue
,
SnowEx