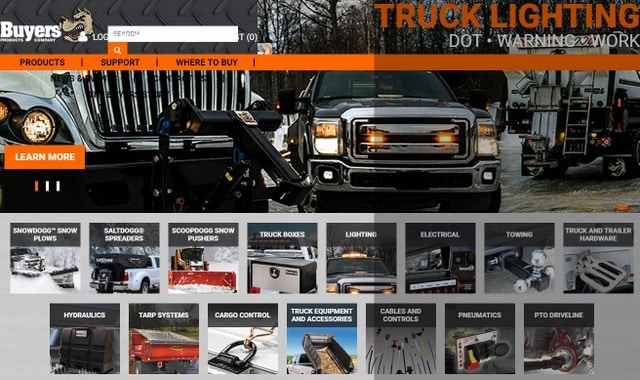 Buyers Products, a leading manufacturer in the work truck equipment industry, launched a new website at BuyersProducts.com. The new site features the entire Buyers product assortment, including the popular SnowDogg, SaltDogg, ScoopDogg and DumperDogg brands. The site features detailed product pages with rich media including photographs, videos and 360-degree panoramas. Users can browse more than 16 categories of work truck, towing and snow and ice management equipment.
"Every decision regarding the design and development of the new website was made to optimize the user experience," said Jim Nerone, director of business intelligence at Buyers Products. "We're excited people can now learn more about the work truck equipment they need and easily locate a local business partner from whom to buy it."
The website is packed with user tools. The new "Where to Buy" function allows users to find a dealer nearby who specializes in the type of products they are browsing. The SnowDogg "Plow Selector" tool has migrated from the former SnowDogg.com website and was improved by offering more precise results that can easily be printed or emailed.
Buyers' new website also features "Business Partner Access," a password-restricted area where existing Buyers Products customers can login to check price, availability, and make purchases. Buyers aims to make it easier than ever for customers to do business.
"As always, you can still call us and talk to a real human being," said Laura Hutson, director of customer service. "We're always here to help, and we love hearing from our customers."
Learn more and browse Buyers' entire product selection at the all-new buyersproducts.com.
For more info from Buyers Products, click this link. We promise it's completely clickable.