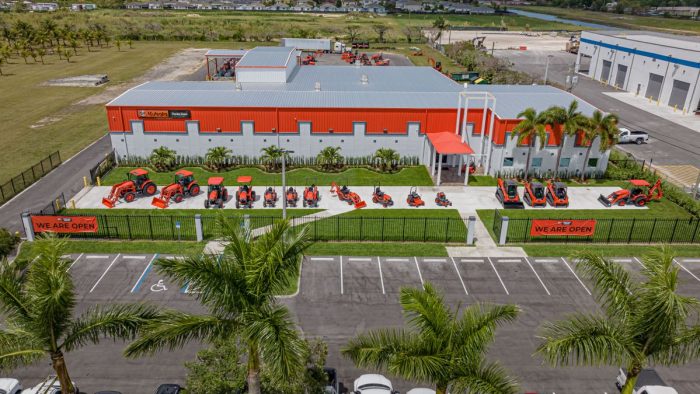 Florida Coast Equipment (FCE), the nation's largest Kubota equipment dealership, recently announced the recent opening of its 13th location based in Homestead, Florida, to serve Miami-Dade and Monroe Counties. The state-of-the-art facility is a testament to FCE's significant investment in both its team and the local economy. This new store is a full line Kubota dealership providing parts, sales, service, and rentals.
"Despite the business's incredible growth, we maintain our dedication to a team-oriented, community-centric strategy that has established us as the top Kubota dealership in not only Florida, but the entire nation," said Todd Bachman, President and CEO of Florida Coast Equipment. "As we continue to invest in the great state of Florida, we are committed to building not only the best facilities but team of people to serve our customers and the communities we operate with in by delivery superior customer service and unrivaled product support." 
"Homestead is a city rooted in agriculture and is a thriving hub for nurseries, landscape, and construction companies, and landowners," added Bachman. "We recruited talented, hardworking individuals from the local community to support this location, and I'm impressed with the team's level of excitement and engagement. Florida Coast and the community will be well served for years to come."
By investing in its employees and opening new locations, Florida Coast Equipment is not only expanding their business, but also providing more job opportunities across Florida. Since its founding in 1985, Florida Coast Equipment has grown from a single store with two employees to the largest Kubota dealer in the nation with 13 locations and over 200 employees
For more information, or to find a Florida Coast Equipment location near you, visit www.floridacoasteq.com.
Compact tool carriers, compact utility loaders, mini skid steers. Whatever you call them, we can all agree these machines pack a lot of productivity in a small package. Learn more about them here!