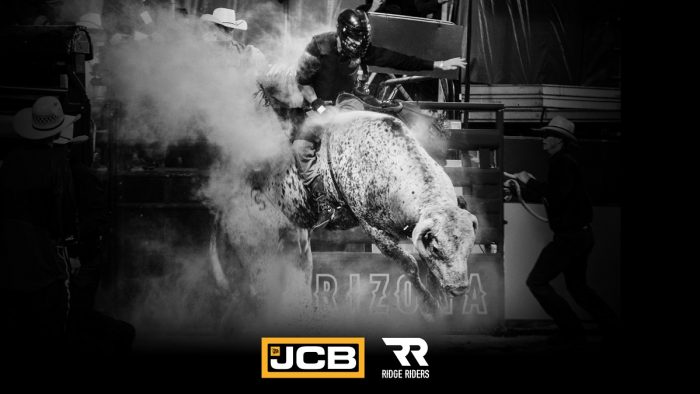 JCB North America recently announced a partnership with Teton Ridge-owned bull riding team, the Ridge Riders, competing in the all-new Professional Bull Riders (PBR) Team Series. As an Official Sponsor, and the Official Equipment Company of the Ridge Riders, JCB equipment such as the JCB backhoe and the JCB Teleskid, the industry's only telescopic skid steer and compact track loader will be showcased at the team's home event in Glendale, Ariz.
The unique new PBR Team Series features head-to-head five-on-five bull riding games in a 10-event regular season, culminating in a Teams Championship in Las Vegas, November 4-6.
From its North American headquarters and manufacturing facility in Savannah, Ga., JCB manufactures skid steer loaders, compact track loaders, telescopic handlers, and equipment for commercial and defense customers, and markets a range of more than 300 JCB machines via 120 dealers across the region.
"JCB is a company built on innovation and we're always looking for ways to revolutionize the equipment industry with our products, so when we were offered the opportunity to get in on the ground floor of the newest innovation in the world's premier bull riding organization like the PBR Team Series and the Ridge Riders, it seemed like the perfect fit for us," said Ashby Graham, general manager for product and marketing for JCB North America. "The athletes that Teton Ridge has assembled for the Ridge Riders are the best of the best, and we look forward to supporting them as they compete in this inaugural season."
The Ridge Riders will call Glendale, Arizona's Gila River Arena home and will host their "Ridge Rider Days" homestand and surrounding festivities, which will serve as the final game for the regular season, Friday, October 14 through Sunday, October 16. Tickets for the three-day event are on-sale now and can be purchased online at Ticketmaster.com and PBR.com, at the Gila River Arena Box Office, or by calling PBR customer service at 1-800-732-1727.
"Teton Ridge and the Ridge Riders are all about infusing technology and new thinking into the traditional," said Casey Lane, general manager of the Arizona Ridge Riders. "To integrate that vision with JCB through their precision equipment and technology is truly amazing."
Every game of the 2022 PBR Team Series season will be covered on CBS Television Network, CBS Sports Network, and/or Pluto TV.
We'd love to keep in touch! Check us out on Facebook, Twitter and LinkedIn!
Tags:
JCB
,
JCB North America