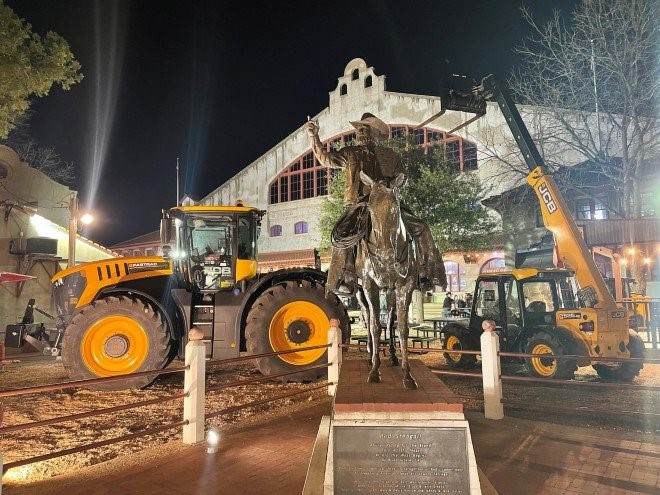 JCB North America is partnering with The American Rodeo — "the world's richest weekend in western sports" as the official tractor and skid steer sponsor for 2022. With an unprecedented total purse of more than $3 million, The American's payout now rivals that of the Kentucky Derby. This unique event brings together top professional rodeo athletes in a winner-take-all showdown to crown the world's finest champions.
As part of its sponsorship, JCB machinery will be featured during rodeo set up and for special use during events. On display will be the 8330 model Fastrac, JCB's agricultural tractor boasting a top speed of 43 mph and a full suspension that allows operators to complete tasks quickly and efficiently. The JCB Teleskid will be in use during rodeo set up. The Teleskid is the industry's only telescopic skid steer and compact track loader providing more lift height, reach and dig depth than any other skid steer on the market.
"Being a part of this exciting event featuring the top rodeo athletes in the field, is a wonderful opportunity to showcase our robust and innovative equipment that excels in any application," said Richard Fox-Marrs, President and CEO of JCB North America.
The American Rodeo Semi-Finals will be held at Cowtown Coliseum in Ft. Worth, Texas, March 1-4 and the Finals will be hosted in Arlington, Texas, at AT&T Stadium March 6. With the partnership, JCB will also be the exclusive sponsor of the Bareback riding event.
"What many of our customers may not know, is that we began as an agricultural business, and then grew into the construction industry with the invention of the backhoe loader. Today, our machinery is used in a variety of industries from general construction and agriculture to rental applications, landscaping, and everywhere in between," Fox-Marrs said. "The Fastrac and Teleskid featured in this sponsorship are prime examples of ways our equipment is purpose-built to exceed our customers need for high performing and dependable machinery, no matter the task at hand."
The American will be aired on Cowboy Channel, RFD TV and INSP. Besides the equipment showcased at the rodeo, JCB will run a new national ad during coverage of the event.
We'd love to keep in touch! Check us out on Facebook, Twitter and LinkedIn! Tags: JCB North America, The American Rodeo