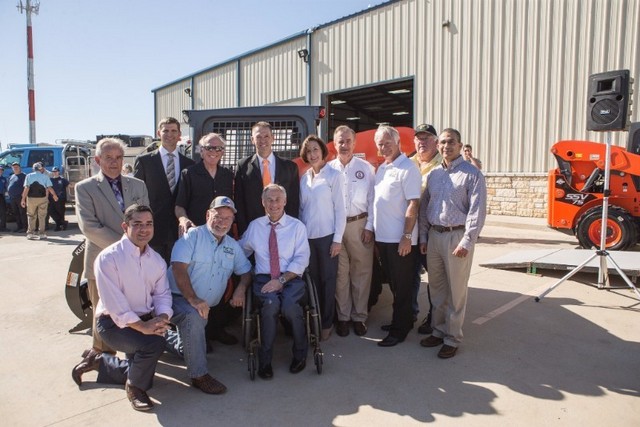 Governor Greg Abbott recently joined officials from Kubota Tractor Corporation, Commissioner John Sharp and local elected leaders in Fulton, Texas, to announce a $1 million dollar donation of funds and equipment from Kubota to the Hurricane Harvey relief effort. This donation will help provide the people of Aransas County and surrounding areas with the equipment and tools they need to help clear debris and expand efforts to rebuild businesses, homes, and entire communities that were devastated by Harvey. Following the announcement, the Governor expressed his thanks for Kubota's generous contribution to the relief effort and to helping Texans in their time of need.
"This donation speaks to the character and integrity of Kubota and their investment in the people of Texas," said Governor Abbott. "I am extremely proud of how our state and companies like Kubota have responded to this storm, and this donation serves as a reminder that we are all in this together. Hurricane Harvey caused unprecedented damage, but no storm can match the Texas spirit, and nothing is more powerful than a united Texas."
"We have a long history of helping to rebuild communities when disaster strikes, throughout the world – it is truly the Kubota Way to be socially responsible and help our neighbors," said Todd Stucke, Kubota Tractor Corporation senior vice president of Marketing, Product Support and Strategic Projects. "By immediately mobilizing loaned Kubota construction equipment with the help of our local dealers when the catastrophic hurricane struck here in Texas, to today's announcement of 12 donated skid steer units, we are extremely humbled to be able to fill a need to help rebuild these communities and assist those unfortunately affected in returning to a normal life."
For more info about Kubota, click this link. It's even Kubota orange.
Tags:
Friday Accolade
,
Kubota
,
Kubota Tractor Corporation