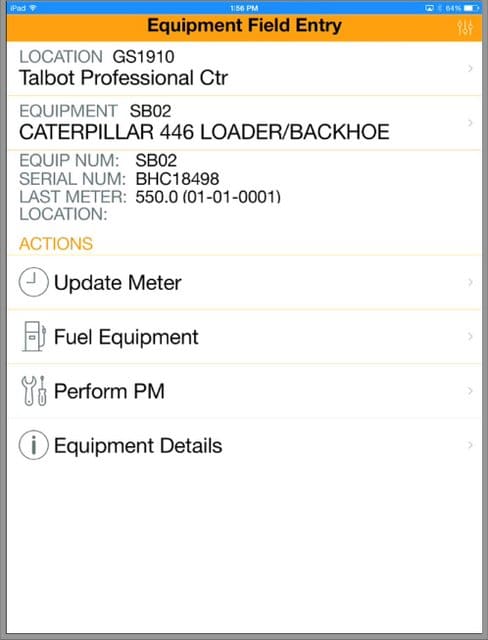 Dexter + Chaney, developer of Spectrum Construction Software, has debuted the latest in its new line of mobile applications for the construction industry: Spectrum Equipment Field Entry.
The Equipment Field Entry app is a simple, powerful tool for gathering and analyzing equipment data in the field. Using the app, users can select a job and view all equipment assigned to it, or view the location of equipment in the field. The app can be used to enter data such as usage hours and odometer readings and track fuel transaction or amounts of fuel dispensed. Equipment Field Entry can also track scheduled maintenance tasks — informing users of when maintenance is due and recording when maintenance tasks are completed.
"One of the biggest benefits of the Equipment Field Entry app is the ability to track fuel usage and gather data to get better control of fuel costs," said John Chaney, Dexter + Chaney's CEO and co-founder. "Fuel itself can amount to as much as one-third of operating expenses on equipment. Most companies have not had a simple, effective way to accurately gauge fuel readings and therefore many make rough projections or lump fuel costs together as overhead.
"With Equipment Field Entry," Chaney explained, "that data can be easily gathered and equipment managers can get accurate, up-to-date utilization rates for equipment, stay on top of maintenance, and manage equipment more effectively and efficiently overall."
The Equipment Field Entry app connects directly to Dexter + Chaney's Spectrum Construction Software suite, allowing for data to flow seamlessly into the system to keep financial and project information up to date. The app can also work offline and sync with Spectrum when connected to the Internet. The app includes Bluetooth capability that enables it to automatically connect and communicate with fuel tank flow meters.
"We recognize the need for better data gathering in the field and better communication of that data with the office," Chaney said. "If equipment breaks down because of a lack of current information, or if equipment costs are not being accurately accounted for, a construction project is going to suffer. That's why we designed the Equipment Field Entry app—to help close that information gap."
The Equipment Field Entry app works with tablet devices and iPhone and Android smart phones, and is available at both the Google Play and iTunes app stores.
For more info, visit at Dexter + Chaney its website.