Prices for inputs to construction materials expanded 0.8 percent in March and are 5.8 percent higher than at the same time one year ago, according to an Associated Builders and Contractors (ABC) analysis of U.S. Bureau of Labor Statistics data. Prices for non-residential construction inputs increased 0.9 percent on a monthly basis and are up 5.6 percent year over year.
The up-ward pressure on construction materials prices was masked to a certain ex-tent by natural gas. Natural gas prices fell 32.1 percent in March — after rising 23.5 percent in February — and are down nearly 13 percent on an annual basis. In stark contrast, crude petroleum prices expanded 5 percent in March and are up 34 percent year over year. Predictably, steel prices rose in March, but larger increases are forth-coming as the price of steel to be delivered is increasingly subject to the renegotiation of expiring con-tracts.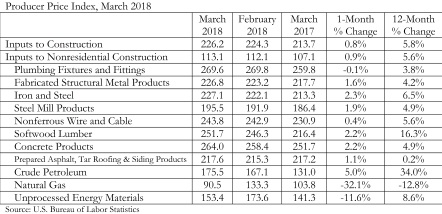 "Construction backlog and other data indicate that leaders at the typical nonresidential construction firm expect their company to be busy in 2018, but that meaningfully expanding profit margins may prove challenging," said ABC Chief Economist Anirban Basu. "A combination of economic momentum and dueling tariffs has served to accelerate construction input price growth in categories that have been featured in recent trade disputes, such as steel/iron and soft-wood lumber.
"Ongoing in-creases in employee compensation strongly suggest that the cost of delivering construction services is set to rise substantially in 2018," said Basu. "So far, there is little evidence to suggest that purchasers of construction services have been significantly discouraged by rising prices in the context of an improving economy. However, construction spending growth continues to be only moderate, and further cost increases may induce more developers and other purchasers to postpone projects. Growing uncertainty regarding the availability of domestic steel and other inputs during the latter stages of 2018 also may have a chilling effect on some project starts.
"The hope is that uncertainty emerging from the policy-making environment will quickly abate," said Basu. "Many agree that there are opportunities for the United States to improve its access to foreign markets, but also that the eruption of full-blown trade wars could bring the current economic expansion to a halt. That would not be good for contractors in terms of demand for their services. It also likely would translate into additional significant increases in overall materials costs as tariffs take hold, which presumably would further dampen profit margin growth."
For more info on ABC, click this link. It's as easy as A, B and C.