The Technology Association of Iowa Announces The Prometheus Award for Manufacturing Technology Company of the Year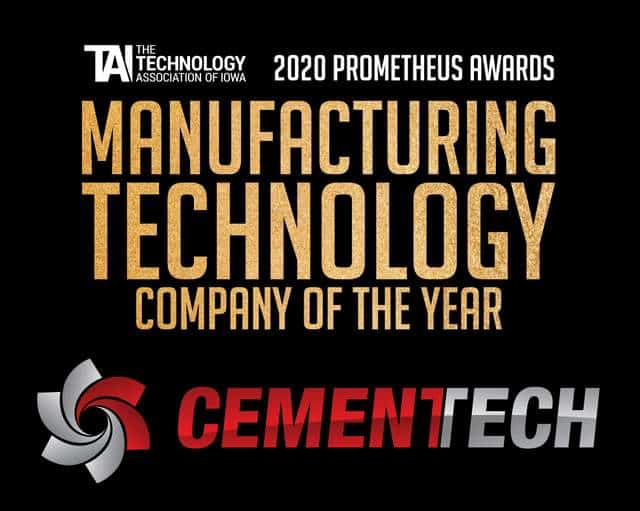 Cemen Tech, the world's largest volumetric concrete mixer manufacturer, has been announced as the 2020 Prometheus Award Winner for Manufacturing Technology Company of the Year. Finalists in this category included Pella Corporation, Sukup Manufacturing Co., Vermeer and Wells Enterprises.
The most prestigious recognition for Iowa's technology industry, The Prometheus Awards presented by LWBJ celebrates leaders from technology, business, education and government for the year's most momentous innovations. The awards acknowledge individuals and companies impacting Iowa's over $10 billion technology industry, which accounts for almost six percent of the state's total economy and employs over 92,000 workers. Finalists and award winners epitomize great talent, solidifying Iowa's reputation as a technology state.
"We are proud to win this award because it shows our commitment to technology in our ever evolving manufacturing process, our proprietary technology development for our equipment and first in our industry technology for support," said Connor Deering, CEO / President. "ACCU-POUR™ for real-time concrete production monitoring and Cemen Tech CONNECT, an industry exclusive web-based video technical support system, are two examples of how we are leading our industry to provide technologies that support our customers' businesses."
ACCU-POUR allows real-time production monitoring for volumetric mixers, providing users a comprehensive view of their concrete business operations, and is designed to impact operations of all sizes, giving users more control over their business than ever before. This cloud-based productivity solution can be used on any brand of volumetric concrete mixer.
For more info on Cemen Tech, click this link. We promise quality content.