Charlotte has become a global city-state over the last few decades — the second-largest metro area in the southeastern United States — just behind Jacksonville, Fla. The boomtown has become a business capital to multinational corporations in banking, financial services, motorsports and energy. Just try navigating rush hour traffic, and you'll understand how busy Charlotte has become.
Even its satellite cities are thriving with industry. We recently visited Rock Hill, S.C., which is the fourth-largest city of the Charlotte metropolitan area (behind Charlotte proper, Concord and Gastonia). Long-time Rock Hill resident Atlas Copco has just opened a new $25-million facility to enhance its support for the North American construction market. The 197,000-sq-ft, LEED-certified plant serves as the production and assembly home for Atlas Copco's North American Construction Technique division, and in May, Compact Equipment got the opportunity to tour the new production and business hub.
"First off, it's a state-of-the-art facility from a production standpoint," explained Scott Carnell, president of Atlas Copco's U.S. division. "This facility will allow us to ramp up and ramp down production as it fits our needs. It's also a LEED facility, so it speaks widely for how we feel about the environment and sustainability. It's an affirmation of that. It also allows us to dig deep into the community, like Rock Hill in the Charlotte area, that we've been committed to for a long time. It's just another affirmation that Atlas Copco is here to stay."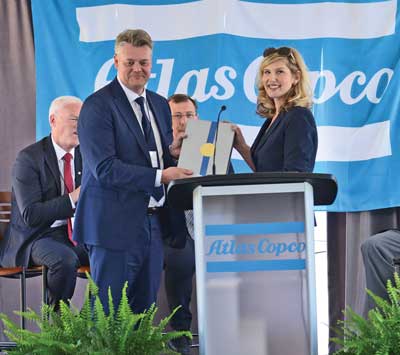 Atlas Copco celebrated the grand opening of this new production facility with a ribbon-cutting ceremony on May 17. An extensive tour of the facility showcased pristine new assembly lines, high-tech office spaces, extensive parts inventory and a hungry crew of more than 300 employees ready to build top tier generators and compressors, as well as Atlas Copco medical brands like BeaconMedæs, which is a leading supplier of medical gas equipment and services. Atlas Copco is even building gen sets and compressors branded under its Chicago Pneumatic and American Pneumatic Tools lines at the new Rock Hill facility.
"It's very important that we have a dedicated team here working on these products which are really in tune with what customers in North America want, so these products are Americanized, providing a local flavor," said Peter Lauwers, president of the Atlas Copco portable energy division. "Secondly, by having this facility here, we have a short way to market so we don't need to bring in products from over the ocean. We can react fast to customers' needs. Point number three is that we have the full team here, from R&D up to sales and service. Everybody sits here. If there is an issue, we can shortcut it, and we can react fast. I think it's that reaction time to customers that will benefit from this group sitting here dedicated to the U.S. markets."
The new Atlas Copco facility has also been engineered to better tackle the evolving development of Tier 4 Final engine systems. Both big and small units (from the giant QAS 330 MD down to the uber popular and compact XAS 185 HardHat) are being assembled with the latest electronic engines and aftertreatment systems from the likes of Kubota, John Deere, Cat and Isuzu.
"At the old place we were still working with the Interim Tier 4 technology, where here it's wholly and fully Tier 4 Final," explained Michael Sagermann, vice president and business line manager with Atlas Copco's portable energy division. "So, we have all of this innovation and all our core competencies here with the engineering to develop local products for the U.S. market properly. It's nice to have that connection here with the new facility to develop those Tier 4 Final products correctly for the U.S. market. There's so much innovation that comes out of Atlas Copco, and I think this new facility will really reflect that in the products."
The new Atlas Copco building is in one of Rock Hill's newest mixed-use developments, called the Riverwalk Business Park, and it has replaced the company's original facility which was also in Rock Hill. The new plant has even achieved Leadership in Energy and Environmental Design (LEED) certification. Construction, which began in January 2016, included lean manufacturing features to enable efficient and flexible processes that are sustainable for the environment. The new American headquarters is ready to ramp up Atlas Copco's presence and service in the United States and Canada, and with a number of growing markets (especially rental), executives are excited about upcoming opportunities.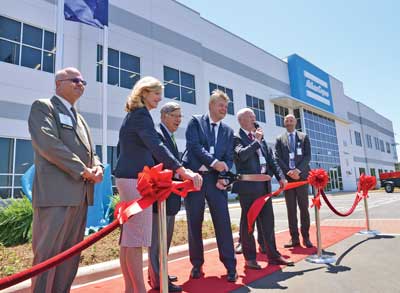 "There's a latent demand in the rental industry for sure," said Andrew Walker, president of the Atlas Copco Construction Technique Business Area. "They told us. In the past they said, 'You know, with the increase in costs from Tier 4 Final, we're not going to invest as much.' They haven't invested as much in the last two years, but now they've built up this demand, so I think we're rather optimistic about the rental business. And you know, the economy is steaming ahead a little bit, so the rental guys are placing orders again. That's great because I think the timing is just perfect for our new facility here."
Tags:
Atlas Copco
,
BeaconMedæs
,
Caterpillar
,
Editor at Large
,
home
,
Isuzu
,
John Deere
,
June 2017 Print Issue
,
Kubota