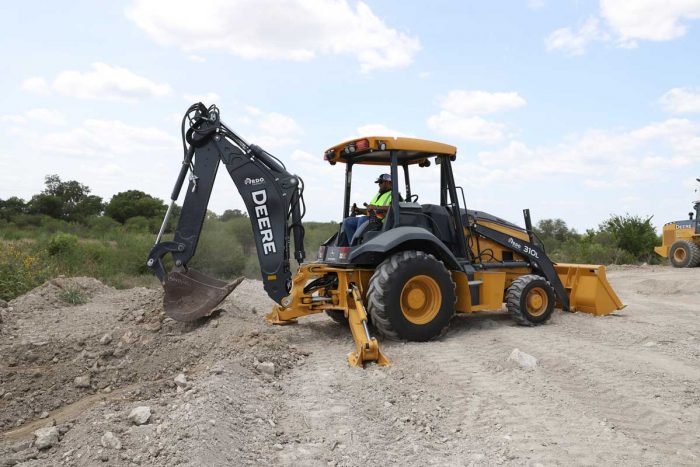 Acting as the perfect blend of excavator and wheel loader in one machine, the backhoe loader has made a name for itself among operators looking to dig, lift, carry and everything in between. With its ability to tackle all those tasks, a backhoe loader has secured a solid spot in the rental yard.
"Backhoe loaders are great multi-purpose earthmoving machines," says Griffin Eure, strategic account manager at United Rentals. "They are best suited for large-scale projects that demand power and speed. They are part tractor, loader [in the front] and backhoe [in the back] — all in one. Customers often rent backhoe loaders for digging ditches and trenches, backfilling, lifting heavy materials and moving loose material. Backhoe loaders have several attachment options that enable the machine to perform a wider array of jobs than a mini excavator."
Over the years, rental has become a valuable resource for contractors, landscapers and homeowners looking to try out a machine or use equipment on an as-needed basis. Backhoes are no exception to that.

"In addition to those common digging and material moving applications, a backhoe drives quickly and easily around a jobsite, so they are often used to move items from one place to another," says Dennis Howard, vice president of equipment, RDO Equipment Co. "Their travel ability allows them to go from one jobsite to another, wherever they are needed, so that is another advantage to renters looking to get maximum use from the machine."
If rental is an option someone would like to pursue, companies offer various timeframes a machine can be borrowed — daily, weekly and monthly. As for the cost, Howard says that price and transport fees are going to vary based on your location and the dealer or rental house.
Decisions, Decisions
As with any equipment purchase or rental, the first place to start in the decision-making process is knowing the job the backhoe is expected to complete. Being up front with this will allow a rental company to pair a renter with the best model available. These considerations include the environment, required dig depth and power that's needed to run any attachments.
Environmental concerns such as muddy conditions always make a good case for a backhoe with four-wheel drive. Howard mentions that hydraulic controls — which most backhoes now feature — are easier to operate than mechanical ones and offer a more comfortable experience for the operator.
Looking more into comfort, while some rental lots prefer to stock backhoes with a standard ROPS, operators may look to machines with a few more features. For example, comfortable cabs can be a selling point depending on the weather. Air conditioning isn't always standard, but may be appreciated by an operator who is working in the heat all day long.
While the most popular dig depth for a backhoe seems to be 14 ft, some operators may require a bit more reach. In that case, a renter can look to a machine with an extend-a-hoe. This will ensure the operator has the ability to dig as deep as needed without bringing in another machine.
As for attachments, some of the most popular ones for backhoe loaders include breakers, pallets forks, thumbs and, of course, buckets.
Made for Rental
John Deere's Justin Steger Discusses the 310L EP Backhoe Loader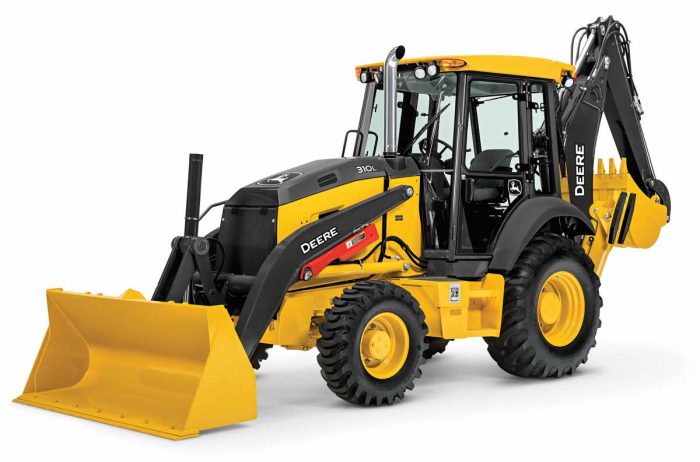 The John Deere 310L EP was developed for the rental market and has recently undergone some significant updates. Designed with cost of ownership, quality and reliability and ease of maintenance at the forefront, the 310L EP is an extremely popular rental machine. A new four-speed synchromesh manual transmission is designed to deliver value and familiarity to customers and operators while maintaining reliability. The 310L EP is powered by a Yanmar 3.3L Tier 4 Final engine. With no external engine aftertreatment components needed, the engine design minimizes machine complexity and the number of parts that need to be maintained by the rental company, resulting in lower total cost of ownership, enhanced uptime and increased return on investment.
"For most, the machine's digging depth will be adequate but for those who need to dig deeper, look for an extendable hoe," says Howard. "Available attachments are almost exclusively dependent on the applications but, also, ground conditions may come into play. If the ground is especially hard or rocky, the backhoe may not be able to make it through so something else, like a breaker or hammer may be needed. Make sure the backhoe has the appropriate coupler to swap in the desired attachments."
Be sure to discuss attachment options with your dealer. Depending on what attachments are needed, operators may require the ability to use auxiliary hydraulics for sufficient power.
"Consider the auxiliary hydraulic flow the machine provides and the attachments require," says Justin Steger, John Deere's solutions marketing manager — site development and underground. "If you'll be switching attachments frequently, consider a coupler to minimize the time and hassle of changing backhoe attachments."
In addition to rental companies helping you find the right backhoe, make sure to spend time with a dealer getting to know the machine.
"Always refer to the owner's manual to familiarize yourself with the machine before operation", says Steger. "Ask the rental company for a walkaround or demo to not only ensure you're operating safely, but to ensure you're utilizing the full capability of the machine you're paying to rent."
Pam Kleineke is managing editor of Compact Equipment.
Tags:
Digital Rental Guide
,
John Deere
,
RDO Equipment Co.
,
Rental
,
United Rentals