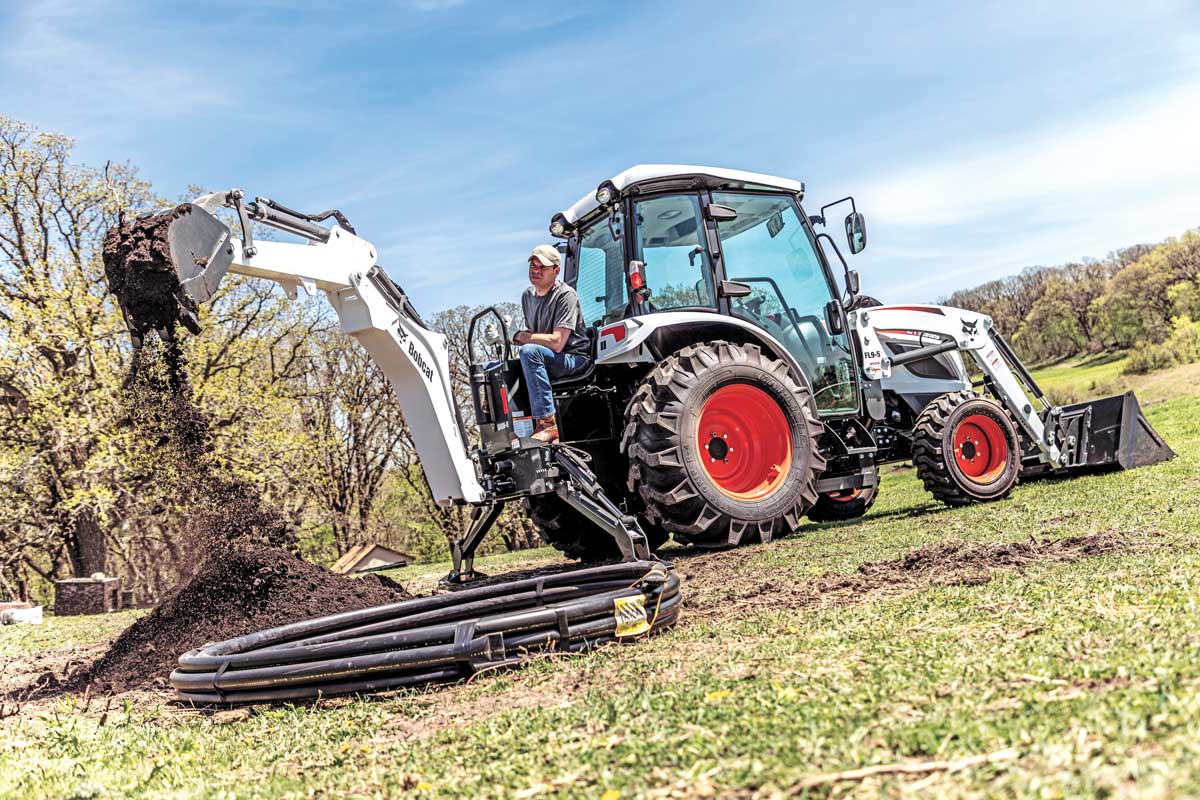 Compact tractors are known for their versatility. For compact tractor owners, having the right attachments and implements turns your machine into a true workhorse. These tools not only save you time and energy, but can also save you money, as you won't need separate machines for each job. Backhoe attachments are a popular way to turn your compact tractor into a powerful excavator for digging. From excavation and landscaping to demolition and agriculture, backhoe attachments transform your compact tractor into a small but powerful digging machine.
Backhoe attachments are connected at the rear of the compact tractor by a subframe that is installed by the dealer. Operators have a clear line of sight to where the backhoe is digging which allows for more accurate and efficient operation. When selecting your backhoe attachment, there are a few key considerations:
First, ensure that the backhoe is compatible with your compact tractor model. This is a popular attachment that many customers will purchase immediately when they make their compact tractor purchase. If you're making your initial compact tractor purchase, talk to your dealer about a backhoe attachment to understand if it's right for you.
Second, consider what dig depth you need. Bobcat offers dig depths of 73 in., 90 in. and 96 in.
Third, evaluate what bucket width is best for your job size. The Bobcat backhoe for compact tractors comes standard with a 13-in. bucket. A 16-in. bucket is also available.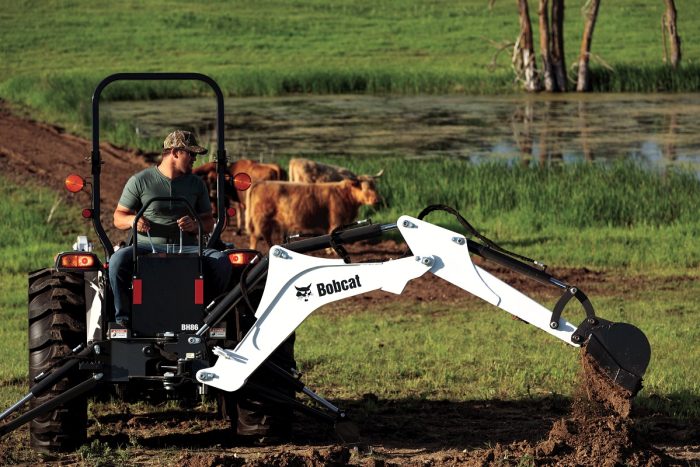 Consider the jobs you plan to take on with your backhoe — now and in the future — to ensure your investment can support all of the projects you intend to tackle. The backhoe attachment brings tremendous versatility to your compact tractor — whether you're digging a foundation or putting in an irrigation system — a backhoe can be a major time and energy saver when your alternative is a shovel.
While the applications are as vast as your imagination, here are just a few uses for a backhoe on a compact tractor.

Landscaping: Backhoe attachments on a compact tractor can help make easy work of landscaping projects around your property or for your business. Replace your shovel and instead use the backhoe to break up the soil for gardens or flowerbeds. The backhoe can be used for spreading gravel, sand or other materials.
Agriculture: Compact tractor backhoes and backhoe attachments also are popular within agriculture and among homeowners with acreage. These are used to tackle a wide range of projects such as digging irrigation ditches, creating fence post holes and removing stumps.
Construction Work: Backhoes attachments for compact tractors can even be used for light construction work. They can be used for digging foundations, digging trenches for plumbing and electrical work and digging holes for footings.
Demolition: Backhoe attachments can be used for light demolition work, such as breaking up material or demolishing structures.
Excavation Work: A compact tractor backhoe is ideal for digging and excavation work. It is perfect for digging trenches, irrigation systems, postholes and many other projects. With the help of a backhoe attachment, compact tractors can easily handle small-to-medium-sized excavation projects. Before you begin any digging, ensure you've reviewed any digging restrictions. Each state has specific digging requirements, so contacting your state's call-before-you-dig service will ensure that buried utilities can be marked to avoid digging into underground utility lines. By having these lines located and marked, you can ensure a safer worksite for yourself and others.
Whether you're a farmer, a landscaper, homeowner with acreage or simply someone who enjoys working on the land, a compact tractor can help you accomplish more in less time and with less effort. By utilizing the right attachments or implements, like the backhoe, operators can make the most of their compact tractor investment.
James Crouch is a senior product manager for compact tractors at Bobcat Co.
Bobcat Opens New Aftermarket Parts Distribution Center in Atlanta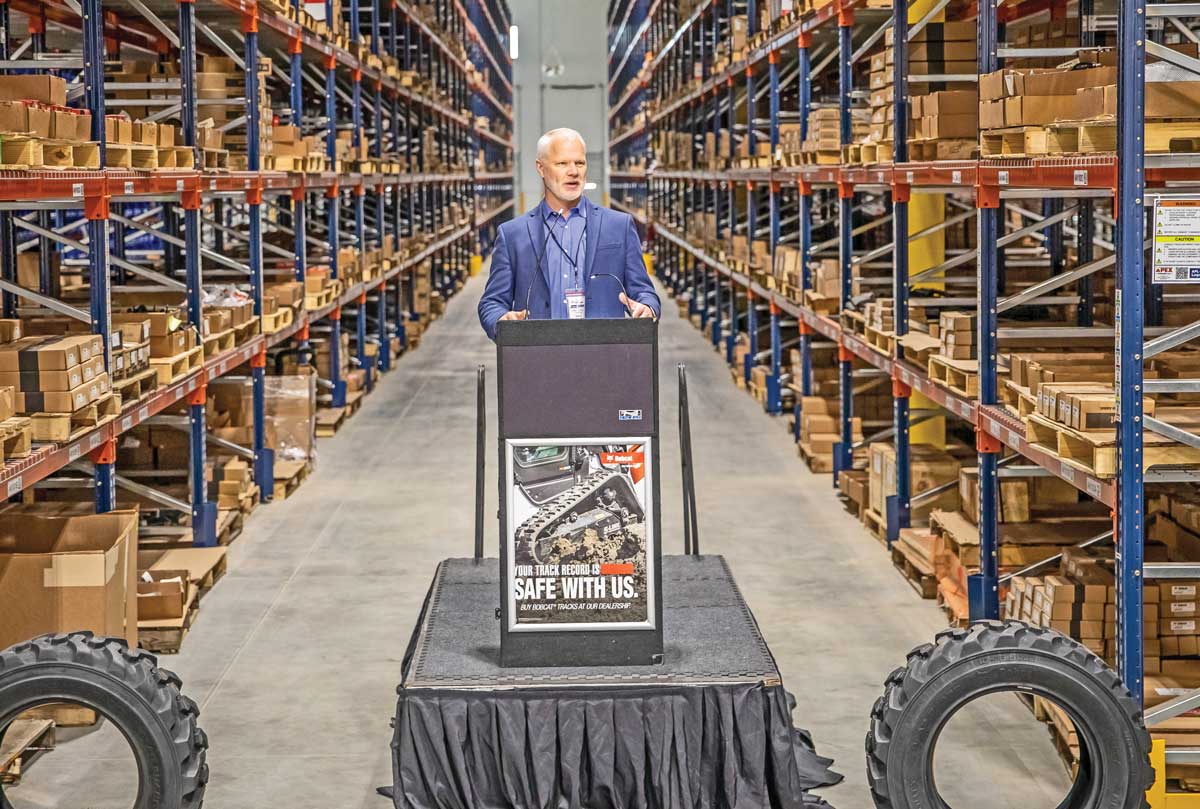 Finding Bobcat parts just got easier. The company recently expanded its nationwide aftermarket parts distribution center (PDC) network with the opening of a new, 396,000-sq-ft facility in Atlanta. This new facility, located in the West Fulton Commerce Park (1850 Oak Lawn Ave.), celebrated its grand opening Jan. 25. It is the second new Bobcat PDC opened in the past months to meet growing demand for Bobcat equipment in the marketplace. Bobcat also opened a new PDC in Reno, Nev., in September 2022. These two new facilities join the company's existing Bobcat PDC near Chicago in Woodridge, Ill. Strategically located in Atlanta with accessibility to major airports and highways, the new PDC provides Bobcat dealers and customers with enhanced service options, increased inventory and faster parts delivery. For more info, visit bobcat.com.