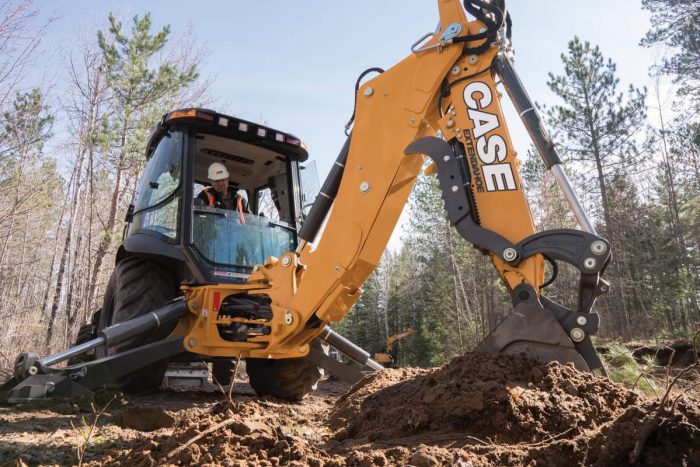 Dig and load are two quintessential construction applications, and the backhoe loader is a classic dual-purpose machine that can both excavate and do loader bucket work better than almost any other compact machine. Of course, backhoe loaders do a lot more than dig and load these days. These units are high-tech tool carriers that can wield multiple hydraulic attachments and sport air-conditioned cabs, extended and side-shift booms, various steering and operational modes, stablers, telematics, electrification, tracks or wheels and ever onward. Backhoe loaders today offer more than dual productivity with good roading speeds, solid rental ROI and lots of cool units to choose from. We reached out to some of the most knowledgeable backhoe loader product managers in the industry to get ideas on top models and insights into buying, renting, operating and maintaining a compact backhoe loader. Here's what we (um) dug up…
Justin Steger, Solutions Marketing Manager, Site Development and Underground, John Deere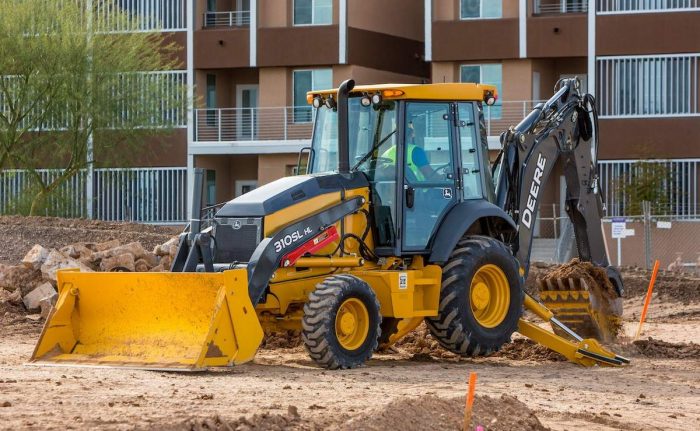 Favorite Model: 310SL
The redesigned 310SL is a 14-ft dig depth backhoe that allows operators to be up to 16 percent more productive in trenching applications over the prior design. The 310SL is now equipped with pressure-compensated, load-sensing [PCLS] hydraulics that provide better multifunctioning, smoother machine control, and up to 15 percent greater craning capacity with Lift Mode, collectively providing a distinctive customer experience and unmatched machine reliability. Autoshift is now standard which comes in very handy while roading the machine on congested city streets. Auto Ride Control is optional but considered a must-have for many operators to smooth out the ride…the auto feature eliminates the need to manually turn ride control on and off during load and carry applications, enhancing operator ease of use. The optional LED boom light kit includes two boom mounted work lights for increased trenching visibility when sunlight or cab mounted lights aren't enough.
Shad Wood, Product Consultant Underground and Backhoes, John Deere
Options for Easy and Intuitive Operation
When thinking about options that make the backhoe operator's job more pleasant, a few come to mind. Auto-Ride control is win for both the operator and owner. Auto-Ride will turn on/off automatically based on ground speed, allowing for a smoother ride. The cushioning effect by the loader cylinders keeps the machine from taking the full shock of loaded buckets on uneven terrain. Use of radial tires is worthy of its upfront investment as it provides a better ride and performance for the operator and extends tread wear. Enclosed cabs make for a happy operator when it's hot or when temperatures start to drop, but also allow the machine to be used in colder months with a snowplow or snow basket. Finally, the backhoe pilot control pattern changer is a great feature given today's operator shortage, and it enables operators to be efficient with a control pattern they're comfortable with.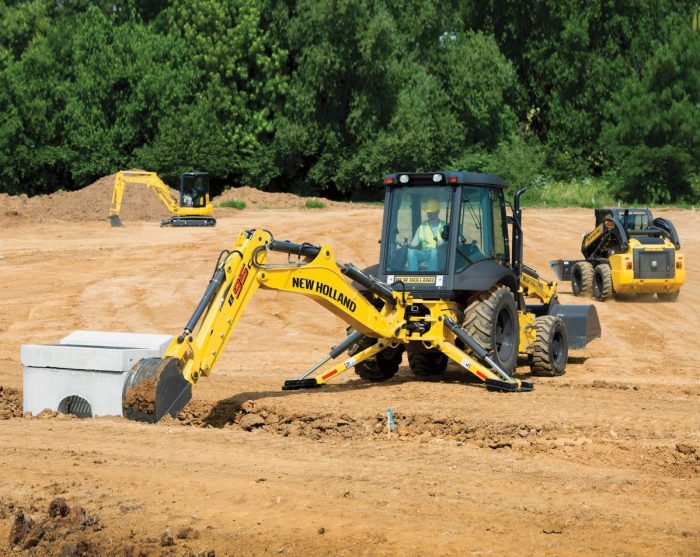 Favorite Backhoe Loader: B95C
My favorite backhoe is the New Holland Construction B95C model because of the overall comfort, the smoothness of the pilot backhoe controls, and its ability to do precise movements and digging. The cab has plenty of legroom and lots of glass for awesome visibility. With the optional Glide Ride, there's less shock to the load you're carrying when working on bumpy terrain or while carrying a heavy load, even at higher speeds. Another great feature is the automatic swing control. When you're swinging the back arm and dipper side to side, the swing is dampened at the end of the rotation to reduce shock to the machine and operator. As far as accessories, I'd recommend a hammer as well as a compactor plate, especially if you're doing utility or water work and you've got to compact all the sub-material and aggregate material you just installed.
Before Buying…
Be sure to carve out plenty of time to demonstrate the machine. Make certain the controllability, the maneuverability and the power match your expectations and needs. Then, decide if it's best to purchase or if it's better to do a long-term rental. If you plan to rent or buy, look closely at the dealer to make sure they have the attachments you're going to need, especially if you're looking to do something besides just digging. Instead of going to multiple stores, one-stop shopping will save you lots of time and effort. If you're going to lease or rent for a longer period of time, you'll probably be the one who has to do the daily preventative maintenance. You should be able to easily open the hood and access the oil dipstick and refuel locations. That way, you'll be able to keep an eye on the machine and avoid downtime or costly repairs.
Galvin Rodriguez, Product Specialist Backhoes, JCB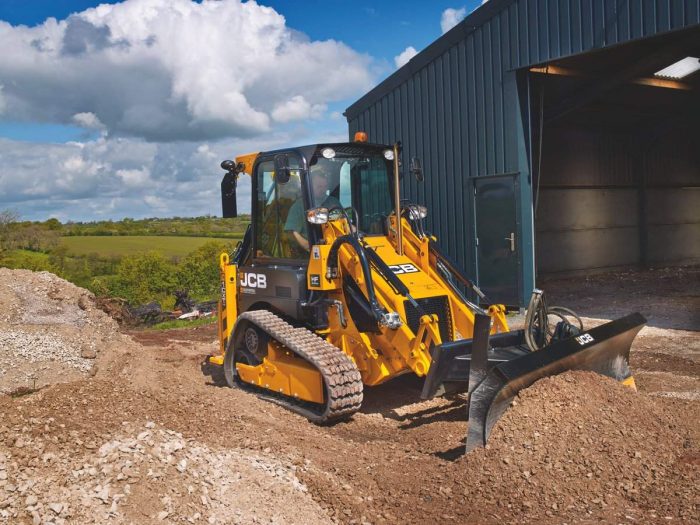 Favorite Backhoe Loader: JCB032
JCB's 1CXT backhoe is a game-changer for daily operations. JCB combines skid steer and excavating capabilities in a compact machine with a small footprint, versatility and maneuverability. The optional hand-held auxiliary tool circuit makes the 1CXT backhoe loader a self-contained power source for a range of hand tools you need on the worksite including disc cutters, drills, impact drills and trash pumps. For ultimate convenience, the 1CXT is fitted with a universal skid steer hydraulic quick hitch which lets you change attachments without leaving your cab. Look at these attributes:
• 1CXT is the industry's-only compact construction-grade tracked backhoe available
• Easy to trailer and tow. Typically, no CDL is required to haul this sub-10,000-lb backhoe
• Great for confined spaces and small jobsites
• Combines the power of a 2.5-ton excavator and a 1,466-lb rated operating capacity of a compact track loader (CTL)
• Side-door access is safest design in industry
Buy or Rent?
A backhoe loader can reduce maintenance, transportation, staffing and downtime costs on any worksite. Often, a backhoe is the first machine investment many owners make due to its versatility. A compact backhoe is also great for new or unskilled operators with its simple control systems which make for easy-to-learn operation. As owners decide to rent or buy, financial capital, frequency of performing operations and project time frame are major considerations. Whether one decides to buy or rent, the machine's capability to take on your tasks is key. Oversizing your equipment choice can mean unnecessary costs and loss of maneuverability as compared to the all-in-one package of JCB's compact construction-grade tracked backhoe.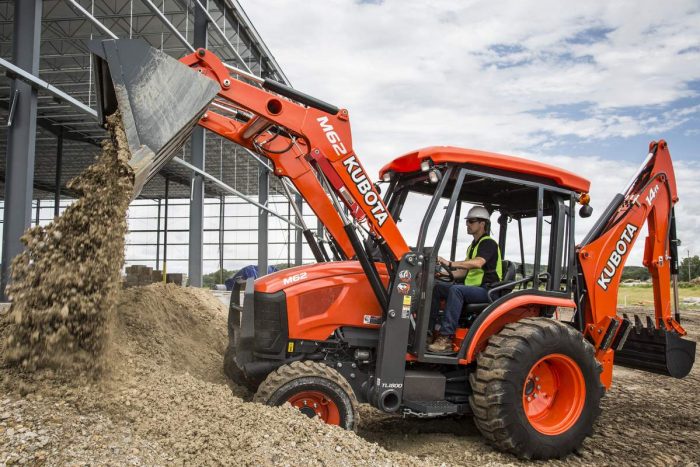 Favorite Model(s): B26, L47 and M62
The Kubota B26, L47 and M62 are versatile, compact, highly mobile machines built for the independent contractors, landscapers, and rental services. The B26 is an innovative compact tractor/loader/backhoe with 24.3 engine horsepower, integrated loader and quick detach backhoe. The L47 sports a hydrostatic transmission, packed with a 47.1-hp engine, and is ideal for rental users, contractors, landscapers, and homeowners seeking professional results. The M62 is powerful with a 63-hp engine offering professional results on everything from landscaping jobs to general construction sites. All Kubota TLB models are purposely designed with the operator experience in mind. All controls are clearly marked and ergonomically arranged to make both the novice and experienced operator feel at home quickly, maximizing productivity and efficiency. The intuitive operating experience makes the Kubota TLB line up ideal for rental users, contractors, landscapers and homeowners.
Look for an Attachment Taker
The Kubota Tractor-Loader-Backhoe or TLB is one machine that can do the work of three and do it well. An efficient front loader that can run multiple attachments like pallet forks, sweepers, and a 4-in-1 bucket shows the versatility in the TLB that can help reduce rental equipment costs and accomplish more tasks on the job. The TLB's are powered by a Kubota engine that provides great fuel economy, while delivering high levels of power and torque. The operator will save on fuel costs but remain productive on the job. Coupled with the front loader, the backhoe gives site managers another level of production and efficiency. The quick-hitch system makes changing attachments on the backhoe quick and easy, saving time and money. Also — on the M62 and M47 model TLBs — operators will find backhoe crawling mode, saving time when repositioning during backhoe operation keeping the operator productive.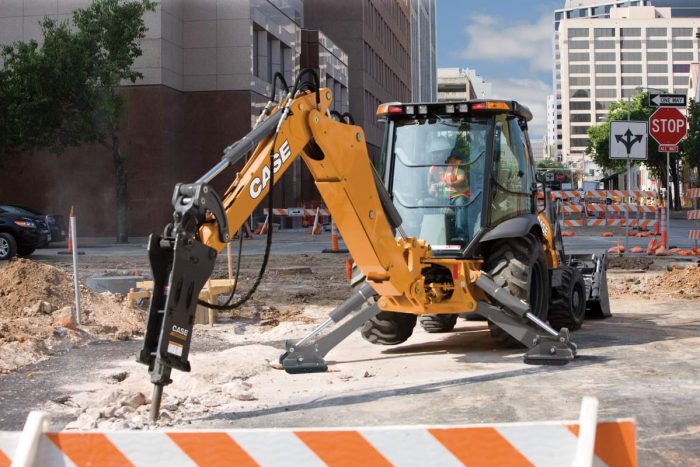 Favorite Model(s): Case's Whole N Series
All of Case's N Series backhoe loaders have been updated with several enhancements designed to improve performance and productivity on the jobsite, and I just can't pick one. For instance, there's a direct-drive transmission that compensates for load and speed to achieve the most efficient roading gear while traveling on various inclines. A "loader style" F-N-R selector switch allows quick and easy directional changes without removing your hand from the loader control lever. PowerBoost is a feature similar to our PowerLift function; it provides a momentary boost of increased hydraulic power for digging through tough ground. What differentiates the PowerBoost function from PowerLift is that it does not limit engine RPMs, providing more speed and efficiency. For more control while lifting, PowerLift is preferred.
Maintenance, Theft, Telematics
Backhoe owners should be closely monitoring their fleets with telematics to verify how much idle time is being put on their machines. Turning off a machine, even for a short amount of time, can help reduce unnecessary fuel/fluid costs and wear on engine components. It may also give them an idea of how hard the machine is working throughout the day, which could clue them in to whether or not they need a bigger or smaller machine on the jobsite, or perhaps change how their jobsite is set up. For example, if they're noticing a lot of excessive roading on their jobsites, they may benefit from moving their stockpiles closer to where they're being utilized.
Performing routine maintenance is always recommended to help replace and/or repair components that may soon fail and lead to unwanted downtime later down the road. Anything managers can do to help keep their machines up and running will always put money in their pockets, even if it means spending a little money up-front on repairs.
Keith Gribbins is publisher of Compact Equipment.
Tags:
Case
,
Case Construction Equipment
,
JCB
,
JCB North America
,
John Deere
,
Kubota
,
Kubota Tractor Corporation
,
New Holland
,
New Holland Construction
,
Your Utility Construction Connection