Fall is in the air, and winter is just around the corner. That means snow season is officially here, so snow and ice management professionals should be putting the finishing touches on equipment preparation, worker allocation and preseason training. They should also be considering new equipment for the 2018/19 work season. To help, we've compiled a list of the latest winter-focused attachments for skid steers, track loaders, utility vehicles, wheel loaders and beyond. Enjoy!
Cat Multi V-Plow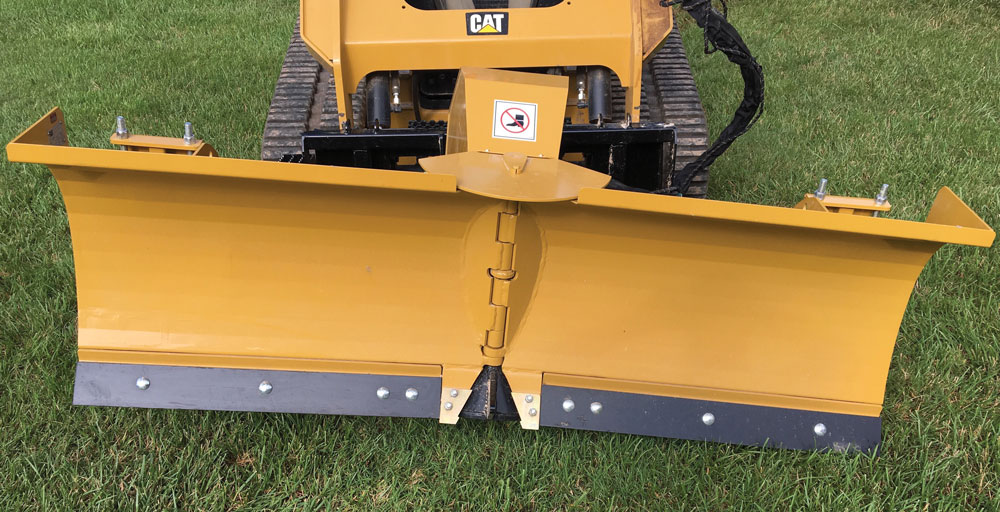 Cat Multi V-Plow for Cat skid steer loaders, multi terrain loaders, compact track loaders and compact wheel loaders are versatile attachments for snow removal applications with the capability to hydraulically angle five different blade configurations. Push, plow, sweep or scoop snow and ice to clear surfaces and restore safe passage to driveways, sidewalks, parking lots and roadways. The curved moldboard design rolls and folds the snow while windrowing, minimizing snow clinging to its surface and spilling over the top. For more info, visit cat.com/attachments.
Hiniker Tailgate Spreaders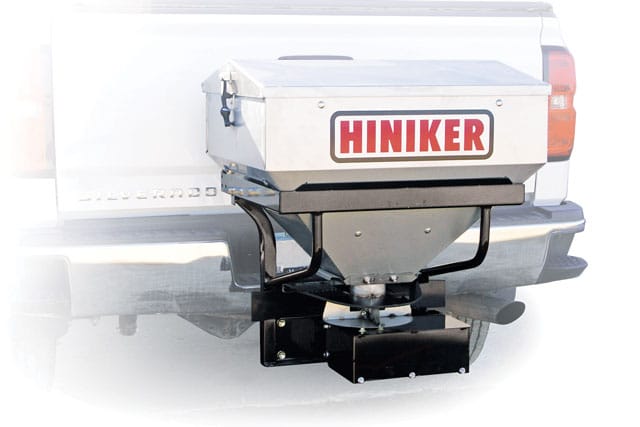 The new Hiniker stainless steel tailgate spreader provides optimal control for material spreading applications. The No-Dribble bubble auger design means the flow stops when the auger stops. The spreader features a convenient in-cab variable-speed controller with blast control and control for an optional vibrator. Hiniker's high-quality, brushed-finish 304 stainless steel hoppers are available in 6- and 10-cu-ft capacities. An optional swing-away hitch provides easy access to the truck bed and tailgate. For more info, visit hiniker.com.
Wacker Neuson Snowblower
Wacker Neuson's 48-in. wide, heavy-duty, high-flow P-680 offers a balanced auger and hydraulically driven motor that is durable enough to power through hard packed snow and ice. The lightweight, balanced rotor can survive harsh conditions, while reinforced sides and fully encased bearings prolong life by increasing durability of wearable components. Quick adjust skid shoes and easy chute rotation allow for adjustment and easy maintenance. For more info, visit wackerneuson.us.
Kubota Snow Pusher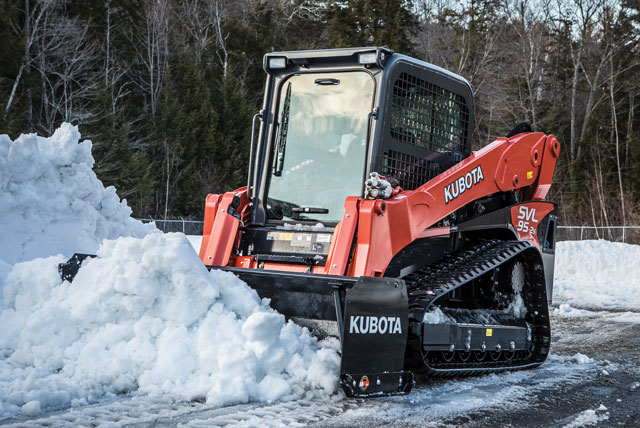 Kubota's SSP15 Series snow pusher pushes snow and other loose materials straight ahead without leaving windrows on the side. The optional 8-in. rubber wear edge eliminates damage to the pavement or lot striping on most surfaces while removing slush and snow. The SSP15 is available in 72-, 84- and 96-in. widths — all equipped with AS400 skid shoes that are adjustable, reversible and replaceable. The snow pusher is available for all Kubota skid steer and compact track loader models. For more info, visit kubotausa.com.
John Deere Snow Utility V-Blades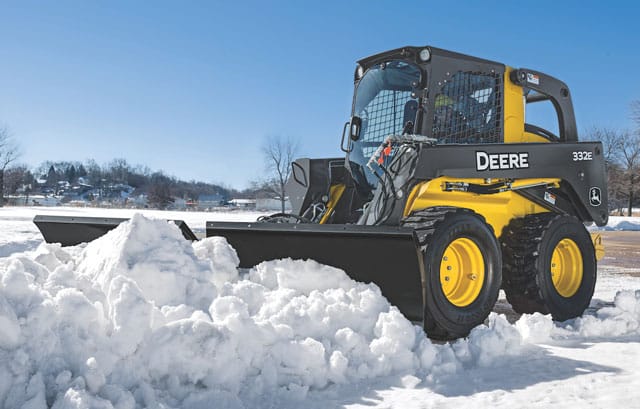 The John Deere Snow Utility V-Blades (BV6, BV8 and BV9) deliver four hydraulic angling positions — straight for making larger cuts, V-configuration for pushing through hard-pack, scoop (both sides inward) for easy snow stacking and 30-degree right or left positioning for accurately moving snow or dirt — to help operators properly and efficiently tackle snow or light-dirt projects on the jobsite. The Snow Utility V-Blades feature an electrohydraulic (EH) valve for independent blade function that operators can control from the cab. For more info, visit johndeere.com.
Boss SK-R with Backdrag Edge
Boss Snowplow introduces new box plows for skid steers. The all-new SK-R 8 ft and SK-R 10 ft have a tough and durable rubber edge that can stand up to winter's worst. A new backdrag edge accessory is also available for the 8- and 10-ft SK-R and SK box plows. To backdrag with a skid steer box plow, rotate the box plow forward and pull snow away from buildings, doors or objects. The SK-Rs offer three new feature innovations, including a 1.5- by 8-in. reversible rubber cutting edge, a fixed attachment system and articulating, heavy-duty wing shoes. For more info, visit bossplow.com.
SnowEx Straight Blade Plow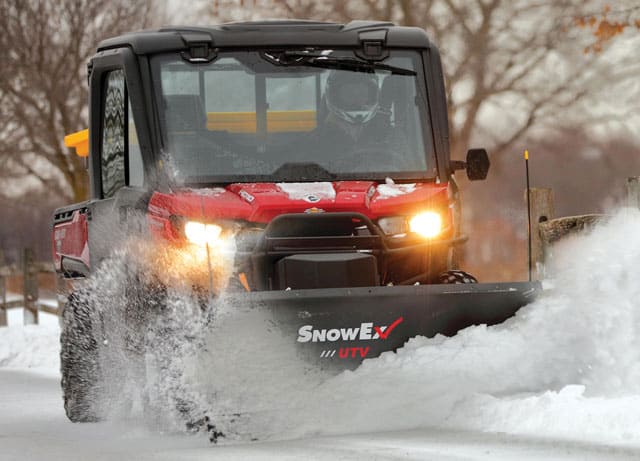 For sidewalks, paved walkways and other tight areas, SnowEx offers a straight blade plow for UTVs. The plow measures 6 ft wide and can angle to 5 ft, 4 in. wide for narrower applications. Compact but strong, the UTV straight blade contains four vertical ribs that provide additional reinforcement and stabilizing support. The blade is constructed of high-strength, low alloy steel components that are stronger and lighter than traditional steel. The plow features a full-trip moldboard to protect equipment when encountering obstacles. For more info, visit snowexproducts.com.
Meyer Products V-Plow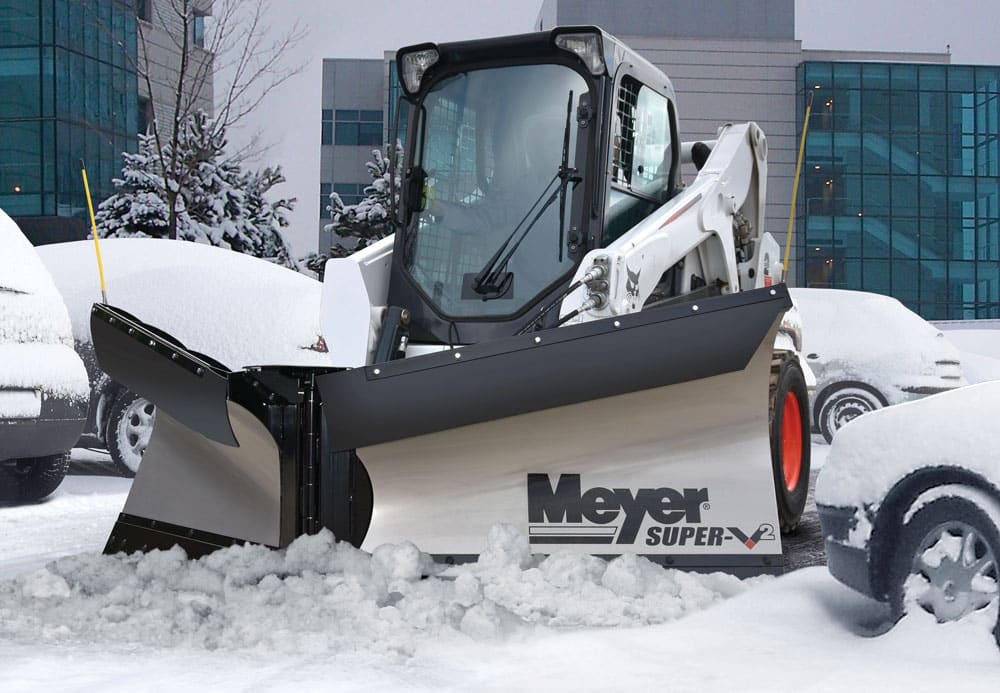 Meyer Products' V-plow can be easily added to a wide variety of vehicles that use a universal attachment system. Meyer's din plate style mount and Super-V2 plow, available in 8.5-, 9.5- and 10.5-ft lengths, make an ideal combination for plowing snow or ice in confined areas, driveways or commercial applications. Meyer's Super-V2 flared wing moldboard provides superior snow rolling action and improved clearing performance. Meyer is an innovator, pioneer and leader in manufacturing reliable snow and ice control equipment. For more info, visit meyerproducts.com.
Case Sectional Snow Pusher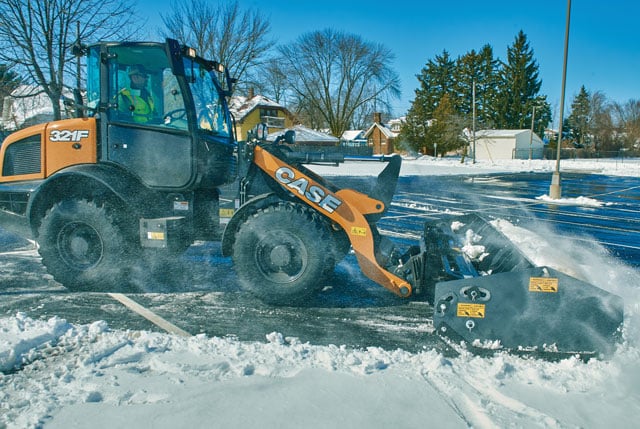 Case has introduced a new line of six heavy- and light-duty sectional snow pushers compatible with both current and older model wheel loaders, skid steers, compact track loaders and backhoes. The moldboard sections move independently, allowing each section to shift up and down in response to uneven pavement or obstacles. The new Case pushers are also compatible with competitive equipment and allow a snow removal contractor to standardize on a single type/style of pusher across their fleet. Each pusher also features a Hardox 450 steel cutting edge. For more info, visit casece.com/snow.
Loftness Snowblowers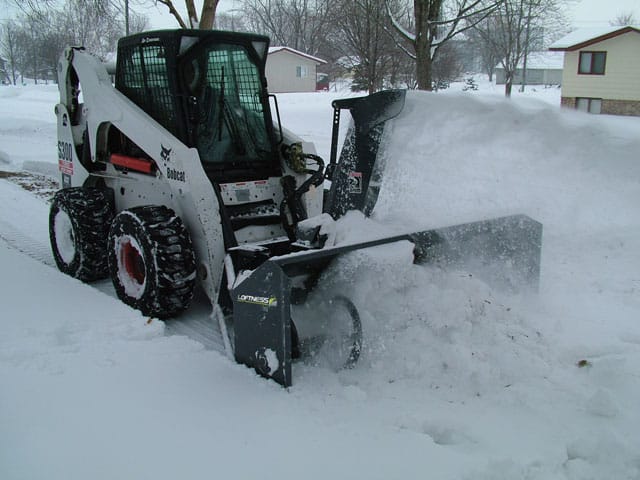 Loftness snowblowers are built with heavy-duty construction for maximum reliability and high performance. Skid steer snowblowers are offered for a wide variety of flow rates, starting as low as 15 gpm. Seven models are available in 72- to 84-in. widths. They come with a universal coupler, a single motor design and an electric spout rotator. A total of 11 rear-mount, PTO-driven tractor models are also offered with one, two or three auger configurations. Available in 60- to 108-in. widths, they accommodate tractors with 540- or 1,000-rpm PTO drives and 16- to 200-PTO hp. For more info, visit loftness.com.
WolfDesign QuattroPlow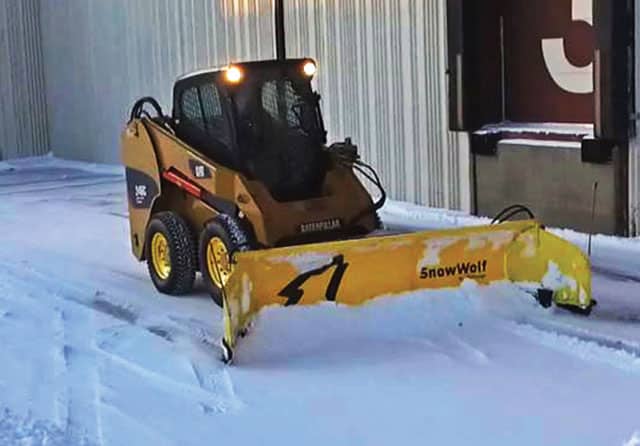 The QuattroPlow concept is a four-in-one plow design that combines the best of WolfDesign's UltraPlow, FastTach and WolfWings. The results are greater flexibility, efficiency and effectiveness in four distinct functions all without any extra electric harnesses or controllers in your machine. Easily shift from angle plowing to straight plowing to high-capacity pushing to back dragging in just seconds without ever leaving the machine or even pushing a button. When an operator wants to angle left or right, they move the joystick in the relative direction. To move the wings — simply hold until the wings pivot. For more info, visit snowwolfplows.com.
---
All in One: These Attachments Offer Big Productivity in One Package
Fox VersaPlow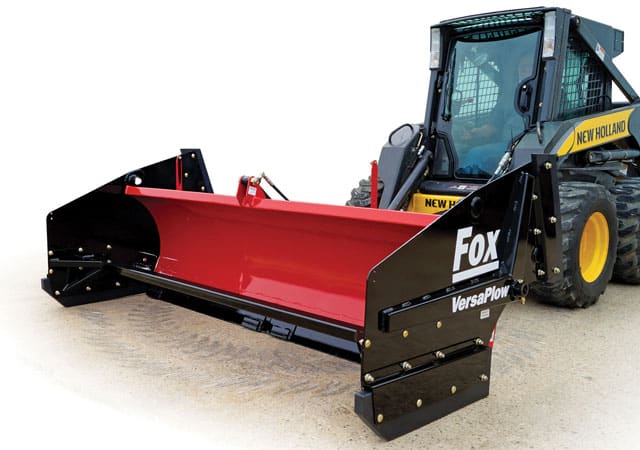 The new Fox VersaPlow combines the functions of a box-style containment pusher, a backdrag containment box and a conventional snowplow into a single unit that mounts to a skid steer or compact loader. Designed for retail parking lots, apartments, municipal campuses and industrial areas, the Fox VersaPlow is available in 8- and 10-ft blade widths with a steel trip-edge or urethane resilient-edge. Advanced hydraulic controls allow operators to change the configuration of the VersaPlow without the need to mount or re-mount equipment. For more info, visit foxattachments.com.
Winter V-Plow Guard System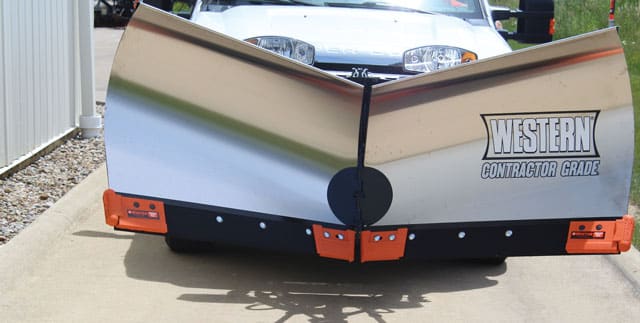 Winter's V-Plow Guard System is a complete system featuring steel blades, center and outer plow guards, hardware and installation instructions. All steel is reinforced with a winter carbide matrix hard facing weld, increasing blade efficiency, while also reducing damage from rough roads and unseen obstructions. Additionally, the plow guards and blade work in tandem to protect and reduce uneven and premature wear, eliminating in-season blade changes and greatly reducing downtime. The V-Plow Guard System is currently compatible with Western, Fisher and SnowEx plow models. For more info, visit winterequipment.com.
Tags:
BOSS
,
BOSS Snowplow
,
Case
,
Case Construction Equipment
,
Cat
,
Caterpillar
,
Fisher
,
Fox
,
Hiniker
,
home
,
John Deere
,
Kubota
,
Loftness
,
Meyer Products
,
October 2018 Print Issue
,
SnowEx
,
Wacker Neuson
,
Western
,
WolfDesign