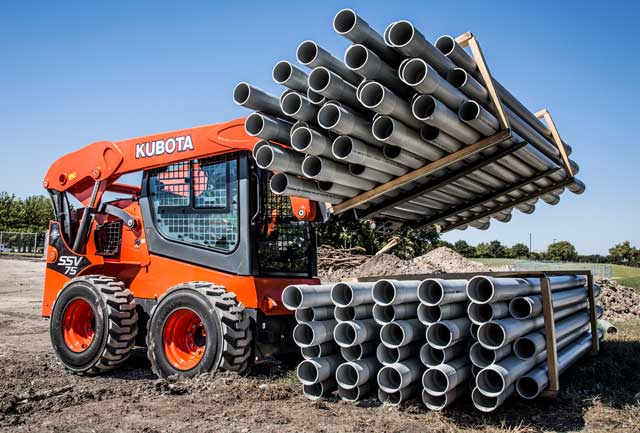 There is no shortage of pallet forks with versatile options to meet every requirement for equipment owners and operators. Tines come in load capacities ranging from 2,500 to 10,000 lbs, lengths from 42 to 60 in., and typically, adjustable widths. If you will be primarily hauling palleted loads, be aware of your pallet dimensions; a standard pallet is 48 in. by 40 in. Brick guards are available featuring full-width guards for loose loads such as pallets of bricks, or walk-through brick guards which make entering and exiting a skid steer or track loader easier. There are also options without brick guards.
Options range from plain pallet fork setups, with just a mount and forks, to more elaborate setups utilizing a hydraulically-actuated grapple to hold loads during transport. Other useful accessories for pallet forks include the hay spike, which cattle operations will find indispensable, and fork frames designed to be compatible with trailer hitches. These add-ons can improve productivity and reduce labor, but whether they will be worth the investment depends on an operator's needs. If you work with a good equipment dealer, a salesperson well-versed in pallet forks can offer guidance and you'll be more confident in your decision.
Do you need light duty, medium (or standard) duty or heavy duty? Load and lift capacity is a key metric for any pallet fork setup. Light-duty pallet forks are designed for small skid steers and track loaders, may have limitations on fork tine spacing that prohibit use for some applications and will have rated capacities no higher than about 2,500 lbs.
Subtract the weight of the pallet forks and frame from the machine's lift capacity to determine the volume that can safely be lifted with your pallet forks. For example, if the machine has a 2,500-lb lift capacity and the pallet forks weighs 300 lbs, the actual amount of the load could not exceed 2,200 lbs. Medium- or standard-duty pallet forks will have capacities around 4,000 to 5,000 lbs, can be used on an array of vehicles ranging from full-size skid steers to large-frame compact track loaders and will typically have tine spacing within standardized limits, allowing for use with standard pallets.
Heavy-duty pallet forks will have rated capacities up to about 10,000 lbs, allowing very heavy loads to be hauled. As with any attachment, be aware of your needs and job applications and select your load and lift capacity based on those needs and on your vehicle's rated operating capacity. A heavier-duty option is more expensive and is not necessary unless you have needs only a heavy-duty setup can satisfy.
Narrow your field by making a list of projects for your pallet forks around the jobsite or farm. Then, determine if your usage is light duty, medium duty or heavy duty. Your equipment dealer should understand your needs and pair you with an ideal set of pallet forks. Here's more advice…
John Deere: Luke Gribble, Solutions Marketing Manager
Selection:
Often, pallet forks come in both different sizes relating to width of the frame and length of the tines. It's important to understand what types of objects or pallets you would typically be working with to make the best decision on which sizes would be needed for your application. It's also a good idea to check whether the pallet forks are compatible with the type of coupler that is on your skid steer or compact track loader. Often, pallet forks specifically designed for skid steers and compact track loaders can be easily interchangeable on standard quick-attach style couplers.
Usage:
When using pallet forks to pick up objects, it's important to understand the machine limitations in terms of tipping load and rated operating capacity specifications. Information on these specs are commonly found in OEM skid steer and compact track loader brochures. It is not only important to consider the weight of the object you may be lifting but also the weight of the forks that you are using as well. Not fully understanding this could lead to undesirable performance of the machine with forks attached to it.
Product Spotlight:
Pallet forks for John Deere skid steers and compact track loaders are considered severe-duty pallet forks that offer increased capacity and durability and come with skid resistant steps on both sides of the pallet fork frame to provide easy entrance and exit into the machine for operators. The brick-guard design provides strength and smooth surfaces for protection against load damage, and the pallet forks also enable excellent visibility.
Compact track loaders are the most popular category of compact equipment in America. Learn why with loads of track loader features right here.
Takeuchi: Lee Padgett, Product Manager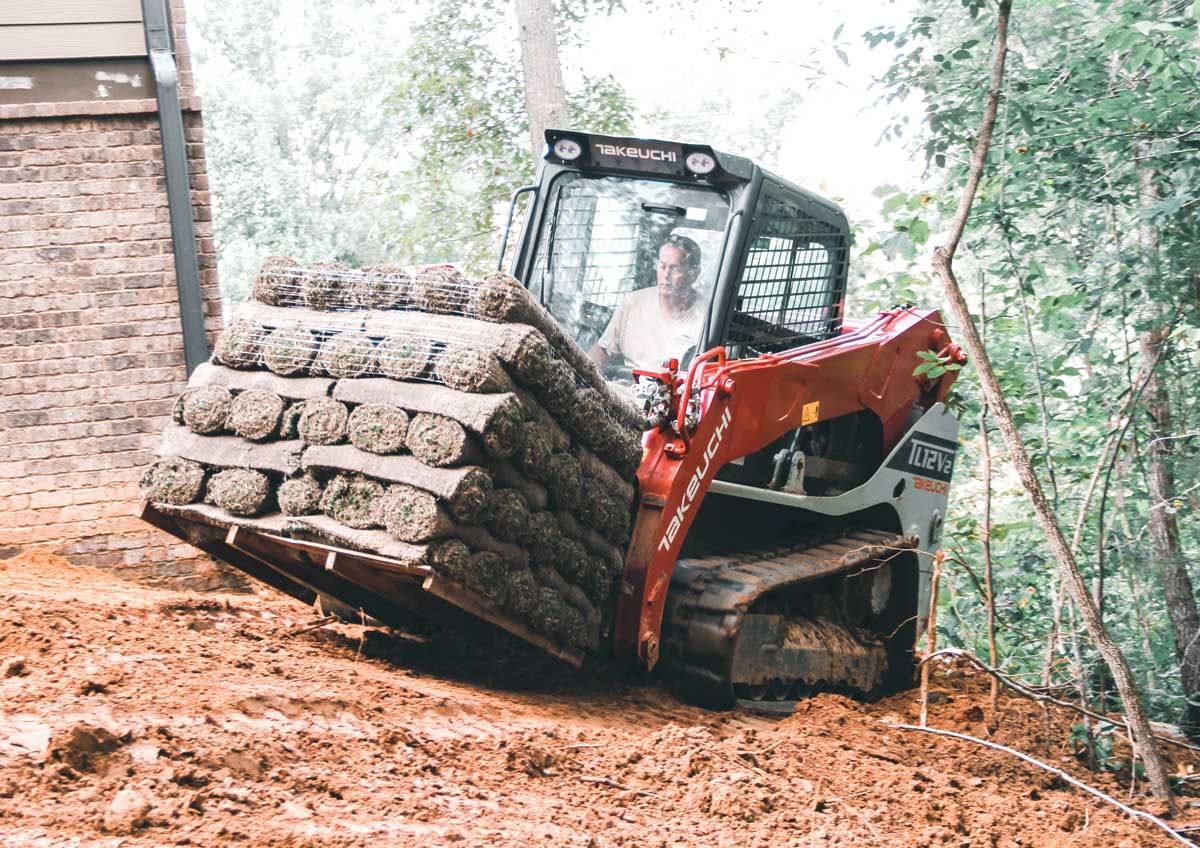 Selection:
Depending on your carrier unit's lift capacity and horsepower, the right pallet fork attachment can vary. This will reduce the chances of damage to the attachment or the machine due to overloading. A smaller track loader, for example, with a lower ROC will require a different, smaller set of pallet forks than a larger track loader that you will be using to lift heavy, bulky materials like concrete blocks or bricks.
Usage:
Perform maintenance as recommended by the manufacturer and ensure all fasteners are secure. Try to keep forks more toward ground level when transporting loads. This will help you see out in front of the load better as well as giving the machine and its load a lower center of gravity. Be sure to center the load on both tines rather than having the load shifted so that one tine takes the bulk of the load. Lastly, use the pallet tines only how they're intended to be used — for lifting pallets, not rocks or loose materials.
Product Spotlight:
Takeuchi's pallet forks are available in both standard and walk-though designs in 42- to 48-in. tine lengths with capacities ranging from 4,000 to 5,500 lbs. The walk-through model allows for quick access to compact track loader cabs. All models feature adjustable, ITA Class II forged tines, a 3/4-in. beveled rail and a 1/4-in. high-visibility brick-guard with a step and hardware to install on either side.
In the Market for Pallet Forks? Find the Right Fit with Ignite Attachments
According to Darin Gronwold, Ignite Attachments product specialist, here are three things to consider when buying a set of pallet forks:
Fit: First and foremost, you want to know without a doubt that your attachment will fit your machine. Leveraging tools, such as our Ignite Fit Finder, will ensure a perfect fit every time.
Durability: Be on the lookout for something that is durable and built to handle heavy loads and frequent use. Finding equipment that is well-built yet cost-effective allows you to focus on your operation.
Dealer Support: Make sure the service and support are top-notch. Ignite offers an e-commerce interface and shipping directly to customers.
"Made with high-quality steel, Ignite Attachment's pallet forks are built to handle heavy loads with ease, making them ideal for a wide range of material handling applications," says Gronwold. "With adjustable fork widths, they can easily accommodate different load sizes, and the integrated backrest provides added stability and safety during transport. The unique design of these forks also allows for easy attachment and detachment, making them a breeze to use on your jobsite."