Mulching attachments are becoming increasingly popular among a wide range of industries and machines. They extend the versatility of compact equipment such as track loaders and compact excavators as they efficiently and effectively remove unwanted vegetation in right-of-way clearing projects, fire fuels reduction thinning, residential and commercial site preparation/land clearing and more. Many manufacturers offer mulchers and attachments, so there are numerous options to choose from. Here are a few that we highly recommend.
Loftness Battle Ax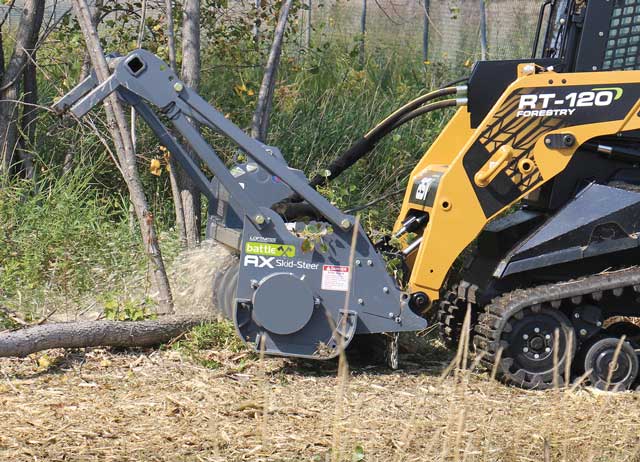 Loftness is offering new models of its Battle Ax horizontal drum mulcher for skid steers and excavators. Featuring a new rotor design and exclusive two-stage cutting chamber, the heavy-duty Battle Ax is designed for highly efficient vegetation management. The Battle Ax rotor features built-in depth gauges, which function similarly to raker teeth on chainsaws to prevent the attachment from engaging too much material at one time. This unique design is more ideal for managing the amount of material being fed into the attachment than ring-style rotors. The Battle Ax features a two-stage cutting chamber, which allows material to be cut twice by the rotor and helps produce some of the smallest particle sizes. For more info, visit loftness.com.
Paladin Mini Excavator Brush Cutter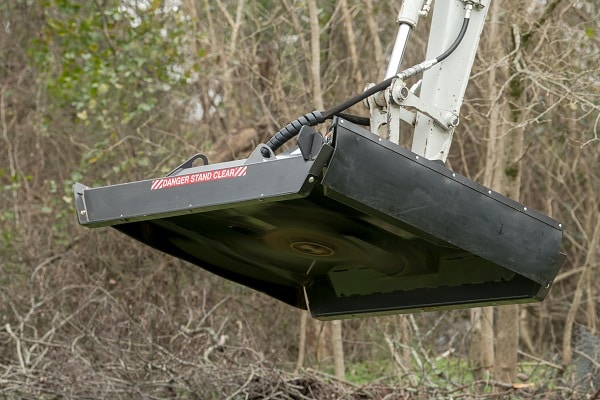 Stanley Infrastructure announced that Paladin is expanding its offerings for mini excavators with a new line of brush cutters: the MX Series. The MX Series incorporates many of the same design principles as Paladin's very successful GroundShark Series, extending those principles into the mini excavator space. The MX Series is compatible with 3- to 8-ton class mini excavators and facilitates a variety of applications, including over-fence brush management, embankment and ditch management and rail right-of-way management. With a solid formed T-1 steel deck and reversible AR400 cutting blades, the MX Series can efficiently process brush and trees up to 6 in. in diameter. For more info, visit paladinattachments.com.
Bobcat Forestry Cutter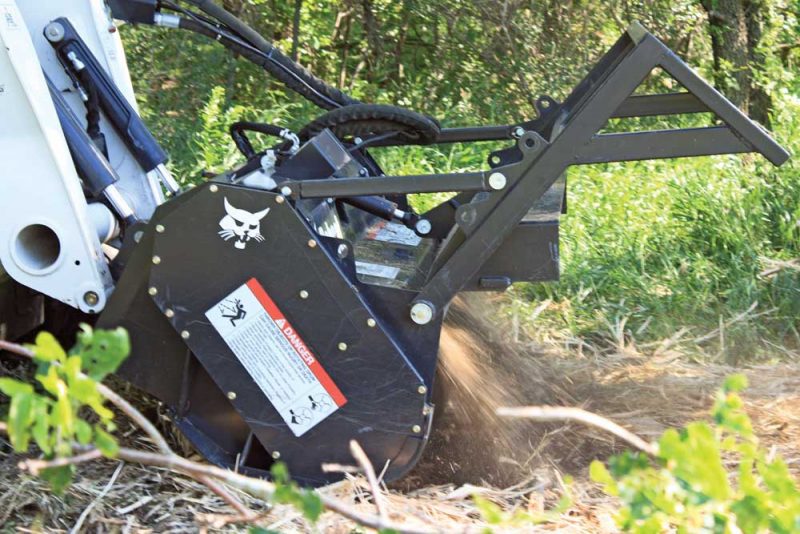 Easily rip through hard and soft woods with the Bobcat 70-in. forestry cutter attachment. This forestry cutter model boasts up to 17 percent more mulching production, allowing for greater production in less time. The 70-in. forestry cutter is approved for use with M2-Series compact track loaders — T770 and T870 — and the S850 skid steer loader. An additional 400-lb counterweight is required when using the 70-in. model with the T770 compact track loader. Approved skid steer and compact track loaders require high-flow auxiliary hydraulics to operate the attachment. For more info, visit bobcat.com/attachments/forestry-cutter.
Digga Root Rake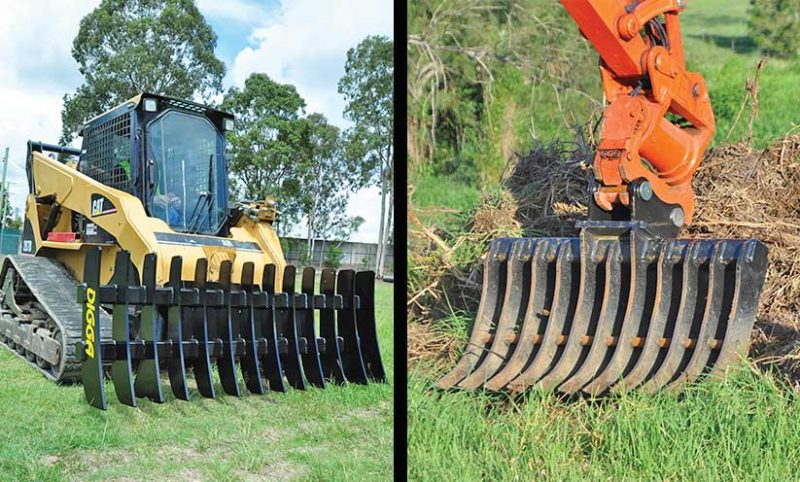 The Digga Root Rake is ideal for fast cleanups, vegetation management, sifting soil or rocks and removing unwanted shrubbery and overgrowth. Material can be sifted and sorted to clear out unwanted debris and leave good soil or material behind. Digga offers models for skid steer loaders and excavators, both featuring 5/8-in. thick tines, which are manufactured in the United States from top grade steel, providing extra strength and durability. The 84-in. skid steer root rake model features convenient steps on either side for easy cab access and an optional safety guard. The 47-in. Digga excavator root rake is suited for excavators from 3 to 10 tons. For more info, visit diggausa.com.
John Deere Stump Shredder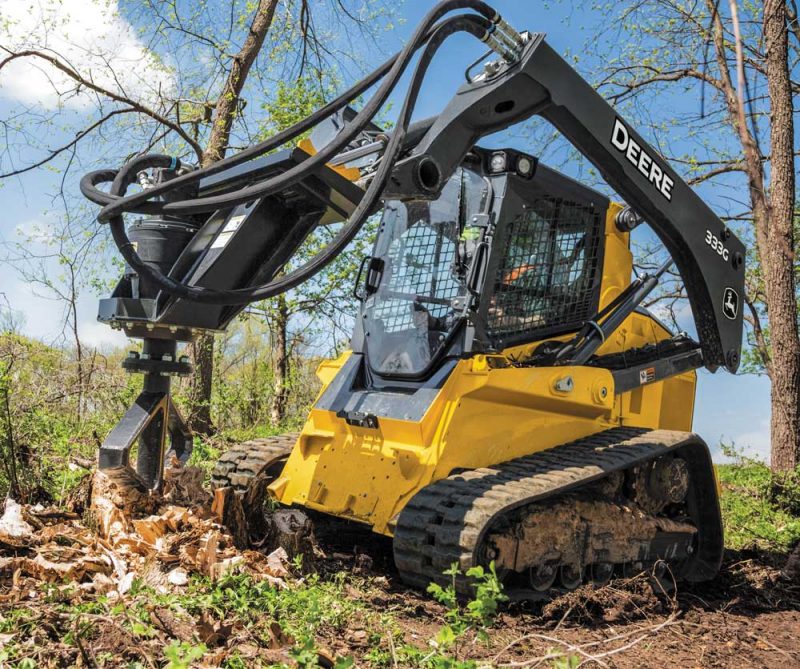 The SS30 model Stump Shredder from John Deere offers landscapers the ability to leverage a low speed/high torque planetary drive that shreds tree stumps with reduced incidence of high-speed flying debris. Ideal for landscaping and construction jobsites, the new shredder removes stumps from 8 to 28 in. in one pass. Larger stumps are easily removed with multiple bores. The stump shredder is compatible with mid- and large-frame G-Series skid steers and compact track loaders. The stump shredder was built to provide customers with cost and time savings. To increase ease of use overall, the shredder's hardened pilot cone draws the auger into the stump while 19-mm thick AR500 steel blades efficiently cut the stump. For more info, visit johndeere.com.
Kubota by Land Pride SC70 Skid Cutter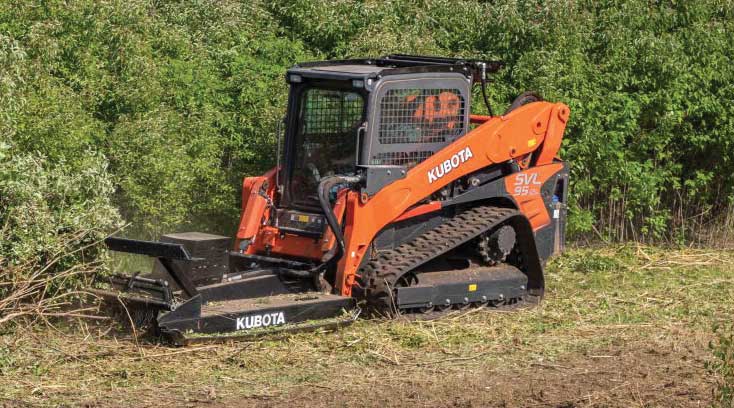 Farmers, ranchers, developers, contractors and landowners can clear land or small trees, shrubs, bushes and grass easily with the SC70 Series Skid Cutter. Performance matched to the Kubota SVL95-2 compact track loader, the Kubota SC70 is a heavy-duty skid cutter with a 7-in. cutting capacity and 6-ft width designed to make land clearing an efficient task. The deck and side skirts are manufactured from 1/4-in. steel. The three-piece deck design minimizes weld for added strength. The SC70 comes with an optional case drain and motor pressure gauge. Standard safety features include front and rear chains, a pusher bar and patent-pending bi-fold door that covers the cutting chamber when not cutting in heavy brush. For more info, visit kubotausa.com.
Brush Wolf Alpha Brush Cutter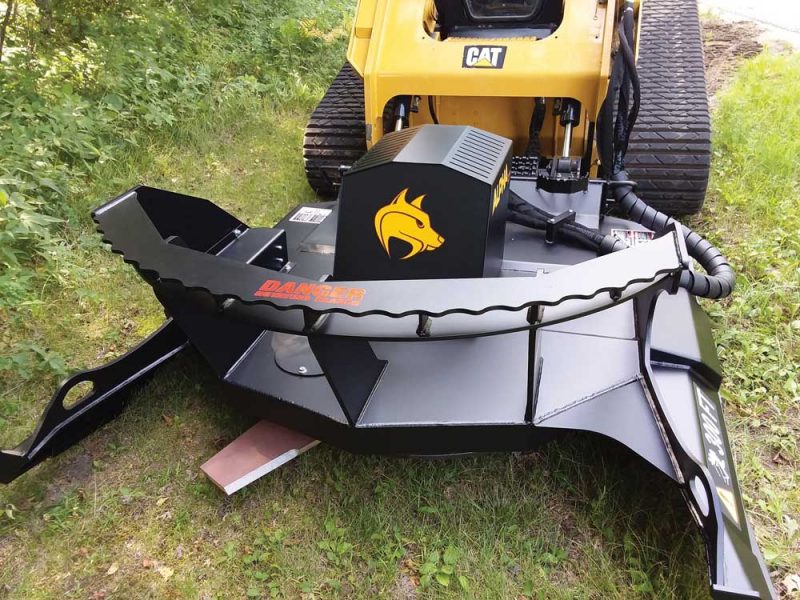 Brush Wolf recently introduced its new Alpha brush cutter model. Whether your skid steer offers standard or high flow, you will be able to cut up to 10-in. material. The hydraulic piston motor has quicker recovery time to move you through heavy brush with less bogging down. It runs cooler and has no cavitation at shut down. Laminated abrasion-resistant AR 400 skid pads provide extended life to the ground engaging skid rails. The clear deck design allows for material to glide off, preventing unwanted debris buildup. The construction industry offers a vast selection of operating equipment. Brush Wolf has designed 55 models to fit your mid- to full-size excavator, backhoe, skid steer or compact utility loader. For more info, visit brushwolf.com.
Cat D3K2 Mulcher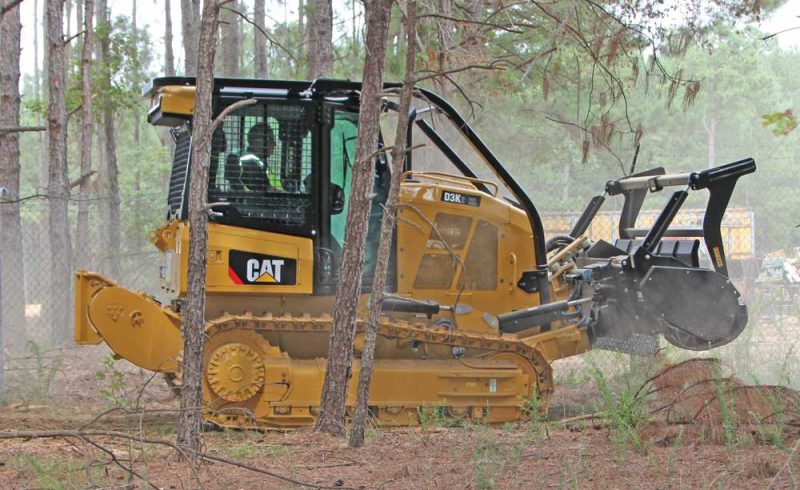 The factory-built Cat D3K2 mulcher combines the solid foundation of the D3K2 dozer with the ruggedly designed Cat HM518 mulcher to take on a mix of small-to-medium-diameter material in a wide range of applications, including right-of-way construction/maintenance, site development, tree management and fire-break clearing. Available with either a conventional long (XL) undercarriage or a low-ground-pressure (LGP) undercarriage, the machine works efficiently in soft underfoot conditions, on slopes and in rough terrain. For added utility, the mulcher can be removed and an optional Cat VPAT (variable-pitch/angle/tilt) blade installed. For more info, visit cat.com.
Tags:
April 2020 Print Issue
,
home