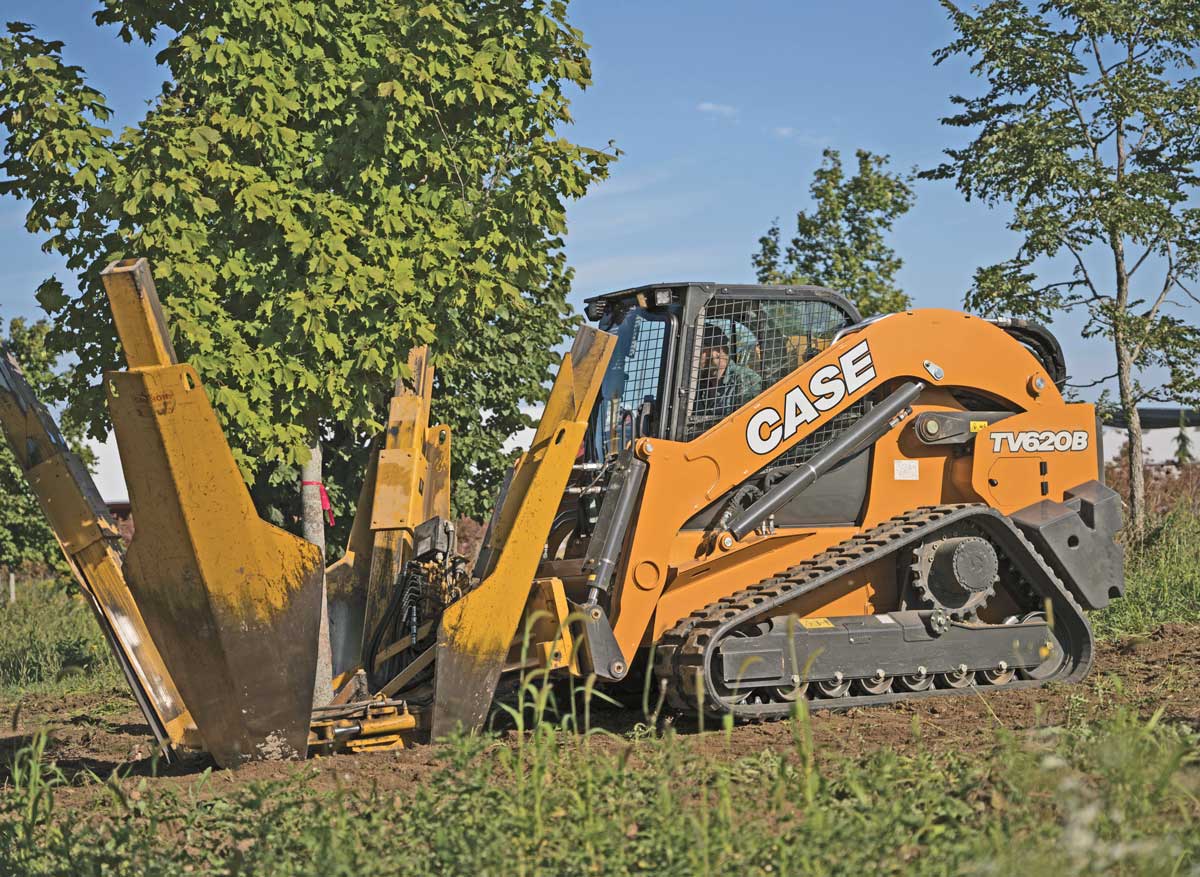 Tree spade attachments have been around since the early '70s. These gnarly implements allow a contractor to dig, transplant or package trees and large shrubs from the seat of a compact track loader, compact wheel loader or skid steer. This not only speeds up the task but also reduces labor costs and increases safety. This is a serious attachment, which means you need to know some serious knowledge when buying, renting and operating, so let's drop some.
How Does a Tree Spade Attachment Work Exactly?
Well typically, the attachment has three or four blades that encircle the tree, digging into the ground and then lifting the entire tree, including its roots and soil out of the ground. The tree can then be ferried by the loader for transport. A gate on the front of the tree spade opens to grant access to the chosen tree. An operator then positions the tree spade around the tree, which should be situated precisely in the center. Once properly positioned, the gate closes.
According to Jerry Hutkowski, product manager for Case Construction Equipment, rear stabilizers are then lowered to transfer weight onto the tree spade. "Three or four individual blades — depending on model — are then lowered into the ground to cut the tree roots and create a root ball."
"The speed and effectiveness of what happens next depends on the type of soil the tree is planted in," says Keith Huff, attachments product specialist for Bobcat, "but the mechanics of it are simple: The spades of the attachment are driven down into the soil until they touch and are at full extension."
Next, the rear stabilizers are raised so the tree can be moved. Then, the operator lifts the tree straight up and carries it to its next destination or to a location for placement of wire and burlap. These specialized attachments are vital assets to nurseries, landscapers, farmers, construction contractors, rental yards, municipalities, parks departments and others who need to plant, dig or move trees. But how do you choose the right one?
Select the Right Size Tree Spade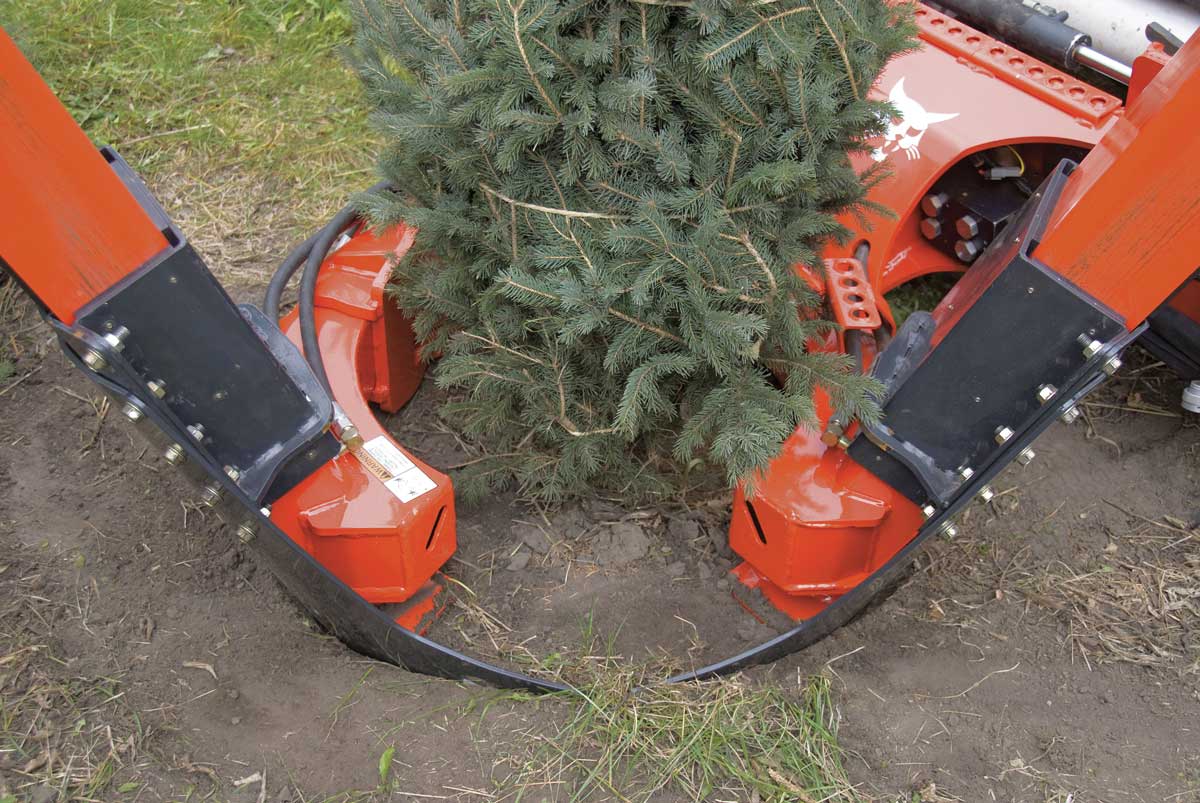 The decision on size should take into account several factors, but Huff believes a good starting point is soil condition. Other important considerations include tree size and post-removal applications. It's possible to spend well into the five-figure range for a quality tree spade, particularly if you choose one with a larger ball size and more capabilities.
Huff goes on to list aspects to consider when choosing the right-sized tree spade: "An operator should first consider the type of tree or trees that they will be working with, the size or potential size of the root ball, digging depth and if the operator plans to replant the tree back in the ground or place it in a basket or balled and burlapped applications."
Building on that list, Hutkowski says, "There are ultimately a number of factors that will determine the proper selection and sizing of a tree spade. Arguably, the most important will be related to the size of the ball/root system the tree needs to survive."
He advises choosing a tree spade that ensures the ability to safely dig out trees up to the largest scale of tree intended for removal. Case offers three models with ball diameter ranges from 18 to 44 in. Once you've determined the size of ball, Hutkowski continues, then it's about matching the tree spade either to the equipment you already have, or adding a machine to your fleet that can handle the weight and hydraulic requirements of the machine.
We'd love to keep in touch! Check us out on Facebook, Twitter and LinkedIn!
When determining if the machine you already have will work well with the tree spade, take into consideration both the weight of the attachment itself and the weight of the ball you will produce. "For instance," Hutkowski says, "our tree spade capable of producing a 44-in. ball has a weight of 1,875 lbs and [can create] balls up to 1,500 lbs. So, to operate that unit, you'd need a machine with a rated operating capacity of 3,375 lbs or higher, assuming an ROC of 50 percent tipping weight."
In Hutkowski's opinion, CTLs provide an excellent platform for running these attachments. The long track base with more ground contact, as compared with skid steers with rubber tires, provides excellent stability for operating tree spades.
Tree Spade Attachment Options
Beyond size, there are options. Huff breaks them down into categories like blade configurations. Tree spade models are available in modified and cone blade configurations. Different blade configurations give contractors the ability to select the right tree spade attachment for their specific machine and application.
For sandy or hard-packed soils, the cone blade is a good choice because it has a tower angle of 30 degrees and is popular when trees must be removed, transported and placed in new locations. It can also be used to place trees in baskets.
For loamy to sandy soils, the modified blade is an optimal selection because it has a tower angle of 25 degrees, allowing the tree spade to place the removed tree directly into a basket. "It's the most popular choice for balled-and-burlapped tree harvesting," Huff reports.
Options:
A 7-pin attachment control device allows an operator to manage tree spade operation with fingertip controls located directly on the steering levers of the carrier.
A convertible valve permits an operator to manage tree spade operation with fingertip controls on the steering levers or by using a pendant control box. The operation and control versatility of the convertible valve allows the tree spade to be operated on Bobcat loaders as well as other brands.
Compact track loaders are the most popular category of compact equipment in America. Learn why with loads of track loader features right here.
Tree Space Auxiliary Flow Requirements
The auxiliary hydraulics specifications of the host machine need to match the demands of the tree spade attachment — both gallons per minute (gpm) and pressure (psi). Hutkowski elaborates on auxiliary power as he continues the example of the 44-in. ball. "A tree spade capable of producing up to a 44-in. ball requires 10 gallons per minute with a minimum operating pressure of 2,250 psi. You can operate that tree spade with a standard auxiliary hydraulics package, but tree spade performance will improve with the availability of higher pressures."
In general, Huff says tree spades require a max auxiliary flow rate of 25 gpm. However, Hutkowski points out that there are larger skid steer and track loader tree spades available in the industry that require flow rates exceeding 25 gpm, with pressures up to 4,000 psi. "These tree spades will require either a high-flow or an enhanced high-flow auxiliary hydraulics package to operate effectively."
In addition, a 14-pin electrical connection is usually necessary to help with the controls and secondary movements of the tree spade.
Tree Spade Attachment Maintenance
As with any attachment, regular preventive maintenance will ensure long-term performance. Reinforced attachment frames on rugged tree spade attachments endure tough work environments, but in general tree spades are relatively low-maintenance attachments. Routine maintenance includes blade sharpening to ensure optimal digging performance. In addition, Huff notes, operators may need to replace the slides on the spade arms and keep the attachment properly lubricated as part of preventative maintenance.
"Keeping the attachment clear of packed-in dirt and mud will help it operate more efficiently," Hutkowski adds. He also recommends ensuring that all hydraulic and electrical connections are free of leaks and crimps and are kept away from pinch points to ensure long-term effectiveness.
Lori Lovely is a freelance writer for Compact Equipment.
Assessing the Angle
Because tree spades are typically classified by the degree of angle on the blades (as well as by size), it's important to assess the application in order to select the correct attachment. Common angles include 22, 25 and 30 degrees.
22-degree blade angle. The truncated tree spade is suitable for nursery growers to dig in heavy soils because the wider blades produce heavy, pot-shaped root balls with more root and soil that is designed to fit into a standard 22-degree nursery basket for storage or transport.
25-degree blade angle. The modified tree spade is also popular with nursery growers because it produces a wide root ball with a flat bottom that enables trees to be stored and displayed in an upright position or in a standard 25-degree nursery basket. This blade works in heavy soils, loam and clay-loam soils but shouldn't be used in sandy soils.
30-degree blade angle. The cone tree spade is the most common. Compact and lightweight for easy maneuvering, it is considered an all-purpose spade that can work in most soil types except for sugar-sand soil or areas with heavily tap-rooted trees. When fully extended, the blades open to a cone with a 5- to 14-in. opening that leaves unneeded soil below the root zone in the ground. It produces a root ball that fits a standard 30-degree nursery basket.
For reprint and licensing requests for this article, please click here.
Tags:
Bobcat
,
Case
,
Case Construction
,
Case Construction Equipment
,
March April 2023