The utility tractor can be a versatile piece of iron. Ask any farmer, landscaper or large estate owner — a compact tractor is a great way to tackle that long must-do list hanging up in your garage or warehouse. Cut the grass, mulch the flower beds, bale hay, spread gravel, level a field, install that sprinkler system and then pick up dinner — it can tackle almost all of those labor-intensive chores. The diversity and approachability of compact tractors have made them big business in North America. Today compact tractors are often defined by their attachment system. The American Society of Agricultural Engineers (ASAE) defines compact tractors as small agricultural tractors equipped with a 540-rpm power take off system (PTO) and a three-point hitch designed for (mostly) Category 1 implements. There are hundreds of implement choices, including mowers, landscape rakes, augers, buckets, backhoes, hay bales, fork lifts, seeders, brush cutters and beyond. These implements can be attached on the front, belly or rear of the tractor and can be powered by PTO power or hydraulic power. Here are some cool new implements on the market.
Kioti Backhoes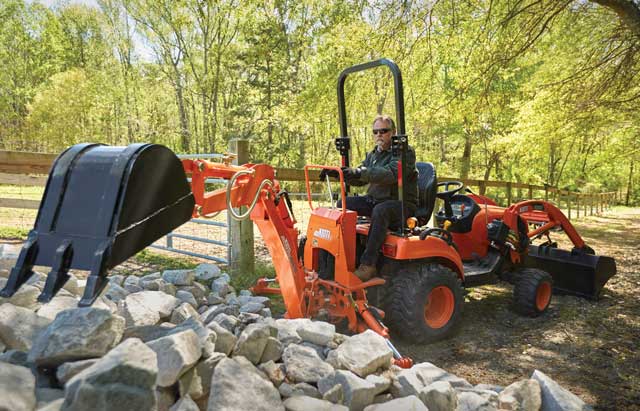 Dominate the dirt with a Kioti backhoe — an essential attachment for users who demand reliability and precision from their equipment. Four models — the SB2410L, KB2465, KB2475L and the KB2485 — offer a variety of standard features, including sub-frame mounting, self-contained hydraulics and hydraulic stabilizers that help operators tackle the toughest excavation jobs with ease. Responsive two-lever hydraulic controls allow for a user-friendly experience and control. The entire backhoe (besides the mounting frame) can be quickly detached, providing the versatility to move swiftly from job to job. And, with trenching capabilities up to 94 in. deep and a bucket dig force of up to 3,748 lbs, Kioti backhoes can be trusted for jobs large and small. For more info, visit kioti.com.
Land Pride Combo Bucket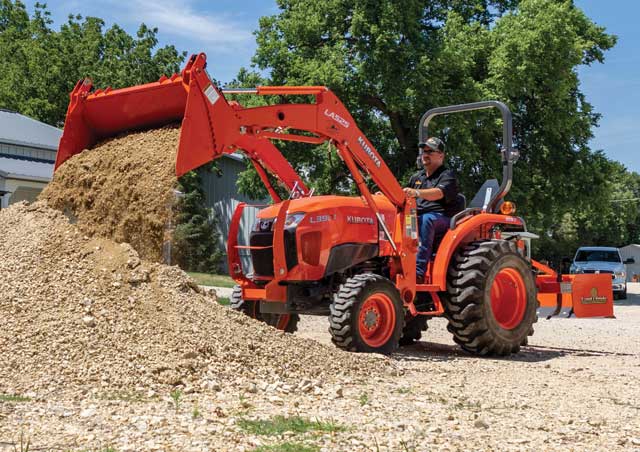 Land Pride's new combo bucket is specifically designed to fit compact tractors up to 40 hp. Commonly referred to as a four-in-one bucket, these attachments can be used as a dozer, scraper, grapple or bucket. The CB1060 features a universal quick-attach plate, 60-in. width, maximum jaw opening of 28 in. and 3/16-in. side panels. The two hydraulic cylinders are rated at 3,000 psi with a clamping pressure of 3,000 lbs at 2,250 psi. Bucket capacity is 10 cu ft heaped or nearly 8 cu ft struck. The CB1060 can be ordered with a third function valve to fit many popular Kubota tractors. For more info, visit landpride.com.
John Deere 375A Backhoe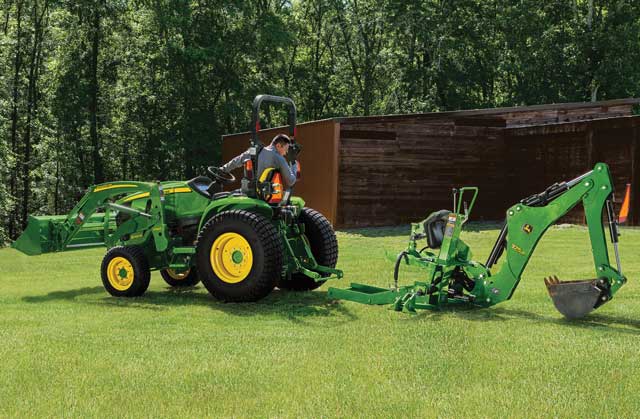 Featuring improved feel and feathering capabilities, the John Deere 375A backhoe adds precise control with ample torque. Compatible with the 3033R, 3039R and 3046R, vertical or side-to-side movement is virtually eliminated, providing more stability and operating ease. The design of the mainframe positions the entire backhoe close to the tractor, and operators are able to benefit from the total weight transfer between the backhoe stabilizers and loader bucket. In addition, the mainframe integrates the tractor and backhoe combination together as one, protecting the tractor chassis. The controls on the backhoe operator console are arranged for optimal comfort, especially important for long workdays. Backhoe stabilizer controls are located on the control tower, allowing easier access to the operator station. For more info, visit deere.com.
Steiner Trencher Attachment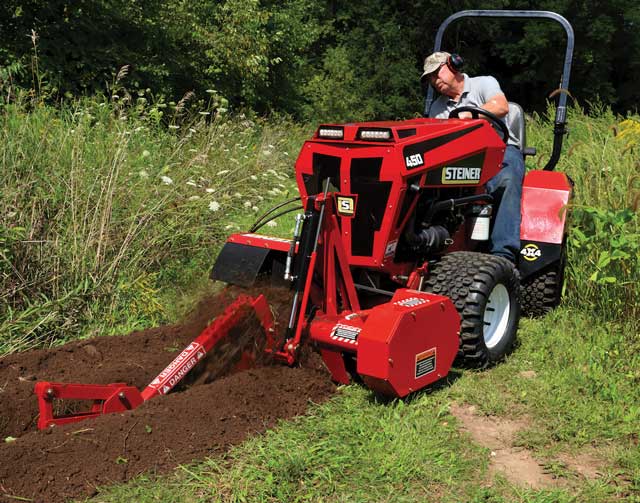 The Steiner trencher attachment helps you dig precise trenches quickly, providing a boost to your landscaping efforts. It can cut as deep as 28 in., and it features an easy-to-see depth indicator gauge, so you're always in control, right in the operator seat. Attached to the powerful and versatile Steiner 450 tractor, the Steiner trencher has a standard cutting width of 5.5 in. but can also dig as narrow as 4 3/4 in. Its precise width and depth make it perfect for installing lighting, irrigation, pet fences or aiding in other landscape renovation projects. And with its 550 ft per minute chain speed, it can power through tough terrain with ease. For more info, visit steinerturf.com.
Auger Torque Log Splitter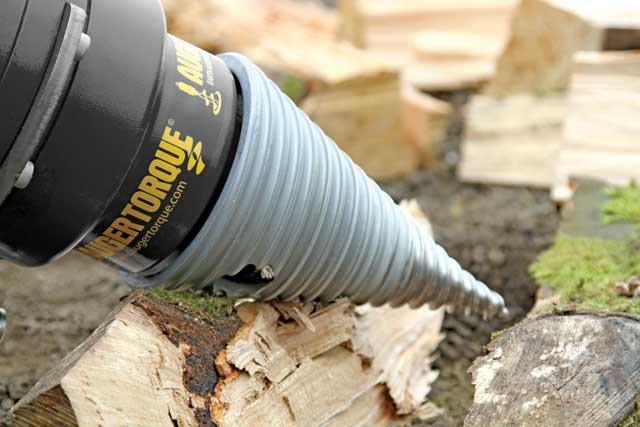 Auger Torque's compact and robust log splitter makes light work of processing those fallen trees into manageable pieces. As the unit rotates, the self-guiding threaded body engages with timber and draws the splitter into the log. The conical shape quickly works its way through the log, splitting it in two. For larger logs, the splitter can be repositioned to continue the split along the entire length. Suitable for any tractor equipped to operate hydraulic attachments, excavators from 1 to 5 tons and skid steer or compact track loaders, the unit will easily fit to your existing earth drill. For more info, visit augertorqueusa.com.
Massey Ferguson Backhoes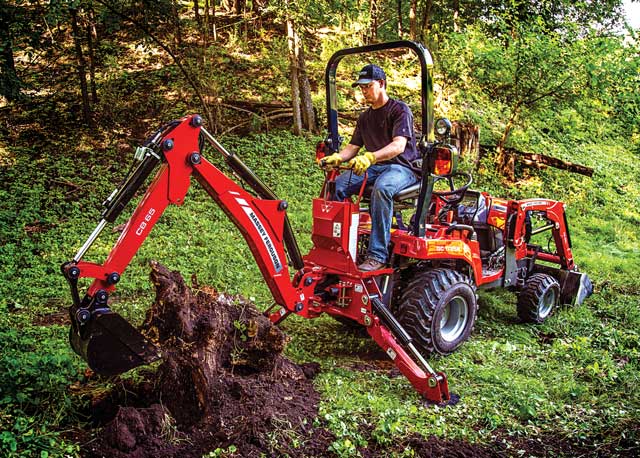 Massey Ferguson backhoes make fast work of excavating projects for homeowners, landscapers and contractors. Three models include the CB65 for sub-compact models, the CB75 for 25- to 40-hp compact tractors and the CB85 for 40- to 60-hp compact tractors. Class-leading dig depths vary from 78 in. up to 102 in., respectively. The powerful backhoes are built to dig through tough conditions and feature Boom Float for faster, easier operation. With the boom lever in float, the operator can efficiently dig, level and scoop by controlling only the arm lever. Even when operating at low engine rpms, high hydraulic flow from the tractor makes these backhoes responsive to move more material quicker. For more info, visit masseyferguson.us.
MTW Power Box Rake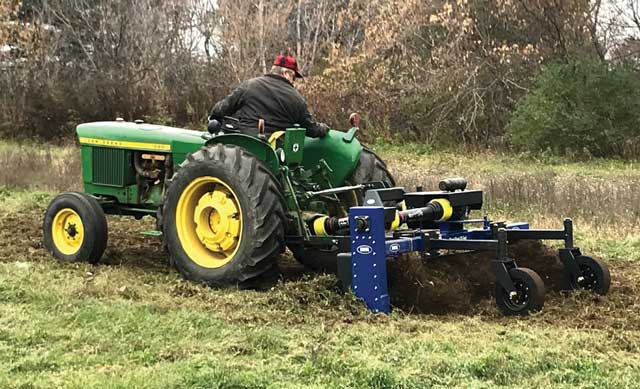 The MTW power box rake from MTW Specialty Products is an ideal choice for breaking up, raking and leveling hard-packed soil, gravel, sod and other terrain. MTW's strong steel frames help commercial operators and do-it-yourselfers refine more material in less time while minimizing downtime due to breakage and repairs. Three models are available for both skid steer and tractor applications and can be ordered with weld-on teeth, replaceable teeth or carbide teeth and come standard with solid rubber airless tires. With sizes ranging from 4 to 10 ft, rotors available in 6- and 8-in. diameters and frame construction available from .18 to .375 in. of wall thickness, you are sure to find the right unit. For more info, visit mtwpowerboxrakes.com.
Danuser Python Wire Winder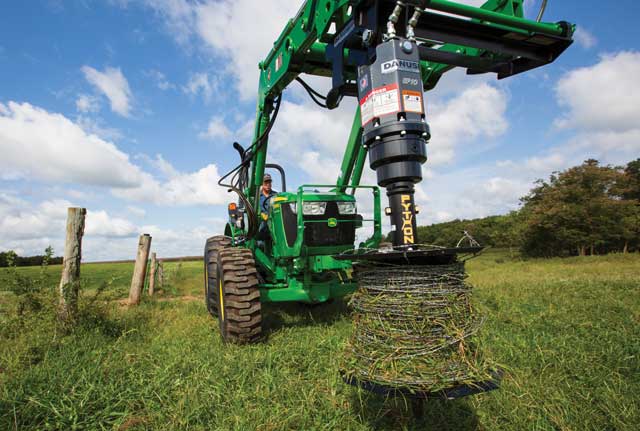 Danuser's Python Wire Winder connects to a customer's existing hydraulic auger drive with a 2-in. hex connection. Once installed, operators can place the fence wire strands in the slots, push the spike into the ground and turn on the auger drive to start wrapping. Once the wire is wrapped up, it can be removed by pulling a pin and separating the two Python halves. The Python is designed to accept two tie wires to keep the wire neatly coiled up until it's time to be reused. It holds up to three-quarter miles of barbed wire (12.5 gauge) or up to six miles of smooth wire (14 gauge). For more info, visit danuser.com.
New Holland 900 Series Utility Backhoes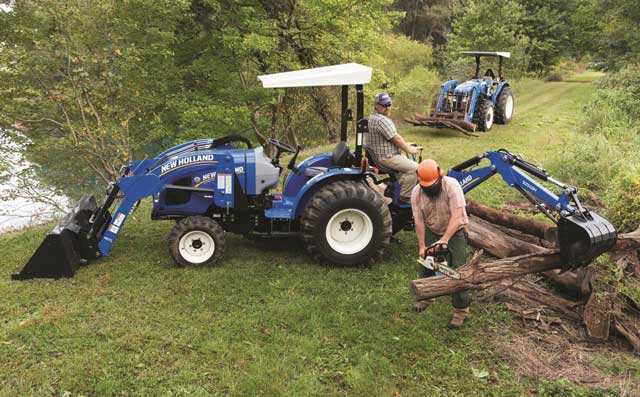 New Holland's 900 Series utility backhoes incorporate a curved boom design, outstanding performance specifications and significant improvements in operator visibility and operational comfort. Their curved boom design creates increased visibility and also stays consistent with the Boomer and Workmaster tractor styling. A wide, cushioned seat provides improved operator comfort and productivity. All models feature two-lever control for easy operation of boom, dipper stick, bucket and swing. Controls are mounted in a low-profile console for unobstructed vision. Cast iron stabilizers and stabilizing pads are sturdy and strong to create increased support. For more info, visit newholland.com.
Earth and Turf Pallet Forks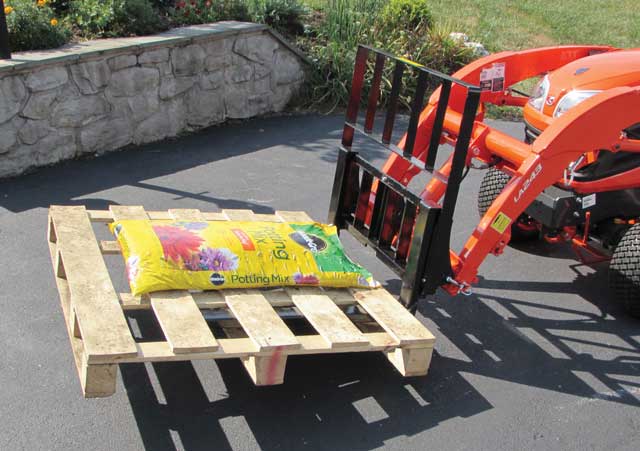 Earth and Turf Products LLC's pallet forks fit the three-pin or universal quick-attaches of Kubota BX-Series tractors. Similar Earth and Turf pallet forks are also available for other compact tractors. The suggested retail price of the pallet forks is $697. Designed to be lightweight, yet durable, the pallet forks are capable of lifting loads up to the safe operating capacity of the tractor loader. The forks have 32 in. of usable length, a maximum load rating of 1,200 lbs and a back guard to hold loads in place. For more info, visit earthandturfattachments.com.
Boss Exact Path Drop Spreader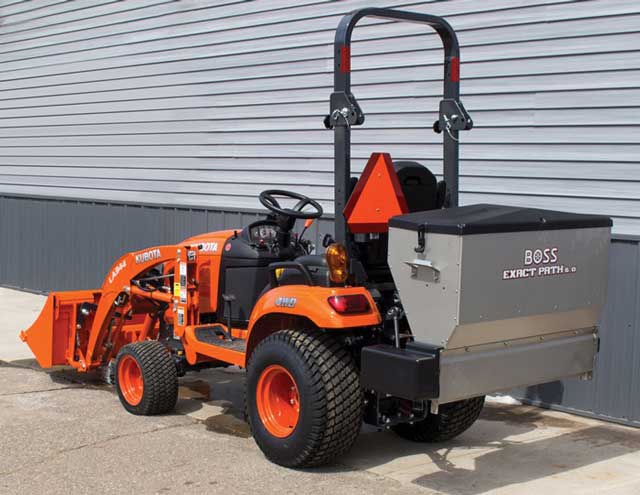 This winter or next, put your tractor to work battling ice on sidewalks and walkways with the Boss Exact Path drop spreader. The Exact Path drops deicing material along a precise path while protecting grass and landscaping. Available in 2.5- and 6-cu-ft capacities, Exact Path offers a mounting option specifically to fit tractors. A stainless-steel hopper and frame with a polyethylene cover keep materials dry and free flowing. An exclusive feed gate lever makes it easy to adjust material flow — no tools needed. The Exact Path is another solution from Boss Snowplow built to efficiently perform in locations where constant foot traffic, tight areas and obstacles are all part of the job. For more info, visit bossplow.com.
Curtis Industries Introduces ROPS-Mount Canopy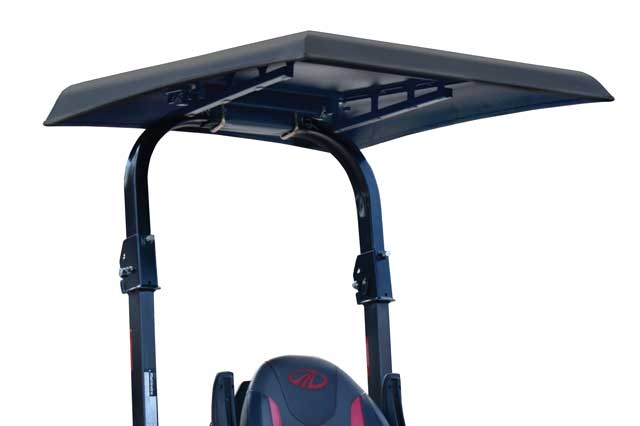 The durable, lightweight, aluminum, universal fit canopy from Curtis Industries can be mounted to straight or angled ROPS. The mount fits square and rectangular ROPS tubes 1 1/2 to 2 3/4 in. tall and 2 to 3 in. wide. It's constructed of 1/16-in. aluminum and available in John Deere green or textured power-coat black finish. The canopy features two steel handles, quick release latches and self-centering blocks. Installation takes minutes with the Curtis pivot mount system that attaches to the vehicle's two-post ROPS using two U-bolts. The canopy snaps into place on the pivot and has adjustable positioning, moving 6 in. forward or back. In addition, the canopy can be reversed in the rear-facing orientation to provide cover while operating a backhoe. The canopy top is under 30 lbs and is 56 in. long and 42 in.  wide in back, tapering to 37 in. in the front. For more info, visit curtiscab.com.
Tags:
Auger Torque USA
,
BOSS
,
Danuser
,
Earth & Turf Products
,
home
,
John Deere
,
Kioti
,
Land Pride
,
Massey Ferguson
,
May 2019 Print Issue
,
MTW Specialty Products
,
Steiner