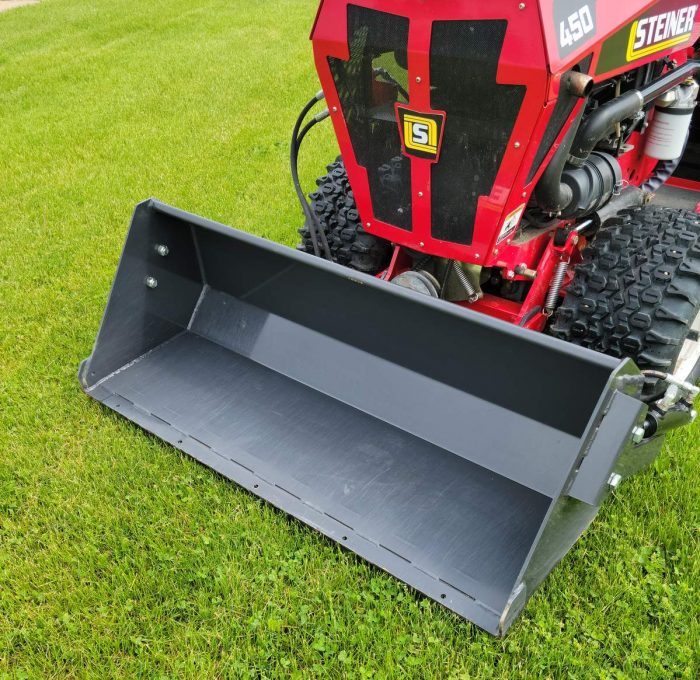 Steiner, a leading manufacturer of versatile, year-round tractors and attachments, revealed six innovative updates to its Slip Scoop attachment, a productive tool designed for hauling gravel, scooping snow, pushing dirt and more. The all-new Steiner Slip Scoop now includes:
Precut holes for the scarifier to reduce set-up time
Boxed in rear frame increasing structural support
Updated hitch arm brackets for improved strength and support
Updated bulkhead fitting for easier serviceability
Added kickstand to make hook up easier
Steiner's all-new Slip Scoop attachment is compact, helping it excel in tight spots, while still providing commercial-grade hydraulic lifting power to support users taking on any landscaping, hardscaping or excavation project.
"The Steiner Slip Scoop is one of our most versatile attachments, perfect for year round use," said Ron Scheffler, senior product manager for Doosan Bobcat, parent company of Steiner. "These product upgrades were designed with the user in mind, making it easier to adjust, access, and service the equipment."
The Slip Scoop attachment is available for purchase now at Steiner dealers around the country. Prospective users can check out all of the additions in Steiner's new Slip Scoop product video or see the updated Slip Scoop at the 2022 Equip Exposition trade show in Louisville in October.
To learn more about Steiner, visit https://steinerturf.com/.
Take a break from reading and check out our Machine Heads video series!
Tags:
Steiner