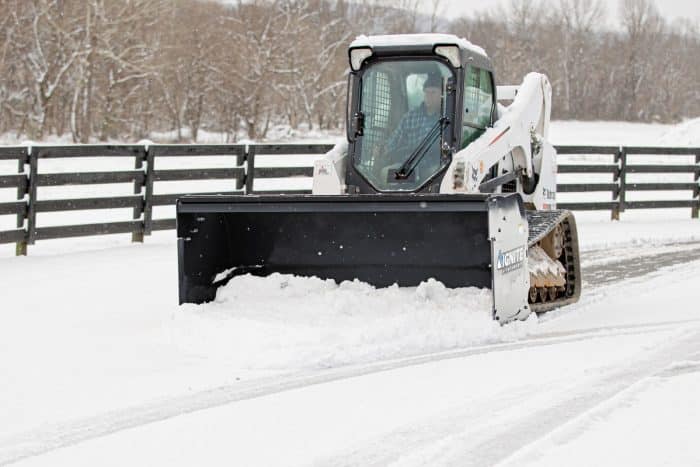 The winter months can be tough on everyone, especially when it comes to dealing with snow and ice. Getting your outfit set up for a successful winter starts with selecting the right snow removal attachment for your operation. Consider these factors to make sure winter is "snow" problem.
What Snow Tool Do I Need?
The choice of snow removal attachments depends on the job at hand. Are you looking to clear a large open space, or do you need something that can get into tight spaces and around obstacles? Snow pushers are typically used to move large volumes of snow quickly. The attachment turns heavy snow into a lighter lift for your machine, compared to just using a bucket, for more efficient snow removal. They are ideal for large, open spaces like parking lots and farmyards and are the simplest snow tools to operate, making them an ideal attachment for most snow removal applications. They are basically a "pusher box" with skid shoes and a cutting edge. No hoses or hydraulic hookups. Simply attach and push. Some snow pushers are available with a pull back or back drag option that allows you to roll over and pull snow away from buildings, structures and other hard-to-reach places, but, in general, these tools are best on open ground.
A snow blade or V-blade, on the other hand, is better suited for driveways, sidewalks and other precision snow removal applications. These tools require hydraulics but offer more versatility for precision snow removal.
What's the Right Size Snow Tool for My Machine?
When working with any attachment, it's important to know your carrier limitations. This includes the operating and lifting capacity. Snow can be very heavy, especially when pushing it over large, open areas. You want an attachment that is wider than your compact tractor, skid steer or compact track loader. You'll also need to make sure you have enough tractive effort and horsepower to push large volumes of snow.
When it comes to snow pushers, 6- and 7-ft pushers are generally used on compact tractors and smaller skid steers. An 8-ft snow pusher typically requires a minimum of 40 hp, while a 10-ft option needs roughly 60 to 70 hp, making these a better fit with larger skid steers. If you are using a snow blade, V-blade or snowblower, make sure you have ample hydraulic flow to support snow removal operations.
Talk to your dealer about your carrier's specifications. There are also online tools, like the Fit Finder from Ignite Attachments, that allow you to simply enter your carrier's make and model for confident online purchasing.
What Should I Look for in a Snow Attachment?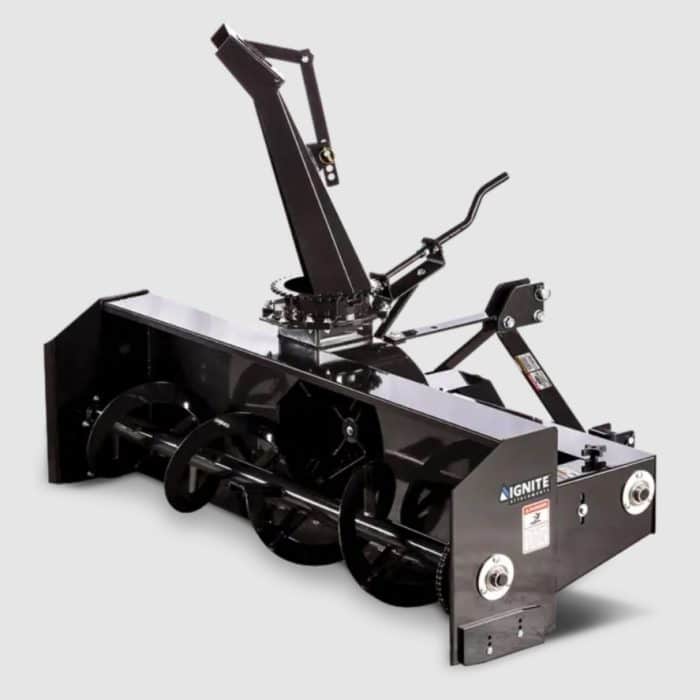 Like mowing, snow removal is a seasonal application. Getting the best ROI on your snow removal equipment means investing in high-quality, durable attachments that will last you season after season. Be on the lookout for something that is durable and built to handle heavy loads and frequent use. Finding equipment that is well-built yet cost-effective allows you to focus on your operation. Look for models with a reinforced frame that can withstand the weight of heavy snow as well as any impacts it might encounter. Snow pushers manufactured with a reversible, high-strength steel cutting edge doubles the useful life of the blade, saving you time and money, as do reversible skid shoes.
Additionally, a rubber cutting edge increases the wear life of your attachment and offers excellent scraping ability. Lastly, make sure the service and support is top-notch. Partnering with a reputable attachment manufacturer always pays off in the end.
Am I Ready for Winter?
Colder temperatures and snow will be here sooner than most of us would like to admit. Are you ready to tackle snow removal applications this winter?
Darin Gronwold is a product specialist with Ignite Attachments.
We'd love to keep in touch! Check us out on Facebook, Twitter and LinkedIn!