Premier Attachments has developed, and patented, a series of attachments with mounting brackets that allow for the two most common skid steer attachment styles — mini-skid and universal skid steer — to be utilized on a single attachment. The new Duo-Tach mounting bracket for full sized skid steers, utilizing the universal skid steer mounting style, and mini-skid steers, using the common industry standard mini-skid mounting style, share the same basic structure built into one Duo-Tach attachment. This allows the owner to utilize one attachment for both mini-skid steers and full-size skid steers on any given job site at any given time.
The best part of this new product is the reduction in the size of the attachment fleet due to our Duo-Tach mounting bracket being able to be used across all platforms of host machines. There is no adapter, no conversion plate and not a single tool is required to switch from one style of mount to the other. Just un-hook from your mini-skid steer and hook right up to your full-size skid steer and go to work. Fewer pieces of equipment to purchase, plus more efficiency on a job site by having more flexibility in how you use your equipment, equals greater profitability. Don't jus attach it, Duo-Tach it!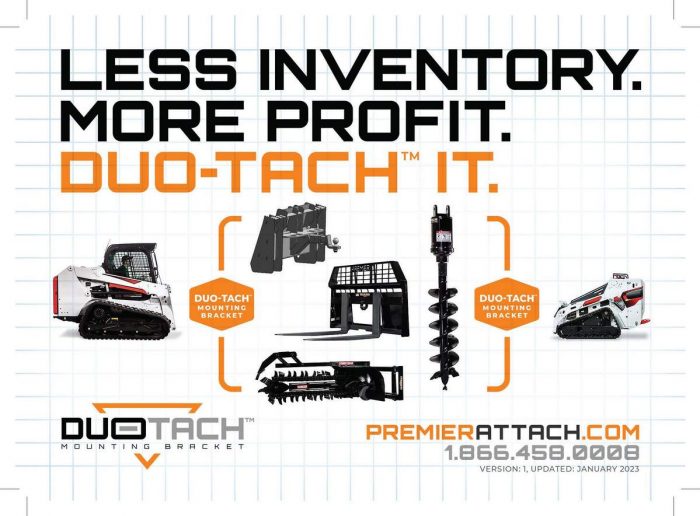 Premier Attachments has incorporated the Duo-Tach mount to our line of Earth Auger attachments, Trencher attachments, Pallet Fork attachments and new Utility Hitch attachment. All four lines of Duo-Tach attachments are built in its Fort Wayne, Indiana, factory with the same quality and craftsmanship that goes into everything it builds.
The Duo-Rach is compatible with all major brands of skid steers including Bobcat, John Deere, New Holland, Cat, Gehl, Takeuchi, Kubota, JCB, Thomas and others. As well as all major brands of mini-skid steers including Ditch Witch, Vermeer, Toro, Bobcat, Kanga, Ramrod, and others.
We'd love to keep in touch! Check us out on Facebook, Twitter and LinkedIn!