Compact wheel loaders are designed for a wide range of applications given their size, comfort, safety and ability to couple with any number of attachments. From augers and buckets to forks and snowplows, this growing category of equipment can dig, load, clear snow and do lots more, offering operators a variety of solutions for their project needs. Many compact wheel loader manufacturers even offer skid steer quick-attach plates that allow owners to use a wide selection of skid steer/track loader attachments on a compact wheel loader. The attachment market for small wheel loaders is bigger than ever before, so here's a look at the most popular implements on the market.
Buckets, Of Course
It's no surprise that a bucket tops the list as the most popular attachment for compact wheel "loaders." It's right there in the name. Operators use them to dig, load, scrape and spread materials on all sorts of jobsites in ag, snow removal and construction. Talk about versatility.
"Buckets are designed for optimal loading and dumping," says Joey Queen, Yanmar's CE attachments engineer. "Various capacity buckets are available from general purpose to super light material. It's important to know your application and what type of material will be handled and if it needs to be measured. Yanmar offers evenly measured yard buckets for measuring loads."
Most companies selling compact wheel loader buckets will offer general purpose, light material, snow, flat floor and multipurpose buckets, noting we'll tackle grapples and grapple buckets separately later on. Bigger loaders in niche applications can employ all types of unique buckets for coal and sand to gravel and trash handling, and there are also some unique choices for smaller loaders. A good example is Caterpillar's side discharge buckets that are designed to collect and transport loose materials such as sawdust, sand, mulch and topsoil and then discharge these materials via a belt-type conveyor from adjustable openings (doors) on either side of the bucket. Wacker Neuson created a bucket specifically for loading commercial fertilizer such as urea and potash. Granular fertilizer has a flowing characteristic that makes loading and carrying it difficult without spilling when using a normal bucket.
"Fertilizer is like picking up water," says John Dotto, Wacker Neuson's market product manager. "It sloshes around and goes everywhere."
To contain it and minimize spill, Wacker Neuson designed a custom-built bucket. "Once it rolls back, the bucket's angled edge is perfectly parallel with the ground," Dotto says. "It is designed for our kinematics and sits flat and contains the material like the load area of a truck."
Regardless of size or type, picking the right wheel loader often boils down to the right bucket, the right amount of material (measured in cubic yards) that needs to be moved per hour, the weight of the material and the area that the loader will operate in. Correct bucket choice is paramount for this category of equipment.
Grapple with these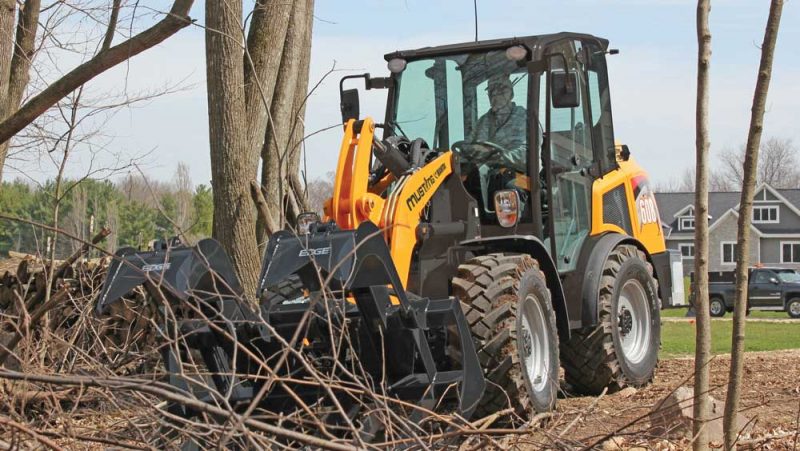 Need a better grasp on the job? Grab a grapple or grapple bucket. These attachments are used for moving light bulky material such as brush and garbage. Queen says grapples are a great asset for disaster cleanup and initial land clearing since they can move large amounts of material in less time. These attachments require 7 to 10 gpm and can cost anywhere from $3,000 to $7,200.
If a project calls for scrap handling, recycling center use or heavy-duty cleanup, Grant Van Tine, product marketing manager of compact wheel loaders for John Deere Construction and Forestry, suggests looking at scrap grapple buckets. This attachment offers great grappling power that's needed to handle tough material. John Deere offers two models — the GS78B and GS84B.
"Customers should consider the type of material they need to move if they are interested in scrap grapple buckets," he says. "These attachments are ideal for gathering debris and keeping the load secure while in transit versus moving compacted dirt or terrain. For scrap applications where containing the material is necessary, bolt-on side plates are available. The scrap grapple models also feature convenient predrilled cutting edges for optional bolt-on, replaceable edges. Cylinder guards come standard and have been simplified to a low-profile, an effective solution for hydraulic cylinder hose connections."
Stick a Fork in It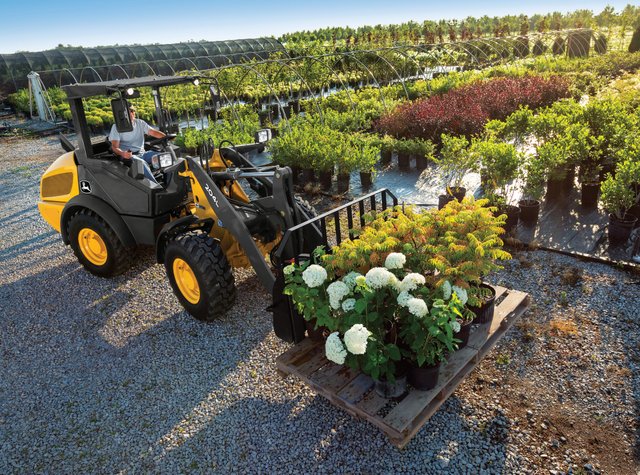 Next up are fork attachments, which are used for carrying pallets and other stacked material all over the jobsite. Compact wheel loaders are the perfect machine to use forks thanks to their high reach, long wheelbase and great visibility. Knowing your load type and weight are important when selecting a fork attachment.
"If an operator needs to move a lot of material, they should understand the maximum and minimum weights they are working with to ensure they are using a machine and pallet forks that are able to support the necessary weight," says Van Tine.
Small wheel loaders can use pallet forks to move palletized loads on construction sites, handling bagged fertilizer and seed at landscaping and nursery sites or delivering brick on a hardscape job. Pallet forks come in a variety of widths such as 42-, 48-, 60-, 72-in. wide and onward. They are often categorized as light, standard and heavy-duty. Queen adds that class 2 forks are designed for smaller, lighter loads and class 3 forks are for heavier ones. Both classes of fork attachments are available from Yanmar.
If you have a heavier load to haul, a serious set like John Deere's Severe Duty Pallet Forks may be the solution. These pallet forks are ideal for heavy lifting around the jobsite and offer optimal visibility so operators can see where they are moving materials. Van Tine says that the forks feature a brick guard design which provides added strength and smooth surfaces to offer protection against load damage. The attachment is available in a 60-in. frame with 48- and 60-in. tines rated up to 8,800 lbs.
Snow Tools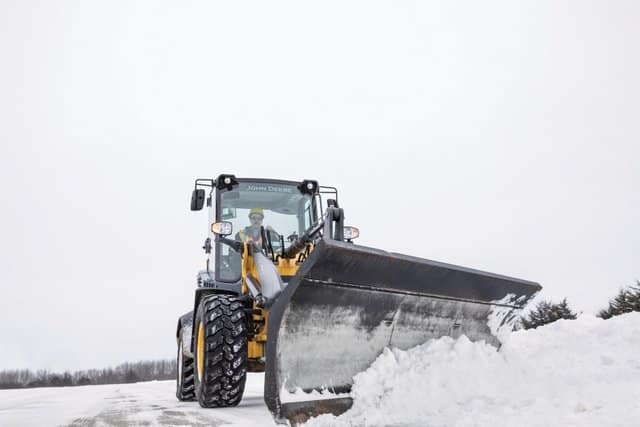 Although most of us are dreaming of warmer spring days, it would be wrong to not mention snow tools in this article. The compact wheel loader is a prime candidate for snow removal and there are plenty of tools to choose from, including snowplows, pushers, blades, brooms and throwers. Snowplows and pushers are popular choices in snow removal because operators can move large volumes of snow at a fast rate for big parking lot cleanup.
"Compact wheel loaders are commonly used in snow removal applications and snowpushers are a preferred tool for quickly and efficiently removing large accumulations of snow from sidewalks, parking lots and driveways," says Van Tine. "John Deere's 8-ft SP8 and 10-ft SP10 feature reversible and replaceable rubber cutting edges. Additionally, an optional pullback edge is ideal for opening up confined areas and working around vehicles, buildings, fences and other obstructions."
According to Mike Stephan, president and cofounder of Kage Innovation, it's critical that any snowplow or pusher an operator chooses is equipped with mechanical float, allowing the plow to move up and down over contours in the pavement.
"Typically, compact wheel loaders are equipped with anywhere from 10- to 14-ft snowplows or pushers," says Stephan. "Rule of thumb, however, is to look at the site that the unit is on, and what kind of flexibility you need the machine to have. If there are areas where you need to be more maneuverable, you may want to downsize the plow slightly in order to have a machine that is versatile, rather than just a brute force monster. It is critical that any snowplow or pusher that you choose be equipped with mechanical float, allowing the plow to move up and down over contours in the pavement. Without float, the wheel loader will lose steering when the plow rides over humps, or the plow will leave snow in the dips."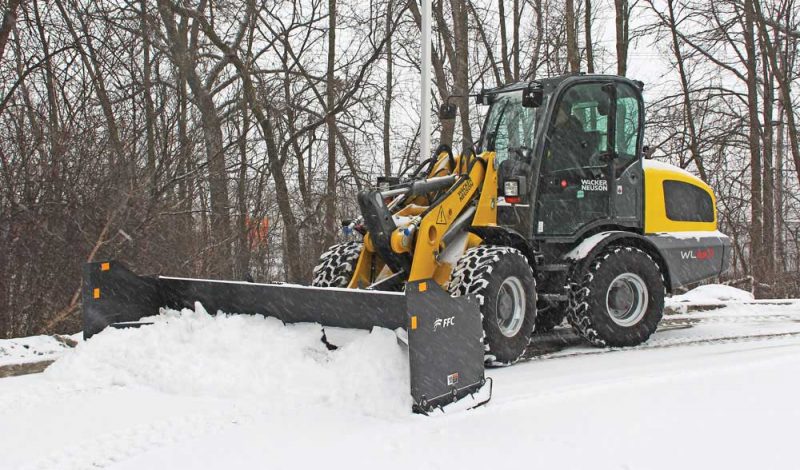 Snowplows or snowblades will also come in a variety of configurations and technologies, ranging from V blades to angle blades. Brooms are more ideal for light snow removal (less than 3 in.), and snow buckets are handy for moving inconvenient snow piles out of the way. Snowblowers come in a wide range of sizes as well as costs, with larger blowers requiring more hydraulic flow for maximum performance. Which leads us to…
A Final Safety Reminder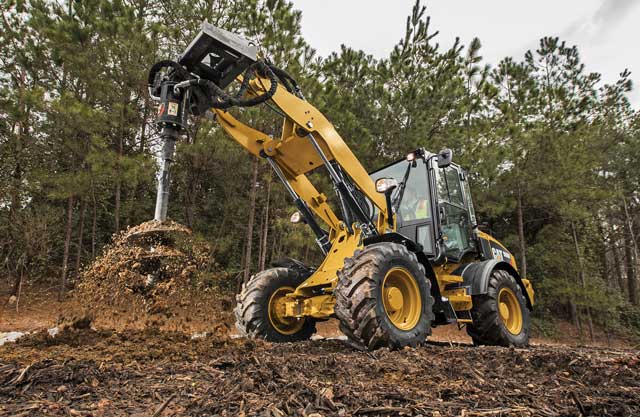 Many compact wheel loader manufacturers feature skid steer quick-attach plates that allow you to use any number of skid steer/track loader attachments on your compact wheel loaders. Before employing a skid steer attachment on a wheel loader, ensure the unit is compatible with its width, weight and especially its hydraulic flow. Auxiliary hydraulic flow requirements to the attachment can be vastly different from skid steer to wheel loader.
Case F Series Compact Wheel Loaders Now Available with Open Canopy Option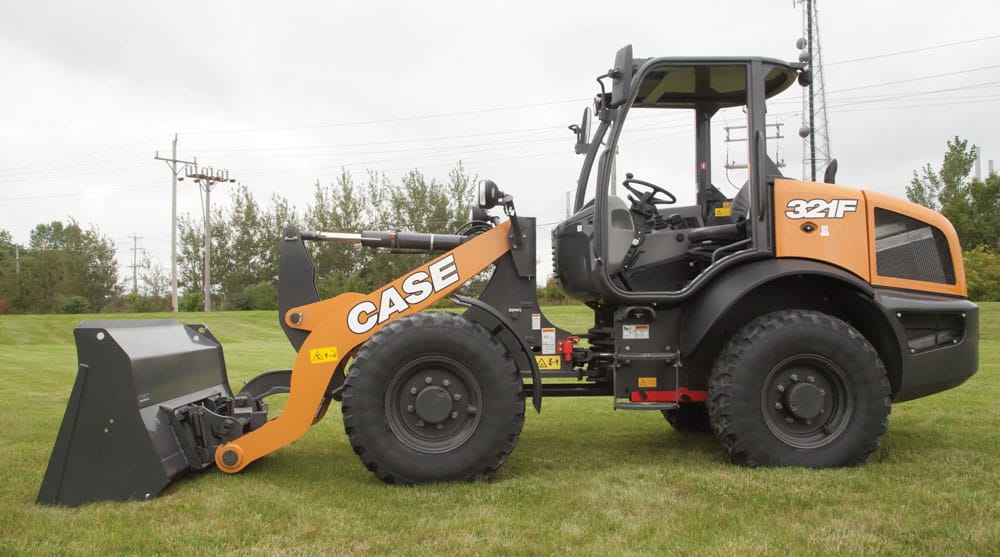 Case Construction Equipment recently announced the availability of a new open canopy option for its F Series compact wheel loaders. Ideal for rental businesses, agriculture, supply yards, warehouses and other applications where open-cab units are preferred, the new rugged four-post ROPS/FOPS-compliant canopy option offers excellent visibility to all sides of the machine and includes the same new upgraded electro-hydraulic controls as the enclosed-cab configuration.
Case Construction Equipment's F Series compact wheel loaders provide operators with more reach, lift capacity, visibility and comfort compared to other light equipment. The F Series compact wheel loaders feature Case's proven maintenance-free Tier 4 Final solution that requires no regeneration or related downtime. A compact frame and articulating rear axle provide stable lifting strength of more than 8,300 lbs at full height.
F Series compact wheel loaders offer multiple couplers and auxiliary hydraulic options for increased attachment compatibility. Standard Z-bar linkage provides greater breakout force, while the XT linkage provides select models with parallel lift or bi-directional self-leveling when using forks and other lifting attachments for loading or lift-and-carry applications. For more info, visit casece.com.
Tags:
Case Construction Equipment
,
Caterpillar
,
home
,
John Deere
,
Kage Innovation
,
March 2020 Print Issue
,
Wacker Neuson
,
Yanmar