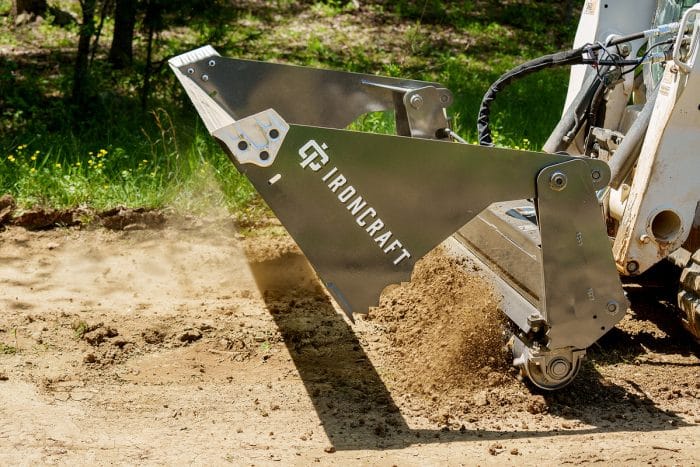 IronCraft LLC, formerly branded Titan Implement, recently introduced its patented 4-in-1 Bucket and Power Rake. Combining all the advantages of a versatile 4-in-1 bucket with a rugged power rake, this unique product is a powerful and practical soil conditioning machine. Users can dig, load, grab, and back drag as well as prepare the soil bed without changing attachments, thus saving time, and enhancing efficiency on the jobsite. When reconditioning a gravel, for example, the power rake conditions the soil and kicks the largest rocks forward and leaves a smooth surface behind.
The rocks can then be scooped up and removed with the bucket, which can also be used to place additional gravel in areas where needed — all without changing implements. The 4-n-1 Power Rake is supplied with a smooth edge bucket, a bolt on edge or welded teeth are optional. Users who opt for bolt on teeth for more aggressive digging can raise the grapple and use the back side of the bucket as a smooth edge bucket for an all-in-one solution. IronCraft 4-n-1 Power Rakes are available in various widths and sizes from mini skid-steers to full size machines. With many timesaving uses, they are ideal for a wide variety of on farm applications as well as those on orchards & vineyards, landscape, or construction sites, and more. 
Rugged and durable construction includes dual 2-1/2×8" cylinders, 1-1 /4" pivot pins, carbide roller tips, 7-½-inch diameter drum (10-¼" tip to tip diameter), with a direct drive motor and side cutters as standard.  Requires a flow rate of 15-25 gpm. Universal wiring harness available as 7-pin, 8-pin, or 14-pin. 
IronCraft stocks the 4-n-1 Power Rake in its Athens, Tennessee, factory, and they are available through its nationwide dealer network. Each bucket is warranted for a full year.
IronCraft LLC, was formerly branded as Titan Implement. The company was purchased by LFM Capital which plans major capital expenditures over the next 24-months at the Athens, Tennessee, factory as well as other southeastern, TN locations including a paint booth, laser cutting, robotic welding, and more. In addition, other initiatives to support the post-purchase experience include online parts lookup, service manuals, training resources, and adding more product support locations across the country.
We'd love to keep in touch! Check us out on Facebook, Twitter and LinkedIn!