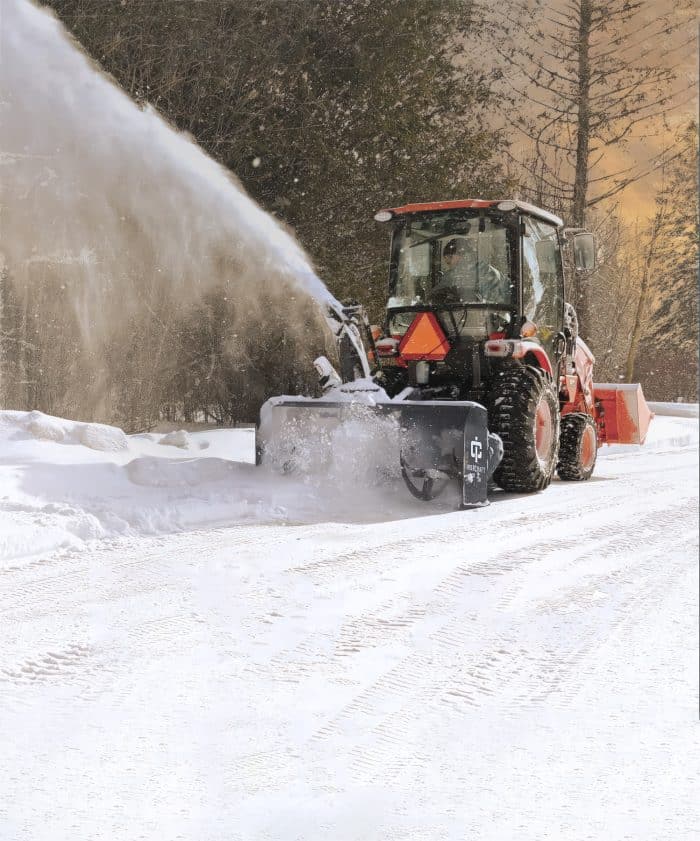 IronCraft LLC, formerly branded Titan Implement, presents the Snow Cannon series of tractor snow blowers which move even the heaviest, wet snow quickly and efficiently. Durability is designed into each model, including welded augers with high-tensile strength ribbon flighting, a heavy-duty gearbox, and replaceable skid shoes. A manual pin-style deflector provides users with "set-it-and-forget-it" convenience. A 5-blade fan evacuates high volumes of snow quickly and features tighter tolerance to the housing for increased velocity. The time-proven heavy-duty gearbox transfers PTO power from the tractor into the driveline, ensuring consistent power input to the auger and fan assemblies.
Manual rotators are standard on all IronCraft Snow Cannon models; electric and hydraulic rotators are optional — contact factory for details. A trio of 3-point hitch/quick hitch compatible snow blowers are available for tractors ranging from 12 to 50 HP and working widths from 54-inches to 78-inches, to suit a variety of on-farm and commercial snow clearing applications.
IronCraft stocks Snow Cannons in its Athens, Tennessee, factory; they are available through their nationwide dealer network. Skid steer models also available. Each unit is warranted for a full year. For additional information visit https://www.ironcraftusa.com/snow.
IronCraft LLC, was formerly branded as Titan Implement. The company was purchased by LFM Capital which plans major capital expenditures over the next 24-months at the Athens, Tennessee, factory as well as other southeastern Tennessee locations including a paint booth, laser cutting, robotic welding, and more. In addition, other initiatives to support the post-purchase experience include online parts lookup, service manuals, training resources, and adding more product support locations across the country.
We'd love to keep in touch! Check us out on Facebook, Twitter and LinkedIn!