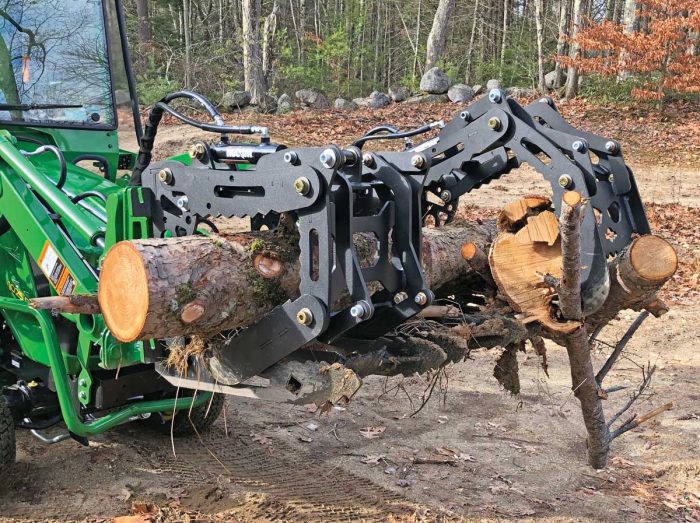 The best part of compact equipment is a machine's versatility via attachments. The variety of attachments that are available help operators transform their machines to perform any type of task. Below, we're celebrating some of the best attachments released throughout 2022. Simply scroll down to take a look at our top picks.
Topcon MC-Mobile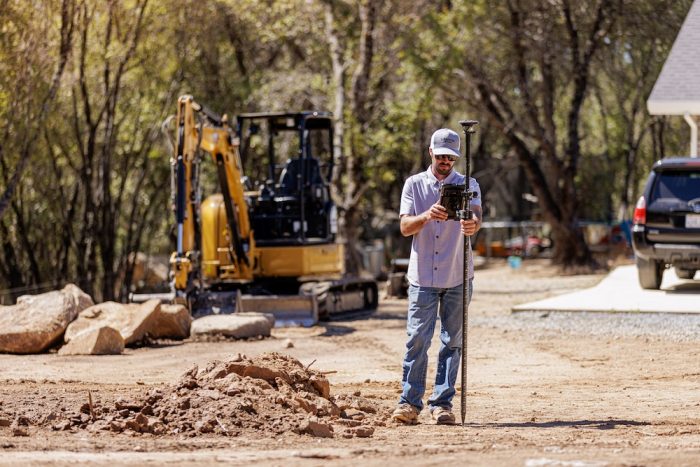 Topcon Positioning Group made a splash at World of Concrete 2022 when it launched MC-Mobile as a three-step workflow machine control solution for mini excavators. MC-Mobile leverages a self-leveling 3D robotic laser called an LN-150. Owner/operators can now arrive onsite and quickly measure existing conditions, visually design what is required, and immediately trench and grade. Topcon designed MC-Mobile to deliver flexibility for earth work companies looking to increase the precision of their trenching and grading projects, decrease the time of completion, and take on more complex work.
Ditch Witch Microtrencher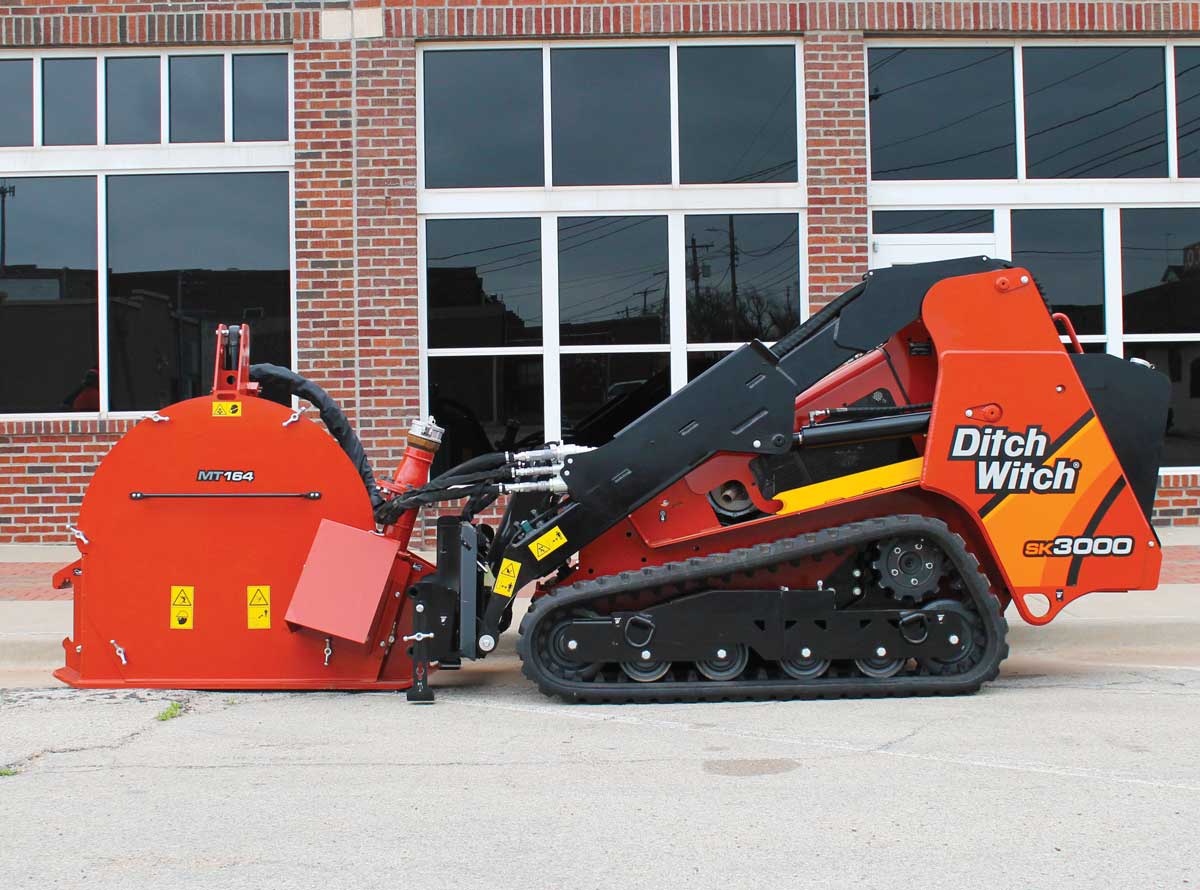 Fiber-optic installations are quick and clean with the Ditch Witch MT164 microtrencher. Released in July 2022, the MT164 allows power and fiber-optic contractors to easily create a clean, narrow trench in one pass — offering maximum, unmatched compact cable installation performance. The attachment offers a compact footprint and can trench up to 2 in. wide by 16 in. deep, allowing crews to cut deep enough to get through a standard-sized curb. Ditch Witch adds that the MT164 can be set up for a push or pull application depending on the jobsite. The MT164 is equipped with a standard hydraulic plunge, and there's an option to offset the frame, providing variable depth control and giving contractors the ability to cut right up next to a curb.
Caterpillar Smart Creep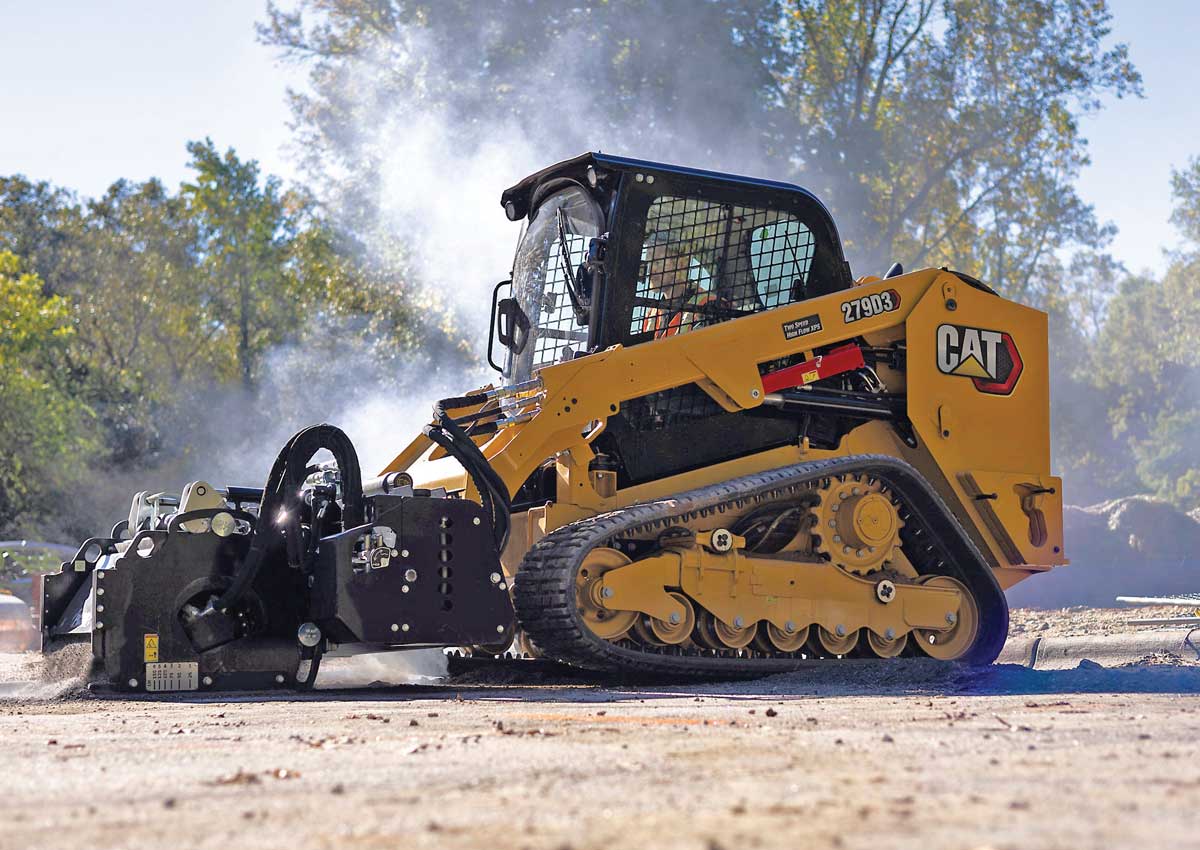 Caterpillar took the mantra of "work smarter, not harder" and applied it to its smart creep feature for its D3 skid steers and compact track loaders. When operating Cat cold planer and wheel saw attachments, smart creep senses the load on the tool and automatically adjusts the drive command to keep them running at the most productive speed. Smart creep uses a combination of attachment sensors and proprietary software to optimally balance the attachment load and machine speed to maximize productivity. Caterpillar says that smart creep takes the guess work out of setting the right creep speed for operating the attachment by continually sensing the load on the attachment, increasing machine speed when encountering less resistance and automatically slowing down when encountering higher load.
Mazio SKID Paver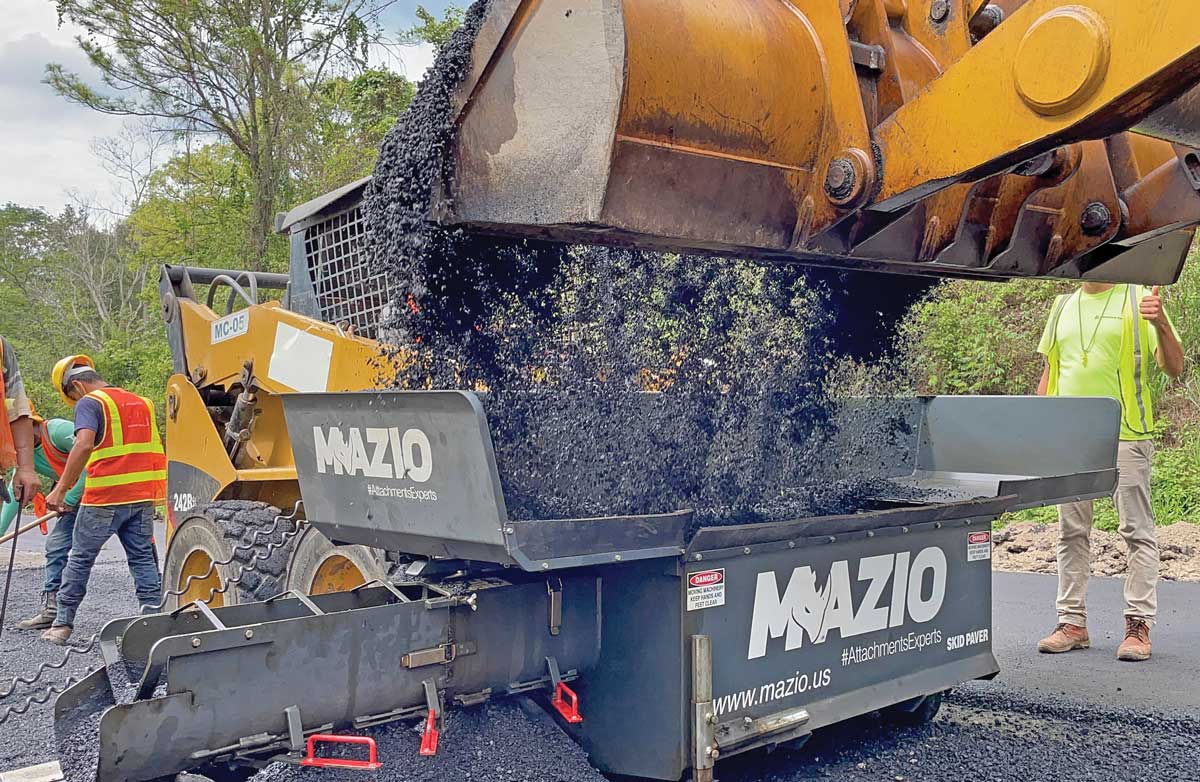 Transform your skid steer into the ultimate asphalt patching and road paving machine with Mazio's Skid Paver. Designed with a 1.5-cu-yd hopper capacity, a paving width of up to 6.2 ft and a paving speed of 82 ft per minute, the Skid Paver can handle pathways, bicycle tracks, parking lots, driveways and utility trenches. Mazio points out that the attachment works with hot or cold mix asphalt and can produce paving asphalt thicknesses of 2 to 10 in. The Skid Paver's 108.25-in. hopper receives asphalt material directly from the haul truck — allowing for front or side loading — and automatically feeds to a 7.9-in. auger. Crews have the choice of operating the Skid Paver from the host machine's cab or via a wireless remote control.
Auger Torque Cone Crusher Bucket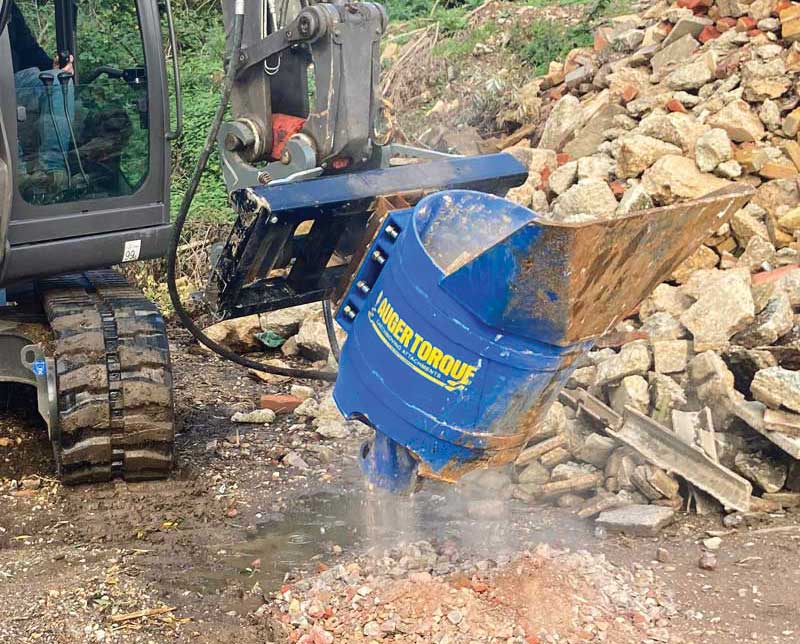 Ready to save some money? Aren't we all? With Auger Torque's Cone Crusher Bucket, operators can save a ton. Engineered to work with excavators (2.5 to 8 ton), skid steers, backhoes and telehandlers, the Cone Crusher Bucket provides a simple and cost-effective way to reprocess and/or recycle small volume construction rubble and debris into useable aggregate. The attachment can crush a variety of materials — from concrete pavers to asphalt — into materials up to 70 mm with an output of 5 to 10 tons per hour. With the Cone Crusher Bucket, crews can save on the transport costs of removing onsite waste, material costs of importing hardcore to the jobsite and minimize delays and hassle.
Artillian Tractor Grapple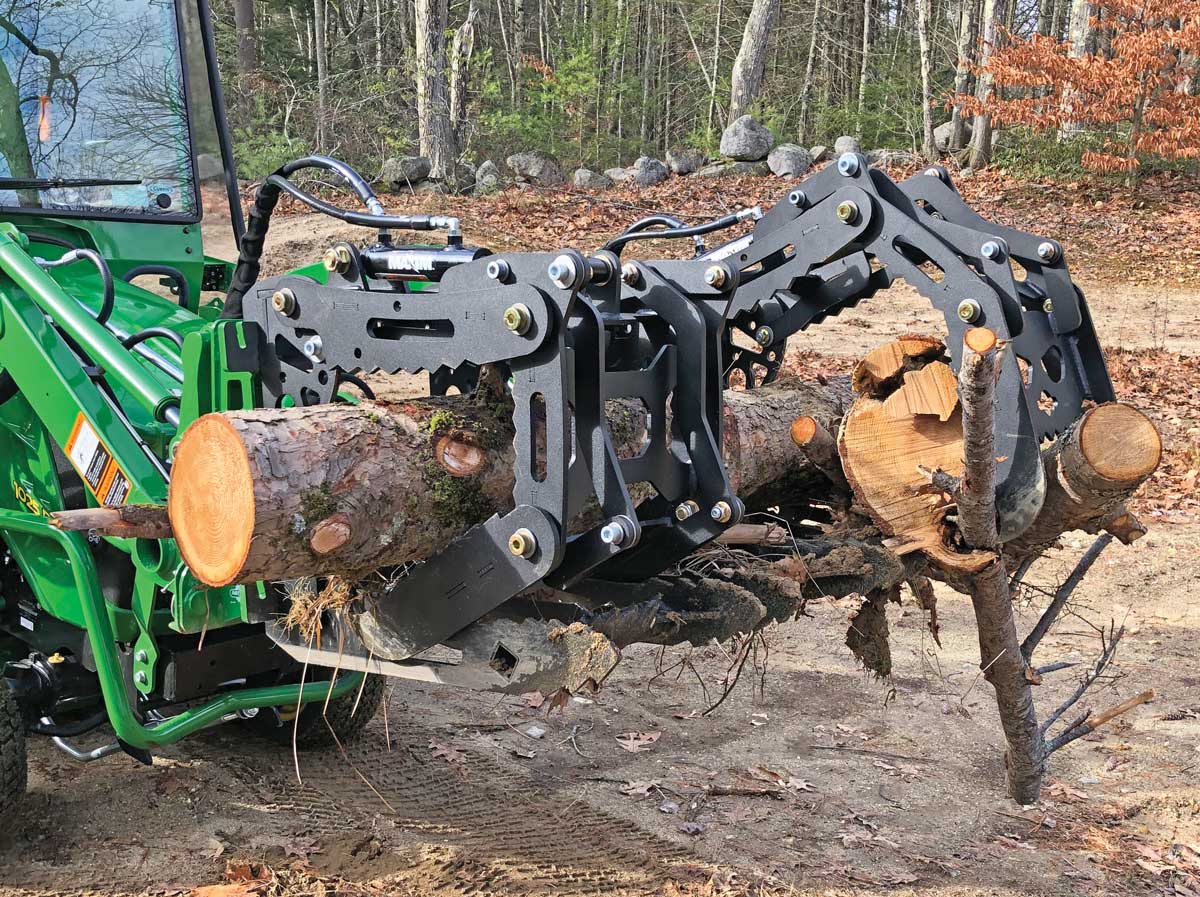 Get a grip with Artillian Tractor's Iron Fist Grapple. Built with the patent-pending Variable Grip Technology, the Iron Fist Grapple's jaws are able to spread wide open and then grasp payloads with a tight "fist-like" function, says the company. The attachment's unique design allows crews to handle large and small loads with ease, compared to other grapples. How is this achieved? According to Artillian Tractor, the Iron Fist's mechanical linkages collapse the upper jaw during closing so various sized objects can be pulled into the jaws and gripped firmly, just like a fist. The Iron Fist is engineered for use with compact and sub-compact tractors and constructed primarily of 3/8-in. thick AR400 steel.
HALO Alignment System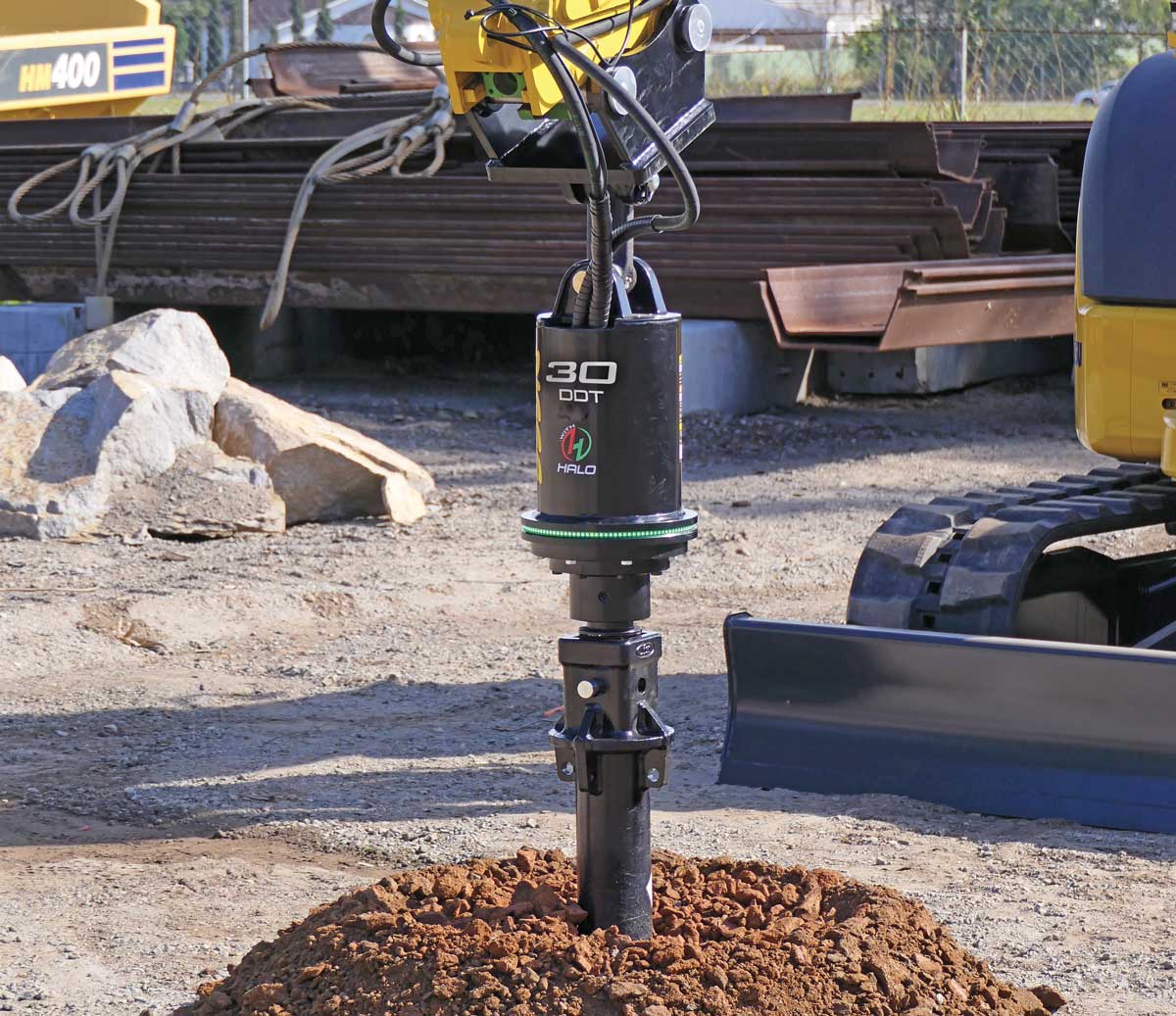 What if I told you there was an attachment built to reduce costs, improve safety and get a digging job done correctly the first time? Sounds pretty good, right? That's the goal of the Halo Alignment System. Released in September 2022, it was the first LED visual alignment system built into the hood of augers and screw anchor heads. The Halo Alignment system is built tough with a 100 percent steel outer unit and was tested and developed against one of the world's harshest climates for over four years. Operators simply set their desired angles and drill with precision — all with the click of a button. This accuracy eliminates the need for unnecessary labor costs and reducing excess materials needed to repair poorly drilled holes.
Vermeer High Dump Bucket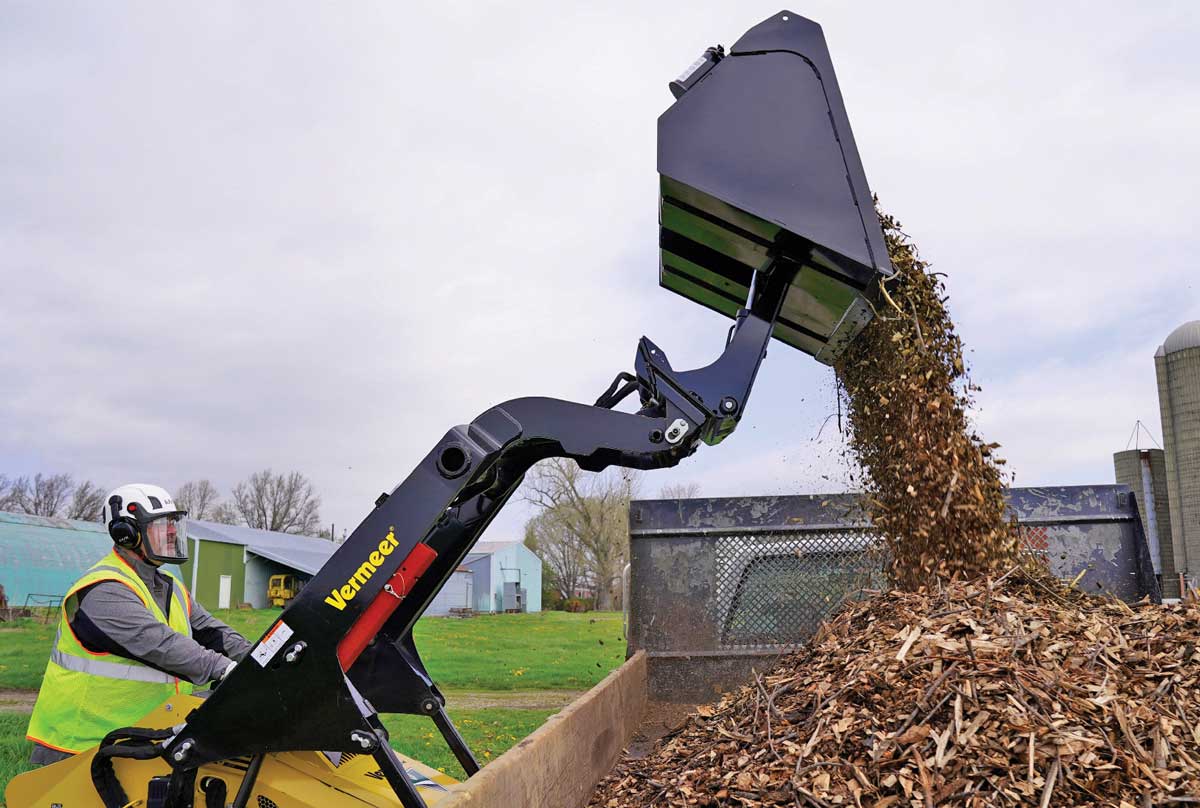 Reach new heights with the Vermeer UMDP48 high dump bucket attachment. This innovative attachment increases the vertical dump height of Vermeer S925TX, CTX100 and CTX160 mini skid steers 27.5 in. above the unit's hinge pin height. Vermeer points out that it also increases the reach of a mini skid steer by that same distance. With the high dump bucket's ability to hold 11.6 cu ft of material, operators can dump loads higher (especially into high-sided trucks) with more precision. The attachment's overall width is 48 in., and it can be quickly attached to a mini skid steer loader universal mounting plate. Operation is made easy since extending and dumping functions are controlled from the mini skid steer's auxiliary hydraulics lever.
Steiner Slip Scoop
Haul gravel, scoop snow, push dirt and more with Steiner's all-new Slip Scoop attachment. This productive, compact tool provides commercial-grade hydraulic lifting power to support users taking on any landscaping, hardscaping or excavation project. The Slip Scoop attachment recently received innovative updates and now includes precut holes for the scarifier to reduce setup time and a boxed-in rear frame to increase structural support. Updated hitch arm brackets improve strength and support, while the updated bulkhead fitting provides easier serviceability. The attachment's added kickstand makes hook up even easier.
Western Pusher Plows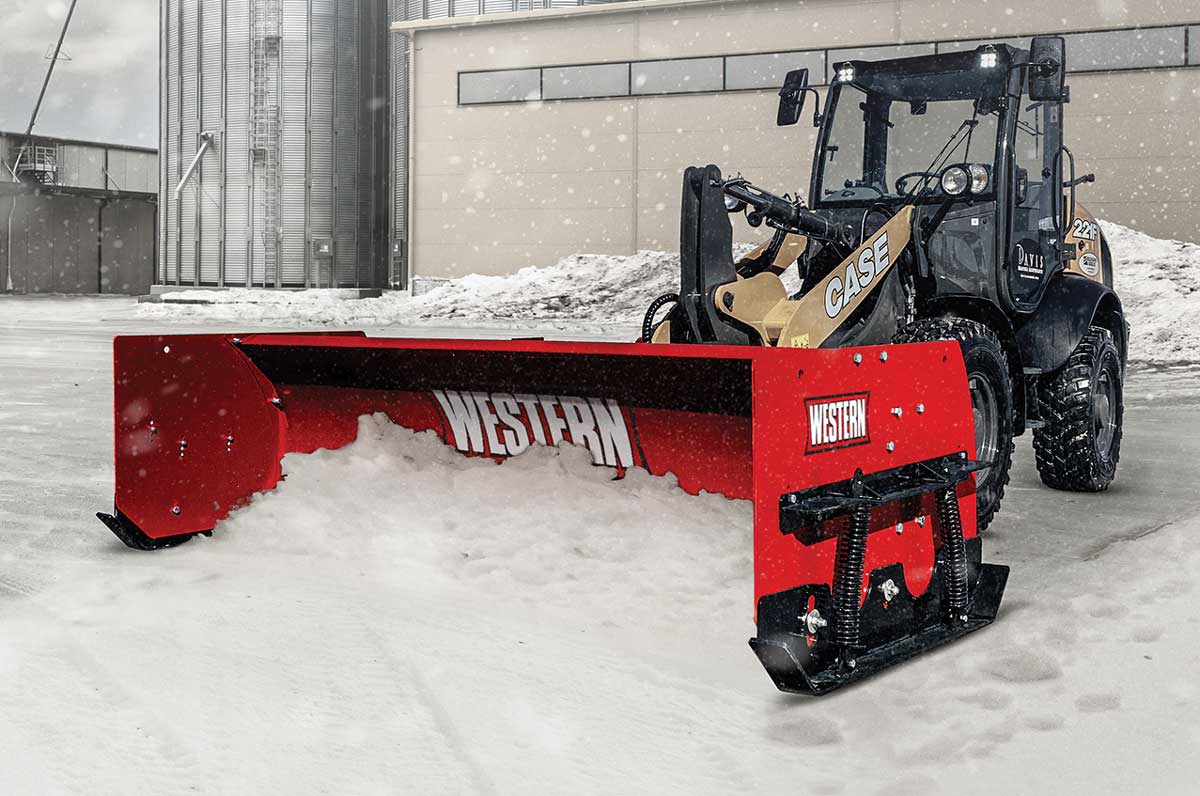 Winter weather doesn't stand a chance thanks to Western's Pile Driver lineup of pusher plows. Available in 8-, 10-, 12-, 14- and 16-ft widths, the plows come with three heights and a common carrier attachment system making them compatible with skid steers, wheel loaders, tractors and backhoe loaders. The lineup boasts the patent-pending TRACE (terrain response advanced cutting edge) technology which is made up of independent 2-ft sections that oscillate, move vertically and trip to accommodate contours and obstacles in the plowable surface. Western explains that each blade section is equipped with a 3/4-in. cutting edge with carbide inserts for heavy-duty commercial applications. A cleaner scrape is achieved with self-leveling side plates that keep the TRACE edge in contact with the plowing surface.
Clean Up Crew: Two Attachments Ideal for Vegetation Management
John Deere Brush Cutters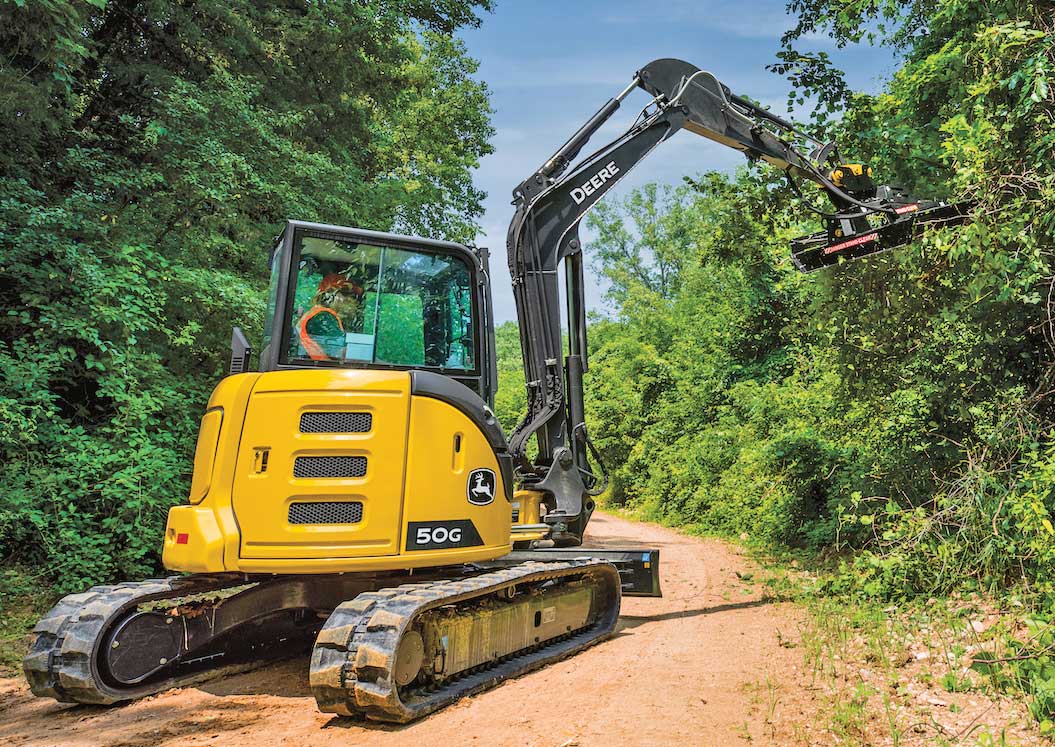 Vegetation management is a hot market right now, and John Deere came prepared with its RE40 and RE50 rotary brush cutters. Introduced in January 2022, the RE40 and RE50 brush cutters come equipped with three swinging blades mounted to a blade carrier that can fell and cut material up to 6 in. in diameter. John Deere kept operator safety and efficiency in mind and designed the cutters with a heavy-duty hinged debris shield that retracts when the head is engaged with trees — exposing the blades and allowing for aggressive cuts. Bonus: The blades are reversible and can be flipped over for a fresh cutting edge. These innovative beveled blades can also push material into the head of the cutter, creating fine debris for recycling.
Fecon Mulcher
Precision mulching is made easier with Fecon's BK6218 forestry mulcher. The attachment is equipped with all the features of the company's popular Blackhawk mulcher frame, but it's narrower. The BK6218 offers operators a more agile option to quickly and efficiently shred standing vegetation and process material on the ground. It uses shear bars and knife tools to create a consistent chip size the first pass. The attachment's cutting chamber is designed to process material going forward or back dragging, without leaving unprocessed material. Suited for skid steers and compact track loaders with hydraulic flows of 30 to 45 gpm, the BK6218's 24 knife tools and 62-in. cutting width is an excellent tool for clearing rights-of-way, site preparation and more.