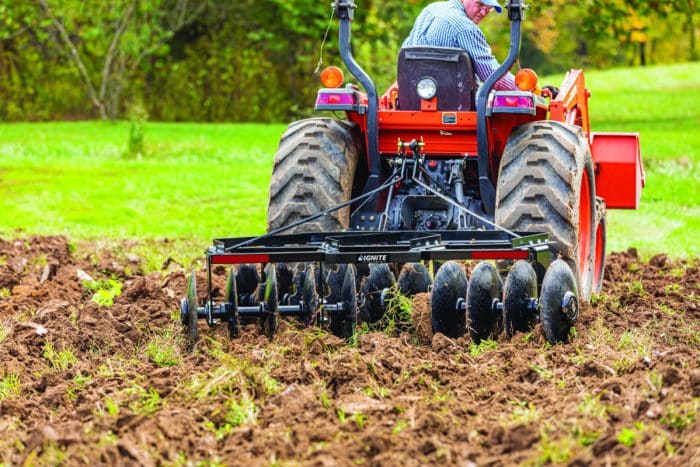 Ignite Attachments, a breakthrough manufacturer of compact equipment attachments, adds to its growing lineup of direct-to-you products with increased offerings for agricultural applications. The company introduced a new disc harrow and land grader lineup for compact utility tractor models. The attachments are designed for dependability and ease of use and deliver fast ROI for landowners and other professionals looking for heavy-duty dirt working solutions.  
"Ignite Attachments is dedicated to providing cost-effective, hard-working tools that allow our customers to tackle any project," said Matthew Foley, lead engineer at Ignite Attachments. "Whether it's tilling a new garden plot or grading a driveway, good dirt work is the foundation for success in many tasks. We are excited to build on our line of 3-point hitch attachments for compact utility tractor owners and operators with these new offerings."
Disc Harrows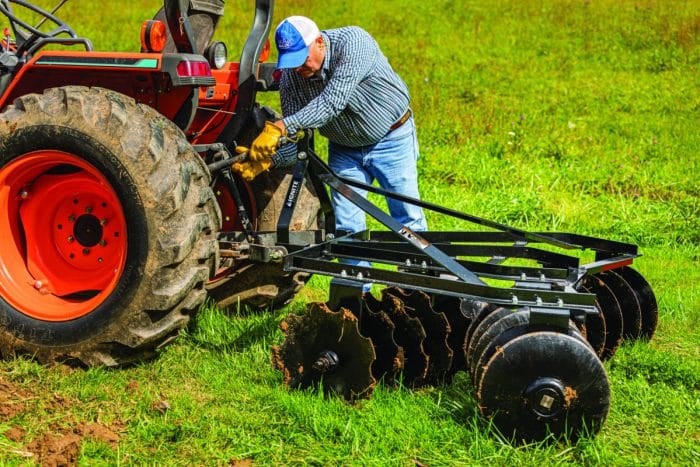 The lineup includes three disc harrow models. Available in 5-, 6- and 7-foot widths, the disc harrow attachment features heavy-duty steel blades for efficient breakup of soils and residue. Heavy-duty, notched front blades quickly break up hard ground and provide optimal service life. These blades are also adjustable for increased versatility. Rear blades are smooth to slice up remaining clusters of soil for perfect seedbed preparation every time.
Ignite Attachments disc harrows work with 18 to 55 horsepower compact utility tractors. Customers can use the company's industry-exclusive Fit Finder tool to properly size attachments for their existing tractor. Ignite offers online ordering with direct-to-you delivery, making it easier for equipment owners and operators to maximize their productivity and capabilities.
Land Graders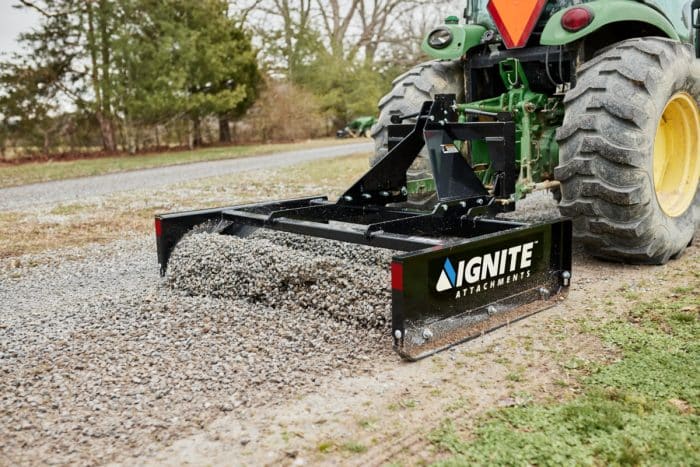 From the field to the yard, the new lineup of land graders from Ignite Attachments are ideal for smoothing and leveling soil, gravel and other coarse materials. The models are available in 5- or 6-foot widths. The land grader features two heavy-duty cutting edges. It simultaneously cuts down high spots and fills in low spots for fast, efficient grading that makes full use of existing material for cost savings with every use. Reversable blades, high-grade steel components and a corrosion-resistant finish extend the land graders' longevity for an overall low total cost of ownership. With Ignite's Fit Finder tool, customers can confidently match land grader options to existing 23 to 50 hp compact tractors.
The Ignite Edge
The new disc harrow and land grader lineups, like all Ignite attachments, are quality-designed and -manufactured for easy purchase, attachment and use.
"Our goal is to make it easier for existing compact equipment owners to get the right tools, at the right price, right now," Foley said. "These new attachments expand our range of 3-point offerings, so homeowners, farmers, landscapers, grounds maintenance crews and others can get more done."
In today's fast-paced, connected economy, Ignite offers a reliable, cost-effective solution for compact equipment operators of any brand. Online ordering and direct shipping allow customers to shop confidently and on their schedule. Ignite backs every attachment with a comprehensive warranty and excellent customer support, ensuring customers can rely on their tools for years to come.
Learn more about Ignite 3-point offerings and the company's full line of attachments at  www.igniteattachments.com.
We'd love to keep in touch! Check us out on Facebook, Twitter and LinkedIn!