Editor's Note: Compact utility loaders are sometimes called compact tool carriers, mini skid steers, mini track loaders or simply stand-on or walk-behind units. It depends on the brand, but we're talking about these machines.
Compact utility loaders (CULs) have carved out an important spot in the construction equipment space due to their incredible flexibility, increased visibility over compact track loaders and small footprint that allows them to venture almost anywhere. They're filling a longtime gap in the landscaping industry between manual hauling methods and larger machinery. Using a wheelbarrow is inefficient and operating a skid steer can be cumbersome, but CULs are neither. Efficient and easy to operate, a CUL is the productivity-enhancing answer for many landscaping crews.
Versatile and Powerful
For landscape contractors, choosing a smaller machine used to mean sacrificing power, but CULs have evolved tremendously. Now, even with a smaller footprint, they have a similar power output and the same high level of performance that larger loaders have historically offered. The differences, and benefits, lie in their size, quickness, maneuverability and ease of operation.
With the help of attachments, CULs can tackle almost any task — and replace dedicated machines, reducing the amount of machinery to haul from site to site. One machine with a family of attachments takes up less space than multiple separate machines limited to one task. CUL attachment options are plenty, but landscapers find buckets, tillers, augers and trenchers to be most beneficial.
Trencher Head Attachments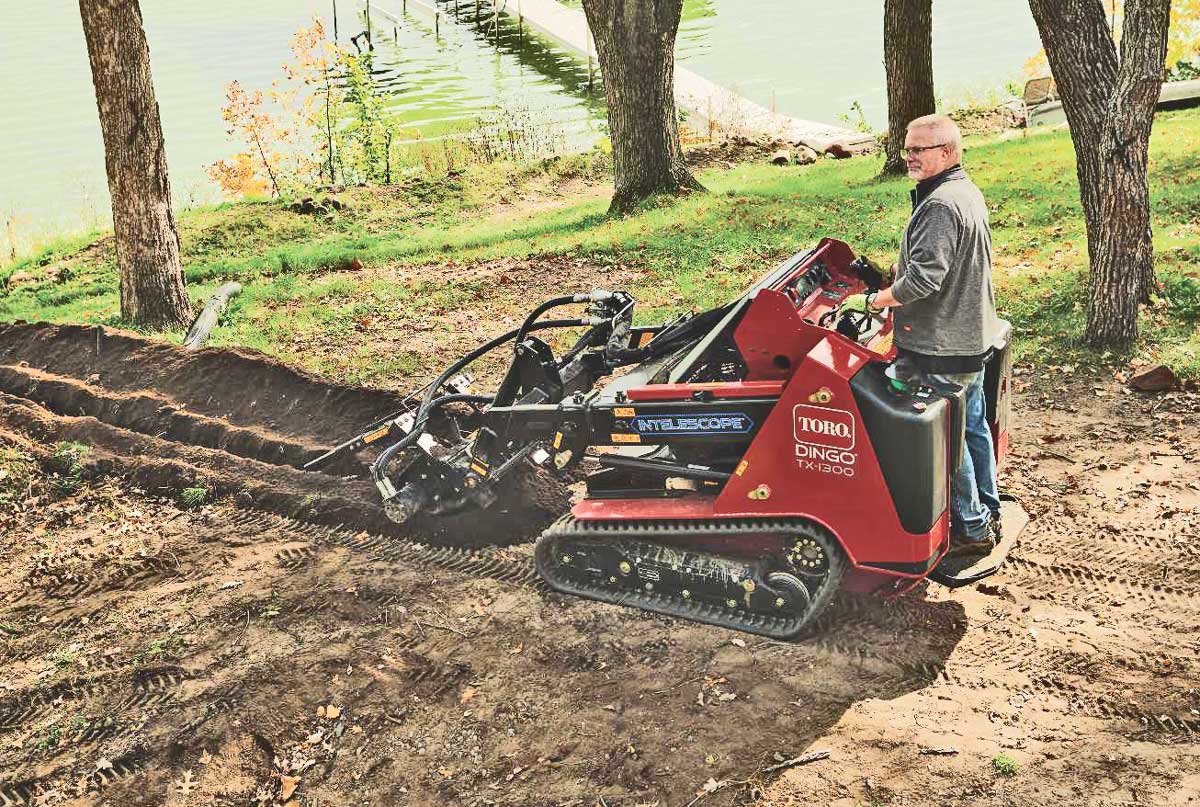 A trencher head attachment is the perfect sidekick to a compact utility loader, particularly for landscapers, utility and irrigation contractors. The versatile tool essentially transforms a CUL into a walk-behind trencher, used to install lighting systems, utilities, drain tiles or electric dog fencing, or to dig larger trenches 3 to 4 ft deep. CULs can fit into tight and hard-to-reach spaces, a necessary feature for landscape contractors navigating numerous obstacles. Whether you need to squeeze between existing landscaping, trench alongside a paved patio or perform more than one function, CULs provide the flexibility you need. There are two main trencher head options to consider:
• High-Speed Trencher
This attachment is focused on speed and is ideal for fast, efficient trenching. It works well in most soil conditions, making cable, pipe or irrigation installations a breeze.
• High-Torque Trencher
This heavy-duty attachment guarantees performance in the toughest soil conditions from rock to caliche, digging more than 4 ft below grade. Choose this model if you're working in dense, heavily-compacted soil or on a project that requires deep trench depths.
The attachments dig the trench while pulling loose soil out, leaving the newly dug trench free of debris. You can also find trench filler attachments to fill the trench back in with dirt following installation. To dig a smaller, neater line, there's yet another option: a vibratory plow attachment. This attachment uses a blade to slice through the soil, allowing you to lay cable or pipe with minimal disruption to the ground. No matter your application, there's an attachment to help the job get done faster.
Safe Operation
CULs are known for being easy to operate but safety is still a top priority, as with any machinery. Make it a priority to use the CUL and attachments as outlined in the corresponding product manuals. Also, keep in mind these tips for proper trencher attachment operation:
Set the ground speed to the slowest position before starting the engine. Then, increase speed if conditions permit.
If the attachment has a flow divider, adjust it to the 10 o'clock position.
Always use full throttle, or maximum engine speed, while trenching.
Trench backwards and at a 45- to 60-degree angle.
If the trencher binds in the soil, push the auxiliary hydraulics lever forward to reverse the chain direction. Once the chain is loose, pull the lever back again to continue trenching.
Lower the loader arms and tilt the trencher up to transport.
A CUL can drastically improve productivity for landscape crews by tackling jobs previously done by hand. Whether it's using a trencher head attachment to quickly manage irrigation or utility installations or taking advantage of the many other attachment options for earthmoving and hardscaping, a CUL might just be the perfect fit for your operation.