To put it simply: The Bradco Magnum land clearing mulcher demolishes trees and vegetation. Attached to a tool carrier like a skid steer or compact track loader, the magnum can eat through greenery like a giant, precise chainsaw – ideal and safe for lots of land clearing.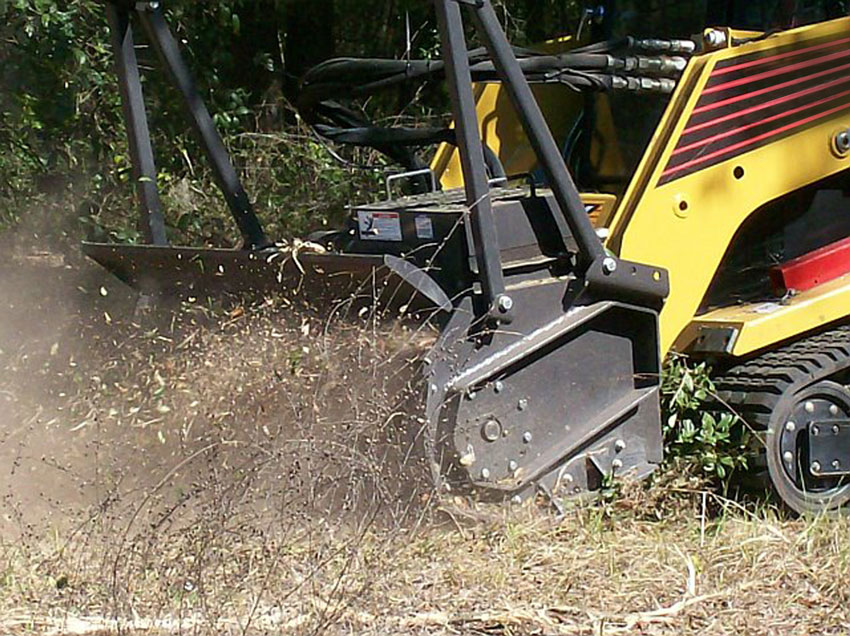 The Bradco Magnum, by Paladin Construction Group, powers the drum at speeds up to 2,000 rpms to shred trees, brush and ground vegetation up to 8 in. in diameter. Attaching to excavators, skid steer loaders and compact track loaders, it is available in widths of 36, 60 and 72 in. — depending on the machine and application. Fixed hammers hold a variety of carbide single-, double-, claw- and reversible-teeth configurations, so you can pick the ideal combination to match your terrain and vegetation.
The Bradco Magnum utilizes a hydraulically driven, self-aligning, cogged belt drive that is designed at 200 percent of the rated horsepower to minimize belt slippage and breakage. Its balanced, thick wall drum has a 2.5-in. alloy steel shaft to handle rugged vegetation without bending or breaking. Adjustable skid plates set operating height to keep the drum out of the dirt and maximize mulching power. The multiple-position push bar helps keep material in the drum area for effective mulching.
The 60- and 72-in. skid steer models offer a hydraulic deflector door to control the particle size and discharge direction. The 4-in. hydraulic pressure gauge can also be easily seen to help the operator better monitor mulching performance. For rigorous applications, extended use or large jobs, an optional oil cooler is available to minimize oil heating. Learn more at www.paladinbrands.com.