How can you do more without spending too much extra cash? Well, maybe your operations can invest in a new attachment to help expand and transform your operations and the jobs you can tackle. Milling implements. Gnarly claws. Automated dozers. Peruse the attachments below at your leisure. Maybe one's perfect for your next project or, better yet, a new side of the business.
Kubota CC30 Concrete Claw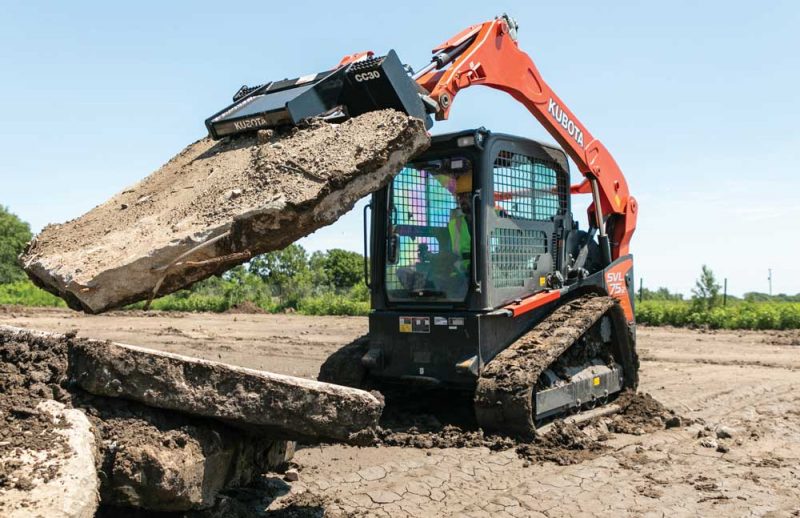 The Kubota CC30 Concrete Claw is used for digging and removing large sections of concrete floors, driveways, sidewalks and other large slabs. Simply slide the teeth under a concrete slab, lift and load the slab under the pin-under top for clean and efficient concrete removal. The CC30 Concrete Claw is manufactured by Land Pride, a division of Great Plains Mfg. Inc. and a Kubota company, and it features a universal quick-attach hitch that fits a wide variety of loaders. Its high strength T1 steel side panels resist bending forces while prying up concrete slabs, and the side panels are reinforced to add strength and rigidity to the attachment. For more info, visit kubotausa.com.
Vacuworx SL 2 Subcompact Vacuum Lifting System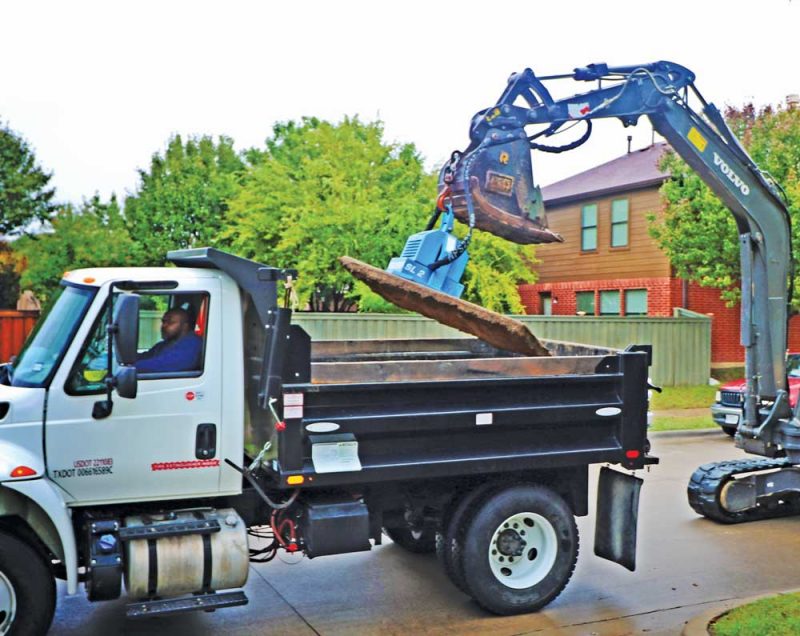 The SL 2 Subcompact Vacuum Lifting System is the ultimate attachment — lightweight and extremely versatile. The system has been updated with an improved hydraulic system and modular pads to work with more machines and for more applications. Featuring all-aluminum construction, the patent-pending design runs off the host machine's hydraulic system and can be easily attached in minutes to lift steel plates, saw-cut concrete, granite and marble slabs, landscape pavers and more. The SL 2 has a lift capacity of 4,400 lbs and is available with manual or wireless remote control. Models with innovative accumulator designs allow contractors to use the system on equipment without a case drain. For more info, visit vacuworx.com.
Loegering ST Series Milling and Stabilizing Tools
Loegering Power Attachments, an ASV Holdings Inc. brand, offers the ST Series stabilizing and milling skid steer and compact track loader attachments. Made up of the ST1000 and ST600, the versatile ST Series attachments give contractors in the construction and roadwork industries the ability to diversify their loader by completing milling and stabilizing applications with the same tool. This dual option is accomplished through a unique drum design and precise level control for accurate milling. The ST Series features superior level and depth control and has the ability to follow the contour of the pavement independent of the loader. The attachments feature a robust 1-in.-thick frame. For more info, visit loegeringpower.com.
John Deere E-Series Cold Planers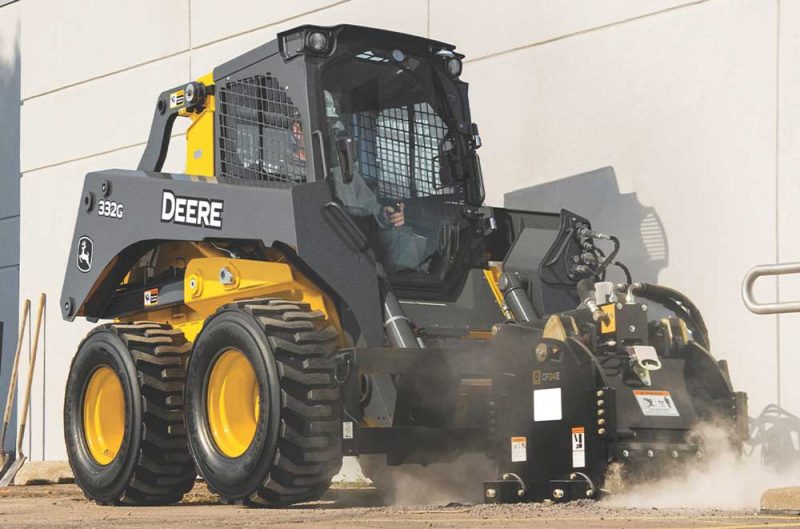 The newly launched E-Series cold planers help operators who work on street repairs, leveling uneven pavement, texturing pavement and cleaning around larger milling machines. The CP18E, CP24E and CP30E cold planers are equipped with heavy-duty planetary drive systems that deliver high torque speed for the toughest and most demanding jobs. The planetary drive system is a wheel drive, allowing the operator to remove the side plate, which is ideal for working in tight spaces. Through complete in-cab controls, operators can easily maneuver the cold planer depth, tilt and side shift to increase overall productivity. There is a rear spoil clearance that reaches up to 9 in. For more info, visit johndeere.com.
Danuser Intimidator Tree and Post Puller
Trees? No problem. Stumps? For sure. Stubborn rocks? Of course. The Danuser Intimidator tree and post puller gets to the root of the problem. Whether you are working on a jobsite or farm, on a skid steer or tractor, the Intimidator is the right attachment for removing trees, stumps, bushes and other land clearing obstructions. Its versatility creates more job opportunities, making the Intimidator a perfect match for contractors who are looking to save money. Danuser's Intimidator offers lower operating costs than a bulldozer and less work than a chainsaw. After 110 years of creating quality engineered products in the United States for construction and agricultural workers, Danuser still loves playing in the dirt. For more info, visit danuser.com.
Ditch Witch SK5TR Trencher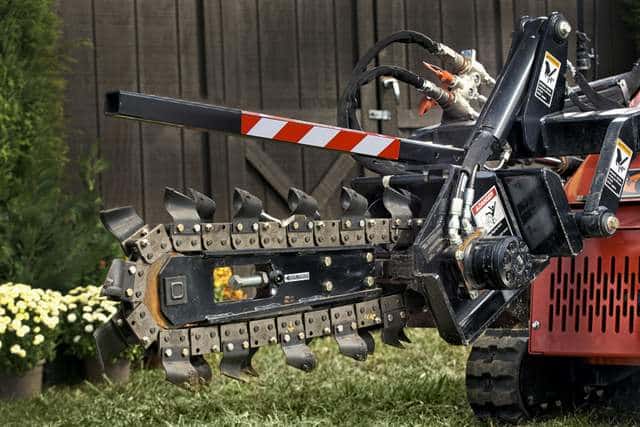 Rental companies and landscapers can extend the value and versatility of their Ditch Witch stand-on skid steers with the SK5TR trencher attachment. Upgraded from the previous 10-tooth forged sprocket, the SK5TR features an 11-tooth forged sprocket for faster chain speeds and increased chain life. The compact attachment offers greater operator visibility and increases productivity. And, the updated design includes a replaceable boom stub, reducing downtime and repair cost. The maximum digging depth of 38 in. provides operators the ability to trench at a deeper depth while still being able to maximize the versatility of the SK. For more info, visit ditchwitch.com/stand-on-skid-steers/attachments.
Cat Smart Dozer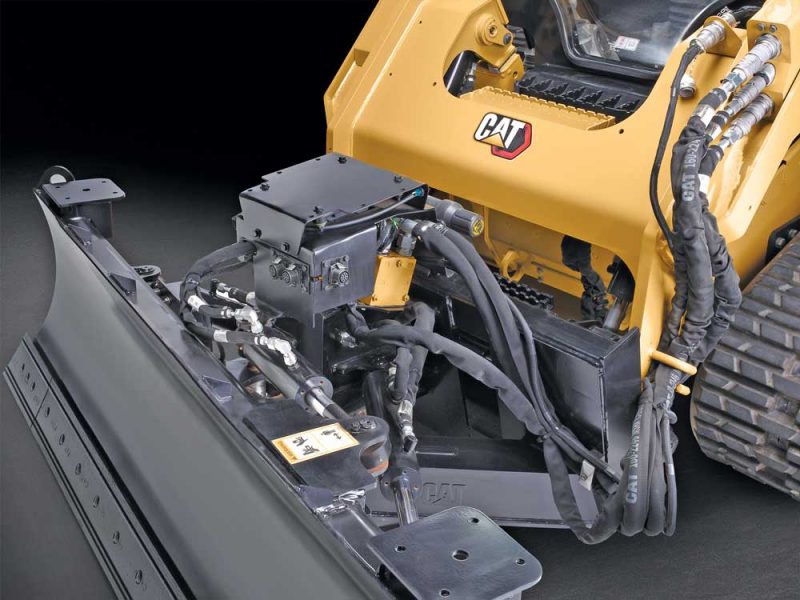 Three new Cat Smart attachments — the Dozer Blade, Grader Blade and Backhoe — are designed to add significant versatility to a range of D3 Series Cat loaders. Featured here, the Smart Dozer Blade attachment — available for Cat 279D3, 289D3, 299D3 and 299D3 XE Series compact track loaders — is designed for cutting, moving and grading virtually any material used as a base. The blade features a curved moldboard to keep material rolling and a trapezoid design with angled end bits that allow flush-cutting against vertical surfaces when the blade is fully tilted. The D3 Series host machine recognizes the attachment and unlocks special display screens that allow the operator to select how the blade is controlled. For more info, visit cat.com.
Doosan Hydraulic Excavator Clamps
Add a hydraulic clamp — also known as a thumb — to your mini excavator to efficiently manage materials. A clamp is a popular excavator attachment to use with a bucket to effectively grab, lift and place items. Items may include debris in site preparation, hardscape materials for a landscape project or a pipe for an underground construction project. Clamp mounts are integrated into the Doosan mini excavator arm. There is no welding required to add a clamp. Excavator operators can use joystick controls to easily open and close the clamp to manage materials. Clamps are available for all six Doosan mini excavator models. For more info, visit doosanequipment.com.
Log Grapple & CarryCat Are Cool Ways to Haul Materials
Vermeer SLG46 Swivel Log Grapple
The Vermeer SLG46 swivel log grapple is the newest addition to the Vermeer mini skid steer attachment lineup. Weighing in at 515 lbs, the swivel grapple helps haul materials around a landscape or tree care jobsite. Equipped with maximized reach and swivel capabilities to help efficiently load brush chippers, the Vermeer log grapple gives operators the ability to pick up and transport material in a fluid and productive manner. For more info, visit vermeer.com
Earth and Turf Products CarryCat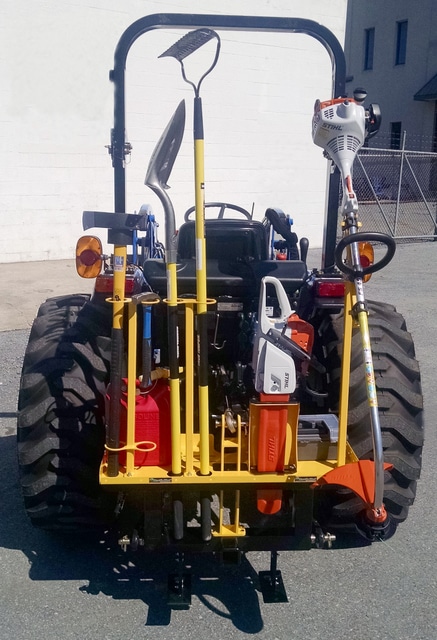 Earth and Turf Products LLC makes the CarryCat tool carrier to fit three-point hitches of compact tractors. This very useful attachment is designed to carry conveniently and securely most commonly used landscaping hand tools. Features include stand-alone storage with adjustable stand-off feet to suit a variety of tractor sizes, adjustable gasoline-can holder, soft-lined chain-saw mount and a receiver for the drawbar. It's fabricated with a heavy-duty powder-coated finish. List price is $598. For more info, visit earthandturfattachments.com..
JLG Dual Fork and Side Shifting Carriage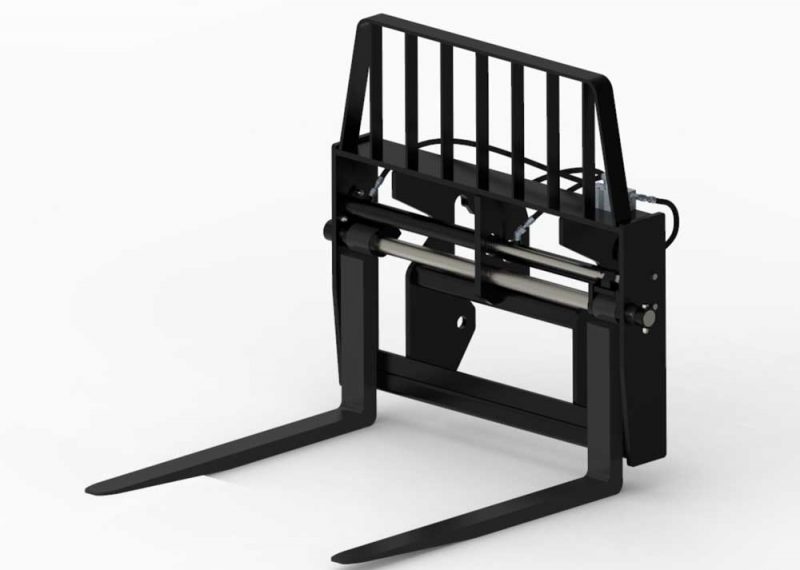 JLG's Dual Fork Positioning Carriage for telehandlers provides the ability to adjust the position of the fork spread without leaving the cab for greater versatility and improved productivity on the jobsite. With a 5,500-lb max capacity, this 48-in. attachment is available for the JLG G5-18A telehandler. The 48-in., 5,500-lb capacity side shifting carriage enables operators to pick and place an assortment of palletized materials and offers left and right carriage shift for more precise load placement. The carriage is compatible with the JLG G5-18A telehandler when equipped with a universal or standard skid steer coupler. For more info, visit jlg.com/en/equipment/attachments.
Toro Grapple Bucket Attachment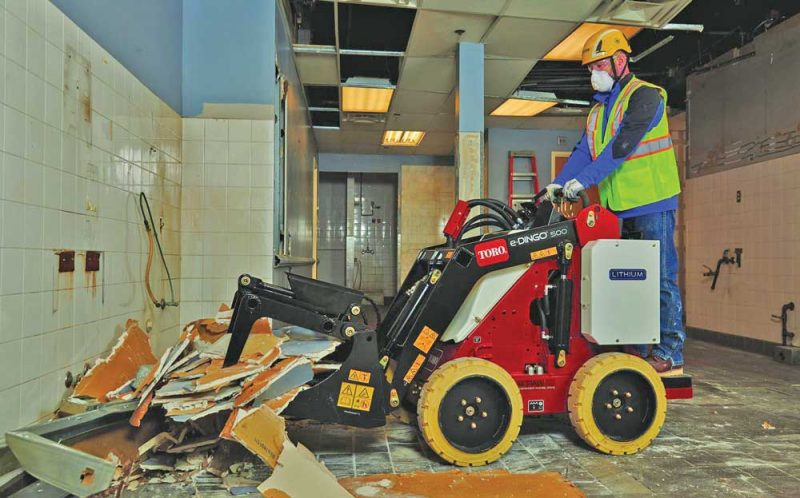 Toro recently introduced an all-new, dedicated grapple bucket attachment for the trusted Toro Dingo line of compact utility loaders. Designed for simplified handling of a variety of materials including boulders, timber, concrete, scrap, waste and other debris, the new Toro grapple bucket attachment is both easy to use and highly productive. The Toro grapple bucket attachment is constructed of high-strength steel, bringing an unprecedented level of simplicity to material handling, hauling and grading tasks. Available in a standard 34-in. width, the new grapple bucket attachment is available for the Dingo 320-D, 323, TX 427, TX 525 and TX 1000 models as well as the new Toro e-Dingo. For more info, visit toro.com.
Epiroc Drum Cutters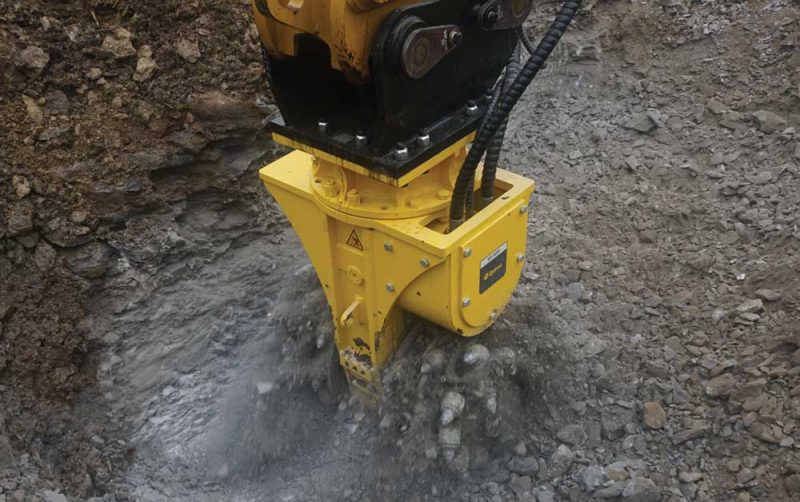 Epiroc transverse drum cutters are an excellent choice for soil mixing, working on concrete walls, surface profiling, scaling, trenching, soft and hard rock, frozen soil excavation and demolition. They offer manual rotation, pro bracket with the hydraulic hoses in line with the stick and boom and an integrated hydraulic rotation that allows control of the cutting direction from the cab. Drum cutter attachments come in a wide range of sizes for mounting on skid steers, backhoes and excavators, and they fit hydraulic carriers ranging from 1.5- to 125-ton-class carriers with adequate oil flow. Picks are available for materials ranging from concrete to medium hard, very hard and abrasive rock. For more, visit epiroc.us.
Edge Boom Lift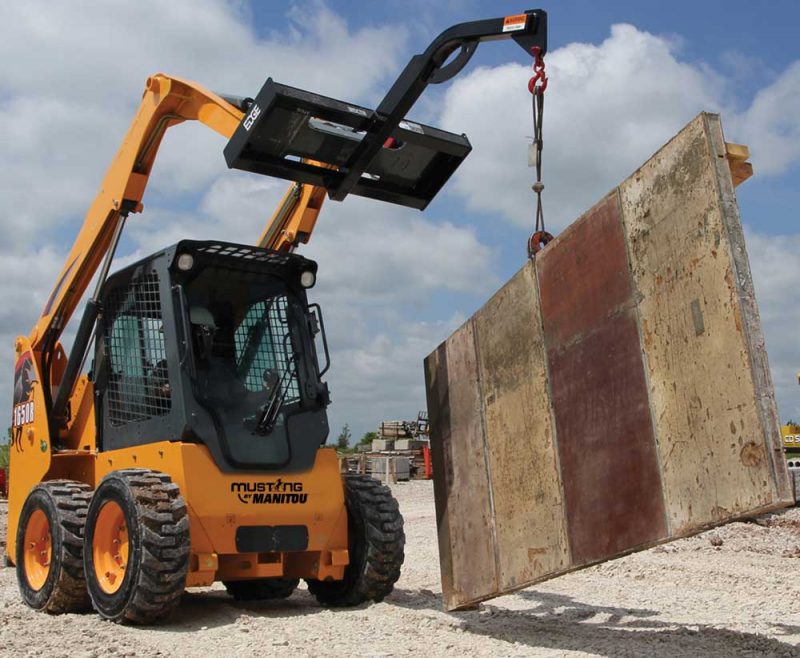 The Edge Boom Lift provides versatility and improves productivity. It is compatible with skid loaders, track loaders and articulated loaders to increase the lifting efficiency of the machine. The Edge Boom Lift is a great choice for loading and unloading materials from hard-to-reach areas. From moving and transplanting trees, placing and removing concrete forms, the Edge Boom Lift is a simple and economical attachment to increase versatility. It is available in one size. For more info, visit edgeattach.com.
SnowEx Helixx Stainless Steel Hopper for UTVs
The SnowEx Helixx 0.35-cu-yd stainless steel spreader is designed to fit UTVs and compact trucks, while being built with many features of the larger SnowEx stainless steel hopper spreaders. The advanced corkscrew, or "helix," design of the Helixx spreaders provides a revolutionary material delivery system designed to help prevent clogs and outperform the material flow of traditional augers. The system is optimized for efficient, cost-effective use of salt and was engineered to operate in the target range for salt spreading best practices. The Helixx 0.35-cu-yd stainless steel hopper spreader has a 2.5-ft-long hopper and delivers a spreading width of up to 30 ft. For more info, visit snowexproducts.com.
Steiner Professional Snowblower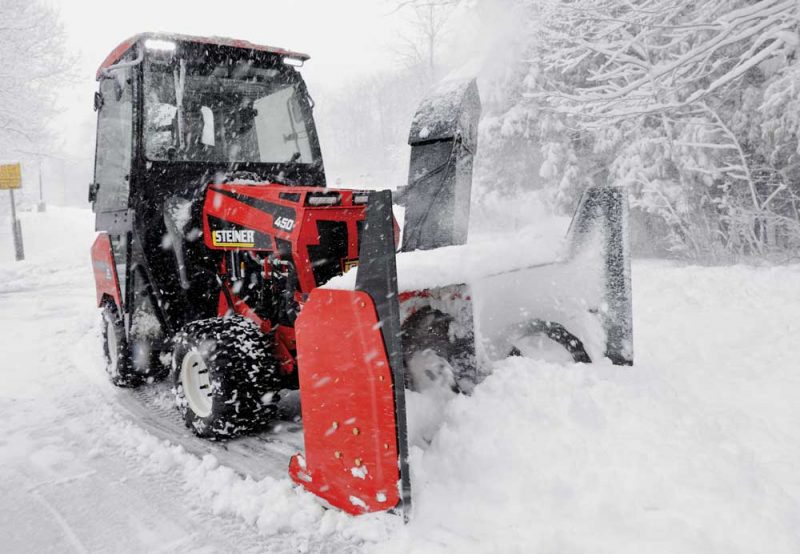 Powered by the all-season Steiner 450 tractor, the Steiner professional snowblower attachment keeps you productive throughout the winter months. Whether it's your own long driveway or a part of your snow removal business, the snowblower attachment can help you make the most of your machine. The attachment cuts a 48-in. path — 52 in. with optional wing extensions — while a 16-in. serrated auger and an 18-in., four-blade blower propels snow with ease. And it provides versatility with a directional, 7-in. diameter chute with 223-degree rotation. The professional cab also keeps the operator shielded from the elements. For more info, visit steinerturf.com/product-attachment/professional-snow-blower/.
Lowe TJ-100 Gear Reduction Auger Drive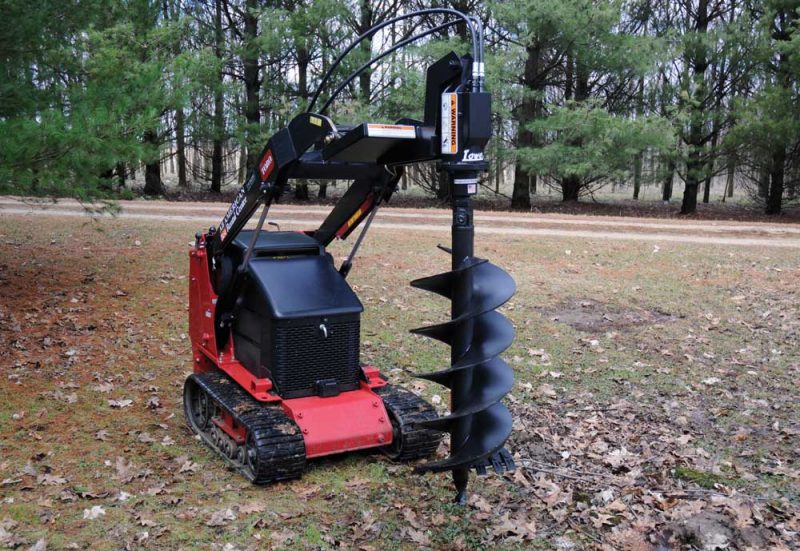 The Lowe TJ-100 Gear Reduction Auger Drive features a Lowe designed and Lowe USA manufactured gearbox. This attachment is for compact tool carriers with Toro Dingo compatible mountings and other brands of smaller machinery. It sports an innovative new mounting, which has better carrying stability and allows use of 4-ft long augers. The unit has fully protected hydraulic hoses, and buyers can choose either a 2-in. hex shaft or a 2 9/16-in. round shaft. This system uses augers up to 24 in., depending upon conditions. It's also backed by a five-year repair or replace warranty on the gearbox. All of this comes with typical Lowe best value pricing. For more info, visit loweman.com.
Loftness and Fecon Offer Excellent Mulcher Implements
Loftness Bad Ax Disc Mulcher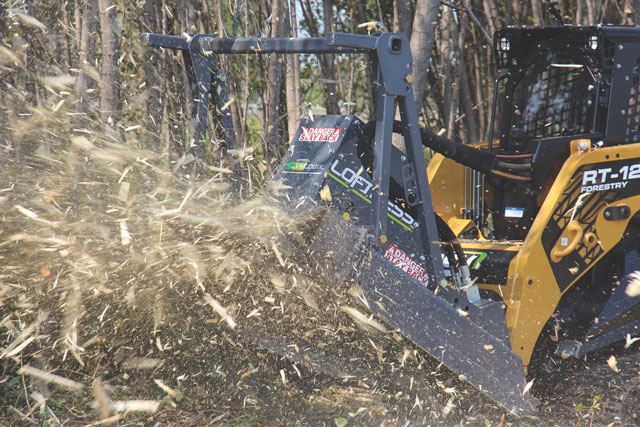 Loftness has introduced its newest Bad Ax disc mulcher for skid steers. This high-powered forestry head is ideal for a wide range of applications, including land clearing, vegetation control, fire prevention and more. The Bad Ax includes a fully machined, 60-in.-diameter disc designed to cut trees up to 14 in. in diameter. Because the disc contains no welds, there are no areas subject to stress cracking. The disc is driven directly by the machine's hydraulic motor to apply 100 percent of the power to the job at hand. A polyurethane coupler offers excellent vibration dampening, and the direct drive eliminates the need to maintain belts. For more info, visit loftness.com.
Fecon Standard-Flow Mulcher for Skid Steers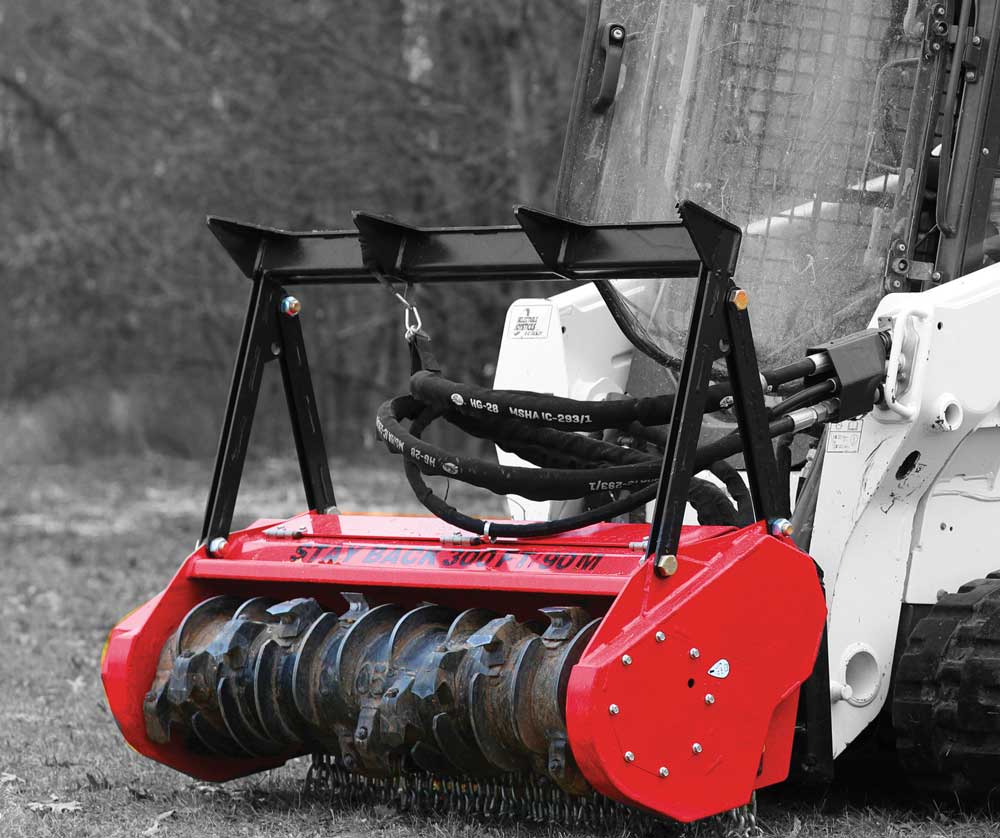 The Fecon Standard-Flow Mulcher Head is ideal for use with most standard skid steer loaders, Avant-type wheel loaders and other carriers that are able to provide 17 to 27 gpm of hydraulic flow, have enclosed cabs that can be properly protected with the appropriate polycarbonate guarding and have the ability to carry the 1,300-lb attachment. With 22 knife or carbide-type cutting tools, a 50-in. working width and the ability to operate from 2,400 to 3,600 rpm, it can shred brush and small trees up to 4 in. in diameter. Weighing just 1,300 lbs with mounting plate and push bar, this new mulcher head is easily handled by the carrier, yet stout enough to provide a long service life. For more info, visit fecon.com.
Tags:
Cat
,
Caterpillar
,
Danuser
,
Ditch Witch
,
Doosan
,
Edge
,
Edge Attachments
,
Epiroc
,
home
,
JLG
,
John Deere
,
July/August 2020 Print Issue
,
Kubota
,
Loegering
,
Loegering Power Attachments
,
Lowe
,
SnowEx
,
Steiner
,
The Toro Co.
,
Toro
,
Vacuworx
,
Vermeer