Skid steers and compact track loaders have the amazing ability to fit into all sorts of applications. With more than 100 attachments at their disposal, these loaders can excel in any task including vegetation management. Whether it's tackling tough brush along a busy highway or maintaining a manicured finish on a large property, there are a few options to keep in mind from flail mowers to drum mulchers. Let's take a look at some popular attachments for vegetation management.
Flail Mowers
Flail mowers are a great attachment to consider if you're clearing small brush or grass that's typically one inch in diameter or less. This attachment uses a set of knives to slice through vegetation and fits well in agriculture, landscaping and utility applications. While flail mowers excel in cutting grass, they are limited in their clearing capability and larger, thicker brush typically calls for brush cutters or drum mulchers. Companies such as Loftness, Bobcat and Diamond Mowers offer different flail mowers in their attachment lineups.
"Flail mowers are an ideal solution for quickly mowing grass, weeds and brush up to about three-quarters of an inch in diameter," says Bill Schafer, product development supervisor for Loftness. "These products are easy to operate and maintain. Loftness offers 72- and 90-in. wide models for both skid steers and tractors."
Brush Cutters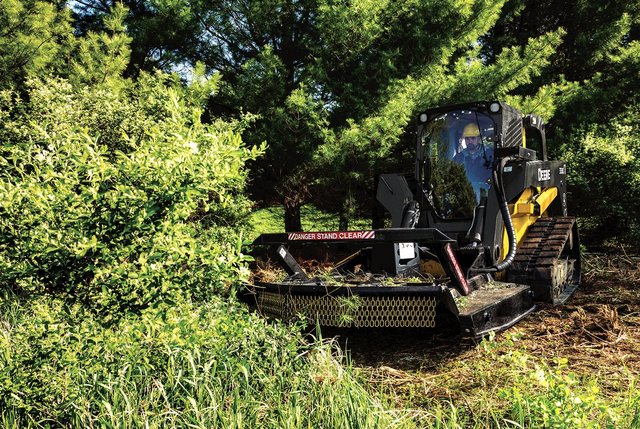 Brush cutters (sometimes called rotary mowers) can clear dense brush and saplings usually up to 2 or 4 in. in diameter via two or three spinning steel blades. Buck Storlie, ASV product line manager, mentions brush cutters are available in both closed and open front designs.
"Closed front designs are typically used for smaller brush — 1 to 2 in. in diameter and less — and grass. These are typically the least expensive and can do a nice job cleaning up small material," he says. "The open front designs are typically capable of handling the bigger jobs — 6- to 8-in.-diameter trees and less. These types of attachments are generally less expensive than mulchers. They are a cost-effective option and do a nice job of knocking material down, but they leave behind larger debris and have difficulty cleaning up objects lying on the ground."
Rotary and Drum Mulchers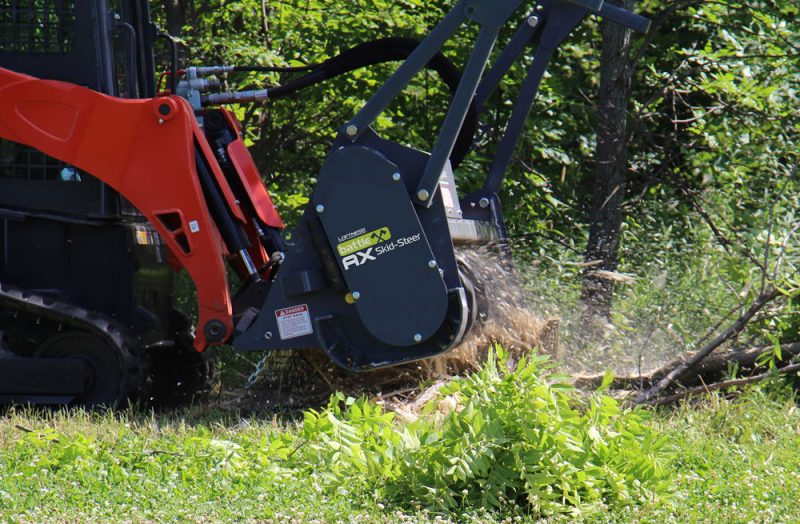 A rotary mulcher features a similar disk design as a brush cutter but with mulcher teeth instead of blades. Storlie says rotary mulchers come at a moderately higher price and do a slightly better job of mulching while maintaining a quick way to knock material down. He does caution that rotary mulchers struggle to pick material off the ground and therefore cannot offer as nice of a finish as a drum mulcher.
Drum style mulchers contain cutting teeth that are available in multiple designs with the most common being carbide tips and planer tips. They're capable of cutting large material — 6 in. or larger — as well as small material and do the best job of leaving a pristine finish.
"Drum mulchers can grab objects from the ground, pull them up into the drum and turn them into mulch-size material," says Storlie. "Planer teeth, due to their sharp ax-like cut, can do the quickest job of taking down brush. However, teeth can be damaged or dulled more quickly if engaged with the ground or rocky terrain. The teeth can typically be sharpened, so with the proper maintenance they can be a fast and cost-effective way to mulch material. Carbide tip teeth are the most rugged and can often be seen grinding material into the soil to mix it and prepare it for immediate regrowth. Drum mulchers are the most expensive of the attachments but offer the most capability. The drum design allows these attachments to be shorter in length, making it easier to work in tight areas.
"Drum mulchers' extensive capabilities make them the most popular choice because they give owners more options when bidding jobs and considering a necessary finished product," adds Storlie. "Even if the job doesn't require you to take the time leave a perfect finish, you can if you need to. That can be the difference between a single project from the customer or getting a great reference and the next job."
Drum mulchers are a popular and efficient choice for land clearing, forestry, fire prevention, right-of-way vegetation management and more. Schafer says they are an excellent option for felling trees and mulching material on the ground. Loftness offers several models of horizontal drum mulchers. "The Carbide Cutter G4 is offered with 61- and 71-in. cutting widths for skid steers and is designed for use with carbide cutting teeth," he says. "The Timber Ax is available with 81.5-, 91.5- and 101.5-in. cutting widths for skid steers. The Timber Ax uses sharpened knives along with a unique upward rotation of the rotor for high-performance mulching. The new Battle Ax horizontal drum mulcher is available in many sizes for skid steers, excavators and prime movers. It uses a new rotor design with depth gauges, which optimize performance when used with either sharpened knives or carbide teeth."
Tags:
April 2020 Print Issue
,
Bobcat
,
Diamond Mowers
,
home
,
Loftness