KINSHOFER GROUP will showcase an exciting selection of new and recently updated products on display at CONEXPO-CON/AGG 2020. The Group's new 3,400 ft² booth, located at F2732, Festival Grounds, will provide the perfect stage for an international audience to see KINSHOFER's creative strength and depth, firsthand.
"As a market-leading, global manufacturer of crane, excavator, loader, dozer and skid steer attachments, the KINSHOFER GROUP consistently develop innovative, yet proven, product ranges with a reputation for the highest levels of performance, reliability and safety — all meeting the demands of a constantly changing industry," says Francois Martin, General Manager, Kinshofer North America. "Our booth at CONEXPO-CON/AGG will feature multiple products from each of our four tool groups: Demolition & Recycling tools, Truck Crane tools, Heavy Construction tools and Light Construction tools."
KINSHOFER's booth at CONEXPO-CON/AGG will feature both static and live-action exhibits. Live demonstrations will occur every hour on the hour and during peak audience times.
Attachments to be exhibited include:
Heavy Construction Tools
Tiltrotators (TR14NOX) — One of the most technologically advanced tools for excavators — no cylinders to get caught or damaged working in confined spaces, no drop-off in power thanks to a smooth, constant torque delivery, an impressive 50° tilt angle on both sides and the largest range of specialist tiltrotator attachments available from a single manufacturer — making it a highly efficient addition to any jobsite. Displayed alongside the impressive TR14NOX (for machines with an operating weight of 14-19 tons) there will also be two smaller model sizes, new to the range – the TR07NOX and TR11NOX, sharing the same compact design. Plus, a new NOXPROP CSP control system will be on show, featuring self-calibration, a single touch screen and multiple connection options as well as a memory function for several operator profiles.
Coupler, bucket, thumb combo (X-Lock Coupler, GB bucket with thumb) — This specially created, 3-in-1 combination includes an X-Lock coupler, general bucket and thumb attachment as a set. Pick up different pin sizes and turn your machine into a multi-functional carrier. The general buckets are ideal for all digging and excavation works in mild to moderate soils, as well as loading or refilling sand, gravel and soil. The low design ensures a high tear and breakout forces, while the attached thumb provides secure retention of material.
Light Construction Tools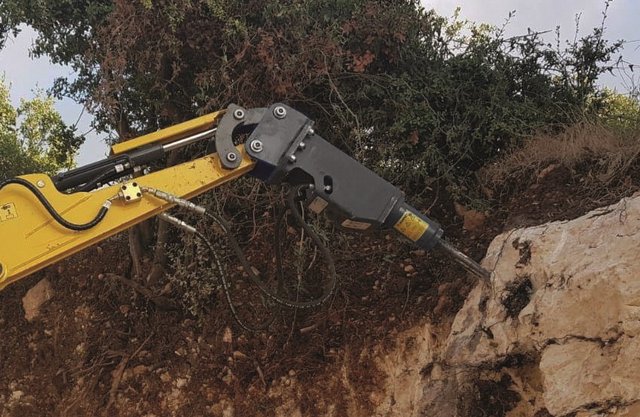 KSB Hydraulic Breakers (KSB10) — The KSB breaker-series, for excavators from 0.5-12 tons, benefits from a distinctive 'monobloc' design, manufactured in a single piece and without any tie rods — a feature that makes the structure extremely durable and resistant to leverage during operation. The breakers all work with nitrogen inertial energy recovery — a gas that provides greater machine power and less stress on the excavator arm. Traditionally, breakers with nitrogen energy recovery require frequent recharges — but with the new KSB-range's special sealing system, the charge-life can be increased by up to 300%. The series offers unrivalled stability in nitrogen pressure whilst remaining tolerant to back pressure. The distinctive sealed casing design is also sound-proofed, emitting low noise levels during operation. A tapered shape also ensures excellent visibility during operation, allowing the operator to work close to walls and other structures
Tilt Couplers (TC14) — Experience and innovation have led to the development of yet another advanced tool — cylinderless rotary actuators. This range covers excavators with an operating weight 1.5-23 tons and allows for a tilting angle of 2×90°. In combination with KINSHOFER tilt buckets or quick coupling systems, the application options for your carrier machine are greatly increased. The compact, elliptic tilting drive results in a low overall height and width — it also runs in a permanent oil bath, meaning less maintenance and the closed system also makes working underwater possible.
Crane tools
Pallet forks (KM420) — Pallet Fork for loader cranes with self-leveling, adjustable height and tines — the KM420 incorporates the spring-loaded centre of gravity style top arm with the versatility of various lower sections. Handling loads up to 6000 lbs, the pallet fork is capable of a wide variety of lifting tasks.
Universal forks (KM461) — Wallboard fork for loader cranes with a load capacity up to 6000 lbs — a universal fork that provides a safe and efficient method for delivering sheets of building materials. The tilt cylinder and KINSHOFER rotator ensure accurate positioning, while a hinged lower section allows sheets of wallboard to be safely lifted, folded into a vertical position and clamped between the tines and frame, preventing any sliding during handling. Security is assured even in the event of dropping pressure due to the SUN counterbalance valve that prevents the fork from opening unintentionally.
Demolition & Recycling tools
SmartFlow Quick Coupler System (D-Lock Quick Coupler with SmartFlow) — A new proprietary, fully automatic, retrofittable, hydraulic quick coupler system, bringing significant benefits to customers in multiple markets. Five hydraulic circuits can be coupled comfortably, allowing you to change quickly, safely and efficiently between various mechanical and hydraulic attachments from inside the cab — advantages include a low-maintenance operation and a maximum high oil-flow, which in-turn bring improved carrier machine fuel consumption and associated enviro-friendly benefits.
KFX Hydraulic Breakers (KFX120) — The KFX breaker series, for excavators from 8-200 tons, provides a powerful, high-performance, robust and reliable breaker, suitable for any type of excavator and on any single-acting hydraulic system – they are also suitable for hydraulic systems with high back pressure. Two adjustable valves come as standard: a control valve on the breaker cylinder allows the operator to adjust the number of blows generated — while a second valve allows the adjustment of the working pressure from 2320-2900 PSI. An anti-blank firing system avoids blank firing when the breaker is not in contact with surface rock. Working in tunnels, or even underwater, is also made possible through the addition of optional air tubes. The KFX breaker-series is available with a range of five different breaker chisel types, suitable for penetrating a variety of surface structure.
DXS Mobile Shears (DXS50) — The DXS mobile shear has been engineered to deliver a scrap shear with maximum force, excellent speed and the lowest weight ratio — to deliver the best levels in performance across everyday use in scrap and demolition environments. This robust tool can be used for a wide variety of tasks including demolition, scrap processing and tire recycling. The DXS Shear is equipped with DemaPower 2.0 hydraulic cylinder technology, delivering 25% more power than conventional cylinders of the same size, yet with faster cycle times.
Tags:
CONEXPO-CON/AGG
,
Kinshofer