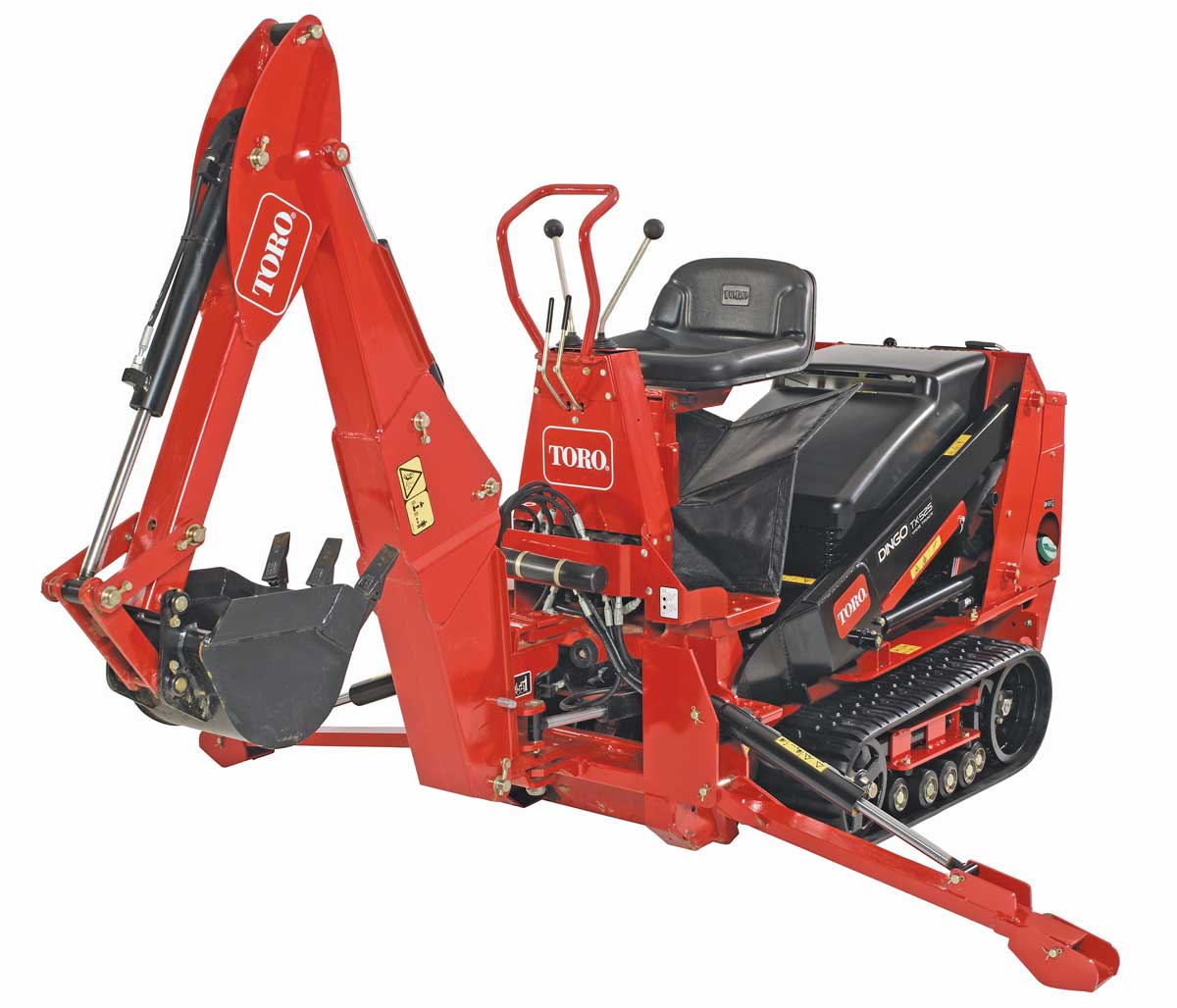 It could be its flexibility in tight corners. Its sturdy durability. The fact that one person can perform in minutes the tasks that would take hours using manual labor. Or, it may be its versatility — being able to use this compact utility loader attachment for everything from digging, loading and trenching to backfilling and demolition.
Whatever the reason for its current popularity, landscape contractors are digging — in every sense of the word — backhoe attachments.
Backhoe attachments offer powerful digging performance in a compact design. Toro's Dingo backhoe attachment, for example, folds up — adding ease to transportation and accessing confined spaces. Backhoes can be used for various jobsite activities — digging foundations, planting trees, trenching for irrigation and utilities installation and much more.
Compact utility loaders are, likewise, multi-use machines. The applications are nearly limitless. Attachments are what make loaders versatile. They can landscape, fill and grade parking lots and run trenches for sewer lines — with the help of a backhoe. They can work on retaining walls, fences, water features — you name it. Plus, they can work in tight spots other machines can't reach. The loader's light footprint allows the machine to go almost anywhere without damaging turf. It doesn't tear up people's yards, and having a compact utility loader is like having a third and fourth crewman on the job.
Cost Advantage
Compact utility loaders are growing in popularity because contractors are looking for cost-effective ways to accomplish several jobs without having to invest in multiple pieces of equipment. Contractors are buying compact utility loaders to do jobs they once used dedicated machines to accomplish. In the past, a trenching contractor would have to bring a trencher to the job and another machine to fill the trench. With a loader, he can use one machine with a trencher attachment and a trencher filler attachment to accomplish that same job. This approach not only saves the contractor the cost of an extra machine, it also may reduce insurance and travel expenses.
Routine Maintenance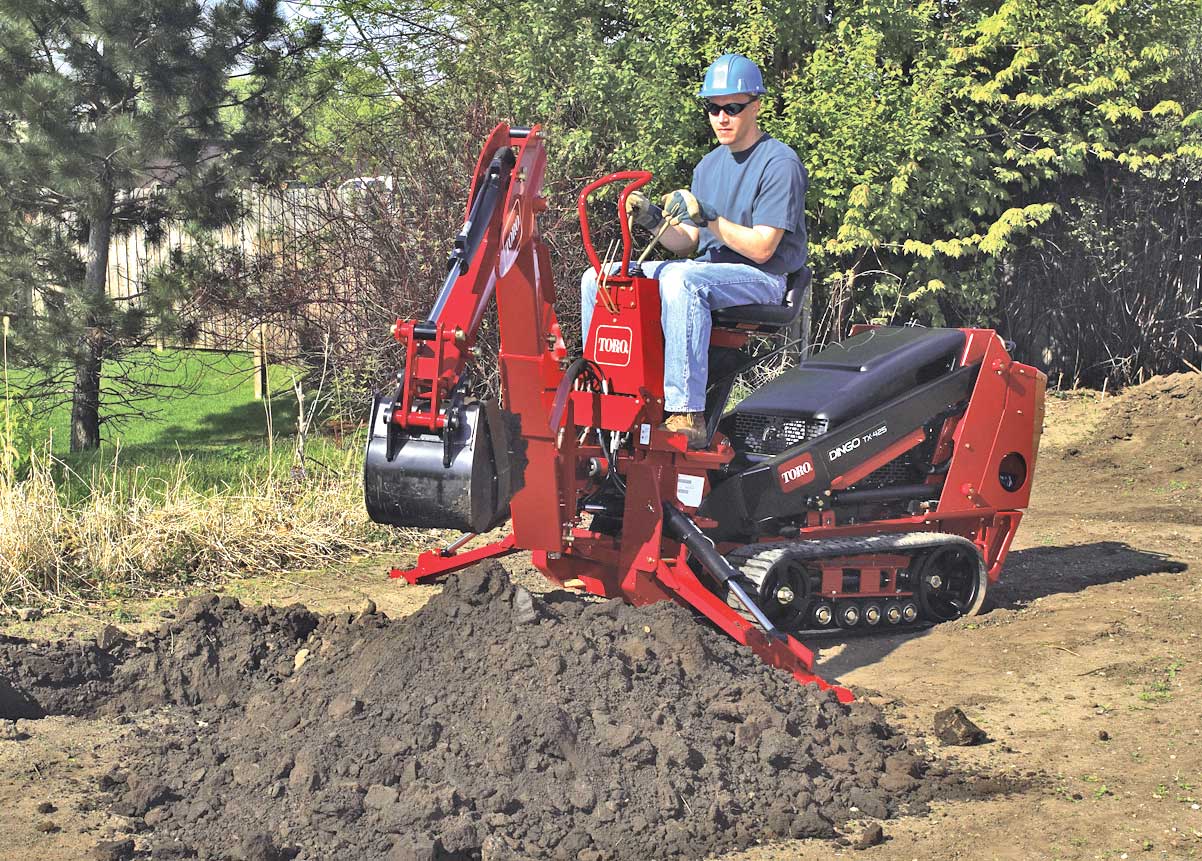 Now, how can we extend the life of the compact utility loader's popular backhoe attachment? Routine maintenance can spell the difference between a productive attachment and an unexpected breakdown. Maintenance and repair costs are minimal compared to the work you can accomplish with a well-maintained piece of equipment.
Although backhoe attachments are commonly used in only hour-long or a couple hours-long increments, it's typical for some components to experience wear with use over time. The following routine maintenance tips can help extend their life and ensure optimal performance:
Check bucket teeth. Operators should be routinely looking at bucket teeth to make sure they are sharp and square edged — not rounded from wear.
Grease pivot points daily. Because the compact utility loader is so powerful, it builds up a lot of pressure or "torque." Pivot points should be greased on a daily basis to ensure the backhoe is working freely.
Examine all hydraulics. Another way to ensure backhoes don't lose performance is to check that there are no hydraulic leaks, hoses are not rubbed or damaged and cylinders and hydraulic hoses are not damaged.
Look at pin-to-boom relationship. Are the pins inside the boom assembly stable? This is the highest wear point as it receives the most pressure when digging. There should be no movement between the bucket and pins. Are new pins or bushings needed? The bucket may be loose after a couple hours of use. In the case of Toro's backhoe attachment, the boom has the ability to pivot 90 degrees each way from the operator, so it's important to grease and check it for wear.
Safety Check
Operator safety precautions are at least as important as routine maintenance. For example, when hooking up the backhoe attachment to the loader, make sure the locking pins on the attachment plate are securing into the opening on the backhoe plate. If the brackets aren't secure, the backhoe will be unstable. So, it's important to replace any worn parts here.
Additionally, make sure stabilizers are on secure dirt so you don't lose stability in the traction unit, which anchors the backhoe. Jobsite safety should also be top of mind. It certainly doesn't hurt to remind even the most seasoned contractor to make sure the work area is safe. This includes: checking for underground power lines; watching the overhead height of the backhoe; and remembering not to get too close to the trench — leaving a safe space between the backhoe and opening to prevent a cave-in.
Ideally, safety is built in the attachment. Look for attachments from manufacturers that prioritize safety. Features such as hydraulic fold-down stabilizers can provide excellent stability while an adjustable seat offers superior operator visibility and comfort.
Long Live Your Backhoe
Operating the backhoe attachment without taking the time for proper setup and upkeep can result in expensive, long-term implications. By following a few simple procedures with each use, you can significantly reduce repair and downtime, allowing your backhoe to work for you over the long haul.
Consult your local dealer if you are uncertain about performing any maintenance or repair procedures on your own. To attain optimal performance and the longest life from a backhoe attachment, your best bet is to use the manufacturer's specified OEM parts.
Mark Adamek is a marketing manager for Toro.