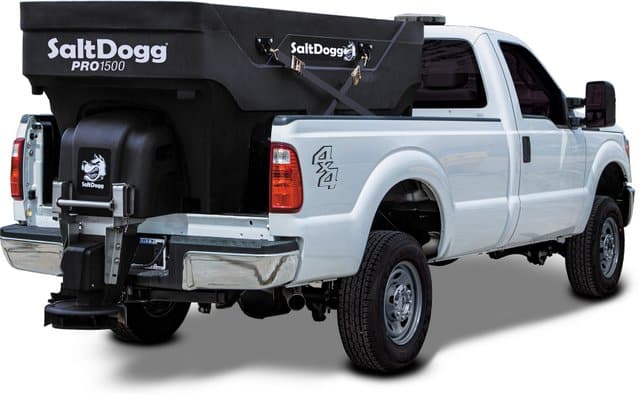 Buyers Products, a leading manufacturer in the work truck equipment industry, introduces a new 6-foot, 1.5-cubic yard spreader to the SaltDogg PRO Series electric spreader lineup. The new SaltDogg PRO1500 spreader is specifically designed to fit in trucks with short beds.
Featuring Buyers' patented double-wall, poly hopper, PRO Series spreaders are available with a 5-1/2-inch, full-length variable-pitch auger or a 12-inch pintle chain conveyor. Both drive lines are propelled by a powerful ¾-horsepower, electric motor, and the spinner is driven by an independent ½-horsepower motor.
The entire PRO Series is engineered to rapidly, reliably and accurately spread bulk salt or a 50-50, salt-sand mix. A high-flow chute and a 14-inch spinner give the PRO series the velocity needed to maintain consistent material coverage at high speeds. The chute is designed to swing away for bulk unloading and easy cleaning.
"The new 1.5-cubic-yard option opens up these powerful spreaders to a whole new market," says Bryan Burckart, Buyers Products director of snow and ice sales. "Contractors with short bed trucks can now add a heavy-duty electric hopper spreader to their arsenal of snow and ice management tools."
For more information on Buyers, click this link. Really, what are you waiting for?