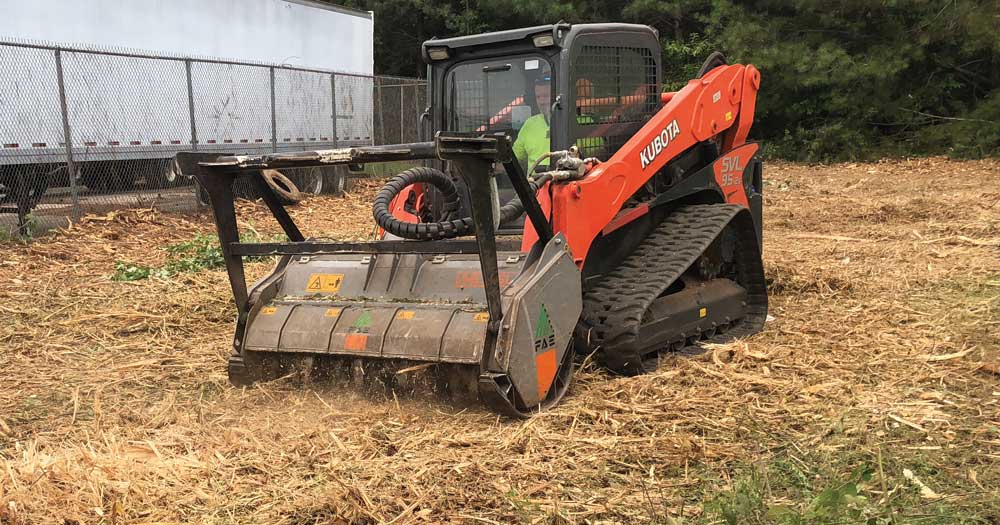 Will Brown, the owner/operator of North Georgia Land Management, has been destined for his job since he was little. Will grew up logging and doing tree work so this is his dream job. "I can't imagine being stuck in an office. I love being outside," he said. "I love interacting with my customers and them seeing the final results of my work."
The majority of Brown's projects are residential properties, sometimes with very tricky layouts. The houses are often very close to each other, and it can get very challenging to remove tall Georgia pines and other vegetation that is taking over power lines and buildings. Brown relies on his trusted Caterpillar 299D2 XHP and Kubota SVL 95-2 track loaders and FAE mulching heads to get the job done.
"After Hurricane Irma, we had a lot of cleaning up to do," he says. "One of the lots I had to clear had over 20 pines, both fallen and standing, that needed to be removed due to the storm damage. One of those 75-ft-tall trees was less than 30 ft away from the house, and moving it became a matter of extraordinary precision. Some of the pines were reaching 18 in. in diameter, which is a lot of stress on a mulching head. However, with my FAE equipment, I managed to turn that disaster zone into fine mulch in less than seven hours. My customers are happy, and they love the look."
Having efficient and reliable equipment like this helps Brown stay ahead of his competition.
"The mulching door is a lifesaver when it comes to jobs that are close to houses," said Brown. "Not worrying about property damage while mulching is a great feeling. FAE's teeth are unstoppable and last twice as long as the competitor's product or aftermarket teeth. They can hit rocks all day long and be just fine. In my two years of serving Georgia, North Carolina and South Carolina, I only chipped three teeth. And when it's time for maintenance or a part upgrade, FAE help is just a call away in Flowery Branch, Ga. Everyone knows me by name, and they make my life so much easier.
According to Brown, the mulcher and track loader combination is ideal for land management in the southeast region that is known for its thick vegetation, diverse landscapes and rocks. Depending on the lot, Brown clears up to three acres a day on average.
Elena Iogha is the marketing communications specialist with FAE USA.
Tags:
April 2019 Print Issue
,
Caterpillar
,
FAE
,
FAE USA
,
Kubota
,
North Georgia Land Management