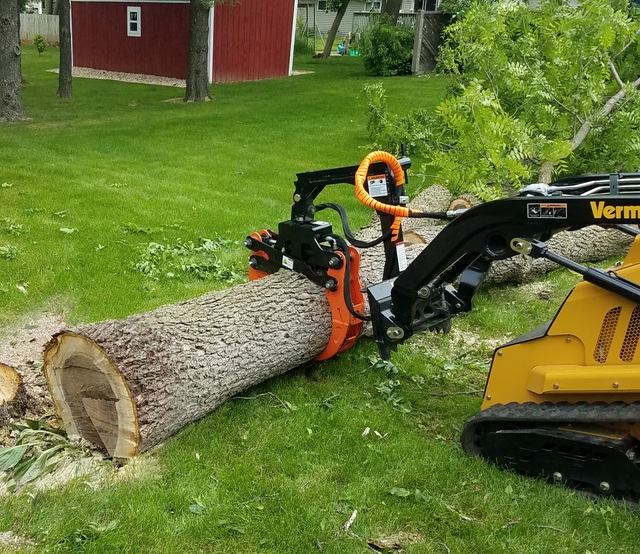 Berlon recently announced that it is adding to its mini skid steer attachment arsenal with a Mini Forestry Claw. "Labor shortages, easy-to-operate machines, and greater lifting capacities are just a few reasons that mini steers are gaining in popularity. Our customers are increasingly reaching out to us for new and innovative attachments for their machines," says Mike Ebben, President/CEO of Berlon Industries.
With the power and versatility of a mini skid steer, the Forestry Claw is the ultimate tool for landscapers and arborists that often work in tight spaces and need to do it safely and efficiently." The Mini Forestry Claw's strength and durability allows you to load, unload and transport large logs and debris up to 2,000 lbs. It features high visibility orange claws that allows you to see where the user is grabbing in brush or limb piles. The claw features a 60" opening and is fully articulated granting free movement without having to move the machine, which saves landscapes and lawns. The claw is designed with extra reinforcements in critical areas to prevent bending and breaking without adding additional weight.
Most features of the Mini Forestry Claw were requests that came straight from arborists. Berlon's design comes complete with aggressive teeth, you can find the teeth plates connected to the mounting plate. This helps stabilize and secure logs when transporting them straight out in front of the machine. A built-in tree pusher helps to assist in felling a limb along with two rope bollards to assist in directing limbs. For the operator's convenience, Berlon also included with the Mini Forestry claw a saw scabbard to easily transport your saws with you, when moving around the job site. An optional hitch receiver is available to move trailers or chippers. Be sure and keep an eye out for additional Mini Forestry Claw attachments. Berlon's Mini Forestry Claw comes standard with the mini universal mount other mounts are also available including Vermeer, Toro, Bobcat, Giant, Ditch Witch, and Boxer.