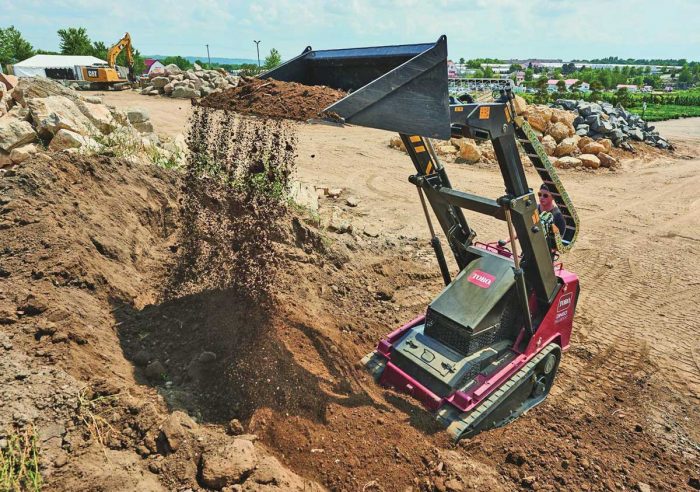 One of the smallest categories of attachment takers is the compact tool carrier. Sometimes called mini skid steers, stand-on track loaders or compact utility loaders, depending on the manufacturer, compact tool carriers personify the big power and small footprint trend of compact equipment. Even more so, over the last 20-plus years, compact tool carriers have morphed from wheeled, medium-power supplemental equipment to track-driven, spec heavy jobsite project leaders.
Today, manufacturers such as Toro, Bobcat, Ditch Witch and Vermeer are all selling compact tool carriers. Think of them as skid steers or track loaders without a cab. They use a similar universal quick-attachment plate (some can even wield a skid steer quick-attach plate), they come on wheels and tracks and they have a zero turning radius that's ideal for tight quarters. Buyers have a bevy of options: stand-on and walk-behind units; hydraulic flow rates from 8 to 16 gpm; gas, diesel and electric engines; wheels or dedicated track undercarriages; and a zillion different attachments (buckets, breakers, brooms, blades, backhoes and box scrapers, and that's just the Bs). To give you an idea of the implements out on the market, here are four we recommend.
Ditch Witch SK5TR Trencher Attachment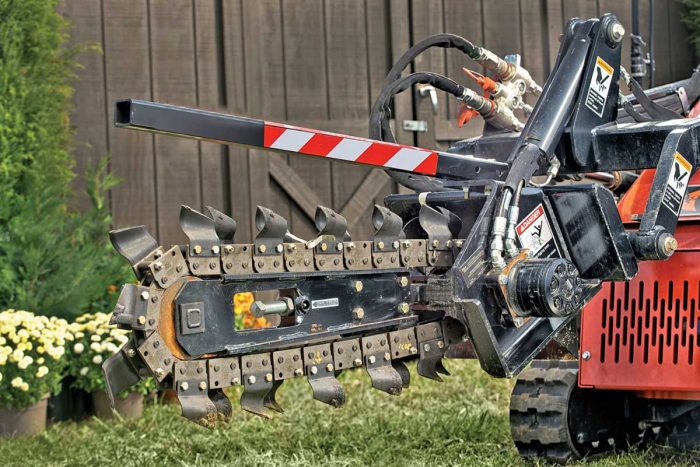 Rental companies and landscapers can extend the value and versatility of their Ditch Witch stand-on skid steers with the SK5TR trencher attachment. Upgraded from the previous 10-tooth forged sprocket, the SK5TR features an 11-tooth forged sprocket for faster chain speeds and increased chain life. The compact attachment offers greater operator visibility and increases productivity. And, the updated design includes a replaceable boom stub, reducing downtime and repair cost. The maximum digging depth of 48 in. provides operators the ability to trench at a deeper depth while still being able to maximize the versatility of the SK. The SK5TR is compact and easy to transport. Due to the compact size, users can transport multiple attachments at once and can use the attachment with ease when working in tight jobsites. For more info, visit ditchwitch.com.
Vermeer SVP18 Vibratory Plow Attachment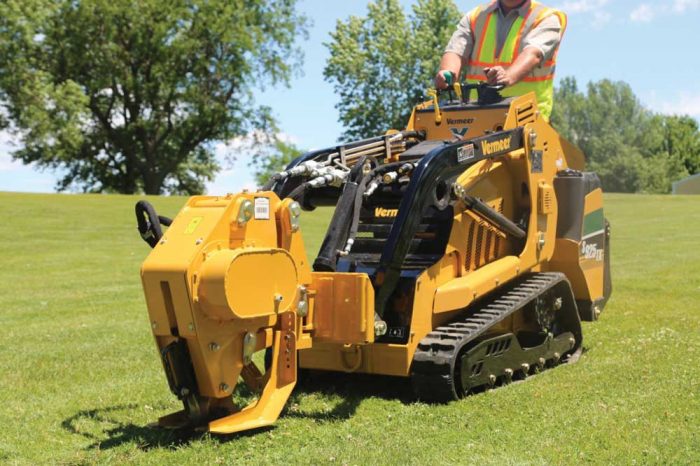 The Vermeer SVP18 vibratory plow attachment for mini skid steers is designed for landscaping and utility installation applications on compact jobsites. With the ability to install product up to 12 in. deep utilizing either a chute-style or pull-style blade, the SVP18 vibratory plow delivers better productivity than digging irrigation lines or fiber-optic cable by hand in residential areas. A 50-degree swing angle allows the attachment and mini skid steer to make tight turns around obstacles, and the 6-in. height of the plow's tamping feet provides improved tractive efforts over previous models. While a dedicated plow machine offers many benefits to contractors, the SVP18 attachment offers versatility for mini skid steer owners and operators to utilize a variety of attachments for multiple applications on one jobsite. For more info, visit vermeer.com.
Danuser Mini Skid Steer Mounted EP Auger System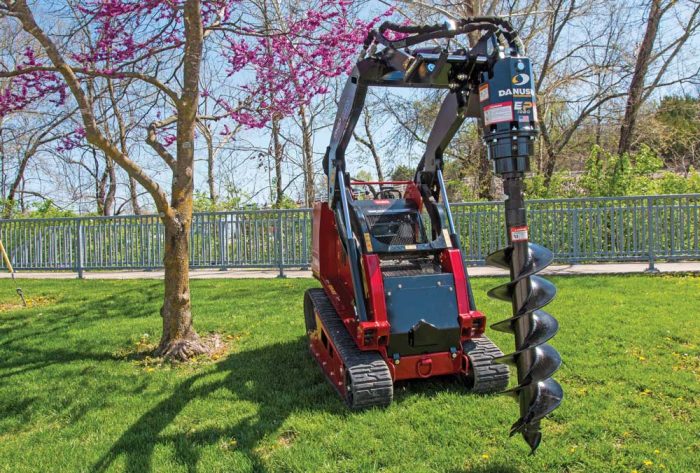 Danuser's new EP Auger System is now available for mini skid steers, featuring a planetary gear drive that is up to 42 percent stronger than the competition with greater torque for drilling through hard-compacted surfaces. It is available in a wide array of models, ranging from 6 to 35 gpm and from 1,500 to 3,500 psi, making it a versatile tool for the construction industry. The EP mini skid steer mount utilizes the same EP unit with the housing, so there's no need to stock a special unit. Most vehicles with 72-in. or greater hinge pin height may use standard 4-ft length augers. Hinge pin heights 71 in. or shorter require a maximum 3-ft length auger. Mounts are available for front-end loaders, backhoes, excavators and other skid steer models. For more info, visit danuser.com.
What can we say? We love rental. So much so that we published a Digital Rental Guide covering everything you need to know when renting a machine. Check it out here!
Toro Power Box Rake Attachment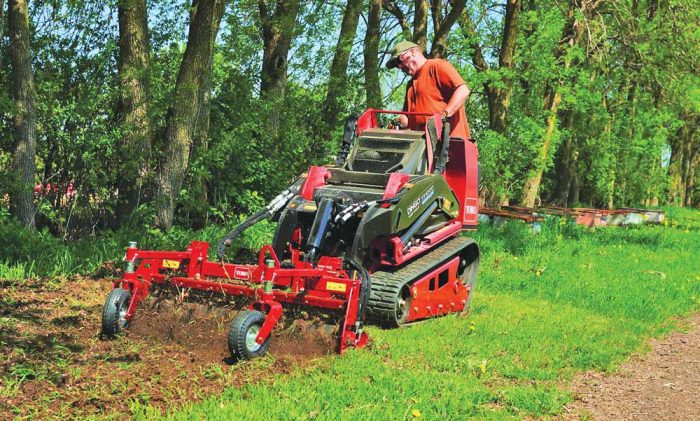 The Toro Power Box Rake attachment, for use with Dingo compact utility loaders, efficiently transforms rough terrain into a prepared seedbed. An ideal attachment for landscape contractors, the Power Box Rake is designed for construction and renovation projects, including seedbed preparation, sod preparation and rock removal. Built to last, the power box rake features triple-sealed, shielded roller bearings that stand up to the harshest soil conditions. Pure carbide proprietary teeth are designed for long life and ensure the best possible seedbed sub-base fracture pattern, promoting optimal moisture retention and release. The Power Box Rake is one of several attachments that make the Toro Dingo system versatile enough to meet the needs of any contractor. For more info, visit toro.com.
For reprint and licensing requests for this article, please click here.
Tags:
Danuser
,
Ditch Witch
,
June 2021 Print Issue
,
Toro Co
,
Vermeer