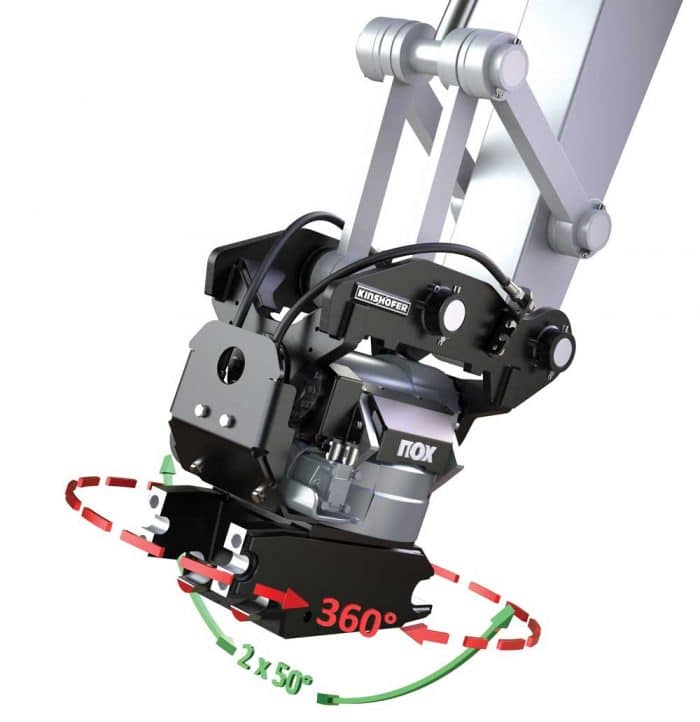 Tiltrotators give excavators dexterity. These coupler systems attach to the end of the boom and allow an excavator's attachment to twirl 360 degrees or tilt to odd angles for exacting excavation or implement work. Over the last couple of years, tiltrotator systems have not only been growing in popularity in America (they are big in Europe), but they also have been shrinking in size to fit on compact excavators. These systems add awesome maneuverability to your attachment, but they do initially present a learning curve in order to use them efficiently. Since we're on the subject, here's four brands to help you start thinking about these attachment-enhancing systems.
OilQuick OQTR-E Units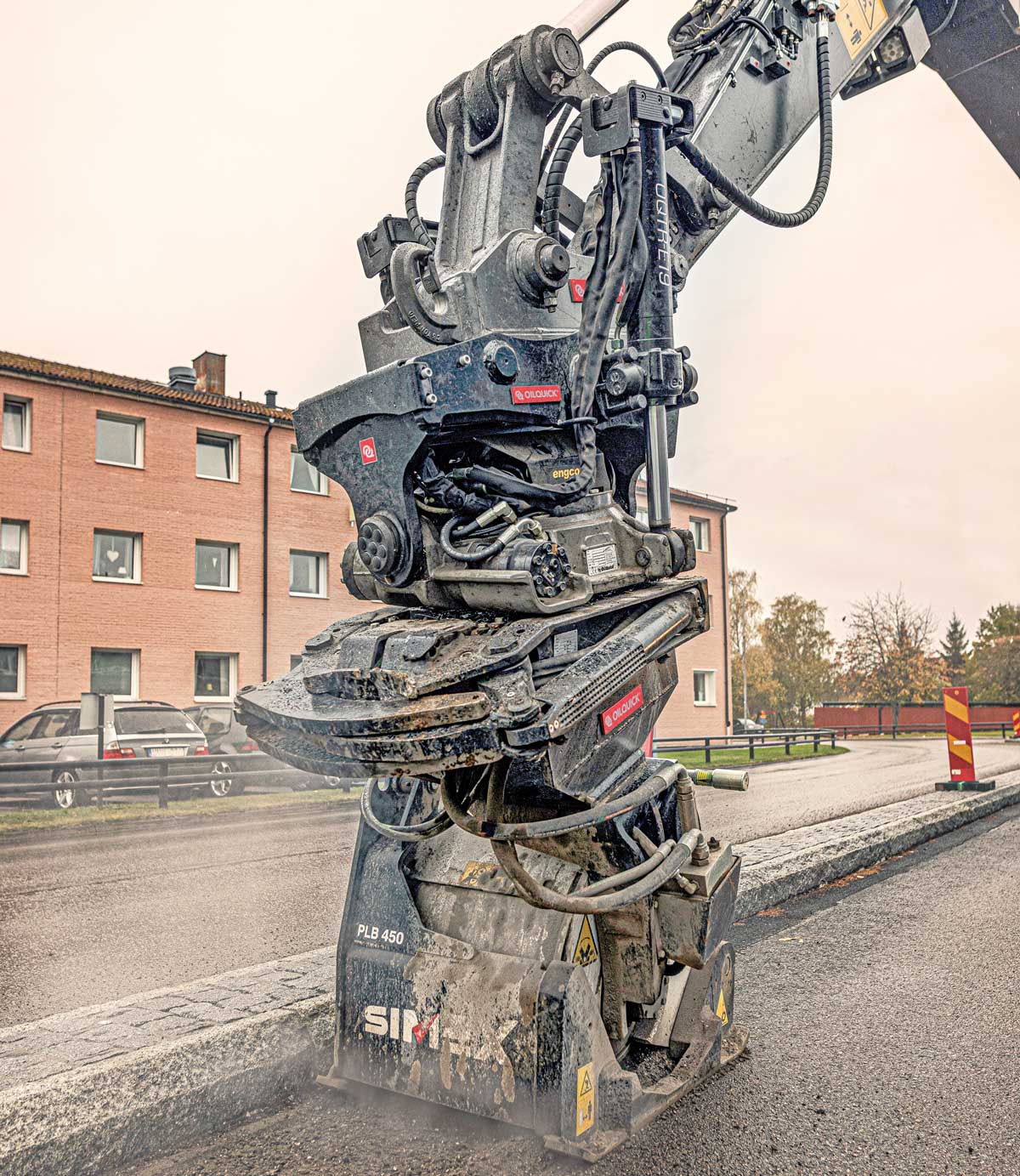 OilQuick specializes in fully automatic attachment coupler systems for excavators, wheel loaders, forklift trucks, material handling machines and cranes. OilQuick also offers high-quality tiltrotator systems for excavators. The OQTR-E is based on Engcon's market leading rotor body and OilQuick's well proven quality couplers. It comes in five models for excavators from 6 to 33 metric tons — the OQTR-E09, OQTR-E14, OQTR-E19, OQTR-E26 and OQTR-E33. OilQuick is the original developer of fully automatic quick-couplers. Today OilQuick is one of the world's best-selling hydraulic quick-coupler systems with over 45,000 systems sold worldwide. OilQuick's tiltrotators bring you not only flexibility but also that same productivity and safety. It gives your machine completely new and improved capabilities + lightning fast change-overs of hydraulic, electrical and mechanical attachments from inside the cab. For more info, visit oilquickamericas.com.
Takeuchi DF and Pro Plus Models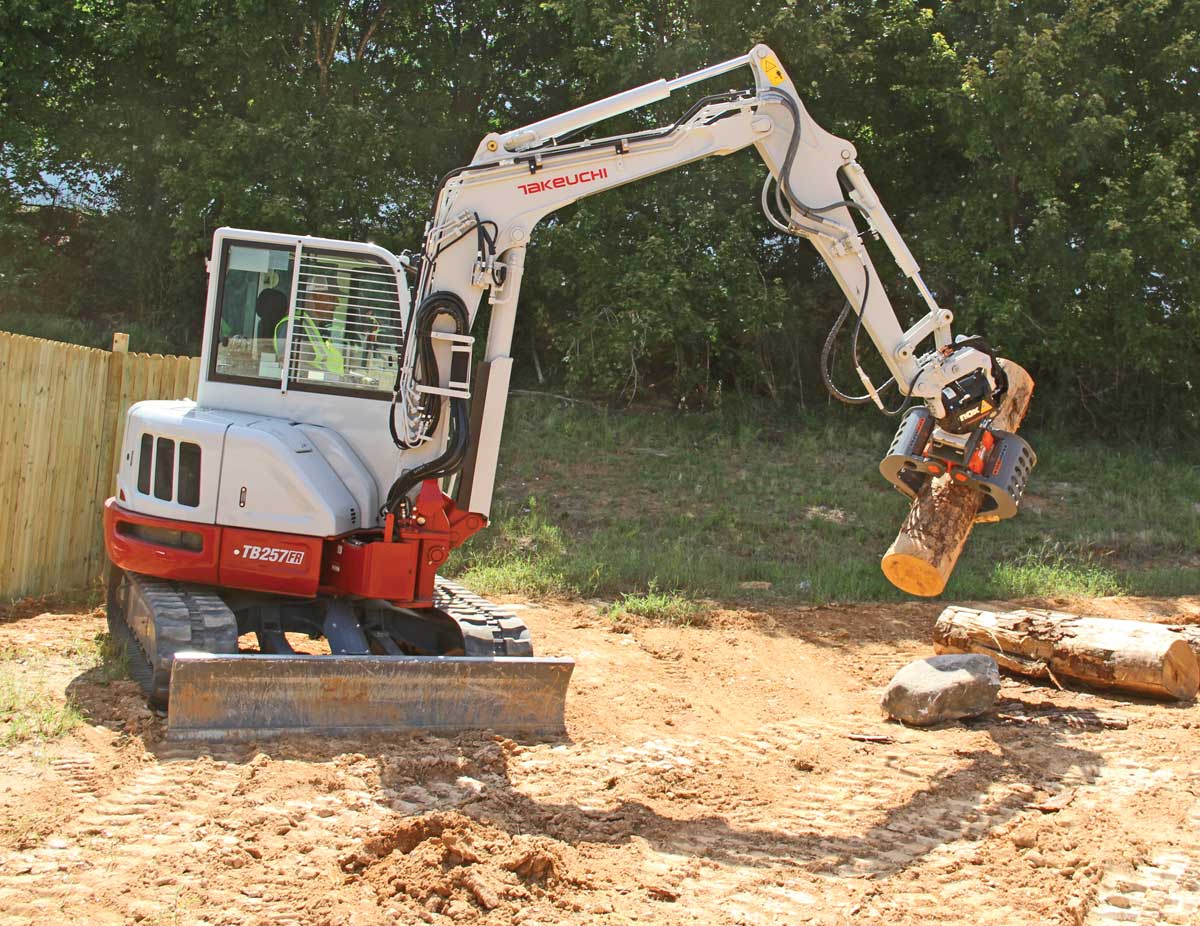 Takeuchi's tiltrotator attachment line includes the DF4, DF10 and Prop Plus models. The Prop Plus model is the most fully featured option. While other tiltrotators require multiple hydraulic circuits, the Prop Plus can run both tilt and rotate functions as well as a hydraulic coupler and multiple auxiliary functions using only the excavator's primary circuit without requiring a separate control box to toggle. The feature-rich Prop Plus kit includes two new joystick controls and a separate monitor, and the tiltrotator can work with a grading system. The DF4 runs its tilt-and-rotate functions using two hydraulic circuits and a control box located in the machine's cab. This control box diverts flow to operate the hydraulic coupler and two auxiliary functions for a total of five functions. The DF10 can run the same functions as the DF4 without a control box but requires a separate hydraulic circuit for each function. For more info, visit takeuchi-us.com.
Werk-Brau NOX Units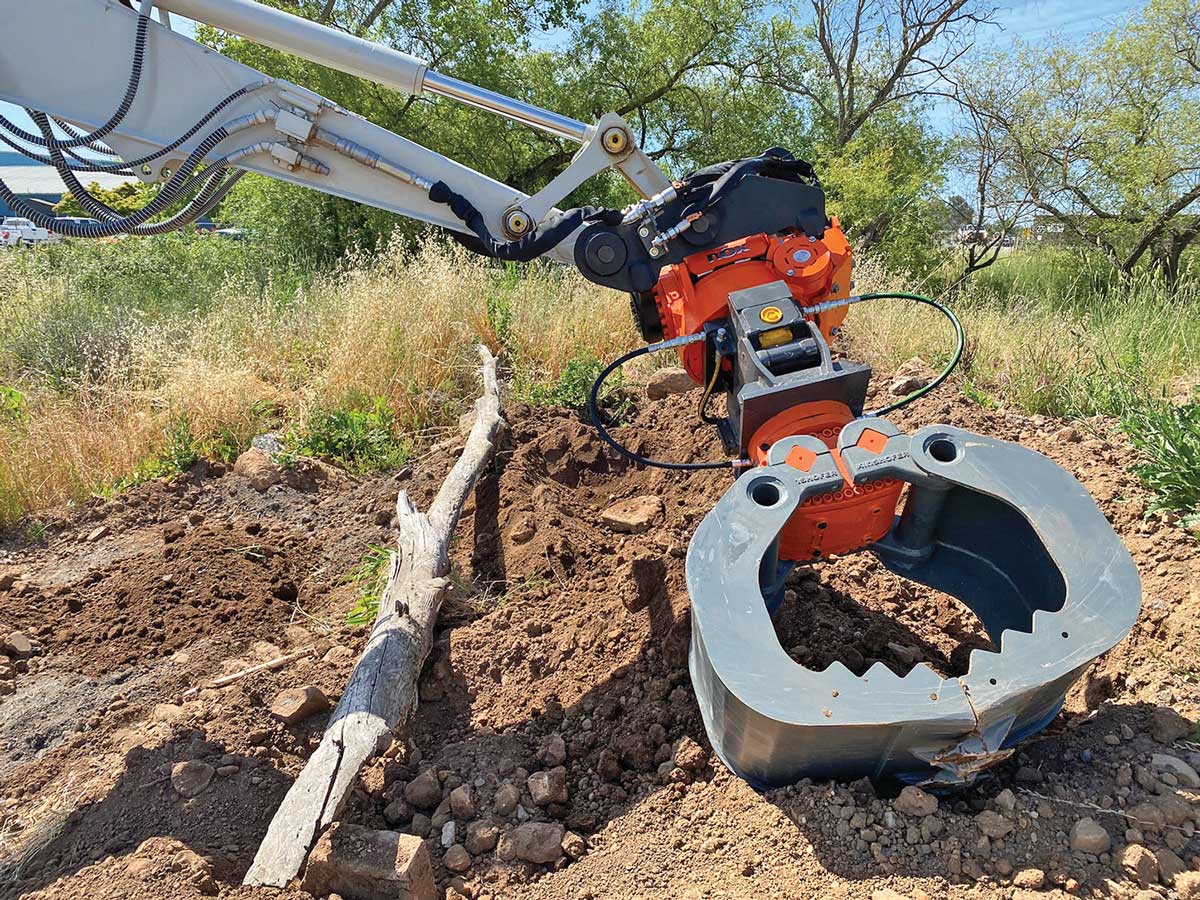 Werk-Brau Nox tiltrotators provide 360-degrees of endless rotation with a tilt angle of 2- by 50-degrees allowing greater versatility. Unparalleled range of motion allows operators to do more work without moving the excavator. This allows faster, safer, more efficient project completion. These versatile tools transform excavators into multi-functional carriers that work in deep trenches, under or between existing pipes and tubes and in other confined space applications. Werk-Brau Nox tiltrotators are available for excavators from 3 to 25 metric tons. Integrated hydraulics and a compact design with no protruding components minimizes the risk of damaging cylinders, hoses or other components. Maintenance and consumables are minimal with few wear parts and just two grease fittings. Plus, the D-lock coupler locks front and rear pins without a safety pin, ensuring safe operation. For more info, visit werk-brau.com.
Cat Tilt Rotate System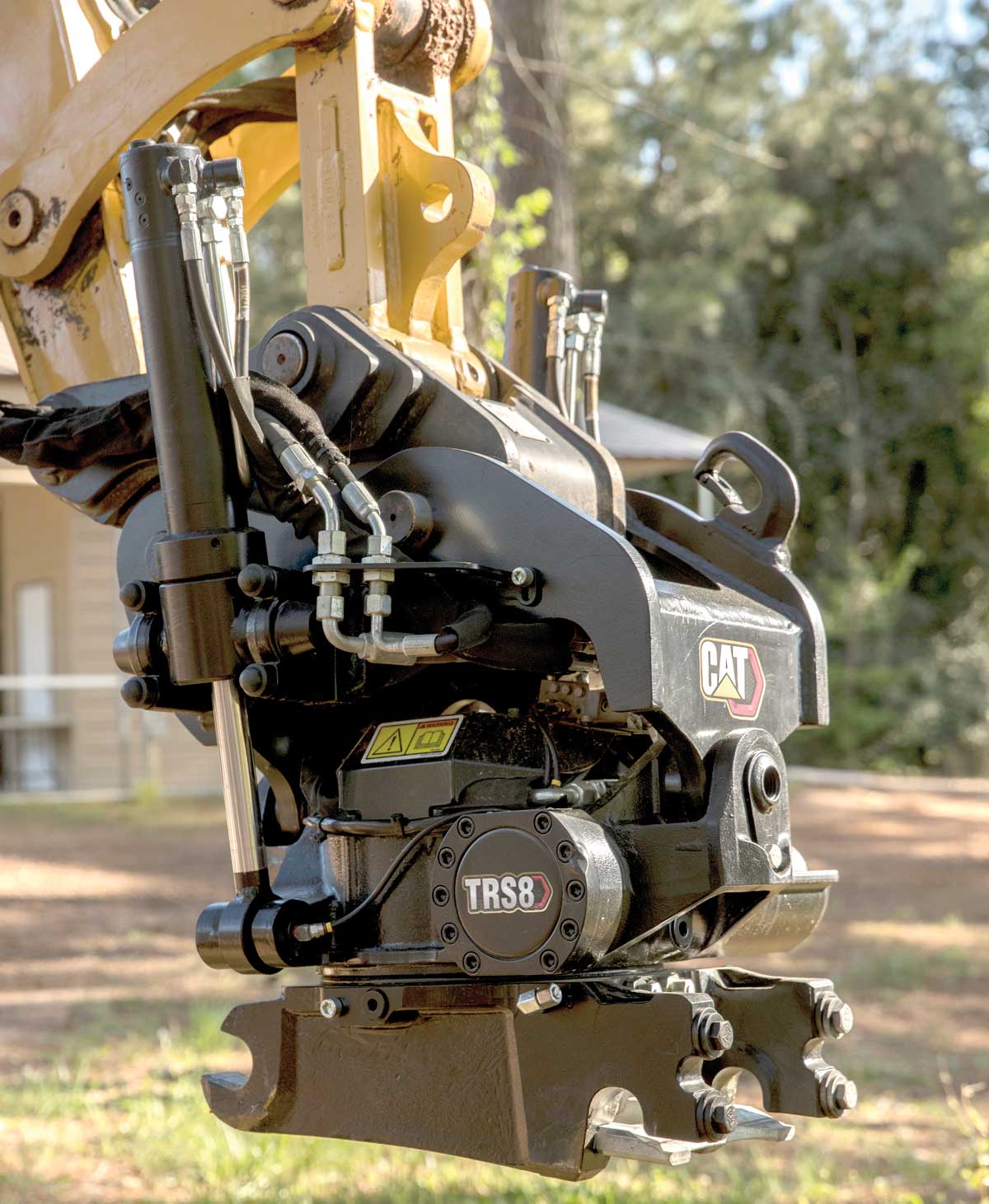 Caterpillar's Work Tools Division offers its Tilt Rotate System (TRS) models for 302.7 through 310 Next Generation mini excavators. The new TRS4 and TRS8 S45 plus updated TRS6 models allow attached work tools to rotate 360 degrees and tilt 40 degrees side to side. This enables the machine to reach more work areas from a single position, while maneuvering tools over, under and around obstructions when excavating, grading ditches, sorting recycle materials or placing pipe. The new TRS models multiply the mini excavator's versatility and are available in various configurations to match the application. All TRS models are standardized with auxiliary hydraulic functions below the swivel. This allows for the installation of an integrated grapple module when the TRS is equipped with an S-type lower coupler interface. TRS6 and TRS8 units with the S-Type lower coupler interface also feature a secondary aux circuit for running hydraulic tools below the swivel. For more info, visit cat.com.
Keith Gribbins is publisher of Compact Equipment.
We'd love to keep in touch! Check us out on Facebook, Twitter and LinkedIn!