Spring brings construction work. That means a whole new season of projects – construction, demolition, remodels, maintenance and contracts of all sorts. Unfortunately, this year probably won't have as many projects as years past, so getting jobs, keeping jobs and finishing jobs on time will mean the utmost to your profit line and reputation. You'll need stellar crews, competent business decisions, strong client relationships and the right machines to conquer 2011's call of duty.
There are plenty of options when it comes to finding new iron. Buying used or renting machines in this market is often a sound business decision; just turn to page 14 of this issue to read about buying pre-owned equipment. But spring is also the time when manufacturers release their newest equipment into the field. Right now the latest models, the newest technologies and next-generation of machinery are sitting on dealer lots waiting for your inspection.
The editors at Compact Equipment had the opportunity to explore this season's collection of newest equipment at trade shows and product launches. Hydrogen light towers, electric generators, gnarly vocational trucks, mini telehandlers, high-powered excavators and lots and lots of skid steers. Over the next 11 pages we've captured and categorized our favorites. If you're looking to buy the newest compact machinery in 2011, this is some of the best equipment on the market. We invite you to investigate them all.
Epic Overhaul
New Holland Gives Its Super Boom Product Line a New Face Lift
When New Holland launched its L35 skid steer in 1972, it was engineered with an industry first — the company's patented "Super Boom" — utilizing the first vertical lift design in the industry. Vertical lift machines use an additional linkage that allows the boom to pivot on more than one joint as it moves up, giving it perpendicular, to-the-ground movement. It's great for high loading and extra lift capacity — it's also the most popular skid steer style sold today. Building on that rich heritage, New Holland completely revamped its compact loader line in 2011 with seven new skid steers and three new compact track loaders. Designers started from scratch, but focused in on the company's big lift past.
"What we wanted to do for 2011 was wipe the board clean and start from the ground up," said Dave December, New Holland marketing manager, at a March press conference at CONEXPO-CON/AGG (the big construction trade fair in Las Vegas). "We've got the longest wheel base in the business. We've got the toughest, meanest machine in the business and our outstanding visibility from the cab just got better."
The new skid steers culminate five years of customer research, design and engineering improvements. The New Holland L218, L220, L223, L225 and L230 loaders feature the patented vertical lift Super Boom design, delivering best-in-class forward dump height and reach. "With our new Super Boom loader arm, New Holland skid steer loaders deliver superior lift and reach," December assured.
The 53-degree dump angle on the 200 Series skid steer loaders is also best in class. This lets operators empty the bucket faster, increasing cycle times and productivity. The new self-leveling bucket feature on the five models with the Super Boom design allows attachments to maintain the preset location throughout the lift cycle. For long load-and-carry operations, the optional Glide Ride feature on the five New Holland skid steer loader models ensures a smooth ride over the roughest jobsite. New Holland also introduced three compact track loaders in the new 200 Series (the C227, C232 and C238). The new machines feature all the awesome attributes of their skid steer cousins, but with the stability, traction and power of a rigid undercarriage and the ability to distribute its machine weight over a large area.
Tracks to Tires
Terex Releases Complementing Skid Steer Loader Line
Terex bought the famed ASV product line back in 2008, thus acquiring one of the best track loader lines in the business (those skid steers with tracked undercarriages). Now, the global equipment magnate is entering the wheeled skid steer market with the launch of eight new skid steer loaders Offering four radial lift path models (the TSR50, TSR60, TSR70 and TSR80), as well as four vertical lift path models (the TSV50, TSV60, TSV70 and TSV80), Terex designed its skid steer loaders with some of best ground clearances and rear angles of departure in the industry: 10.5-in. ground clearance and a 29-degree rear angle of departure on medium-frame loaders (TSR50/60 and TSV50/60) and a 26-degree on large-frame loaders (TSR70/80 and TSV70/80). These features improve the ability of the machine to traverse soft, uneven terrain, making the workday more productive and less frustrating.
To get more done on every jobsite, Terex offers performance-matched attachments for its skid steer loader line. For quick cycle times, a powerful drive train with optional two-speed transmission propels Terex loaders to the fastest top speeds in their class — up to 12 mph. Terex loaders also offer increased fuel capacities over other brands, with 25-gal fuel tanks in the medium-frame loaders and 30-gal fuel tanks in the large-frame models, translating to longer operating times between refueling.
Rearmed
Volvo Launches a New Generation of One-Arm Skid Steers and Track Loaders
Last year, the big news was that Volvo was working with English equipment maker JCB to custom manufacture a new lineage of skid steers and track loaders. At CONEXPO-CON/AGG, Volvo Construction Equipment took the opportunity of the giant construction trade fair to unveil the first of the five new models in its C-Series compact loader product line.
Just like JCB's unique one-armed compact loaders, the Volvo machines share the single loader arm design, delivering loading performance and durability with improved visibility, safety and enhanced cab access of a side-entry machine.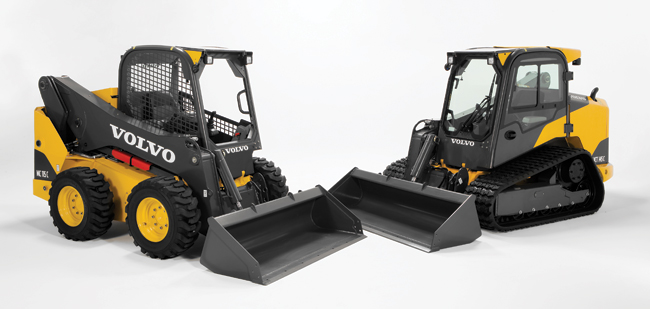 First off, due to the single loader tower arm design, cab access is easier and safer. Operators enter and exit the cab through a large, wide-opening side cab door. This eliminates the need for operators to climb onto and over the bucket or attachment, which many times can be muddy, wet or slippery. The wheeled models to be offered in North America are the MC110C, MC115C and MC135C. Rated operating capacities for these models range up to 3,000 lbs, with gross engine power from 84 and 92 hp. Tracked models in the range to be offered in North America are the MCT125C and MCT135C. Rated operating capacities for the tracked models range up to 3,000 lbs and gross engine power to 92 hp. Later this year Volvo CE will launch further new models in the range, culminating in a full offering of radial and vertical lift wheeled and tracked models in all key rated operating capacity classes.
Heart of Steel
Perkins Tackles Tier 4 with 400F Diesel Engine Lineup
Perkins, the venerated English brand now owned by Caterpillar, has been making innovative engines since the 1930s, powering skid steers, mini excavators, backhoes and every compact machine in between. At CONEXPO-CON/AGG, the company launched its Tier 4 products to the public with much ado, including the new 400F, the latest addition to the popular 400 Series range, meeting Tier 4 Final/Stage IIIB regulations which come into force in January 2013 in the EPA above 19 kW (25 hp) and in the EU above 37 kW (49.5 hp). The 400F, which runs up to 45.5 kW (61 hp), comes in a compact three- and four-cylinder lineup and has 97 percent carry over of components from the previous Tier engine. The only addition that manufacturers will see is the after-treatment which has been designed to be as compact as possible, with flexible mounting arrangements and ease installation. The after-treatment uses passive regeneration, with systems in place to provide active regeneration capability, effectively burning the soot in the diesel particulate filter to keep performance levels at their optimum. The new 400F Series also delivers improvements in fuel consumption, which minimizes running costs and heat rejection, providing customers with efficient power.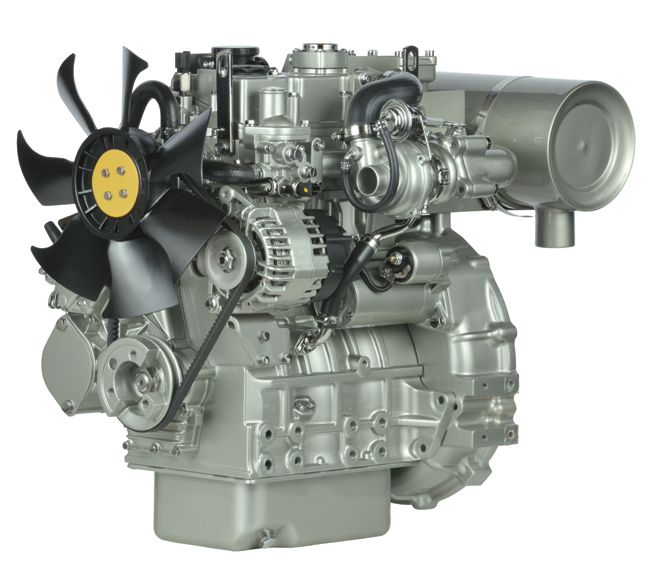 Fan Club
John Deere Joins Variable-Speed Fans with Interim Tier 4/Stage III B Engines
When John Deere Power Systems announced its complete lineup of Interim Tier 4/Stage III B off-highway and gen-set diesel engines 56 kW (75 hp) and above, it also announced the availability of a new factory-installed variable-speed fan drive. John Deere's variable-speed fan technology enables original equipment manufacturers to meet new not-to-exceed (NTE) emissions regulations associated with Interim Tier 4 while improving fuel economy and engine performance. Factory-integrated, uniquely tuned to engine/fan size and controlled by the engine control unit, the new variable-speed fan requires no additional OEM installation or operator intervention. By operating at slower fan speeds, the engine can remain within the new NTE emissions zones and increase performance and fuel efficiency.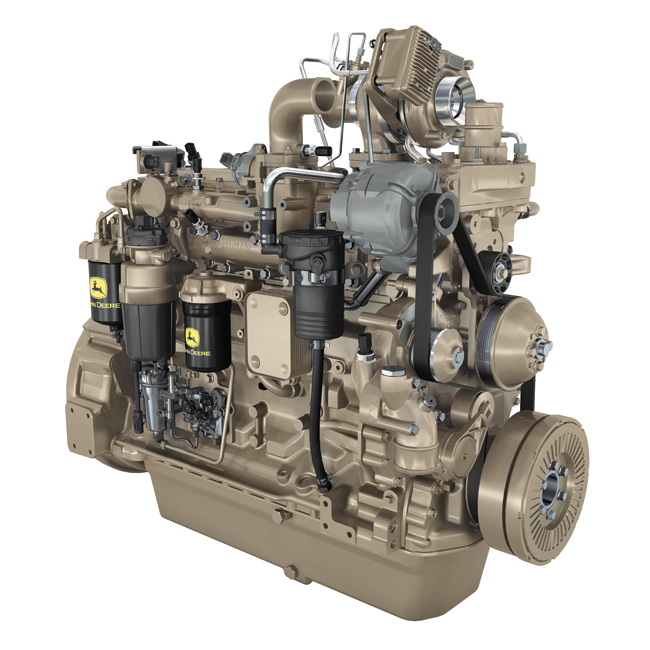 Precision Cuts
Vermeer's Microtrenching Tractor Installs Fiber Quickly and Efficiently
Our appetite for cellular and internet bandwidth is growing insatiably. To meet the ever-growing demand for digital applications, network service providers are rapidly deploying state-of-the-art fiber networks. Answering the call, Vermeer introduced its MTR12 and MTR16 microtrenching attachments, fitted to its Vermeer RTX550 utility tractor. The Vermeer microtrenching system consists of four main components — the cutter wheel, utility tractor, vacuum and grout mixer — creating a "train" to complete the installation in one pass. The MTR12 and MTR16 microtrenching attachments offer maximum cutting depths of 12 and 16 in. respectively, and depth control is mechanically adjusted in 1-in. increments.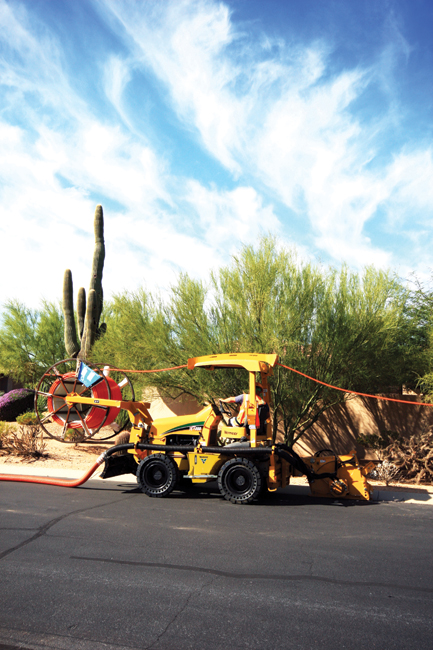 The Vermeer-exclusive Yellow Jacket cutter system offers teeth with reversible cutting edges. When one edge is worn, simply flip the tooth to access a new cutting edge to help maximize tooth life and increase cutting time between tooth change-out. The attachments are designed to work with the Vermeer RTX550 utility tractor, which features electronic ground drive control with auto creep for precise tractor and attachment control. The specially-configured tractor is equipped with solid rubber tires to reduce bounce. Dry and dusty spoil from the cutter wheel can be diverted from the worksite using a McLaughlin V500LE high-cfm vacuum system. The trench is backfilled with a grout compound using a wheeled application wand. Vermeer offers its GM30 grout mixer with a 60-gal capacity that can fill up to a 90-ft by 1-in. wide by 12-in. deep trench with each batch.
Grade A Implements
BLR2 Laser Receiver and Instrumentation Panel Increases M-Series Efficiency
Grading in compact loaders just got futuristic. The Bobcat BLR2 laser receiver, in conjunction with its new deluxe instrumentation panel, is allowing small operations to grade like big developers; it's now available on the 600, 700 and 800 platform M-Series compact track loaders. As loaders have increased in power and tractive effort over the last several years, Bobcat expanded the laser-operated attachment line from 84-in. grader and box blades to new 96- and 108-in. graders designed specifically for use with the new, larger track loaders. Contractors in the concrete market will benefit from the seamless connection between the BLR2 laser receiver and the deluxe instrumentation panel on Bobcat's new loaders.
Laser control on Bobcat attachments can be completely automatic or by indication (where the operator looks at arrows to determine whether the blade needs to move up or down). Before the introduction of the new deluxe instrumentation panel, operators needed to look at indication arrows on the laser receiver to determine whether the blade was above, below or on grade. With the new in-cab panel, the operator is given a number telling him to the tenth of an inch how much material needs to be removed or added for grade. The panel also allows the operator to make changes to the grade from inside the cab. The grade can be moved up or down, in 0.1-in. increments, a total of 2 in. up or down. Operators previously needed to exit the cab to either raise or lower the receivers or the laser tripod. The deluxe instrumentation panel units can also be changed by the operator to show metric units or inches.
Climbing Gear
Antonio Carraro and the MACH4 Tractor Are Conquering Steep Applications
There's nothing quite like this tractor beast. It's called the MACH4 and it's produced by Antonio Carraro — an Italian specialty tractor manufacturer. The MACH4 is a reversible articulated tractor for specialized agriculture. The four rubber tracks provide a unique stability in steep slope areas and constant grip in slippery surfaces or very brittle surfaces and snow. MACH4 was bred to solve the most extreme situations, regardless of the weather and any type of terrain. It also offers a comfortable ride compared to a traditional tractor — the four independent tracks in advance synergy minimize the unevenness of the ground.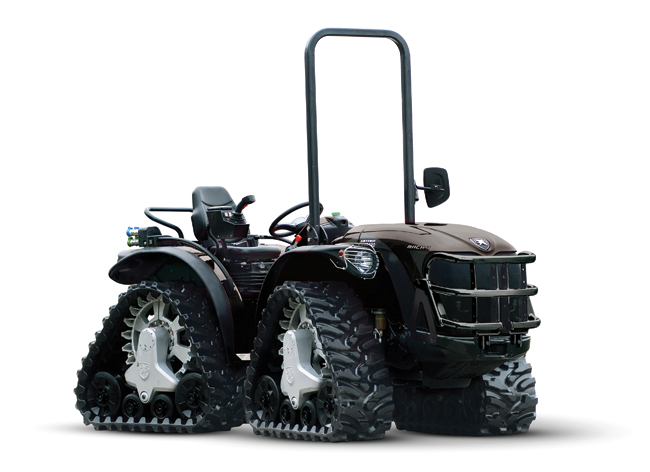 The MACH4's engine is a four-cylinder, 16-valve, turbocharged 87-hp diesel. The unit comes with bi-directional, articulated steering, four-wheel wet disc brakes, independent 540/540e and ground speed PTO with electro/hydraulic engagement. It also sports 5,291 lbs of lift capacity on the three-point lift arms, 16×16 synchronized transmission with shuttle and 25-mph road speed. The front and rear locking differentials, joy stick controls and three-point lift function are all options — as is the heated and air conditioned comfort cab. MACH4 stability is guaranteed by the low center of gravity, together with great flotation of the tracks on the ground that excludes damage to the surface. This is one cool character.
Road Runner
Caterpillar Enters the Vocational Truck Market with the CT660
Caterpillar makes just about everything. It's the biggest manufacturer of earth moving equipment in the world, engineering skid steers, wheel loaders, mining trucks, excavators, backhoes, engines and everything in between. Well, now you can add vocational trucks to that expansive list.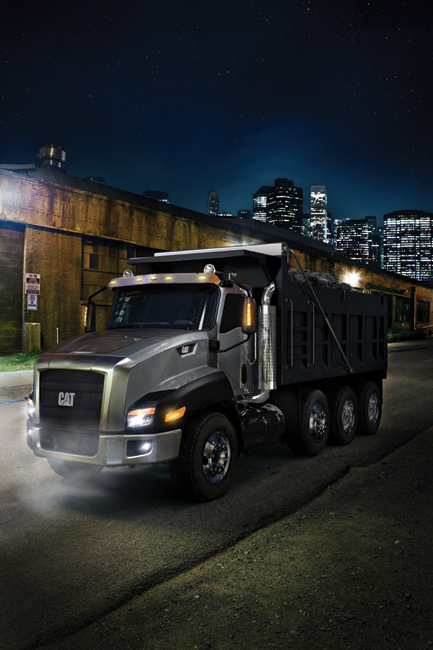 "This is a historic day in many respects for Caterpillar," said George Taylor, global director of the on-highway truck group at a Cat press event before CONEXPO-CON/AGG. "We've been looking at trucks a long time. We've tracked it back 15 years. And for the last five years, we've been working on this project."
To a large group of press corps, Caterpillar released the Cat CT660, the first model in a full line of Class 8 vocational trucks designed to work as transit mixers, refuse haulers, dump trucks and in any application requiring a heavy-duty truck with the reliability, durability and low cost of ownership. Adding even more value to the CT660 are the resources of the North American Cat dealer network, which is prepared to sell and service the new vocational truck line.
"The CT660 is a natural expansion of the Cat product line and a perfect complement to other Cat equipment on the jobsite," said Steve Gosselin, vice president of customer services support division. "The CT660 is a direct result of Caterpillar's commitment to continuously develop new products that accelerate the business success of our customers."
The project has been a long term partnership with Navistar, one of the major vocational truck leaders in the world. The synergy has yielded an awesome addition to the Class 8 market. Engine options for the CT660 include the Cat CT11, CT13 and CT15 — with displacements of 11.1, 12.5 and 15.2 liters — providing horsepower ratings from 330 to 550 and peak torque ratings from 1,450 to 1,850 lb-ft. The engines use an advanced exhaust-gas-recirculation (EGR) system with a high-pressure common-rail fuel system, precision intake-air management system and electronic controls to provide an optimum blend of high performance, low emissions and superior fuel economy. It should be noted that Navistar and Caterpillar are the only two truck engine manufacturers currently sticking with the EGR technology.
A notable transmission option for the CT660 is the Cat CX31 automatic, a reliable, proven performer since 2004 in global vocational applications. The CX31, with six forward speeds and one reverse, is built to complement the torque output of Cat CT Series engines. The transmission features heavy-duty clutches and gear sets that allow full-power shifts, increasing efficiency and productivity, while reducing drive train shock loads. But one of the coolest things about the new CT660 is its cool styling. An all-metal grille surround also uses modular design, as does the three-piece, stainless steel bumper. Not mention, that hood, the big cab and grille just look gnarly.
"We wanted something that looked, smelled and growled like a Cat," said Taylor. The order board for the CT660 opened on April 11, with factory shipments beginning in July 2011.
The Hole Package
Augers Attachments Just Keep Getting Better with LOWE A-Series Auger Drive Units
For decades LOWE attachments have been known for their quality, price and dependability. Now the venerated LOWE brand is replacing the previous and prestigious generation SK-Series gear reduction auger drive units with the new and improved A-Series. The A-Series lineup of auger drives will have more torque in four of the five new units than the comparable SK-Series units they replace. The remaining A-400 unit is better optimized for the higher flow and pressure systems it is intended for. All A-Series units will continue to feature the LOWE quality and dependability you have come to expect. That means premium LOWE motors, oversized gearboxes, full-length, heavy-duty housings, compact design and excellent hose routing. Best of all: They will have no price increase over the previous models.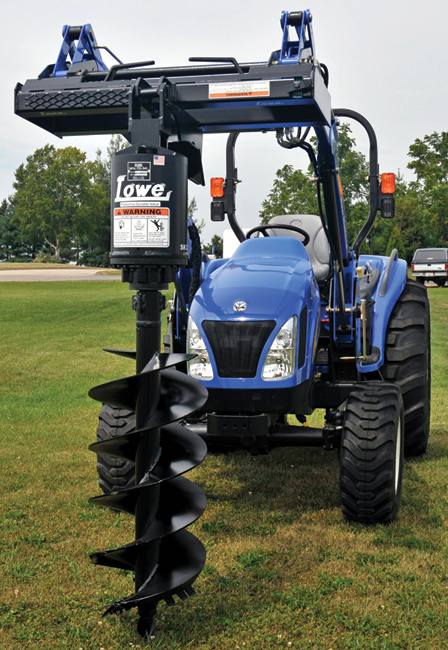 Compact Alliance
Manitou and Gehl Combine Marketing and Machine Power
Manitou bought Gehl, Mustang and CEAttachments back in 2008. But until now, the parent company has been a behind-the-scenes player. At CONEXPO-CON/AGG, Manitou announced that Gehl (and its two machine brands) would be combining forces in the Americas to strengthen their organizations. The newly created Manitou Americas will host the sales, marketing and support teams for North America and Latin America, supporting the Gehl, Manitou, Mustang and EDGE brands (CEAttachments). Manitou Americas will also be home of the Compact Equipment Division with state-of-the-art R&D and manufacturing facilities in Wisconsin, South Dakota and Texas.
"The reason we're doing this is to provide a better structure to support our dealer network in the Americas region," said Serge Bosche, CEO and president of Manitou North America, at a CONEXPO-CON/AGG press conference. "This is obviously a very large market for us, full of growth promises."
Besides the new restructuring, the Manitou Group released some cool new compact machines — specifically its all-new model Gehl V330 skid loader and its Manitou MLT 625 compact telehandler. With a powerful 84-hp turbo-diesel engine and a rated operating capacity of 3,300 lbs, the V330 skid loader is among the strongest in its class and highest lifting with more than 131 in. of near-vertical lift height. The new V330 features a powerful Yanmar turbocharged diesel engine with 215 lbf-ft peak torque. Equipped with electronic engine control and a foot throttle, the V330 can be operated at partial throttle as the workload allows for lower sound levels and reduced fuel consumption. Superior comfort is provided in an all-new, ergonomic cab design for the V330 skid loader. The optional, pressurized sealed cab enclosure provides a cleaner and quieter operating environment. Fully adjustable joystick controls and an optional air-ride seat deliver outstanding operator comfort.
Under the Manitou brand, the company released the MLT 625 telescopic handler. The MLT 625 is a low-profile, super compact telescopic handler that has a maximum lift height of 19 ft, 3 in. and a maximum lift capacity of 5,500 lbs. The MLT 625 provides substantial power and reach in a compact machine that is able to gain access into low overhead buildings, garages and barns. The compact design of the MLT 625 features an overall height of 6 ft, 7 in. and a width of just under 6 ft. This makes it easy for the MLT 625 to access even the smallest structures, including small storage buildings, greenhouses and stables. The short turning radius of 10 ft enables it to maneuver into normally inaccessible spaces for handling hay, feed, seed and fertilizer, animal care, harvesting work and miscellaneous chores around the property. The unit uses a powerful 75-hp turbocharged Kubota diesel engine coupled with a hydraulic gear pump, which has a flow rate of 24 gpm at a pressure of 3,408 psi (235 bar).
Electric Air
Doosan Portable Power Launches Eco-Friendly Air Compressor
Eco-sensitive applications are becoming more and more prevalent — jobsites where pollution, noise and loud machinery are not welcome. Now, green contractors can turn to the Doosan Portable Power HP750e compressor, now with an optional clean, quiet, construction market-focused electric motor instead of a diesel engine. The electric model is 100 percent emissions-free and ultra-quiet, making it ideal for applications that have grid power available or are already utilizing a portable generator. Both power and cooling systems are controlled by a state-of-the-art liquid-cooled, variable-frequency drive system that provides unlimited control and exceptional efficiency. The HP750e is a rugged portable compressor package fit for any construction application and provides a reliable and durable solution to Tier 4i packaging and technology.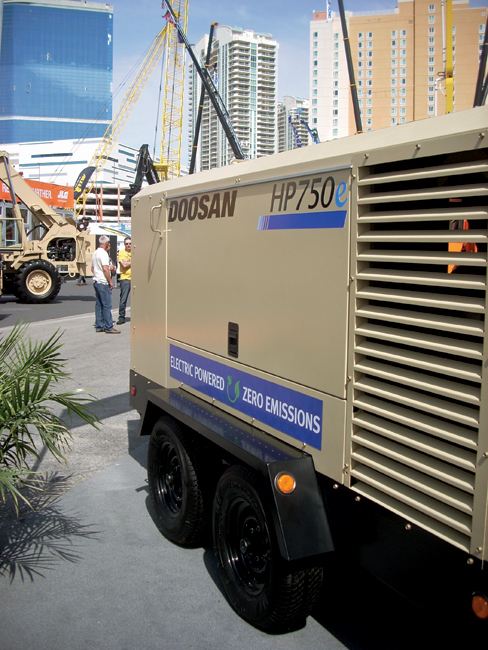 Hydrogen Light
Multiquip Introduces Industry's First Hydrogen Fuel Cell Powered Light Tower
Turning on the lights has never had such a green hue on a construction site before. Multiquip introduced the first hydrogen fuel cell powered light tower at the World of Concrete in early 2011, part of a planned series of hydrogen fuel cell powered products. Innovative by design, the light tower is environmentally friendly, fuel efficient, virtually pollution-free, allowing it to be operated indoors and can be operated for up to 68 hours at a noise level of 43 decibels at 23 ft. The light tower uses innovative plasma light technology, which is filament-free, producing a clean, natural light. The plasma light bulb produces 22,000 lumens with extremely high efficiency, consuming only 255 watts with a life expectancy of up to 50,000 hours. "The implications of the product's technology beyond lighting are tremendous. There is very low maintenance, and it is user friendly, using an automotive-style fuel nozzle," said Torsten Erbel, vice president of product management, engineering and customer support for Multiquip.
Efficient Power
Save Fuel and Emissions with Miller's Truck-Integrated Compressor/Generator
Miller Electric is saving crews money and needless emissions when running a truck-mounted compressor and generator. The EnPak Air Power 40 is a truck-integrated, engine-driven air compressor and generator that eliminates the need for hydraulically driven standalone or under-hood compressors, and integrates seamlessly into a truck's electrical and fuel systems. This allows field service personnel to run air and power tools off one unit and with the truck turned off. It lowers fuel costs up to 30 percent, reduces truck engine hours up to 60 percent, lowers truck noise and reduces exhaust fumes in the work area. EnPak Air Power 40 is designed for service truck operators who don't need the hydraulic functions first introduced in the EnPak Mechanic Series. This makes it more accessible for service trucks that aren't equipped with hydraulic cranes, but still require the use of power tools such as impact wrenches, jacks, grinders and welding and cutting equipment.
Earth Eaters
Ditch Witch DuraTeeth Represent New Standards in Durable Digging
The Ditch Witch organization isn't afraid to show off its new teeth. 2011 saw the launch of the company's longest-lasting digging teeth yet: DuraTooth and DuraTooth C2X. Since introducing the world's first compact trencher more than 60 years ago, the new DuraTooth and DuraTooth C2X represent one of the company's most innovative and durable cupped digging teeth to date. The DuraTooth has up to 35 percent more tungsten carbide — on the surface, in the base metal and in the weld — than any competitors' standard cupped tooth (says the company). Tungsten carbide protects the cutting edge, where the greatest impact from the soil occurs, to ensure greater durability and performance. The Ditch Witch organization's premium cupped digging tooth, the DuraTooth C2X, features tungsten carbide on the front, back and cutting edge. In field tests, the DuraTooth C2X lasted twice as long as other digging teeth in various soil conditions.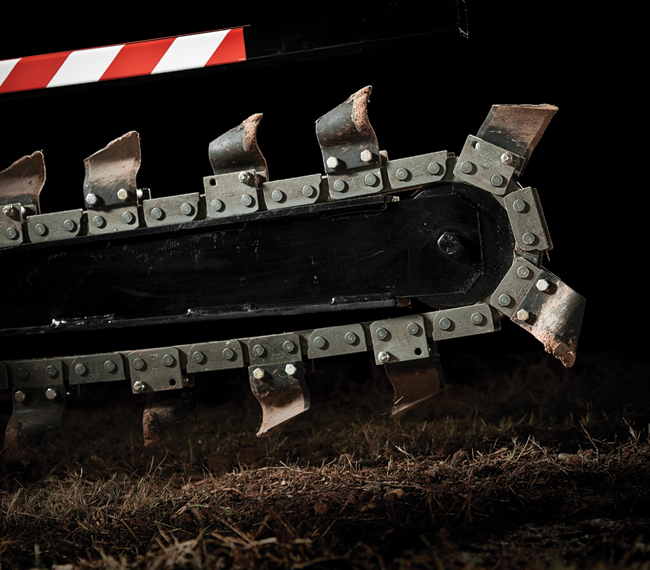 Safer Operations
Griffin Dewatering Saves Time and Promotes Safety with Wellpoint Pipe Puller
Sometimes the best solutions are the simplest. Just ask Griffin Dewatering, which has been providing innovative and simplified solutions since it was founded in the Bronx Borough of New York City in 1934 by the Griffin family. At its CONEXPO-CON/AGG booth outdoors, the company launched its Wellpoint Pipe Puller, which is one of the smartest ideas we've see in a while for dewatering applications. It's a safety breakthrough as well as an ideal time-saving part in the dewatering set up over the conventional methods. The Wellpoint Pipe Puller grabs the inside of the pipe wall below the threaded section of pipe or the joint of PVC pipe, making the removal of the installed wellpoint a quick, simple and safe job. A quick upward thrust releases the puller for the next wellpoint. Griffin Dewatering's extensive equipment array and innovative methods allows it to offer some the best solutions in the utility contractor's portfolio.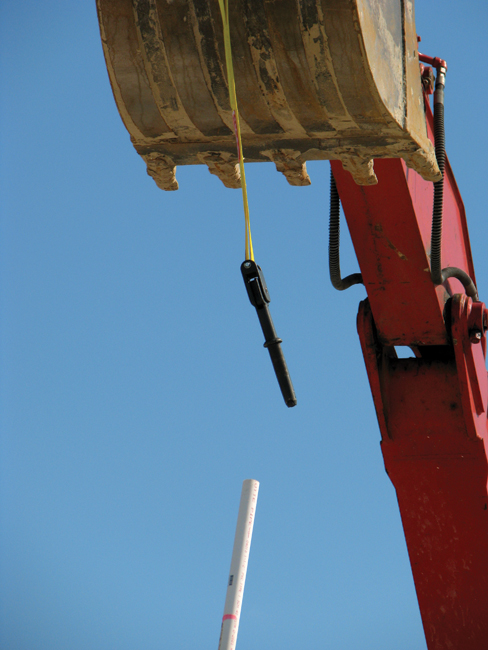 Tags:
backhoes
,
Caterpillar
,
Compressors
,
Gehl
,
JCB
,
Volvo