Contractors are ramblers. Every day they saddle up, secure their iron and roll to the next jobsite. Each new morning brings another mission, which means pros need a reliable rig to travel from point A to point B. They also need a comfortable and utilitarian chariot, so they can concentrate on the job at hand and not the transportation to and from.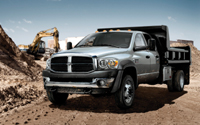 Trucking crews, hauling equipment and overall rapid transit is just another part of the job that needs to be done right. Finding the perfect work wagon is an essential part of building that kind of ground support for construction, landscape and rental crews who work on the road each and every day.
To ensure our nomadic readership stays informed about the latest in commercial trucking, the rig wranglers at Compact Equipment have created the definitive work wagon journal. Designed as a practical and convenient ledger to stick in your glove box, this journal has documented expert info on everything from truck engines and PTOs to market analysis and industry categorization. Keep this reference close and the next time you consider buying a new work truck, you'll have a handy field guide to navigate your next big purchase.  
Keith Gribbins is managing editor of Compact Equipment.     
Truck Market 2008
NTEA's 2008 Business and Market Planning Summit Offers Future Industry Insight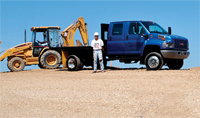 When it comes to covering the big leagues of commercial trucks in North America, the National Truck Equipment Association (NTEA) is the pre-eminent organization for the majors. Established in 1964, the NTEA currently represents more than 1,700 companies that manufacture, distribute, install, buy, sell and repair commercial trucks, truck bodies, truck equipment, trailers and accessories.
The NTEA, in cooperation with co-sponsor the National Trailer Dealers Association, hosted the 2008 Business and Market Planning Summit late last year. The unique event brought together sales, marketing and planning professionals from the work truck and trailer industry to provide them with useful business planning tools and resources.
The first day of the Summit featured a special session on the core elements of business and market plan development, providing insights into the planning process critical to supporting attendees' strategic objectives. The second day brought together five top economists from several market segments, providing participants with industry projections and outlooks.
Truck & Trailer Industry Forecast
According to Martin Labbe, president and CEO of Martin Labbe Associates LLC (Ormond Beach, Fla.), the Class 8 market continues to show instability and Classes 6-7 were weakened due to housing, but state and local should pick up the slack in 2008. Classes 3-5 jumped due to reclassification. Labbe also gave information on future use changes, user characteristics and population impact (first owner and primary second owner) for Classes 3-8.
Additionally, Labbe addressed reasons why ethanol has been considered a major opportunity and reviewed competing fuel alternatives, including electric hybrids, hydrogen, diesel and bio-diesel.
According to Eli Lustgarten, senior vice president of Longbow Securities (Cleveland) and president of ESL Consultants Inc. (St. Louis), recent economic data is sending mixed messages, but prospects are solid. Lustgarten predicted that economic growth should be better from the second half of 2007 into 2008. In general, he said the U.S. economy's industrial sector is regaining momentum after a slow start for the year and that a two-tier recovery is on track.
"We do not expect much more than stabilization for the truck sector, construction equipment with residential markets at best stabilizing," he said. "Most other industrial sectors showed modest improvements as the second half of 2007 unfolded, with the real strength in the industrial economy still outside the United States."
Lustgarten also reported the following: 1) Farm equipment demand should finally improve, with ethanol demand remaining a key driver of growth; 2) projected 2008 recovery of Class 8 trucks may be more muted (250,000-plus units); non-residential construction was strong in 2007 but could slow in 2008; and the current housing outlook is still weak, but will stabilize in 2008.
Steve Latin-Kasper, market data and research director for the NTEA (Farmington Hills, Mich.), provided a summary of the work truck and trailer industry's future economic situation. On a positive note, he forecasted the following: moderate interest rates and core inflation; low unemployment; and increased trade and state and local revenues.
At the other end of the spectrum, Latin-Kasper pointed out some barriers to growth, including: federal budget deficits, high energy and food inflation, low productivity growth and capital expenditures.
For more information, visit the National Truck Equipment Association at www.NTEA.com.
The Whole Kit and Caboodle
Beds, Transmissions, Engines, Cabs, Axles, Oh My…
By Keith Gribbins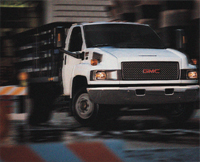 When meditating on the market of medium-duty chore trucks, you're going to want to consider your many options available on specific brands, models and sizes. From spacious cab environments to turbocharged diesel engines, medium-duty commercial trucks can be outfitted for extreme utility — even before selecting your final brand or body.
First off, pick a big enough bed size to fit your body needs, choosing from 8-, 10-, 12-, 14-, 16-, 18-ft chassis categories. Select your ultimate cab environment: a regular cab (one bench seat or two bucket seats with some storage); extended cab (both bench seating in the front and back, but the back seating is small and meant for storage and short rides); or crew cab (a truck that sports a full second row of seating with four swing-out doors).
Transmission options will range from five- to 13-speed manuals to automatic four-, five- and six-speed units (with common OEMs like Allison and Fuller). Both gas and engine choices abound as well, with brand names like Vortec, International, Duramax, Caterpillar, Cummins and HEMI. Sometimes people will select the brand of chassis by the manufacturer, but also because of the motor that's inside the truck. If they're a fan of a Duramax diesel, they're going to get that in a General Motors truck. If they want a Cummins diesel, they can get that in a Dodge. It just depends on their wants.
Typically, a gas engine customer is one that doesn't drive high mileage. His thought is he's not going to keep that truck for 100,000s of miles. A diesel guy is thinking better fuel economy, which is typical of a diesel. He's thinking long mileage. He's going to keep the truck forever and he's going to pay that premium price for a diesel engine. And today the diesel pricing is $5,000 to $6,000 extra.
Along with power plants, be sure to chew over both front and rear axle capacities and ratios. Front axle capacities tend to range from 6,000 to 16,000 lbs, depending on class and size of your medium-duty truck, while rear axle capacities run from about 12,000 to 45,000 lbs. The gross axle weight rating is the load rating of what the axles can safely support to meet the truck's maximum gross vehicle weight rating. Determine axle capacities and payload and bed capacities to upfit properly.
The bed capacity is determined on the equipment or equipment configuration and weight needed to be hauled. A contractor should explain their needs to the dealer or sales professional, who can then recommend a body size or type. The contractor may also work directly with a body company, that can also recommend the correct size body and type.
Gear ratios are also important. This is a specification that tracks the turning of the drive shaft, rear axle and wheels on your truck. It's a number that can range from odd descriptors like 3:42 to 7:17. If your truck has a 3:42 axle ratio that means your drive shaft will turn 3.42 times in order to turn the rear wheels once. Why does this matter? A lower axle ratio improves on gas economy, while a higher ratio will give better torque and pulling power under heavier loads.  
Tires, fuel tanks, brakes, two- or four-wheel drive, suspensions and a virtual cornucopia of interior amenities
are also available to buyers who plan on outfitting their chassis cab truck to a T.
We encourage customers to talk with their dealer when making any decision. The dealer will be able to help them.
Keith Gribbins is managing editor of Compact Equipment.
Mobile Offices
Cab and Creature Comforts for Your Roving Band of Contractors
By Brad Pugh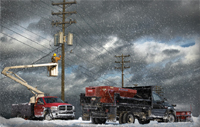 Your chassis cab is your rolling work station. Whether you are a small business owner or an employee with a larger company, you probably spend most of your day working out of your truck. When it comes to designing and outfitting that mobile office, truck manufacturers offer you many options ranging from a "cubicle" with vinyl floors and manual locks and windows all the way to the "corner office" with heated leather seats, dual zone temperature controls and navigation radio. It's also important to note that your truck is a major source of advertisement for your company and you can equip it to promote the exact image you desire.
It's fun to look back 10 or 15 years ago and reflect on what we considered luxuries in a chassis cab: power windows/locks, remote keyless entry, cup holders and even power steering. Yesterday's truck was primarily designed to move loads and work hard — good looks and comfort took a backseat. As manufacturers we saw an opportunity to move car and light truck creature comforts into medium-duty trucks and thus yesterday's luxuries became today's expectations. Additionally, manufacturers use computer modeling and testing to greatly improve the ride, handling, cab isolation and noise levels compared to previous generation trucks.
When ordering a truck, you must consider the use and then decide how to appoint the interior.  Many manufacturers will have choices like three trim levels (good, better and best) and many additional options to customize your work wagon. Let's focus on the major areas of a cab — seats, storage, infotainment and convenience items.
When choosing seats, you can pick easy-to-clean vinyl, comfortable cloth with YES Essential stain resistant fabric or the luxurious heated leather seats. For comfort, Dodge seats are 40/20/40 split to allow individual controls.
To help you manage your business, the arm rest opens to reveal a power outlet and laptop storage.  Some backseats fold up and offer fold-flat load floors. Regular cabs include storage bins behind the front seat. Doors now include huge pockets for tools and yes, there are oversize cup holders for your day-long, 7-11, giant guzzler.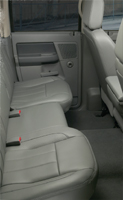 Infotainment is a fancy way to describe the extra radio-based features like MP3 player connections, steering wheel radio controls, navigation systems, satellite radio and even the ability to talk on your cell phone through a microphone in your mirror and hear it on your speakers. Finally, customers can select convenience items like electric shift T-cases, power rear sliding windows, adjustable pedals, vehicle information centers and remote start.
Manufacturers are offering great interior features today and we're always working toward the next level of comfort and convenience. While I can't share specific future product information, I can tell you that we're looking to provide even more seating and storage flexibility, to include additional power sources for your mobile office equipment and to bring you smarter vehicles to keep you connected with the rest of your company. Our goal as truck makers is to make you as comfortable as possible while you're out there working hard.
Brad Pugh is a Ram Chassis Cab product planning manager (Chrysler LLC), Auburn Hills, Mich.
Medium-Duty Megacorp
GM and Navistar Reach Tentative Agreement on Medium-Duty Truck Business
Compiled by CE Staff
General Motors Corp. (GM) claims to be the world's largest automaker, but when it comes to making commercial trucks the company is sending its business elsewhere. In late December, GM announced that it and Navistar International Corp., the parent company of International Truck and Engine Corp., had entered into a non-binding memorandum of understanding under which Navistar would purchase certain assets, intellectual property and distribution rights for GM's medium-duty truck business.
As proposed, Navistar would acquire GM's medium-duty truck business, which includes assets and intellectual property rights to manufacture GMC and Chevrolet brand vehicles in the Class 4 to 8 gross vehicle weight range. It also includes purchase of the related service parts business. Navistar would sell a competitive line of Chevrolet and GMC vehicles and service parts through GM's proprietary dealer network in the United States and Canada.  
"Navistar's expertise in building International brand commercial trucks and its track record in the medium-duty segment makes them an excellent choice to acquire and continue growing the business," said Troy Clarke, president of GM North America. "We intend to work closely with Navistar to make this transition seamless to our dealers and customers."
The agreement is another step in GM's plan to focus on designing, manufacturing and selling cars and light trucks globally. The deal would leverage Navistar's strengths in commercial trucks and engines and advance its strategy to build scale and reduce costs.
"This is another example of how we're strategically growing our business for trucks, engines and parts, building scale and reducing costs," said Daniel C. Ustian, chairman, president and CEO of Navistar International Corp. "We are proud to incorporate the GM truck brands into our portfolio and will utilize the scale to build on the success of both the International and GM product lines and their respective distribution networks."
Navistar would add the GMC TopKick and Chevrolet Kodiak truck brands to its growing portfolio of brands, which currently includes International brand trucks and tractors, IC brand buses, Workhorse brand chassis for motor homes and step vans and MaxxForce brand engines.  
When a deal is definitively concluded, production of the vehicles would move from GM's plant in Flint, Mich., to a Navistar facility to be named. GM would retain ownership of its Flint plant and continue to build other products at the facility.
GM will continue its medium-duty truck relationship with Isuzu to market W-Series trucks through GM's medium-duty dealer network. The deal is expected to close in 2008 subject to completion of satisfactory due diligence, the negotiation of a definitive purchase agreement, customary regulatory clearance and board approval. Upon closing, transition of the business could take several months to conclude.
Power Tools
PTO Systems Turn Work Trucks into Mobile Power Units
By Mike Knaack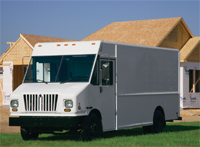 Depending on the work you do, it's helpful to think of your truck as more than a way to get you and your stuff to and from the jobsite. It's also a power source, with an engine that can run many tools and pieces of equipment at a worksite — anything from a hedge trimmer to a jackhammer to a cherry picker.
This is done through a Power Take Off or PTO system. A common PTO system principally consists of a gearbox attached to the transmission that powers an auxiliary drive shaft at different gear ratios to run either a generator, air compressor or hydraulic pump — or, nowadays, all three or any combination thereof. A simple switch turns it on when the truck is either in park or neutral. A speed control component interfaces with the truck's Electronic Control Module to rev up the rpms needed for the power demand. And although such systems can be used with either diesel or gas engines, diesel engines are usually preferred because of their greater idling efficiency.
For electrical power, a generator converts the PTO's input speed into a 120/240-volt AC current. A typical configuration also provides a choice of peak capacities, such as 7.2 or 11.6 kW, depending on the power needed.
For pneumatic power, a rotary screw compressor is most commonly used in what's called an "underdeck" application that's integrated into the chassis of the truck. As with electric, there are different power capacities to choose from, depending on the amount of power you need. Capacities can range from 30 cfm for smaller hand tools to 950 cfm for a heavy-duty piercing apparatus. However, 125 to 185 cfm would be a typical range for various sized jackhammers and other tools.
For hydraulic power, the PTO drives a hydraulic pump that can operate a crane or other hydraulic equipment. Multiple hydraulic applications often use an "abovedeck" (above the chassis frame) configuration as well.
Most recently, PTO technology has been challenged by new engine emission requirements that, among other things, prohibit any alteration of the exhaust system.  
"It used to be that trucks could have two PTOs," says Jim Perschke,  national sales manager for Vanair, the world's largest manufacturer of vehicle-mounted air compressors. "But today's exhaust systems now limit the space available to plug a PTO gearbox into the transmission, forcing companies to do more with one PTO."
The latest example of this is Vanair's V3 Multi-Drive Compressor/Generator/Hydraulic System. One flip of the switch indeed does it all.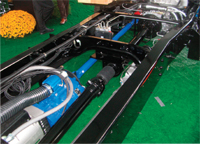 PTO technology has also developed compact and adaptable two-power systems that can more efficiently use the engine power in customized settings. For example, walk-in truck manufacturers
like Workhorse Custom Chassis have included Vanair's patented Genair system with its offerings. This system combines electric and air power in a streamlined package with nine different options. The options allow you to spec higher or lower power capacities for either kind of power, either in combination or separately.
This gives you just the power you need, with the system integrated right into the truck chassis.  There's no generator to gas up, maintain and take up space on the truck and no compressor to tow behind. Just put the vehicle in park or neutral, turn on the switch and plug in your tool. You're good to go.
And there's one important point to remember: You want to decide on the system and capacity you need before you buy the truck — so the truck is spec'd with a PTO provision. PTOs can be added to existing trucks, but it basically involves disassembling and reassembling the transmission for an extra $2,000.
Mike Knaack is a technical writer for TaigMarks Inc., Elkhart, Ind.
Pickups vs. Chassis
Choose the Best Style of Truck for Your Crews and Applications
By Jeff Hallam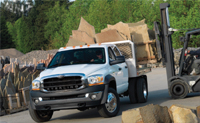 The pickup is a familiar sight, both on city streets and on worksites. While the average person on the street might not be able to pick out a chassis cab on first glance, experienced construction professionals know that a chassis cab can be an ideal choice for many of the same jobs as a pickup.
Pickups are great for personal use, but for commercial use, they're limited by the size of the pickup box and by what you can tow. Plus, you can't put on a body specific to your job. For things like camper and hobby class racecar hauling, pickup trucks are a great option.
However, chassis cab vehicles can be much more versatile. With chassis cabs, you have the option of working with the manufacturer to build the truck you need for your application, rather than just picking one off the lot. Chassis cabs, like the Sterling Bullet and low cab-overs like the Sterling 360, are spec'd with powertrains and other components that have been developed specifically for tough commercial use.
Plus, the life expectancy for chassis cabs is greater than pickups, especially when being used in commercial applications. Chassis cabs are built to handle the rigors of going to work all day, every day.  
Ultimately, any buyer should consult their local dealer before deciding which truck is right for them. Dealers are trained to build a truck specific to a customer's application, so they can help determine whether you need a pickup or a chassis cab for your job.
Jeff Hallam is a product manager for Sterling Truck Corp., Redford, Mich.
The Heart of It All
Gas Vs. Diesel Engines – Choose the Perfect Power Plant for Your Chore Truck
By John Rother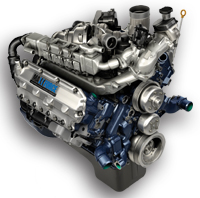 When it comes to buying a work truck, no option may be more important to consider than what type of engine to choose. The following are a few key things to consider when deciding between a gasoline and diesel engine.
Power and Torque
Diesel engines have a higher compression ratio than gasoline engines (diesel engines compress at a ratio of 16:1 to as high as 20:1, while gas engines compress at a ratio of 8:1 to 12:1), which allows them to create more torque and power at lower rpms as well as better efficiency. What does that mean to you? It means you'll be able to pull 30 to 50 percent heavier payloads to and from the jobsite, as well as up steep grades, with ease.
Gasoline engines, on the other hand, offer more horsepower due to their inherent ability to rev faster and achieve higher rpms. This means faster acceleration, which is good for light-duty and on-road applications, but with the loss of the raw pulling ability a diesel engine provides.  
Fuel Efficiency
By design, diesel engines are more efficient, using 25 to 40 percent less fuel per mile, thanks to the efficiency benefits from direct injection of fuel into the cylinders. Additional fuel economy gains come from the higher ratio at which the fuel and air mixture is compressed — especially with ever-advancing engine technologies — like the Piezo-actuated fuel injectors found in International Truck and Engine's MaxxForce 7 V8 turbo diesel.
"The Piezo-actuated fuel injector allows for precise control of the injection event," says Helmut Endres, vice president of engineering, Engine Group, International Truck and Engine Corp. "The capabilities of these actuators, the fastest in the industry, combined with the ingenuity of International's calibrators result in a system that delivers five shots of fuel through the combustion cycle. This allows the fuel to burn more completely and efficiently resulting in greater fuel economy, lower noise, low emissions and aftertreatment control without external dosing."
Additionally, on average, one gallon of diesel fuel contains approximately 147,000 BTU, while one gallon of gasoline contains 125,000 BTU, meaning you'll get more energy and mileage from one gallon of diesel than one gallon of gas.
Reliability and Durability
Because of the high compression ratio and explosive ignition, a diesel engine's components must be built to withstand higher stress. Made from grey iron, these much stronger engine components, which include the cylinder block and head, connecting rods, pistons and crankshaft, provide increased reliability, durability and engine life. However, these benefits come with an increase in engine weight, which can be up to several hundred pounds more than a comparable gas engine.
So, with these factors and the needs of your business in mind, selecting the right engine for your work truck should be a lot easier.
John Rother is a technical writer with Laughlin/Constable, Milwaukee.
Techy Truck Talk
Five New Technologies that WIll Impact eh Truck Equipment Industry
By Bob Raybuck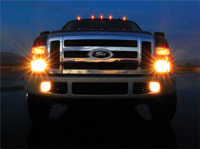 Over the years, the truck equipment industry has seen continuing technological improvements to vehicles every day. Current and upcoming emissions regulations are resulting in changes to the ways equipment is installed on a chassis. Technology like electronic roll stability that had been primarily limited to passenger vehicles is expanding to vocational vehicles. But there's so much more.
Below are five major technology trends that are changing the way commercial and consumer trucks are progressing.
1. Emission Regulations — You can no longer re-route a diesel exhaust system to accommodate the installation of a piece of equipment. Now, you have  to make sure the correct exhaust configuration for the body and equipment being installed has been ordered with the truck, and if any minor modification is required, such as moving the exhaust tip from under the body, you must check with the chassis manufacturer's exhaust modification limitations to ensure that the function of the diesel particulate filter is not affected.
2. Tire Pressure Monitoring — There are many other technological changes that are testing the truck equipment industry's skills and ingenuity. For example, tire pressure monitoring systems on vehicles with a gross vehicle weight rating (GVWR) of 10,000 lbs and less monitor tire pressure in each wheel through sensors in the rims. Changing tire size and rims now requires a new sensor in the rim compatible with the OEM sensing system, which often requires electronic programming with a specialized tool.
3. Roll Stability — The use of Electronic Roll Stability systems currently in numerous passenger vans and sport utility vehicles is expanding into many vehicles with GVWRs both greater and less than 10,000 lbs. These systems work in conjunction with the vehicle's anti-lock braking, traction control and engine control systems. Modifications to the vehicle, including changing tire sizes, body stiffness or vehicle center of gravity, can affect how the stability system operates and requires specific planning and information from the OEM to ensure correct operation after vehicle modification.
4. Electronic Systems — The industry has also seen increased use of electronic systems in commercial trucks. Chassis manufacturers use of multiplexing systems has grown from transparent use in the vehicle dashboard and engine control systems to upfitter use of multiplex wiring systems to control added equipment like auxiliary lighting, high-idle systems, remote throttle, remote start/stop, etc. Vehicles are becoming more electronically controlled with better diagnostic and troubleshooting capabilities for the chassis and upfitted equipment. The skill sets required by truck equipment technicians is changing from primarily mechanical (welding, fabricating and assembly) to mechanical and electronic system knowledge. Vehicle maintenance needs can even be transmitted to a home office while the vehicle is still on the road.
5. Hybrids, Alternative Fuels — Even the engine systems that propel the vehicle and provide auxiliary power are changing with alternative fuel and hybrid trucks becoming more common as ways to decrease fuel usage, increase productivity and lessen the vehicle's environmental impact. Bio-diesel, E85, CNG and propane-fueled vehicles are readily available to decrease oil usage.
These advancements require close involvement among OEMs, truck dealers, body and equipment manufacturers and upfitters to provide the proper chassis for their mutual customers' needs. For more information, visit the National Truck Equipment Association at www.NTEA.com.
Bob Raybuck is the director of technical services at the National Truck Equipment Association, Farmington Hills, Mich.
Tags:
Caterpillar
,
Compressors