The U.S. military harbors a secret weapon in its war against terrorism. Unlike tanks, guns or drones, it carries no ammunition. Yet this piece of equipment is just as effective as troops mobilize and prepare to engage the enemy, providing much-needed ground support by loading and unloading supplies wherever they are needed. That's the mission of telehandlers, which support our armed forces in conflicts all around the globe.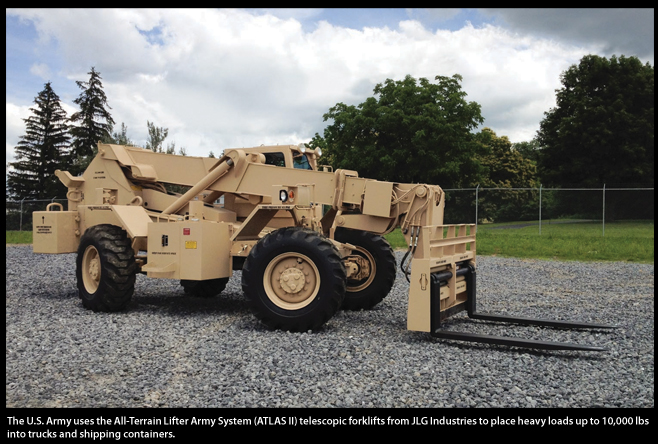 Mobility, including the ability to quickly move materials and supplies from point A to point B, is critical to the success of the U.S. military. Since 2004, JLG Industries has contributed to that high-lifting, mobile success story, supplying and rebuilding material handling equipment that operates in both domestic and foreign locations. Eight years ago, JLG entered into an exclusive contract with the U.S. Army to extend the life of material handling equipment operating in the United States. Through the Continental United States (CONUS) Reset Program, the manufacturer of aerial work platforms and telescopic material handlers rebuilds machines to a uniform standard set by the Army.
Units arrive at the JLG Military Support Center in McConnellsburg, Pa., where a core list of items specified by the government, such as the transmission, engines and axles, are replaced or rebuilt. The JLG Military Support Center differs from other JLG Support Centers in a number of ways. In addition to being dedicated solely to military equipment, the processes and procedures followed at the center are negotiated with the U.S. Army Tank Automotive Command (TACOM) out of Warren, Mich.
Training requirements for technicians are also specified by the Army and differ from those JLG prescribes for the commercial side of its business. Two representatives from the Defense Contract Management Agency (DCMA) are onsite to inspect products and approve shipments. DCMA is the Department of Defense (DoD) component that works directly with defense suppliers to help ensure that DoD and federal and allied government supplies and services are delivered on time, at projected cost and meet all performance requirements.
JLG extended its rebuild services to equipment operating abroad in 2007 (when it entered into a second, very similar contract with the U.S. Army). The Outside the Continental United States (OCONUS) Theater Provided Equipment Reset (TPER) Program originally provided support to the Iraq conflict, but transitioned to the Afghanistan war in 2010, working out of locations in Bagram and Kandahar.
OCONUS uses the JLG Military Support Center to provide the same services CONUS delivers, but for equipment servicing U.S. troops in Afghanistan. In both cases, following all re-work, pre-ship quality testing and inspections and a new paint job, reset machines leave the facility — typically in 10 to 11 days — in full mission-capable condition. To date, nearly 1,500 machines have been refurbished through the CONUS Reset Program. Another 400 sent through OCONUS TPER have been shipped to Afghanistan and other locations around the world.
The rebuilt machines include the JLG Atlas and Atlas II telehandlers. Manufactured exclusively for the U.S. military, these units are designed to lift loads of up to 10,000 lbs as high as 17 ft, providing military operators with the ability to reach into trucks or shipping containers, lift loads over obstacles and pick up loads from both above and below grade. As a result, telehandlers operate in shipyards, airfields, train stations, truck depots and military bases, moving pallets of water, food, medical supplies, clothing and everything that is essential to support the U.S. military on the ground. The units have also been deployed in construction sites, helping to build military bases throughout Afghanistan.
Compact equipment and JLG machines play a vital role supporting the U.S. military on the ground, at home and abroad. As long as the need exists to move materials around the world, small, versatile telehandlers will be in demand, not only to deploy people and products where they need to be, but also to unload them at their final destination.
Denny Buterbaugh is the vice president of government products and programs at JLG Industries Inc., based in McConnellsburg, Pa.
Tags:
JLG
,
Military
,
Telehandlers