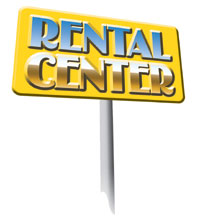 Public and private utilities, landscape crews, general contractors and rental houses put backhoe loaders to good use, particularly when it comes to installing or repairing utilities, moving and loading products at nurseries, tackling residential reconstruction and everything in between. The duality of a loader backhoe involves dig and load operations — the two irreducible elements on most construction sites. Fitted with an iron-clad digging arm on the back and steel loader bucket on the front, a backhoe loader can excavate and move product and spoils with ease and efficiency.
Having the right machine can save a contractor both time and money. Here are three tips to make renting a backhoe loader easy:
Tip #1: Know the Basics
Before heading to the rental shop to rent a backhoe loader, there are some basic details a contractor needs to know.
"It is important that you understand what you want the backhoe loader to do," says Tom Reith, Terex Construction product manager. "Your rental dealer needs to know how deep you want to dig and what materials you will be digging in. The bottom line is how much material needs to be moved and matching that to a backhoe loader that can do the job."
A rental dealer will take into account more than just the machine's maximum dig depth to make a recommendation. Engine horsepower, machine weight, dig force and loader lift force all play a significant role in the decision. The machine's horsepower affects how quickly the machine can work, but a backhoe loader needs to have the right power-to-weight ratio to be productive.
"You are looking for performance from a backhoe loader," says Reith. "The ability to lift and move material is important. Your rental dealer needs to match the right machine and attachments with your job."
Also, the rental dealer will consider the machine's capabilities, such as how well the backhoe loader can push into a pile of material, as well as whether the customer will need a two- or four-wheel drive unit. According to Reith, four-wheel drive is a very valuable feature because it provides access to work areas that a two-wheel drive machine would have greater difficulty negotiating. It also improves loader performance by providing additional tractive effort into the pile.
Tip #2: Ask Lots of Questions
It is important for a contractor to understand the specifics about the backhoe loader, as well as the agreement details before signing a rental contract. Reith encourages the contractor to ask questions and to shop around before making any final decisions.
The first question to ask: How old is the machine?
"You want to rent the most current machine available because it will have the latest technology and productivity enhancements. A machine that is less than three years old is ideal," says Reith. "Newer backhoe loaders will have pilot-operated controls rather than a standard wobble stick. They will also have other features that add convenience and comfort for the operator such as larger cabs, suspension seats and a quick-coupler system."
Another question to ask: Who is responsible for daily machine maintenance?
"The machine you rent should be rental ready," says Reith. "That means your dealer should have performed all the necessary maintenance tasks and tune-ups before it is delivered to your jobsite. Rental dealers keep inspection reports on every unit; it is within your rights as a renter to ask for a copy of those reports to make sure you are getting a machine that is fully functional.
"That said, you are responsible for all of the daily maintenance tasks listed in the manufacturer's owners' manual," says Reith. "This includes checking the backhoe loader's fluid levels — fuel, oil and antifreeze — as well as greasing the machine every morning before work starts. At the end of the day, you need to wash down the machine, disconnect the battery switch, lock the control panels and lock the cab doors."
Be sure to ask: What happens if mechanical or maintenance problems occur while the backhoe loader is on the jobsite?
According to Reith, if this happens contractors should immediately call their rental dealer to come and inspect the machine.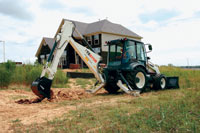 "Your rental dealer has a service team that will come out to assess the issue and, if possible, fix the machine in the field," says Reith. "If necessary, your dealer can pull the faulty unit and get another backhoe loader to your jobsite as soon as possible."
That brings up another question, says Reith. Who is responsible and liable for what happens to the machine during operation?
If it is normal wear and tear on the machine, says Reith, it is the rental houses' responsibility to assume the cost and service of any minor repairs. The renter becomes liable for those costs when the machine is being used outside the bounds of the owner's manual guidelines for safe operation. Before contractors are allowed to rent a backhoe loader, they must provide proof of liability insurance to their rental dealers to cover these types of incidents.
"Once you sign the rental agreement, the machine becomes your responsibility," says Reith.
A final question to ask your dealer: What attachments are available with the backhoe loader rental?
In addition to installing and repairing buried utility lines, contractors can use a backhoe loader to load and unload trucks, dig and compact trenches, break up concrete and dig postholes. According to Reith, backhoe loader manufacturers offer a variety of attachment options for backhoe loaders, including standard and multi-purpose buckets, high-capacity buckets, thumbs and hydraulic breakers, as well as forks, angle dozers, augers and compactors.
"Your rental dealer should counsel you about the different attachments available that would help complete the task at hand," says Reith. "For example, if you plan to use the machine for demolition, then renting a thumb attachment for the excavator end would be very helpful."
Tip #3: Maximize Your Investment
Rental rates for backhoe loaders vary depending on several factors, including the length of the rental contract, the age of the machine, the need for additional attachments, the area of the country and the time of year. According to Reith, a backhoe loader rental typically runs about $250 for a one-day rental, $1,400 for a week rental and $2,500 or more for a month rental.
"Rental contracts are always negotiable," says Reith. "You should negotiate your rate based on how much present and future business you plan to give to the rental dealer. Also, make sure you negotiate renting additional attachments into the rental rate."
According to Reith, it pays to shop around when looking for a backhoe loader. Larger rental dealers tend to have newer equipment fleets and more selection, but smaller rental houses may be able to offer a contractor a better rental rate and service plan. A contractor must decide what is most important to get the job done.
In addition to rental rates, contractors should negotiate the responsibility of conducting short- and long-term maintenance tasks with their rental dealers. Rental dealers and contractors should work together to develop a plan for routine maintenance checks at the 50-hour mark, the 100-hour mark, three- and six-month inspections, as well as annual checkups, if the rental contract is extended for that duration.
Reith also encourages contractors to take advantage of a rental dealer's operator and safety training. If operators are not familiar with a particular brand of backhoe loaders, or if the operators are new to running these types of machines, a rental dealer can provide valuable insight into the manufacturer's operating guidelines, as well as give a course in safe, effective operation. It is essential to the success of the project, as well as to maximize the money spent on the rental, that a contractor's operators know how to use a backhoe loader before work begins.
At the end of the day, what is most important for contractors to remember when renting a backhoe loader is to work closely with the rental dealer to set the right expectations for the rental and to guarantee that it will be a good return on the contractor's investment.
Amber Reed is a technical writer for Performance Marketing, based in West Des Moines, Iowa.
Building Rental Power
Caterpillar Discusses the Essentials of Finding a Rental Power Provider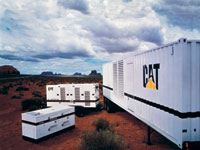 From clearing the land, to laying foundations and building structures, the level of power required can change dramatically over the course of the project. Meeting pre-determined deadlines often requires specialized power generation equipment. Any delays in progress can equate to substantial financial losses. By creating a relationship and plan with a rental power provider, you can ensure an adequate level of power is there when you need it.
When choosing a rental power service as part of an overall construction plan, it is of primary importance to establish the provider's credibility from both a service and an equipment standpoint, as the power system you rent is only as reliable as the supplier that backs it. Key indicators of a credible rental power provider include certification as an authorized sales and service representative of the products supplied, as well as use of genuine parts for the maintenance of those products. A rental power provider that is also part of a nationwide network can assist with larger-scale, multi-site power needs, offering a total rental power solution through a single source.
It is also important to evaluate the ability of the provider to deliver a complete, reliable system that can be tailored to your specific application requirements. This includes the ability of the rental provider to accurately specify the correct amount of power and the complete equipment needs. In addition, the evaluation process should include the rental power provider's ability to support the stages following equipment specification, from on-time delivery to setup and testing to on-site monitoring for optimal equipment functioning.
Identifying a rental power provider that can deliver the equipment you need when you need it is essential — especially in an emergency situation. A provider that offers 24/7 specification and delivery of rental power systems can ensure that operations are up and running as soon as possible. Depending on your construction project, items such as temperature control units, air compressors and fuel may also be necessary to meet your total rental needs.
—Information provided by Cat Rental Power.
Tags:
backhoes
,
Caterpillar
,
Compressors