Whether you are a landscaping professional, a weekend "do-it-yourselfer" or just someone who likes to dig holes, utility backhoes are well-suited for all of your tough digging needs. Utility backhoes can be used for a variety of applications, from digging holes and trenches for underground electrical wiring or plumbing to building shallow foundations for outdoor gardens or patios.
Utility backhoes are portable, flexible and strong, and even when attached to a compact tractor, are maneuverable and lightweight enough to allow you to confidently dig in tight quarters with minimum soil compaction. A sub-frame already connected to the utility backhoe makes attachment and removal from your compact tractor easy for one person. Lift arms attached to the backhoe help stabilize the attachment when in use. The quick-attach sub-frame stays on the tractor, while the backhoe can be attached or removed with ease in minutes.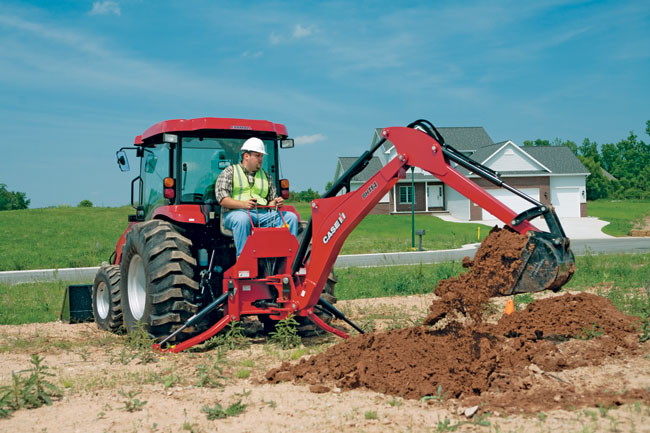 While a loader is a more common farm or commercial implement, it is no substitute for a utility backhoe. Many operators own a loader to haul hay, manure, dirt, snow and more. However, loaders are not ideal for digging. This digging tool has big capabilities, especially when it comes to unearthing and dumping dirt, smoothing out uneven terrain, creating trenches or even removing deep tree roots. The utility backhoe is available with a complete range of standard and heavy-duty excavating, grave and muck buckets to suit your digging needs.
When choosing the size of a utility backhoe for your compact tractor, the job you will use the backhoe for should be your primary consideration. Digging depth and reach are key factors to keep in mind when comparing utility backhoes. Utility backhoe digging depths can range from about 90 to 114 in. and offer a pivot swing ranging from 123 to 149 in. The scope of bucket rotation also adds another level of comparison. The ideal rotation for most utility backhoes is 180 degrees.
Controls for the utility backhoe are mounted in a low-profile console that provides a clear view of your digging project. A wobble stick, similar to a joystick, allows you to manipulate the controls with ease and precision. It also helps you control the boom, dipper, bucket and swing. Of all the different brands available, most are competitively priced and matched. For the price, this specialty tool will pay you back in dividends with its versatility and ability to help you get the job done.
It's important to compare gross horsepower, net horsepower and, most importantly, PTO horsepower. PTO horsepower and reserve engine torque are the two most significant specifications to consider because they most directly affect the capabilities of the tractor and the ease of operation. Also consider the hydraulic pump types, number of pumps and gallons-per-minute output. Most sub-compact tractors have a single hydraulic pump that requires higher engine revolutions per minute (RPM) during operation to perform hydraulic functions. This system is acceptable for a novice operator but not for the commercial operator.
A dual pump hydraulic system truly enhances the experience of the operator. Dual pumps are found on most compact tractors and larger TLB equipment and are now readily available on smaller sub-compacts. A dual hydraulic system allows the hydraulic attachments, loader and backhoe to function throughout all engine RPMs. This feature makes it easy for a novice operator to learn and allows the experienced operator to enjoy the performance of a big tractor in a small package.
Greg Lucey is the Case IH marketing manager for Farmall tractors, based in Racine, Wis.
Tags:
backhoes