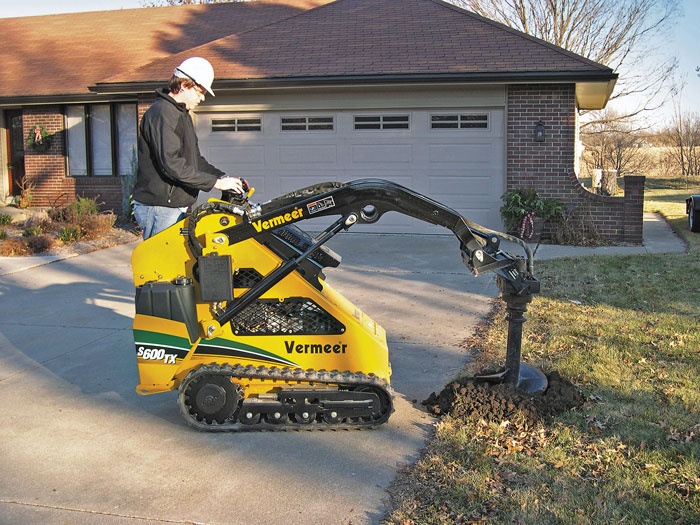 Compact tool carriers (also called compact utility loaders and mini skid steers) can handle a multitude of applications, from construction and demolition to landscaping and tree care. One compact tool carrier in your fleet can typically do the work of many if a contractor has an inventory of various attachments to enhance the machine's versatility and productivity.
"Most compact tool carriers today will have what you call a universal mounting plate that makes it easy to change attachments on the machine," says Jon Kuyers, global product manager for Vermeer. "This makes a compact tool carrier a valuable machine to have."
No matter the job, though, success of an application can depend on the attachment and how it is used. Along with matching the attachment to the application, it is also important to make sure you are performing routine maintenance on all the attachments in your fleet. To illustrate, we will highlight three types of attachments that are not only used for various jobs, but also have various moving parts.
Auger
An auger is used to dig holes, whether it's for installing fence posts, trees or a foundation. Depending on the requirements of the project, an auger can dig anywhere from 4 to 36 in. with various bit sizes available. Kuyers emphasizes that an important operational tip is to make sure the auger is completely vertical prior to engaging. That way you get a more accurate hole and minimal impact on the auger.
Maintenance will be defined by the type of auger you have — a dirt auger or a rock auger. A dirt auger bit will have excavator teeth on the leading edge of the flighting, which need replaced when they show measurable wear. A rock auger has rotary bits that will need to be replaced once they wear down too far. This requires daily visual inspections. Then, of course, it's important to make sure all pivot points are greased on a daily basis. Always refer to the manuals provided by the attachment's manufacturer for proper maintenance.
Tiller
Cultivators or tillers are another type of attachment that requires regular maintenance because of their many moving parts. Kuyers emphasizes the need for inspection of a tiller after each use. Inspection of the teeth is necessary to ensure they are replaced when they are too dull to adequately cut the ground. If this maintenance isn't performed and the tiller is constantly used with a dull cutter, it will cause stress to the attachment. Also, check for foreign objects that might get caught or wrapped around the shaft, which may cause subsequent damage to the bearings and seals on the attachment.
Open-and-Close Attachments
According to Kuyers, types of material-handling attachments can be grouped together based on the fact that they have similar parts to open and close during operation. A grapple bucket, 4-in-1 bucket, log grapple and brush grapple have a cylinder with pins that need to be maintained. After each use, these areas of the attachment need to be cleaned of debris and greased. These attachments don't require as much maintenance as others, outside of the necessary greasing because they don't have wear parts.
Kuyers encourages new operators to read the operator's manual and then practice operating a compact tool carrier with the attachment they are going to use. Getting the attachment level prior to engaging or moving material can be important to productivity and performance. Improper operation may lead to equipment damage or cause unnecessary turf repairs. With practice and routine maintenance, a compact tool carrier can do the work of many, with the right attachments.
Dawn Buzynski is a technical writer for Two Rivers Marketing, based in Des Moines, Iowa.