Deadlines don't conform to normal business hours. When a project needs done, you do work whenever you can be most productive. For many jobs, that means working at night, particularly if a busy highway or street work requires closing street lanes.
"The common concern night crews have to worry about is impaired drivers running into the jobsite," says Tom Reith, product manager for Terex Construction Americas. "Other issues include operators running into co-workers or possibly damaging property due to lack of visibility. Having the correct lighting for the site, including lights on the equipment, as well as the general lighting of the site, is a must."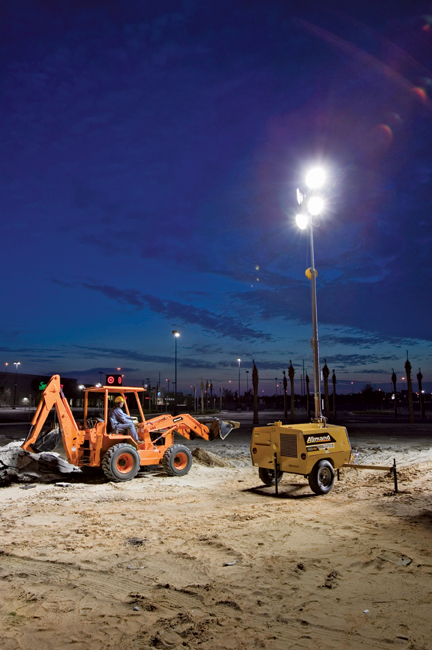 It does not require a great amount of research to select the right tower. The majority of light towers sold and rented today are basic models. A basic light tower provides four 1,000-watt metal halide lights fixed to a 30-ft telescoping mast that rotates 360 degrees and is powered by a 6-kW generator. Some manufacturers offer six and eight light packages. Ultimately, selection should be based on how much light is needed and for how long.
Offered by manufacturers such as Allmand Bros., Doosan Infracore Portable Power (formerly Ingersoll Rand), Terex, Wacker Neuson and Magnum, with a price ranging from $6,000 to $18,000, light towers provide versatility to a jobsite thanks to their portability, power output and plethora of model choices. They even come with unique options, such as auto start, that make operation a bit easier. If the tower will be towed and used on rugged sites, it's imperative to look for one that has a robust and stable design. Another factor in finding the right tower is the light output that's needed to illuminate a site. An adequate amount of light helps to ensure a safe and productive jobsite, so picking out a tower with proper illumination is extremely important. The amount of ground coverage that's lit by a tower is commonly measured in footcandles or half-footcandles.
The Illumination Engineering Society (IES) is the organization that sets the standards for determining safe and proper levels of illumination. The IES requires that a general construction site have at least 10 footcandles of illumination, while 1 to 5 footcandles are sufficient for a parking area. The majority of light towers are sold with metal halide bulbs that provides for high output, good color and efficient overall lighting. Another option that's available is a high-pressure sodium (HPS) bulb. These bulbs give off a softer orange color and carry a slightly higher price tag because the average life span is about twice as long as standard metal halide bulbs. For example, a metal halide bulb can last up to 12,000 hours while a HPS bulb can keep on glowing for around 24,000 hours.
Metal halide bulbs also provide around 110,000 initial lumens, whereas HPS bulbs emit 140,000. A typical light tower is equipped with four lights, each illuminating at an average of 0.5 footcandles and around two acres. If more than four lights are needed, some manufacturers offer six and eight light options.
Adding options to a light tower is another consideration to make when purchasing. Manufacturers offer numerous options on their equipment to increase productivity and safety. Some of the major options are usually additional power outputs, various tow hitch choices and manual and electric winches. An auto-start feature is also a popular option for light towers. This feature utilizes photo cell and/or timer technology to turn lights on at dark and off in the morning or at other times designated by owners.
When setting up your jobsite illumination, you need to have a detailed plan that includes a map of the jobsite. Setup is dependent on the kind of lighting available. You'll want to ask yourself: "What are my light sources?" And, "How much flexibility do I have in deploying them?" Excavated areas are the most crucial to illuminate for the safety of both the work crew and the mobile machinery on the jobsite, according to Rob Marringa, marketing manager for Case Construction Equipment. Working with a backhoe requires illuminating a radius of up to 50 ft around the machine to help ensure safe operations. In reduced or limited lighting, you will have to operate machinery at a much slower speed than normal to help ensure jobsite safety. Any loss of speed on the job has significant impact on productivity.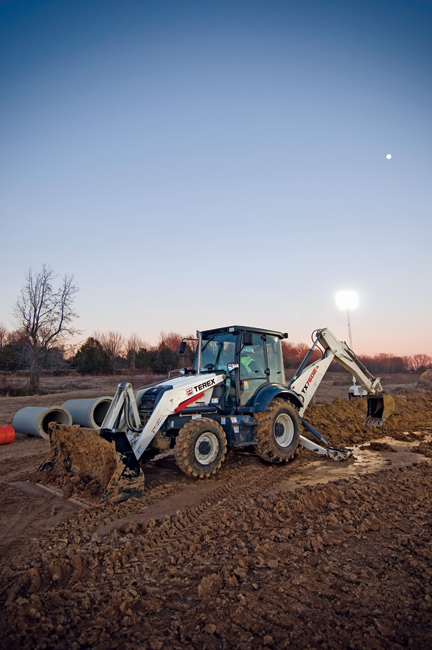 "Poor lighting really just slows down loading or excavating applications," says Reith. "Just like when you drive your car at night, you need to take extra time when operating a backhoe at night to make sure that you, the machine and the people around you are safe."
Night crews must also make sure they have the maximum available lighting installed on the equipment and reflective safety vests are a must. The most crucial eyes on the night jobsite are those of the spotters, who help direct the operator.
"The most crucial aspect of placing spotters is assuring they are visible to the machine operators and to each other," says Marringa. "Especially at night, it's important spotters keep out of the swing zone of the backhoe."
While most operators are experienced professionals who are aware of most potential safety issues on the jobsite, whether operating during the day or night, lighting the jobsite comes down to using common sense. Keep yourself and the people around you safe. With a dedicated plan, careful operation and a safety-minded crew, night work can proceed productively until the dawn.
Jason Morgan is a contributing editor to Compact Equipment, based in Peninsula, Ohio.
Buying Used Light Towers   
If a new light tower isn't in the cards for your business, purchasing used equipment is always an option. Used light tower prices can range from 30 to 70 percent of new machine prices, depending on the number of hours and condition of the machine.  Perhaps the most important factor when buying a used light tower is the machine's maintenance. When looking at a used piece of equipment, always be sure that it comes with accurate maintenance records. These records will allow you to see what work has been done to the machine and if there has been any neglect with routine maintenance checks.
When searching for a used light tower, it's important to check out its major components — like the engine and alternator — that come with higher price tags when repairing or replacing. The better condition they are in, the less money you'll spend down the road after the purchase. Make sure the engine is in good condition. It could cost more to install a new engine than it would to purchase a new light tower.
Checking the wiring, cables, winch and mast for any damage or major safety flaws is a must. Also ensure that the axles, tires and wheels of the tower are in good shape, as well as making sure there is a consistent voltage output of the generator. When work calls for your crew to stay late, a light tower will keep you productive and safe well into the night. By examining your needs and the different features and options that are out there, you can find the right light to suit any application.
Tags:
backhoes