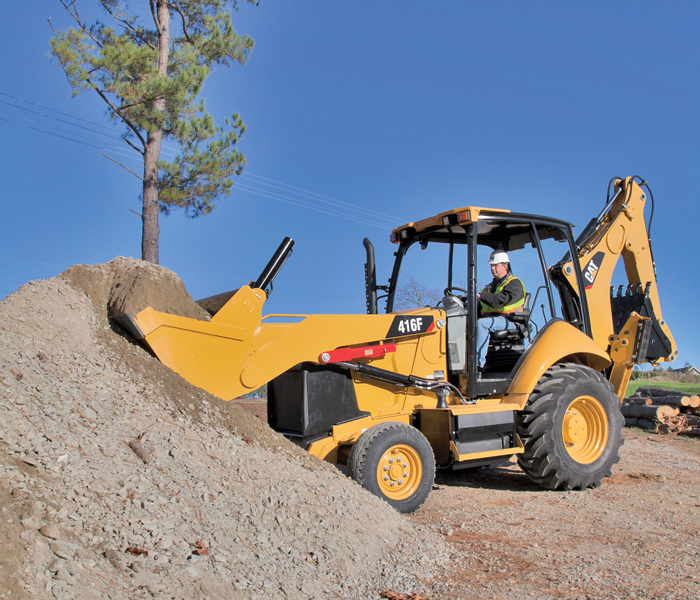 With buckets on both ends, a backhoe loader became famous for specializing in the two essentials of construction — digging and loading. Since a backhoe loader packs a productive punch in one versatile machine, this multifaceted tool remains a popular choice for both green and grizzled contractors in North America. Since there are plenty of options on dealer lots and rental yards today — Caterpillar, Case, John Deere, Volvo, New Holland, Kubota, JCB, Terex, Allmand Bros. and Terramite all offer models and options — we wanted to prepare our readership with a concise and handy guide to buying, renting and operating backhoe loaders. Thanks to all the manufacturers that helped.
A Quick History Lesson
The history of the backhoe loader goes back 50-plus years. On separate sides of the pond, both Case and JCB began tinkering with ideas of a dig-and-load combo machine for the construction industry. In England, JCB launched its first backhoe loader, the MK1 excavator in 1953, utilizing a Fordson tractor with a hydraulic excavator fitted to the rear and a JCB major loader to the front. In the spring of 1957, Case introduced the landmark Case Model 320, the first tractor loader backhoe fully integrated from the factory and warranted by the manufacturer, and began its backhoe loader production in Burlington, Iowa.
"There have been many products introduced throughout the years that have tried to cut into the backhoe loader market, but these machines have persevered and remain one of the staple pieces of equipment for many contractors, particularly owner-operators who need that initial equipment investment to be versatile," explains Katie Pullen, brand marketing manager with Case Construction Equipment. "That first integrated machine in 1957 was revolutionary for its time, but engineering has advanced to an era now where hydraulics, electronics and controls have significantly improved power and performance, both with the standard buckets and many attachment options."
Today's Market Overview
Backhoe loaders are categorized by dig depth — the most common being 14 ft. In this article, we'll cover everything 14 ft and below, which we'll classify as the compact market. Many compact backhoe loaders fall into different size categories, including less than 6-ft, 6- to 9-ft, 9- to 11-ft and 11- to 14-ft dig depths. In all of those depth categories, backhoe loaders still cover a wide range of specifications — 20- to 130-hp engines (usually diesel), operating weights from 3,000 to 27,000 lbs and bucket breakout capacities from 3,000 to 11,000 lbs. Pricing also ranges from $20,000 to $40,000 for compacts and $50,000 to more than $100,000 for the biggest and most luxurious models.
"There are large backhoe loader markets in developing countries such as Mexico, Brazil and India, but market strength is returning in North America," explains Kevin Hershberger, Cat backhoe loader product marketing manager. "Europe shows signs of recovery, while lagging slightly behind North America.  The past slowdown in the North American housing market has driven a higher percentage of backhoes going to governmental bodies, large fleet customers and rental yards, but as confidence in the economy grows, we are seeing more demand from owner-operators and traditional building construction contractors."
Gonna Rent?
Your rental dealer needs to know how deep you want to dig and what materials you will be digging. The bottom line is how much material needs to be moved and matching that to a backhoe loader that can do the job. The machine's maximum dig depth, engine horsepower, machine weight, dig force and loader lift force all play a significant role in the decision. A backhoe loader needs to have the right power-to-weight ratio to be productive.
Of course, the first question to ask is how old is the machine? You want to rent the most current machine available because it will have the latest technology and productivity enhancements. Also, rental dealers keep inspection reports on every unit; it is within your rights as a renter to ask for a copy of those reports to make sure you are getting a machine that is fully functional. Rental rates for backhoe loaders vary depending on the length of the rental contract, the age of the machine, the need for additional attachments, the area of the country and the time of year. But rental contracts are always negotiable, so shop around.
Booms and Buckets
A variety of buckets can be fitted to both the backhoe- and loader-end of a unit, including general purpose buckets, multi-purpose buckets, grapple buckets, industrial buckets, light material buckets, heavy-duty buckets, 4-in-1 buckets, clamshell buckets and narrow buckets. If we look specifically at the backhoe, there are often two main types of boom configurations as well — curved and straight.
"Over time, I've seen the transition from straight to curved backhoe booms generate many comments about performance and visibility," explains Keith Rohrbacker, Kubota product manager. "Often performance and visibility are more about the design of the overall platform rather than the type of backhoe boom. Kubota's backhoes all feature a curved boom design. The curved boom design makes it easier to reach maximum dig depth with a minimum trench cut. Operators will find it easier to clear worksite obstacles, and truck-loading is better with a curved boom as it's easier to clear sideboards and position material in the center of the truck bed."
The Lowdown on the Loader
Moving to the loader in the front of the machine, renters and buyers should ensure the front loader has the lift capacity with a bucket or pallet forks mounted. The front loader must have enough lift height to clear the sides of a loading bin or truck. Running the front bucket means moving the backhoe loader around a jobsite, so consider the cab, visibility and drive-ability. Look at the type of transmission — a hydrostatic transmission will be easier to use than a manual gearbox (though more expensive).
Other options like ride control, parallel lift and travel speed (some up to 25 mph) are important considerations. Four-wheel drive, all-wheel drive, crab steer and differential lock improve mobility in mud, sand, snow and in tight quarters; two-wheel drive is typically available and always cheaper. A loader quick-coupler off the front would be important if changing attachments occurs regularly (specialty buckets, pallet forks and planers are popular). Implements can also sometimes run off the backhoe boom as well (breakers, augers and grapples are available).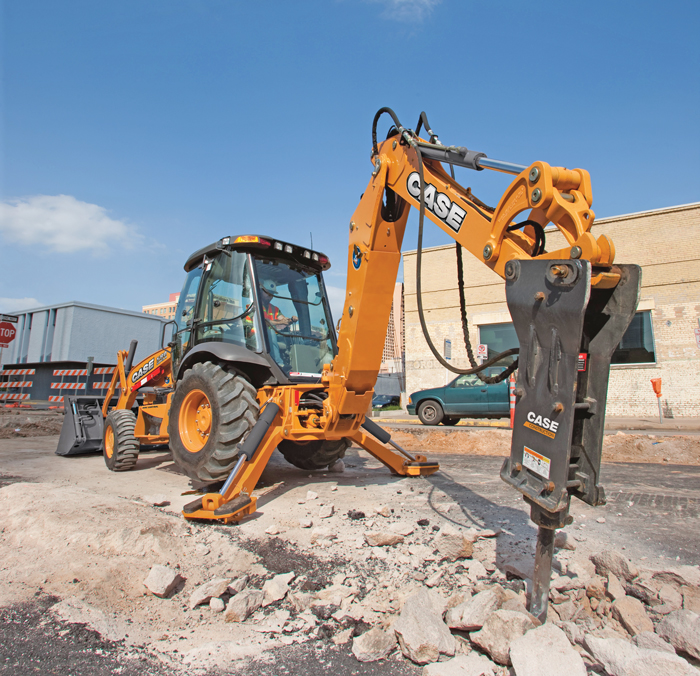 Operation Efficiency
After selecting the right backhoe loader for your needs, understanding how to properly operate it is the next step. The most important information about using a backhoe loader can be found in the manufacturer's operator's manual — safety information, operating techniques, daily inspection checklists and maintenance schedules and procedures. It's also essential to realize the capabilities and limitations of your machine. For example, understanding the backhoe loader's carrying capacities and hydraulic requirements will ensure that you don't overextend the machine and leave it open to premature wear.
"To be more efficient when operating a backhoe, we recommend that operators select single hydraulic pump mode when traveling across a site or lifting and lowering," says Jamie Wright, product manager with Terex Construction Americas. "We also suggest that operators always operate their backhoe loader at the lowest engine speed that completes a task — generally between 1,500 to 1,800 rpm. When lifting and/or transporting a load with a backhoe, operators must always make sure to secure the load correctly, travel and operate the machine at safe and appropriate speeds and avoid traversing side slopes whenever possible. Also, operators should make a point of carrying the load as low as possible when traveling to reduce balance issues."
Keith Gribbins is managing editor of Compact Equipment, based in Brecksville, Ohio.
Tags:
backhoes
,
Caterpillar
,
JCB
,
Volvo